Actually, it is not really an internet marketing secret…finding customers is based on what type of business you created. Because every online biz is just a bit different than any other.
But when thinking about your business plan, you pretty much have to figure out who your target customers are.
You can do part of this by doing an Avatar Exercise. This will help you develop a baseline at the beginning of your business, and is our first marketing secret.
Welcome to Fearless Affiliate.
My name is Irma and I help new bloggers to learn the ropes. There is a lot to take in that first year of blogging, from choosing a niche to changing your mindset from worker bee mentality to that of successful entrepreneur.
I like to focus on practical information and positive thinking, so if that sounds good to you please sign up for my weekly newsletter of tips and help for bloggers and online marketers.
Be sure to grab your copy of 5 Minute Guide to Internet Marketing Success guide. Once you have read through this guide, your will have tons of ideas for an online business that will help you earn extra cash or even full-time income!
This post may contain affiliate links. If you click a link and make a purchase, I may receive a commission at no extra cost to you. Full disclosure is here.
How To Attract Your Target Group
Doing your avatar exercise is a great way to start, but as your content and your audience evolve, you will naturally branch off in some ways.
You need to identify select groups by category especially if you have not "niched down".
These categories normally include an age bracket, gender, marital status, and other pertinent information.
These categories may even include special groups such as employment status, nationality, physical health, or other vital statistics.
If you are selling weight-loss products for instance, your target group may include the following:
Overweight people
Women who have just given birth
People recovering from an injury that left them bed-ridden
Ages 19-35
Once you identify your target group, it will be easier to device a marketing and advertisement plan.
Simply think of the thing that your target group likes.
Think of what things will attract their attention.
If you target group are children for example, it might be a good idea to use advertisements that include a lot of playful colors.
If your target groups are health-conscious individuals, you might catch their attention by starting your sales pitch with health topics.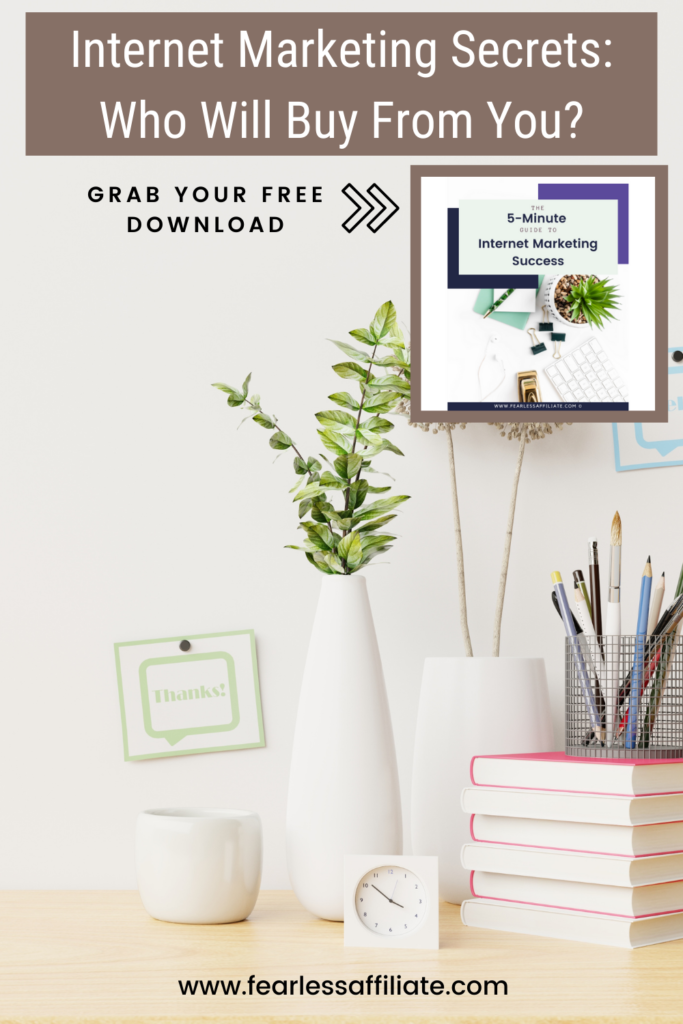 Know Where Your Products/Services Will Sell
Another internet marketing secret is finding out where your potential customers hang out.
This can be:
Social media sites like Facebook and Instagram
It could be networking sites like LinkedIn
Or discussion platforms like Reddit or Quora
You may have the best product and the most amazing list of resources, but if you promote your content in places where your people are not hanging out, the wrong people will see it.
They may visit and maybe grab your freebie. But they are not your people and very likely will never buy from you.
Business needs to be strategic and so do you.
Why Your Target Customers Want Your Products/Services
A lot of new entrepreneurs skip over this marketing secret because they do not understand why it is important.
What is it about your product that your customers want?
Or what is it about your niche that people want but cannot find?
By understanding this, you will understand better how to reach your customers.
I get it…that is a big question and if you are new to marketing and business in general, it can seem vast and hard to quantify.
If your business is new-ish (less than 1 year old), it is hard to quantify because you are probably still creating your foundational content.
But you still need to understand why people buy.
Because that way you can create content that leads your people to eventually buy from you.
In mobile phone industry for example, you may ask:
What do the people in your part of the world like in a phone?
Do they like cheaper phones, high-end phones, or luxury phones?
After finding the answer, create content that leads readers to click links to potential products you are promoting.
Identifying Buyers
People may be interested in a certain product and/or service but they may not have the purchasing power to pay for it.
This next one is a huge secret in the world of internet marketing…are you ready?
Do not market to people who cannot afford your products.
That might sound like a no-brainer, but what I mean is: pick a price for your product or service and stick to your guns.
Do not drop your prices because no one is buying.
A lot of people can afford your products, and will be more than willing to buy them.
But if no one is buying it is probably not the price that is holding them back.
It is important to do your market research first, so that you know that you have a viable product to promote. If you are sure that there is market for the product, do this first before you consider lowering your prices:
Figure out if your sales page needs work
Make sure that your target audience is where you are promoting.
Be sure that you are confident in what your product can do before you start writing your sales copy for it.
If your mindset is the problem, do some work in the area of self-confidence, fear of success, or fear of failure.
Then try it again. You will get better at marketing that one product and that is the secret of making money online.
Keep marketing the same product, tweaking as you go, until you are generating reliable income.
Then scale it up. Rinse and repeat with your next product.
Look For Markets That Have High Demand And Low Supply
This is not really a marketing secret, but more of an industry standard, but it is worth repeating.
Where there is high demand but low supply, there is a business opportunity.
If you watch TV commercials for fast food, you will see this play out in real time. They are constantly trying new things, or twisting old things, to gain an advantage or get a new customer.
A simple way to look for the opportunities is in your own life.
If you create content around your job or hobbies, you will have discovered a number of areas where you needed something and could not find it.
You might be able to create a drop-shipping opportunity where you line up the product and then promote them to your people, in a way that makes it a no-brainer to buy.
Keep all your good ideas in a notebook. One of them could be the next fidget spinner or Elf on a Shelf, and that is all it takes to put you on the popularity map.
Conclusion
I hope that you have enjoyed this post and found it helpful. This is the fourth post in a series on getting started with internet marketing, so watch for next weeks tips on: Preventing Business Failure
If you are ready to get started with an online business, then I have what you need!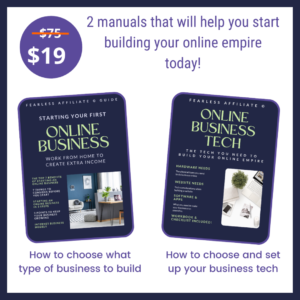 Your First Online Business gives you the information that you need to start your business:
7 things you should consider before starting an online business,
The different and most popular business models for online marketing,
How to start your business in 3 steps and
Ways that you can make money with your business model, plus a lot more
Also included is the Online Business Tech guide, which will teach you what kind of tech you need depending on which business model you chose. Learn about hardware, software and apps you may want to use in your business.
The Tech guide also comes with a 15 page workbook so you can take notes while researching your choices. And you get a checklist for the tools you choose to help you stay organized and for later reference.
This is an amazing deal for this much comprehensive help so if you have been thinking of starting an online business, please check out the Your First Online business bundle to see if it meets your needs.
Please share with others…sharing is caring, and leave a comment if these tips helped you. Until next time, happy blogging!
-Irma 🙂