Can you do affiliate marketing without a website? The most important part of affiliate marketing is getting your link out there and in front of people who are searching for that very thing. Your job is to create a relationship with people seeking your product, present that product in its best light and in a way that encourages the visitor to purchase.
There are a few people out there doing this kind of marketing without a computer, but it is more challenging. Having a website helps immensely, but I will give you examples of ways to make money without a without a website.
Some affiliate networks that you can sign up with are:
–ClickBank: Mostly e-products that people can purchase and use right away, like ebooks, weight loss programs, and self-help products.
–Commission Junction: Numerous physical products from a variety of merchants.
–ShareASale: Physical products from a wide variety of merchants.
–Amazon Associates: You can sell anything from Amazon's vast catalogue of products!
–eBay Partner Network: Be part of the 800 million partner listings available on eBay.
There are many more, as well as all the private affiliate programs that are associated with the products they promote, for example supplements, diet aids, and pet training programs.
The program that you sign up with will give you a personal link, so that sales can be tracked back to you and you will earn your commission. You want to get your link out to as many places as you can and there are many options!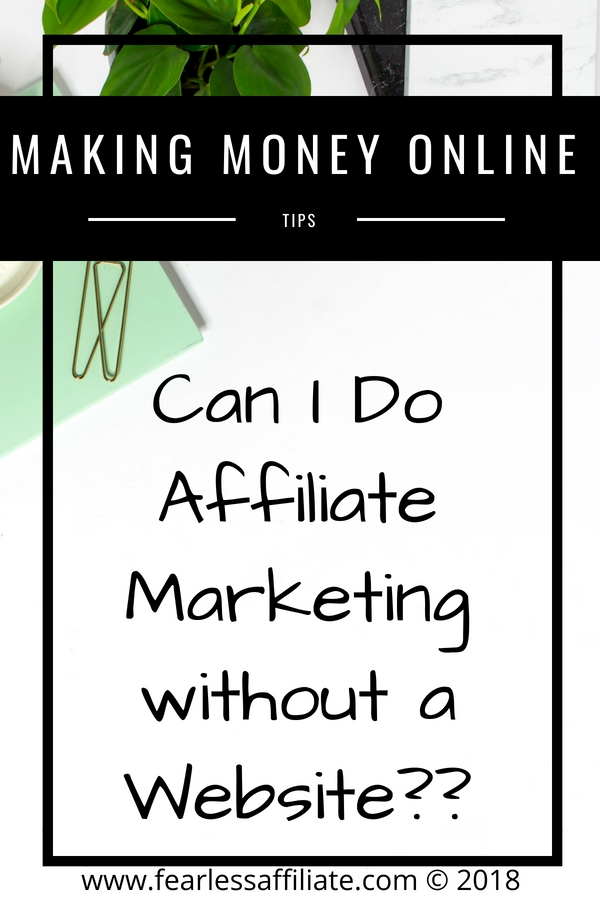 1. A Hubpage!
You can join HubPages for free (https://hubpages.com/about/us) and create one page "mini website/blog" to direct visitors to your offer and link. You can share your passion for free, as well as meet others who are doing the same.
You create your own articles, and say what you want to say to promote products, using photos and your links.
2. Post on blogs/forums
You need to find a forum in the niche that you have chosen, otherwise your promotion will be out of place. Make sure to check the forum rules about links in your signature, but if that is a "go", insert your link into your signature and post away!
It will be helpful to become a regular poster at the blog or forum that you choose, so that you develop trust within the community. Offer posts with value. Random posting with lots of links is considered spamming, and can get you banned.
It might be a good idea to post a few times before you put your link into your signature. Be sure to look around the entire forum to see where you can be most effective organically.
Warrior Forum (https://www.warriorforum.com/) and Digital Point (https://www.digitalpoint.com/)… two great places to start!
3. Write an ebook to give away or sell it cheap on eBay
You can promote it on your social media accounts as well. This is a great way to get your name out there, especially if you encourage others to share and like your "freebie".
Your book does not have to be very big – 20 pages will do –and you can call it what you like. For example "The Ultimate Guide" or a "Special Report" or any other buzz words that will encourage people to download it. Your book should be informative, and not just ads.
4. Social Media
Be sure to read the terms of service before you start promoting ads on your social media network of choice. There may be rules as to how many links you can place.
Social media works well for product reviews. Make sure that the content that you post is related to your niche, add a few photos and then direct them to your link.
Facebook, Twitter, and Pinterest are great places to get started. Join other people's groups/boards to find a network of like-minded individuals.
5. YouTube videos
Although I am not doing this myself yet, I will be in the future. This is by far the best way to do product reviews, unboxings, and demonstrations. Being able to physically show your audience a product and what it looks like in real life, will help you gain trust and customers!
Tools that you can use are Screencast O Matic (https://screencast-o-matic.com…) or Camtasia (https://www.techsmith.com/video-editor.html)
There are a lot of YouTube videos explaining the process of getting started on YouTube, which I personally find amusing. But what better way to learn that right there! Also, keep in mind that if you enable the "share" button, you are basically giving anyone permission to take your video and share it on their website or social media platform. If you do not want this, then disable the share button.
6. Write ads for classified websites
Or reviews! Go ahead and write a review post with the link to the product that you are promoting, and post it on Craigslist, epage.com, or Kijiji.com
Be sure to place your ad in the correct category for whatever you are promoting, and note that there may be more than one category that you can use. For example, dog training manuals can be placed in education as well as pet categories.
My Final Thoughts…
If you do not want a website because you think it will be hard or expensive to create one, just know that is not the case anymore. You do not even have to know code!
SiteRubix is an excellent place to start, as it is free AND you can place affiliate ads. This may not be the case with the WordPress dot com, because they will be placing their ads on your site in exchange for allowing you to have a free site, and they do not allow you to monetize your site with other peoples affiliate ads.
As well, you can be part of a community of like-minded people who are at various stages of learning affiliate marketing, and so you can learn from them the tips and tricks for quicker success, rather than doing all of your research on your own.
Please watch this video on how to build a website quickly and easily, using the SiteRubix website builder and the WordPress platform, which comes with free themes, plugins and free hosting!
If you enjoyed this article please leave your comments in the comment box and consider sharing with friends and family on social media. I have share buttons for the most popular platforms.
If you see errors or omissions please contact support@fearlessaffiliate.com
Happy Blogging!
-Irma 🙂