Today we will be talking about finding a niche that works for you. What do I mean by that? Just that some niches are easier to make money with, like personal finance.
Consider adding a money making niche to your website to boost your income while helping your visitors. That way you can write about whatever you want and still make bank!
This post was originally published March 13th, 2018 and has been updated to be current with new information. This post may contain affiliate links. Full disclosure is here.
Welcome to Fearless Affiliate.
My name is Irma and I help new bloggers to learn the ropes. There is a lot to take in that first year of blogging, from choosing a niche to changing your mindset from worker bee mentality to that of successful entrepreneur.
I like to focus on practical information and positive thinking, so if that sounds good to you please sign up for my weekly newsletter of tips and free stuff for bloggers.
Do you need an assist picking a blog niche?
I can help with that too! Read my 5 Secrets To Finding Your Niche eReport…it's in the Resource Library. Sign up now and check it out.
Finding A Niche Market
Niche websites are awesome! And where would be without them? I do not buy recipe books anymore, I just type my ingredients into Google Search and poof! a fun new recipe is born!
I get great ideas, which I adjust for the ingredients that I have, and my family gets interesting new foods to try. I love it!
Related Post: 19 Blog Niches That Make Money
The same idea is true for any niche that you choose to blog about.
People are waiting for you to share your expertise with them. Like the cooks who write recipes for their sites, you are the Pro at your site. And people want to learn from you!
That means that you can write about anything and everything on your website and you will have an audience.
However, if your topic is a bit obscure, you might want to also have a section on a popular niche topic to help bring visitors and money.
Because we deserve to be compensated for sharing our knowledge.
Monetizing a website is more than slapping affiliate links into your blog post and calling it a day. It is about creating content for your visitors, creating a relationship with them, and helping them.
Money follows helping, plain and simple.
We've all heard that phrase "do what you love and the money will follow". It is completly true.
Focus on helping first.
An easy way to see if your niche can make money is to type your niche plus the word "affiliate" into a search bar. See if anyone is selling a product related to that niche. More details are below.
Do you want to blog about babies? There are affiliate programs for that!
Or would you rather blog about sneakers? There is an affiliate program for that as well.
Is your passion chainsaws? Affiliate program? Check.
If pickings are slim, consider adding a more lucrative niche on the side.
You will see lot's of bloggers that have a "Start A Blog" tab on their site. Because some people will look at your site and think "how can I do This?"
Alternatively, consider whether you can create digital products for your obscure niche.
If your niche lends itself to "how to" guides, you can create products to sell. You can be the innovator for your niche!
How cool is that? Pretty cool I think.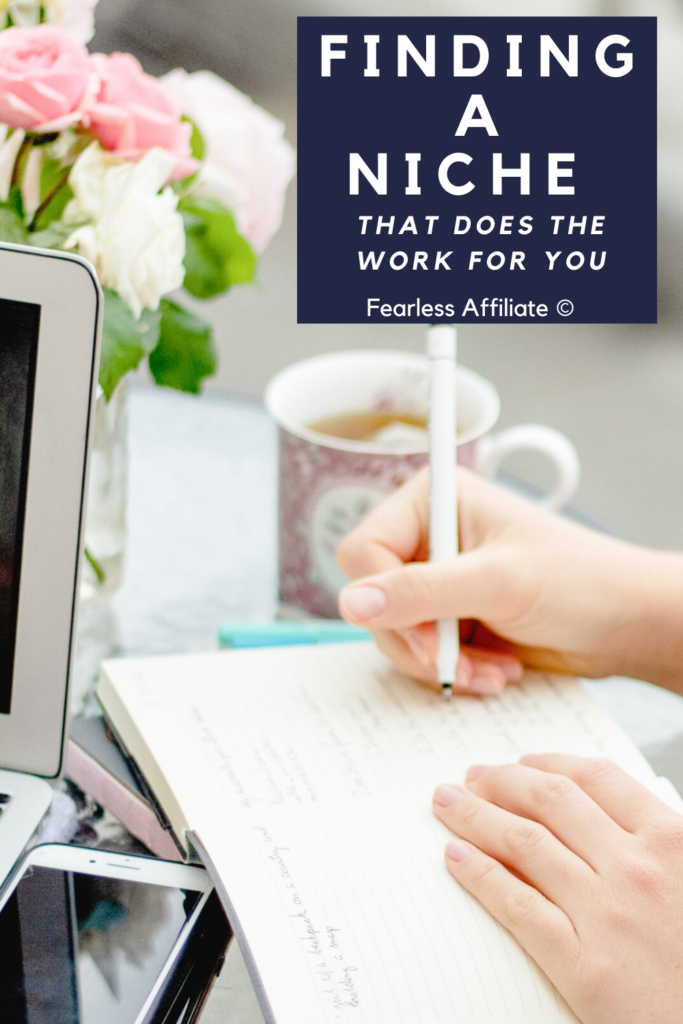 The Top 10 Niche Markets
If you already have an awesome niche idea, and you can monetize it then winner winner chicken dinner!
If you're not sure whether you can make money with it look through my blog post on 19 money making niches to see if one of them aligns with your passion-niche. My post has more details on these niche types.
You may need to dig deep into your niche to find something compatible.
The top 10 Niche Markets are, in no particular order, are:
Self Improvement – Law of Attraction, mental health, self-care
Health – Food plans like Keto or vegetarian, CBD
Fitness & Weight Loss – Yoga, working out, weight lifting
Beauty & Fashion – Makeup, clothing, skincare
Dating & Relationships – Meeting people, making new friends
Wealth Building – Frugal living, minimalism, saving money, investing money
Make Money Online – Blogging about blogging, affiliate marketing, coaching, membership programs
Pets – Dogs, cats, fish, birds horses, baby goats
DIY – Home renovation, crafts
Babies/toddlers/children/teens – all about life with kids
This list is not exhaustive (read my post above for more ideas). Trends change, so do some niches.
As I update this post Covid-19 is running the world. So currently, disaster prepping, working from home and homeschooling are huge right now.
But you can have a profitable blog if you have one of these niches.
When I started my blog, I chose to learn about blogging and then share what I was learning. My thinking was that I wanted to learn how before I started a blog on my real passion…health. #wth
At the time, I was really depressed at the time because I was injured at work and I was broke waiting for my disability benefits to kick in. I DO NOT recommend this approach to anyone.
I chose one of the more competitive niches – blogging about blogging.
Because of course I did. #me
But just because a niche is competitive doesn't mean there is no room for newcomers. Far from it.
And what do you know? Blogging about blogging became a passion for me, because I was researching the heck out of it to teach others.
FYI: Blogging about blogging is a lucrative niche.
Your voice is unique and there are people out there who just cannot learn from anyone but you.
I get emails and blog comments from people saying how helpful my content is, so if I can do it then imagine what you can do!
More important than finding a profitable niche is starting your blog with your passion niche.
That's right…get going! Start creating content. Find your confident voice and get sharing it with others.
If you are truly passionate about helping others, your intuition will guide you to the right way to monetize.
Related Post: 9 Reasons Your Blog Must Have A Niche
I just want to add that I like watching videos on people taking rusty old metal toys or found stuff and restoring them. Maybe it reminds me of my dad or something, but I like it.
I was surprised by what a huge audience these guys have. So never think there won't be an audience for your niche.
The world is huge.
How To Discover Your Passion
It is easiest to start with what you are already interested in.
What kind of books do you like to read? Magazines count here too.
Do friends or family ask you for advice about a specific topic?
Are your hobbies something that people ask you about because of your expertise? This could be your niche.
What struggles have you overcome and can share with others?
Have you overcome a serious health issue?
Or have you helped someone else with health issues?
Are you a problem solver?
Perhaps you have created a work-around for something and you want to share that?
Do you want to learn about a specific subject and then teach others?
What subject do you think you would be most comfortable writing about?
And don't get all down on yourself that you can't write, because that is just not true!
Writing is one of those things that you get better at the more you do it. The more you do it, the more your personal style will emerge.
And you are giving a gift to your readers, in the form of your expertise, so just do it already!
As well, writing is very cathartic. It helps to clear your mind, which is why there are so many "lifestyle" blogs.
People who have survived something – like illness, bullying, or a major accident – write to help themselves grieve or clear their minds.
And it ends up growing a fan base of like-minded people who want to feel better too.
Drill-down To Find Your Niche
For example, dogs is too broad of a category to be a niche. Poodles, is a bit better, but still pretty broad so we keep going.
Toy poodles is a niche.
Miniature poodles is a niche.
Teacup poodles is a niche.
These are quite specific breeds of poodle.
So if you have a teacup poodle you can blog about haircuts, fur color, grooming and clothes and anything else that you know about teacup poodles.
But what if I don't have a dog?
Ok, so you will blog about something else.
There are just too many niches to list, so again, check out my post on 19 niches.
The beauty of blogging is that your niche can change over time! Maybe you have a poodle, and then get a Siamese cat. Now you can blog about both of your pets and all of their "stuff" (food, toys, obedience, grooming, collars…).
Or, you move across the country for work. Now you can blog about life in your new city.
Or you quit your job and blog about house-sitting around the world. The possibilities are limitless.
The point is to pick something and get started. Get started sharing what you know with the world.
Where Do I Get The Affiliate Products To Promote?
You go online and start looking at the competition.
Find sites that are like what you want to write about, scroll to the bottom of the page, and look for words like AFFILIATE PROGRAM.
Or type you're the name of your niche + affiliate program into a browser search bar and see what pops up.
You can also sign up at Clickbank, which takes a few minutes.
Search through their extensive database of digital products to find one that aligns with what you want to promote on your blog.
There is also the big gun, Amazon Associates, and you can promote products that are for sale on Amazon. This is also an awesome site for products that you can do reviews about!
Both of these sites will connect you to retail affiliates that sell digital as well as physical products.
There are plenty of independant product affiliate programs as well, such as supplements for health and wellness blogs.
Be sure to review the programs before committing to anything.
Sometimes you will get information about competitive programs with better commissions or products. New things are happening all the time!
Signing up for these programs is fairly painless, except for Amazon which wants the most amount of information but also has different shapes and sizes of ads.
Amazon will give you six months to make a sale before they stop your association with them.
You can reapply, but it is a bummer getting kicked off.
Save Amazon for after you set up email marketing and have some decent traffic for your site. Actually, that is good advice for all the programs.
All affiliate programs have different pay out structures and criteria for working with them. Be sure to read the fine print!
How Do I Make Money With My Niche?
The best advice that I can give is:
Have Google Analytics gathering data on your website first thing
Make your blog posts at least 2,000 words, linking to other authoritative sites.
Learn proper SEO so that Google can find your stuff
Write passionately on your topic of choice. Include 'rant' posts once in a while.
Use good keywords, which also helps Google find and share your content.
When you see patterns emerge in your website traffic data, use that topic to create more content (including paid products).
You may want to write more about topic A, but your audience is coming to your website for topic B.
That does not mean that you can't write about topic A. What it does mean is that you should try to monetize topic B first.
Blogging is like that. It is fluid and your situation is unique to your website.
No one else will be doing what you do in the way that you do it.
Keep writing
If you do video (YouTube) be sure to create detailed videos with lot's of helpful information. It will help you rank faster.
FYI: Most blog posts get a boost of 'Google juice' when you first publish. Google pushes your post out to see if it gains traction. Many bloggers see their posts on page 1 or 2 and think that it will stay in that spot.
A week later, your post could be on page 20.
Monitor your website data once a month in the early days.
Take notes on what posts people are visiting most on your site.
Also note which post they are on when they leave.
Keep writing whatever, but monitor your data.
After you've been posting for six months, look at the data for that whole time.
Note:
Age demographic of your audience
What country they are from
Which posts are your most popular
If you have a popular topic, expand on it. Look at it from different angles and write more of that.
Check again in 3 months. If you have one topic that is far and above the others, start your email marketing list.
Email marketing
Email marketing is the best way to connect with your 'people'. You will get people who sign up and then unsubscribe. Don't concern yourself about them.
They are not your people.
Your people will read your stuff, take your advice, and buy your recommended products…after you establish trust.
Your people will communicate with you, thereby helping you too understand what they need from you.
Create content for that.
Create an opt-in gift to entice people to subscribe. Your opt-in should be an extension of what is already popular on your site.
Opt-in gifts are usually short PDF guides, checklists or other content that goes along with blog posts.
The content should be something you haven't shared yet on that topic.
As well, consider creating a small paid offer, aka a tripwire product.
This is more detailed help and should be robust enough that people will have no problem dropping 20 bucks to get that fix.
You might want to reverse engineer this process once you know what people already want from you, using website data.
The sales funnel looks like this: blog post > opt-in gift > low cost paid offer.
So decide what you could offer as a paid item, based on how you yourself have solved the problem in your life.
Did you use eBooks?
Workbooks?
Resource guides?
You can create a package of items, bundled together, to help other people solve their problem.
Then create your opt-in gift based on it being a kind of 'teaser' for the bundle.
That's making money online 101.
Conclusion
The learning never stops. The tweaking of your site and how you write never stops. Grab yourself a piece of the internet and find a niche that works for you to create passive income.
Remember, the world is waiting for you to teach them. Don't make them wait any longer!
Are you ready to start your blog and/or side hustle? Now is the time to create your own future and future income. Please sign up for my weekly newsletter of tips and free stuff for bloggers, like my passive income checklists. See if a blogging "side hustle" is right for you!
Happy blogging and follow me on Pinterest!
-Irma 🙂