Today I will share 19 blog niches that make money. There are more, but these ones are popular right now.
And while I would not encourage you to blog just to make money, it is nice to know that you can earn income from helping people. Finding a niche where you can help people and earn an income is the best of both worlds.
Welcome to Fearless Affiliate. My name is Irma and I help new bloggers to learn the ropes. There is a lot to take in that first year of blogging, from choosing a niche to changing your mindset from worker bee mentality to that of successful entrepreneur.
I like to focus on practical information and positive thinking, so if that sounds good to you please sign up for my weekly newsletter of tips and free stuff for bloggers. In return you will get the password to my resource library of PDF printables for bloggers like my 5 Secrets To Find Your Niche 2,000 word report. #win
This is a loooonnnnggg post. Please bookmark it and pin it for later. Thank you 🙂
Related Post: 9 Reasons Your Blog Must Have a Niche
How did I choose my niche?
I have always wanted to write and have tried writing a great novel, or something like that, several times. I have taken writing classes online and I have a ton of books on writing. Blogging is a godsend for me; it is like therapy for me, because I feel so great when I am writing!
And it is an amazing feeling when someone writes to you or comments on your blog about how helpful it is! I sure did not get that at my 9-to-5.
I switched the focus of my blog from reviews to teaching what I have been learning, so that new bloggers can learn some of the great tricks that I have learned. Now I only review products that I really, really love. That is the beauty of blogging…you can change focus as you figure out what your audience wants from you.
Whatever niche you choose, you can make your piece of the internet your own. That is the real key to successful blogging. Even if your passion is an obscure hobby, you can add on a money making niche to your blog that can help you earn a decent income.The sky is the limit for how you want to configure your website!
Profitable Niches in The Money Category
1. Make Money Online
The grand daddy of them all, making money online. How many people search this keyword daily? I would guess thousands and thousands. The thought of escaping a 9-to-5 job, especially if you are hating on it lately, is the impetus for this keyword search. I mean, who doesn't want to work from home, jammies on and coffee in hand? Coming and going as you please. This would be considered a saturated niche, but it doesn't have to be. And it can be a very profitable niche.
The story of how I came to be in this niche is completely different from anyone else's story. And so are my motivations for staying in it. I want to share free and practical information with people. My motivation was seeing hugely overpriced make-money-online education. I knew it could be done cheaper and as effectively than forking out a years worth of rent money for one program. I felt bad for the people who used their last bit of savings to sign up for a program like that.
This niche includes:
Affiliate marketing; selling on Amazon (your products or theirs); selling software or apps; having an online store like Shopify or Etsy; freelance your services (virtual assistant; ghostwriting); coaching; creating digital products to promote (ebooks and courses); having a YouTube channel; podcasting; and more.
Related Post: Affiliate Marketing for Beginners
Your reason to choose a niche will be different than mine
Someone else might be in it because they are a struggling single parent who needs more income, and so they tell their story from that perspective. And that is going to resonate with people in the same, or similar, situation. Someone else might have a marketing background, and so wants to share with people who struggle with marketing because that is what they have to share.
And all of these websites are gifts to the new blogger in the make money online niche.
If anyone tells you a niche is over-saturated, that just means that they have not gone looking for the thing that will make that website stand out. If you look at the big players in this niche, they all have stand out features: one may feature content creation, one may feature how to do SEO, and one may feature the tech side.
What do they have in common?
The website owner wrote tons of content, and as traffic and visitors grew, they discovered which content resonated with their audience and settled into creating more of it. The internet is hungry for this niche and there are a lot of topics to cover so there is plenty of room for everyone.
2. Finance
This niche includes bitcoin, cryptocurrency, frugal living, buying and selling gold, and retirement saving. There are plenty of fun topics to discuss here, like: how to live on $1k a month, how to get started with forex (foreign exchange market), buying and selling stocks and bonds, how to diversify your portfolio, saving money on cable tv and more.
With the economy iffy at best, people are looking for ways to make sure that they do not lose their homes or life savings because of changes in the government, or stock market, or because their company got bought up and sold in chunks. These can be scary times, so if you know ways that people can save money or put it somewhere safe, then start your blog today. We are online looking for it!
3. Business solutions
Are you good at creating websites? Are you gifted at understanding search engine optimization? Do you understand how to help people get website traffic from Pinterest? Then you can have success with the business solutions niche.
There are tons of bloggers who have more work than time and will be hiring VA's (virtual assistants). The VA's log into your accounts and fix 'em up for you. They can tweak your website, set you up to get traffic from social media or do consulting.
If you find a lot of people asking you to explain how software works or what they need to do to fix their website banner, then get started today. People are waiting for you. Just saying.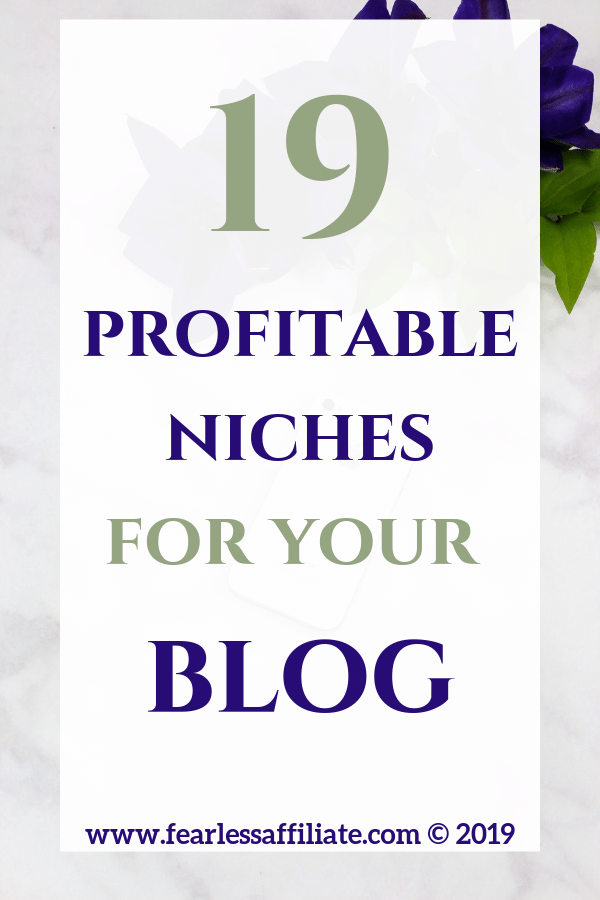 Try These Profitable Niches in the Personal/Family Category
4. Personal Development
Another profitable niche market is in personal development. This niche has so many possibilities, and so much room for growth.Topics include: stress management, work-life balance, getting in touch with your intuition for better guidance, meditation, emotional freedom technique (EFT), life planning, and more.
A number of topics bleed into other niches, like Yoga, weight loss, and being a better parent, which makes this niche even better. You can also branch out from your blog or website and into coaching (ever hear of a guy named Tony Robbins?), counselling, and mentoring. You can create and sell courses on the Udemy site as well.
And lets not forget YouTube!
If you can show people how to meditate in a video that goes along with a blog post, that is gold. This niche also includes creating and selling blank printables on Amazon, such as blank journals and coloring pages for stress relief. You might be surprised to know how much money a blank printable product sell for. I know I was.
If you have overcome hardships, poor health, or major financial problems, and lived to tell about, you can start a blog in the personal development niche. Share what you did to move forward and improve your life and you will have an audience.
5. Fitness
Wow, this is a biggie. There is a lot of room to niche down here. This includes any type of fitness program or product, such as Yoga, Crossfit, walking, pole walking, running, jogging, weight lifting, kettle balls etc. Add in HIIT (high intensity interval training), frisbee golf, water skiing, snow skiing, cross country skiing, running with your dog (two niches!)
As well, there are a lot of products that you can promote such as stretch bands, swiss exercise balls, supplements for stamina or muscle repair, dvd's, printable instructions, ebooks and courses,
This is also the place to blog about injury prevention (proper stretching with or without videos), injury recovery (back pain), or strengthening after an injury. You can review products that you have used in your healing and recovery. This is a profitable niche with a lot of room for products and services.
6. Fashion and Beauty
This one was made for Instagram, YouTube, and Pinterest. I see a ton of pins that say "shop my Instagram", so I usually go check them out. Gotta keep on top of things, am I right?
Girls need to learn how to do the cats eye eyeliner. Or how to twist up your hair at night so you wake up with a ton of curls. And how to put together a capsule wardrobe. Beauty and fashion are both profitable niches especially on social media. Increasing your subscribers on Instagram or YouTube takes you beyond full time income and into the world of awesome sponsorships and free products as well as notoriety.
The world is changing fast and YouTube and Instagram are helping us keep up with what is changing. And if you are not aware, the people with 1M YouTube or Instagram followers (or both!) are making bank right now, with no signs of stopping.
7. Relationships
So this niche can be many things: dating sites, relationship help, how to deal with marriage troubles, how to deal with divorce, how to pick women or men etc. As well, if you are skilled with angsty teens or shy pre-teens then your help is needed in the world.
It can be hard to get quality relationship advice, because it seems like everyone is in the same boat. If you can give unbiased help or direction to those seeking a partner or those wanting to help their soon-to-be adult children, then try the relationship niche.
8. babies and Children
Oh our little darlings! So precious! Am I right? Well guess what? Not all of them are. If your child challenges you to learn more about them, then start a blog and share your hard earned information.
Many a mommy blog is started this way. It does not matter how old your child is, there is someone out there who wants to know what you know. From birth to toilet training to the first day of school to graduation, there is much to be learned. And shared.
There are a lot of products to promote as well: clothing, homemade sunscreen, decorating their rooms, helping them learn, homeschooling.
If you don't have a child yet, but are planning to have one or are expecting to have one any day now, you can blog about that as well. People want to know what to expect and how everyone handles it.
Lucrative Home & Garden Niches
9. Pets
A website all about your fur baby? Why not! You can talk about baby pets, middle aged pets, or senior pets. Write about food, bedding and toys. Or you can talk about training or fixing someone else's training.
Blog about travelling with pets, shopping with pets, pet clothing and leashes, and funny things your pet does (is he really responding to the TV??). This is a nook that is growing fast. With so many people jumping in to showcase their pets, you can easily find a place for yourself in this profitable niche. There are so many products related to this niche.
And who knows…you could end up with the next grumpy cat! Make some memes and share them.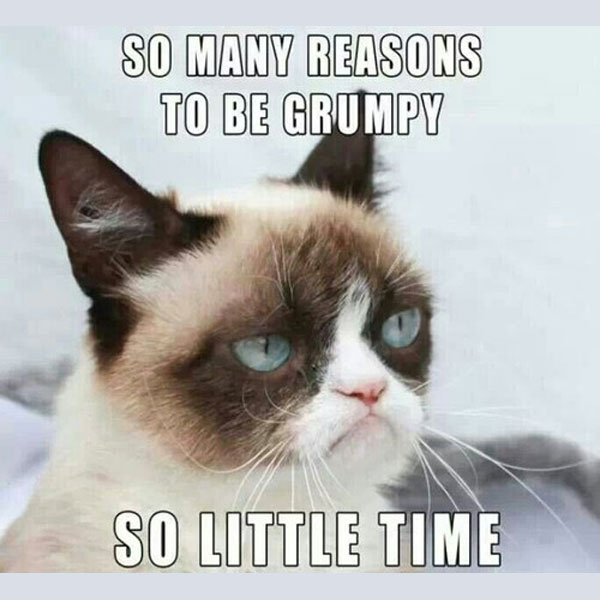 I took this photo from the internet but I do not know who to give credit to, so if you do then shoot me a message and I will give credit.
10. Yard and Garden care
This is for all you people who mow your lawn on the diagonal…for the pattern! Your lawn is the perfect shade of green with not a dandelion in site. Your skill in creating a pristine oasis of lawn is needed by the world…so start sharing already!
It is also for those with a backyard or patio garden, who have skills to share in how to keep that tomato plant from dying on your south facing deck. Or how to untangle your herb garden after you left town for the weekend and it grew…a lot. I had that happen and it was not pretty.
You can also squeeze in houseplants to this niche, and there are tons of people who need this help. Or am I the only one with my hand up? I think not. Help us…now!
11. Do-it-yourself
There are many different ways to go with this niche and this is how products end up on Dragon's Den or its copycat show, Shark Tank.
"Necessity is the mother of invention" – Plato, or thereabouts. Even way back then, people understood that things needed to be created to make life easier in some way.
You might be someone with a 150 year old farm house that cannot find the decor elements that you want. So you make your own. Or maybe you came up with an awesome homemade face mask. Or maybe you are skilled at making flowers out of vegetables to decorate pot-luck food. It can be a lot more than decorating a room or building a dog house.
In the words of Red Green "If the women don't find you handsome, they should at least find you handy!" Handy is a great niche.
12. Homesteading
This subject used to be near and dear to my heart…and then life got in the way. This is the part of prepper videos that I enjoy the most. Living off the land, solar power, chickens running around the garden…yes, the possibilities are endless.
This is its own niche and goes beyond gardening because it is a way of life for people. There is food prep (what to do with all that zucchini??), seed saving, log buildings, quonset huts, earthship homes, wood stoves, farm animals.
Did grandma share with you stories about how things were done in the old days? If you remember them, you can blog about them. People were so much healthier back then, from eating fresh picked food and getting tons of sunshine and fresh air.
There is a super fun granny on YouTube sharing how they did food prep on a wood stove. It is great to watch, so if you know this stuff please share it!
13. Prepper
I had no idea this was a thing until I searched YouTube for a decent video on how to make ghee without burning it. I found a prepper who was making a vat of ghee for later canning. It was fascinating and I subscribed. Her channel is Bexar Prepper.
And of course anyone who watches shows like the Walking Dead can understand the importance of squirrelling away freeze dried food for a rainy zombie apocalypse day. Or is that just me? I doubt it.
I like the idea of being prepared for the challenges of life. Especially since we seem to have a lot of large forest fires in my area of the world, like every summer. The idea of having some stuff packed and ready to go, and possibly some sheltered cabin in the woods far away from the disasters seems like a good idea.
14. Minimalism
I live for the day I can have a minimalist home. Until that day arrives, I am reading all things Marie Kondo, watching videos by Dana K. White and working on my de-cluttering every day if I can. I know all the short cuts to the thrift store!
This niche includes quitting shopping addictions, multi-purpose furniture for tiny homes and capsule apartments ('coming to a neighborhood near you!'), and learning to get by without 'stuff'.
You can also include how to make money from your garage sales as you get rid of stuff. Garage sales are a sub-niche because they are super popular and some people (I am looking at you mom) live to barter a good deal on something.
Travel Related Profitable Niches
15. Travel
When I first heard about travel blogs, I thought it was people writing about their vacations. Wow, was I mistaken. There is so much to do in this niche you might not know where to start!
Some of my favorite bloggers are in the saving money or frugal living niches, and they live in RV's…year round. Aside from travelling in it, they home-school in their RV. If this sounds like fun to you, you should be in the travel niche.
Some people only blog about their home city or state or province. Others travel to foreign countries and document everything they do their. And still others travel to the same places over and over, finding new things to write about and share with others.
There is way more to this niche though. As you rise up in this niche you can get amazing deals on travel and hotels (some free!) for giving reviews of hotels or resorts. If you like travel, think about this profitable niche.
16. Languages
Something I have been seeing a lot of lately are ads for English speaking people to travel to other countries to teach English. Governments know that to compete globally people must know the English language.
If you are single or a couple with no ties to home, you can make a good living while teaching English. Not only are you helping people, but you can write about your experiences of living in a foreign country. As well as tips for new people who want to get started teaching English to others.
And the added benefit of learning about another country means you can have a travel blog on the side! Many people are contracted for one year minimum which is plenty of time to take in the sites. You can stay for another year or move to another country that needs your skills.
There can also be perks, like free or deeply discounted accommodations. If you have done anything like this, you can start a blog and share what you know with others.
Sports & Lifestyle Lucrative Niches
17. Sports- clothing and memorabilia
I was shocked to discover people making money from selling men's fancy-schmancy sneakers on eBay. We are talking Jordan's here. If you have not looked at these amazing shoes, you should check it out. It was an eye opener to me.
My friends husband is a sneaker collector, and he buys three pairs (minimum) of each shoe when it comes out. One for him, one to keep and one to sell. He has a whole room in their house for his collectible sneaker stuff. They even had matching sneakers for their wedding shoes! There are chat rooms dedicated to these shoes, and people discuss new shoes coming out and where to get the ones that are no longer sold.
You can head to Amazon to check out sports and sport memorabilia to see what options are available. This can be a side niche to your website or you can create a website just to sell these items…your choice. Sell football jerseys or just promote your favorite recipes for game day and tailgate parties. There is a lot of room in this niche!
18. Hobbies
Are you a pro at the game Monopoly? Know where to find the best rare stamps for your collection? Are you a whiz at badminton? Start a blog and teach others. There are blogs about role playing games, books by specific authors, learn to play chess the easy way, and more. The sky really is the limit here.
What is your hobby? Do you ever get asked about your skill with it? Do not underestimate the audience for people who are into figure skating, guitar playing, or setting up a perfect home theater system. Or trains. I have a friend who is out taking pictures of them every weekend. He just loves it and guess what? So do many others.
Or maybe your hobby is collecting MRE's (military rations). I watch a guy regularly who opens up old MRE's from not just the US military, but from other countries as well. Some of that stuff is pretty old, but I like watching.
Or do you collect vintage Barbie dolls? Maybe you know 101 things to do with a bandana scarf. Or do you buy wrecked cars and fix them up? Hobbies are great niches.
19. The lifestyle blog
Last, but not least, the Lifestyle blog. This one can be whatever you want it to be and is based on how you live your life. Originally, blogs were just a place where you could write out your thoughts about anything. Blog is actually short for web log, or diary. So lifestyle blogs are like old-school blogging.
Some of the ones that I have seen are: bushcraft camping (living off the land); driving lessons, World of Warcraft strategy, and depression and anxiety. If you want to write about it, chances are that someone (or many someones) will want to read it.
You can blog about fashion, babies and homesteading on the same website
Or maybe hobbies and finance? Football and Forex? And it can even technically be niche-free, and you just blog about whatever you want: movie reviews, how you got a pasta sauce stain out of your favorite shirt, and the new toy you bought for your cat. Go for it. It is all about you and what interests you in your day to day life.
If you are going niche-free you may have a harder time monetizing. If that happens, think about adding in one of the more lucrative niches on the side (one that you are interested in or want to learn about). Or just work harder on promoting affiliate products on Pinterest or Instagram. It can be done! Do a quick browser search for "popular lifestyle blogs" and see how you can contribute to the online community.
Conclusion
I wanted to share some ideas for each niche to get your imagination going. There are more niches, but most of them are off-shoots of these 19 niches. Type your niche idea into a search engine and watch for the ads to pop up and then click on them. Take a look at what types of products are available.
You can also search your profitable niche idea on Amazon for thousands of product ideas. If there is a book for sale, then you can write a book. Same with courses. Write your own unique take on your niche.
Until next time, happy blogging and follow me on Pinterest!
-Irma 🙂