Today I have three simple tips to help you discover your niche in 15 minutes or less. This works whether you want a side hustle or full time income from your online business. Finding the right niche is important if you plan to create successful products and services to promote.
Welcome to Fearless Affiliate. My name is Irma and I help new bloggers to learn the ropes. There is a lot to take in that first year of blogging, from choosing a niche to changing your mindset from worker bee mentality to that of successful entrepreneur.
I like to focus on practical information and positive thinking, so if that sounds good to you please sign up for my weekly newsletter of tips and free stuff for bloggers. In return you will get the password to my resource library of PDF printables for bloggers like my Google Analytics cheatsheet or SEO Checklist. #win
Discovering your niche does not have to be complicated. What do people ask you about on a regular basis? Your awesome recipes? You skill at washing the car? How to win at Monopoly? Chances are, if a few of your friends ask you about something then other people will be interested as well.
Let's look at these three tips to help you find an awesome niche to create your passive income with.
*This post may contain affiliate links. This means that if you click a link, I may receive a small commission at no extra cost to you. Complete disclosure is at the bottom of the page*
1. Finding Keywords to Work With
Keywords are words that Google uses to decide who to show your content to. This ensures that your website or products get in front of people who are searching for answers in that category. If you search for shoes, you might get women's shoes, children's soccer shoes or brake shoes. All of these match the broad search term "shoes".
However they may not match what you are actually searching for. Google needs more details to give people results that they want. This is where keywords come in. Adding more words on to the search term shoes makes finding your shoe solution easier.
You want to be the result for someone's search, so you need to niche down. What I mean by this is that you want to choose a broad niche and then deep dive into it. For example, you may want to have a website all about yard maintenance (a broad topic). As you write posts and discuss whatever is related to your niche, you discover that what you really enjoy talking about in regards to keeping up your yard is how to keep a lawn green and weed free. Congratulations! You have just niched down.
You are looking for a niche that you can be passionate about
And you also want a niche that is helpful to others. Merging these two concepts is the recipe for blogging success.
That is where keyword research comes in. Keyword search results can help spark ideas for your niche and/or help you find product or service ideas for your niche. These products and services will widen the net of people who are interested in items such as these that can help them solve their problems.
There are several great FREE keyword tools that you can use to search for viable keywords. The 4 tools that I use to search for keywords are: Google Keyword Planner, Jaaxy(use the free trial), Ubersuggest, and Bing Webmaster Tools. I have a post that explains how to use each of these tools, with links to the products and tips for use.
Related Post: Easy Keyword Research for Beginners
I recommend using one Keyword tool at at time
I recommend starting with Google Keyword Planner. Many other keyword tools use the same jargon and interface for their products. And since so many people use Google to search, it stands to reason that they have a great keyword tool. I then recommend using another tool like Jaaxy to confirm what Google is telling you.
Searching for niche ideas is incredibly easy when you use Google's Keyword Planner (GKP) Tool. The tool is free. It allows you to discover both local and global search volume numbers for keywords, related keywords, and the competitiveness of those keywords.
Google Keyword Planner is made for people who want to use paid ads on Google's search engine. It may appear that you have to pay to use it, but you do not. Just move forward with the sign up to get access to the tool.
Common money making niches are:
Make money online, personal finance, travel, fitness, personal development, relationships, and DIY. Your niche will likely fall into one of these broad categories. From here you can branch off. My website is a blog in the make money online niche, and I write about affiliate marketing and blogging for beginners.
In the travel niche you can blog about: RV travel; camping; your state or province and its benefits ("All about Orlando!"); places that you have visited and the best places to stay, eat, or visit when there ("Enjoying Paris on a budget").
In the fitness niche you can blog about: Crossfit, Yoga, hiking, and of course weight loss, which includes diets like Keto, Paleo and Vegan.
The personal development niche includes anything related to self improvement, such as: meditation, law of attraction, manifesting, self-help books (like Tony Robbins)
There are tons of options for all of the niches
You are limited only by imagination. So start thinking of something that you can write about or promote from one of these niches.
When it comes to choosing a niche, you want to find keywords that have a minimum of 1,000 searches a month and a maximum of 10,000. Use the filter for "low competition" to help find viable results. This ensures that the keyword is popular but that there is still room in this market.
Read my post Google Keyword Planner for how to sign up and use this amazing tool.
If you are not finding what you need with GKP, try the Jaaxy tool.
It has a simpler interface and it is easier to understand the results. You will get 30 free searches with the trial, so use them wisely! This is my favorite tool for keyword research and I usually use it first and then do backup research with Keyword Planner. FYI, I have the paid Jaaxy tool.
I keep a notebook for my keyword research. You may find this helps you as well. I also keep my keyword tool links in a folder on my bookmarks bar so I can find them easier. Keep the ones that work for you and discard the rest.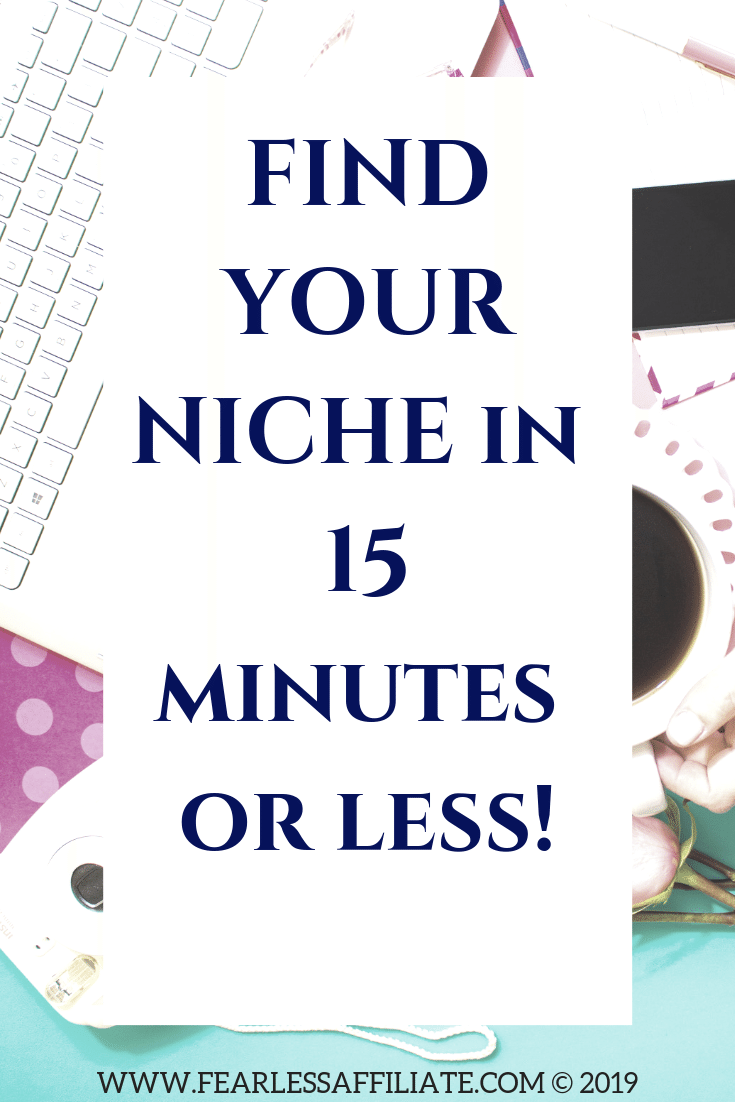 2. Determining the Competitiveness of the Keywords
Once you've found some keywords that you think you want to work with and which ones you want to focus your time on, you can start to check out how competitive each one is. You can do this by typing your chosen keyword into the Google search bar to see how many other pages show up on the results pages.
Don't forget to spend some time looking at the video and image search results as well. This will allow you to see what other kinds of competition you'll be up against besides the organic search results and PPC (pay per click) customers.
As always, check the related search queries at the bottom of pretty much any Google search results page (SERP) to get some more ideas of what Google shows to people who search for the same things.
Be sure to check the ads on your search engine results page
You want to see what businesses are promoting to other searchers. This may spark some new ideas for posts and promotions.
Be aware that finding a search results page that is mostly ads may mean there is a lot of competition for that keyword. That just means that you have to look at the ads to see what they are actually targeting. There may still be a lot of room if no one is competing for your niche term.
Related Post: 9 Reasons Your Blog Must Have A Niche
3. Making a Decision
Now that you have found some relevant keywords and determined the competitiveness of those keywords, you can decide on whether or not you will move forward with your niche idea.
If the organic competition is low and there isn't a lot of paid for competition, then you can feel reasonably confident in moving forward with your idea. However, if the competition is high, you might want to move through the process again to find a better niche to enter.
This information will help you to decide on future products you may want to promote, including ebooks, courses, or affiliate products. In my post on Easy Keyword Research, I also show you how to do keyword research with Pinterest. And I have a section on defining your avatar, to help you focus on who your audience is. Knowing who your avatar is can make writing content much easier.
Related Post: 7 Tips For Finding Your Blogs Niche
Conclusion
How was that for easy? Choosing a niche for your online business doesn't have to be a long, drawn-out process. Following these three steps will help you choose your niche in 15 minutes or less, and you'll have your online business up and running in no time.
And learning how to find keywords will serve you as you move forward. Whether you are writing blog posts or copywriting for landing or sales pages, keyword research is your friend.
Whatever niche you choose, know that your passion for that topic is what will set you apart from your 'competitors'. Writing blog posts to a targeted audience will make your online business life easier.
Sharing is caring! If you enjoyed this post, please share it with others. And sign up for my FREE weekly newsletter and gain access to my resource library of printable PDF's for bloggers like: Google Analytics Cheatsheet…SEO Checklist…101 Blog Post Titles swipe file…and my Copywriting For Beginners checklist.
Until next time, happy blogging! And follow me on Pinterest
-Irma 🙂