Today's post is 7 tips for finding your blogging niche. Why do I need a niche? Last week I gave you 9 Reasons Your Blog Must Have a Niche, and several of these are tied to your potential income. As well, it is easier to find tribe of loyal followers if you have a niche.
Welcome to Fearless Affiliate.
My name is Irma and I help new bloggers to learn the ropes. There is a lot to take in that first year of blogging, from choosing a niche to changing your mindset from worker bee mentality to that of successful entrepreneur.
I like to focus on practical information and positive thinking, so if that sounds good to you please sign up for my weekly newsletter of tips and free stuff for bloggers. In return you will get the password to my resource library of PDF printables for bloggers like my Google Analytics cheatsheet or SEO Checklist. #win
Over the last decade, blogging has become a great way to make money online. In fact, there are roughly 1.6 Billion websites in the world and it is estimated that 500 million are blogs. Unfortunately, not all of them are making money. Too many bloggers try to be everything to everyone and end up being no one to anyone.
If you want to be successful as a blogger and make money from the content you create, then you have to focus on one target. Here are seven tips to help you find a niche for your blog and make money online.
1. Choose a topic you are passionate about
You will be writing about this topic for years to come (hopefully right?). So choose something you like talking about. Your passion will be felt throughout the article if it is a topic you really enjoy. Your enthusiasm will be infectious and it will be easier to attract followers who enjoy your insights.
You do not have to be an expert on the subject. You only need to be a step or two ahead of anyone else who needs or wants to learn this topic.
The main reason that you might want a niche that you are passionate about is that you can write controversial blog posts that spark debate. If you can get your readers to take sides about your blog post, you can get lively discussion happening and bring more people to your post to debate its merits. This can cause your post to go viral, especially if the topic is currently a hot topic in the news.
*Note: Do not do this if you do not like criticism. You may require a thick skin to get away with doing this more than once or twice a year. And some of the comments may sway your opinion, so there is that too.
This type of blog post virality does not usually happen with "how-to" posts or other instructional material. This tactic does work with some product reviews.
2. Research Your Niche
Use Google Trends
If you need help determining your blog niche, you can use Google Trends to see what people are currently searching for. Plus, Google provides users with tools that allow them to compare different keywords and provides the geographic location where the search volume for a topic is higher. This information can help you find your target audience.
Avoid topics on the decline. You want a topic that is increasing in popularity. Watch out for random topics with a short shelf life, like when fidget spinners were hot.
Browse Through quora or Reddit
Quora is "an online question-and-answer site where questions are asked, answered, edited, and organized by its community of users". Not only is it a great place to find niche ideas, it is also useful for promoting your website in your signature while asking or answering questions.
Reddit is a popular forum online for thousands of topics. You can find communities built around every conceivable subject from entrepreneurship to dog training to jokes. Using Reddit to find a niche is easy. You can click on the "Random" button and browse through the page that you land on and find communities that you might not otherwise know about.
3. Look for a profitable Niche
A great way to tell is whether there are ads in the top of the search results when you research your niche. If people are paying for ads, they must believe that they can make some money from that niche. If you can place affiliate links, review Amazon products, or create products (like ebooks or courses) for your niche, you've found a winner!
Great niches that earn money are:
Financial: How to make money online; how to save money; frugal living
Health and fitness: Vegan, Keto, Cross-fit, Yoga
Food: Cooking and recipes
Personal Development: Self help, meditation; law of attraction
Beauty and Fashion: Men's, women's, children's fashion.
Outdoors/home: Camping, fishing, RV'ing, gardening, homesteading
4. Use the power of Social Media
Use Pinterest to see what people are pinning the most and look at other people's boards to find new untapped markets. Type your niche into the Pinterest search bar and see what results you get. Then click the arrow at the end of search bar to look at (1) people and then (2) boards. See if there are others who are in your niche and what they pin.
Sign up for some Facebook groups in your niche to find different topics and communities. Since you're probably already on your social media accounts daily, why not tap and use them to their fullest potential.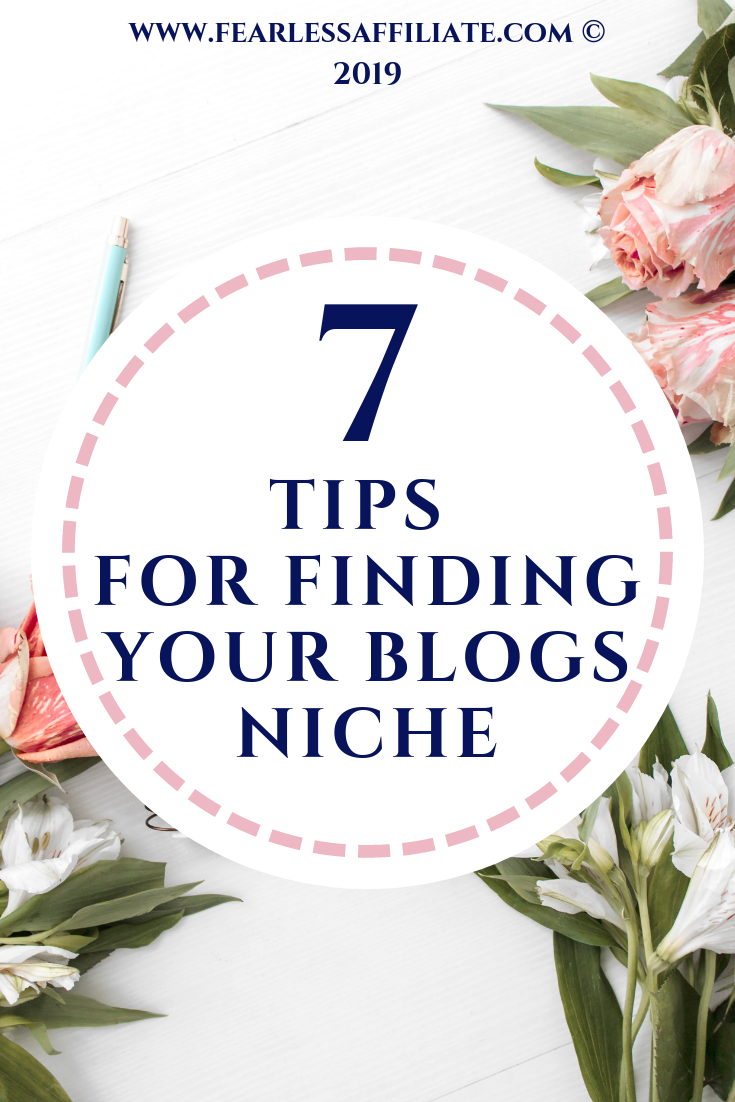 5. Consider the Time of Year
You should be aware of the season, holidays, and traditions to provide you with ideas for different niches. For example, during the holidays, the market becomes flooded with Christmas related items; however, items for Hanukkah and Kwanzaa aren't as plentiful during this time.
This gives you the perfect opportunity to change your target, limit your competition, and niche down. Niches that are in crafts, DIY, and recipes all do well with the changing seasons.
6. Ask the Right Questions
When it comes to finding a niche, you have to ask yourself the right questions. Think about how you can use your experiences and knowledge to add value to your target audiences life. Think about your accomplishments and unique abilities to help you determine your niche. Once you figure this out, you can pour your personality into making the highest quality content for your niche.
7. Consider a small niche
The more niched-down you get, the more focused your content. You also have less competition. Do a quick search on Google for your niche topic. If it is overly broad, with a lot of competition consider niching-down a bit more. Look at the bottom of the page of search results to see related searches and see if any results spark interest for you.
Also do some keyword research using Bings keyword finder or Google's Keyword Planner tool. See what other search terms come up when you input your niche idea. Try to find topics with 1K to 10K monthly searches with low competition.
Conclusion
If you need to find a niche for your blog, use these seven tips to help you get started. Starting off on the right foot after doing your homework and seeking out trends or niches with great income potential will go a long way to help your success.
Sharing is caring! If you enjoyed this post, please share it with others. And sign up for my FREE weekly newsletter and access to my resource library of PDF printables like: Google Analytics cheatsheet….SEO Checklist…101 Blog Post Titles swipe file…and my Copywriting for Beginners Checklist
Until next time, happy blogging and follow me on Pinterest!
-Irma 🙂