These product reviews are my opinions on various blogging products that I have paid for with my own money and tried. These are not sponsored products.
I tried to blog for free, but that only works in the very beginning.
Eventually you will need some quality education and, in this case for sure, you get what you pay for. I took the cheap email marketing course and then had to pay for the higher priced one to actually get results. That first course was a total waste of money and set me back in getting subscribers.
**If you click a link and make a purchase, I may receive a commission at no extra cost to you. Full disclosure is here.**
Full Blogging Course:
Stay tuned for my next review post!
Email Marketing
Love Your List 2.0 from Kate Doster:
Bloggers need a decent email marketing course to build a thriving business and the one that I recommend is Kate Doster's Love Your List 2.0.

Your priority should always be to create your own products (so you have 100% control over them) and be able to market your products to an email list of people who actually want to buy from you (because your list is targeted to your niche).
This sets you up for an untouchable business that is not at the mercy of social media algorithms and the changing online landscape where businesses come and go overnight.
Not only is Love Your List 2.0 an email marketing course, it is also a copywriting course and a product promotion course.
The tips that you get from Kate on how to best setup and promote products is crucial to success. Kate does not leave you hanging with lingering questions either…there is so much content and bonus material that you will be set up for quite a while.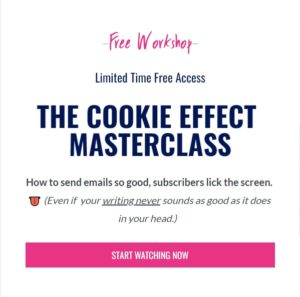 Meanwhile, why not grab a FREE sample of Kate's teaching style with her Cookie Effect Masterclass: how to send emails so good they lick the screen!
After this class you'll…
Discovery the one type of FREEBIE that added 7k people to one of Kate's student's email list in just ONE year without ads (And it took her 7 years just to get her first 1,000 before this.)
Learn the ONE thing that's standing between you and getting an inbox full of Paypal notifications (Hint it's not having a big list or even having a product to sell.)
How to write emails dripping with personality without having to swear or act like somebody else. (Not on my watch.)
and lot's more!
Love Your List 2.0 opens at different times throughout the year, so get on my list to stay updated on your next opportunity.
MailerLite for your email marketing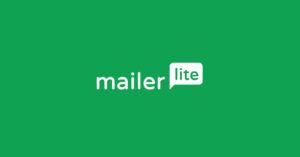 MailerLite is the email marketing software that I have been using for several years now. They update frequently, have excellent and quick support, and if you are just starting out you cannot beat the price…free.
It is free for your first 1,000 subscribers, then only $10 a month for the next 1K.
Each subscriber can sign up for multiple freebies on your site and still only count as one person.
MailerLite has all the bells and whistles of products like ConvertKit but without the price tag. Create opt-in boxes, set up email sequences, set up automations to save time and get all your analytics via Google Analtyics.
This gives new bloggers a way to start email marketing before they have steady income.
I have several tutorials for setting up MailerLite, creating automations (sending automatic emails that trigger when someone performs an action like signing up), and embedded forms (if you have the MailerLite plugin for WordPress, you can add opt-in forms anywhere on your site), and other helpful information on best practices for emailing subscribers.
SEO
My favorite SEO course is called Adventures In SEO 2.0 from Lena Gott (review).
To try out Lena's teaching style check out these free courses. Just click the link or photo to check them out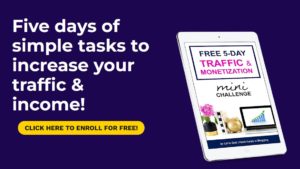 Free 5 Day Traffic and Monetization challenge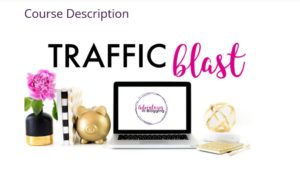 I like the way Lena explains things and her overall reasoning for doing things a specific way. The doors are closed right now, so sign up for my email list to find out when the next opening is.
Pinterest
You will learn how to set up your Pinterest for Business account, but the gold here is how Carly uses Pinterest guidelines and analytics to make decisions on how to pin. I don't know of anyone else who is as geeked out about Pinterest as Carly is.
As Pinterest changes, Carly keeps us up-to-date on how to use the changes to our advantage. As far as I can tell, none of the other Pinterest courses I have taken or used to recommend do such a deep-dive in to how to get the most out of Pinterest. Nor are they as up-to-date.
Carly keeps us updated regularly on the changes that are happening with Pinterest now that it is a publicly traded company. Carly has just updated the course and added some extra components that are very helpful for using Pinterest effectively. I will be doing a review soon, so watch for it.
Meanwhile, grab some FREE Pinterest pin templates: 7 for Canva and 5 for PicMonkey and they come with 2 training videos, a case study, and Carly's Perfect Pins checklist.
Social Media Scheduling
A social share plugin for WordPress that will save you a ton of time when scheduling to social media. There is a free version as well as a Pro version. The free will do just fine for most new bloggers.
Use this tool to create meta data that will automatically populate on your chosen social media platforms.
Also lets you create a "popular posts" section for your home page, that updates automatically.
Productivity
Who doesn't want to save time?
JAAXY – This is a high quality keyword tool that will not only help you rank higher, but you can find trends with Jaaxy, spy on the competition, check out obscure niches, check your blog post rank on Google, Bing and Yahoo. And you get 30 FREE searches to check it out! win-win.
Blogging Product Bundles
What are bundles? The bundles are full of ebooks, ecourses, membership deals, and other useful resources for bloggers. Bundles are a great way to get multiple products for one topic, like SEO. Build your own library of information.
Ultimate Bundles
UB has bundles for: bloggers, photographers, travel, productivity, herbs & essential oils, master your money, work from home, and healthy meal planning. New bundles come out every year.
My favorite product from UB is the Genius Bloggers Toolkit which is tons of helpful products for all types of bloggers. Get ebooks/ecourses on Pinterest, podcasting, organizing, record keeping & taxes, affiliate marketing, email marketing, content creation, monetization and much more.
The GBTK is only available for a few days in October during launch and in spring of the following year for a flash sale. Sign up for my newsletter to be updated on bundles.
(BC = Blogging Concentrated) has one bundle per year, and also has an affiliate program and you can sign up for it here. Signing up also gives you the opportunity to pre-buy the next years bundle at a deep discount.
If you like bundles, this one has up-to-date and innovative products for online marketing. Read my BC Stack review post here for all the details.
If you want to get signed up for the next bundle, usually in summer, you can sign up here and put your name on the list.
The Free Plugins I Use
Akismet Anti-Spam – You just gotta have an anti spam plugin.
Elementor Page Builder – I have Pro, but I started off with the free version. Use it to build custom pages on your site, like sales pages.
GA Google Analytics – Connect this to your analytics account to have real-time and up-to-date info
GDPR Cookie Consent – Just to be safe, have a plugin for consent.
Insert Headers and Footers – If you need to add custom code to your header, use this free plugin.
Kraken Image Optimizer – Optimize your images to speed up loading times for your website.
Nofollow for external link – It does the nofollow work for you if you are using affiliate links.
Official MailerLite Sign Up Forms – Use this to easily add opt-in boxes to any post or page on your site.
Redirection – If you update a post and have to change the slug, use this plugin to create the redirect.
Simple CSS – Another handy tool for adding custom coding to areas of your website
UpdraftPlus – I do a weekly backup and then use the next plugin, WP – Sweep.
WP- Sweep – I use this to get rid of bits of data like deleted posts, spam comments, and other odd items.
Yoast SEO – This helps new(er) bloggers to learn how to structure posts properly for SEO.
Avoiding Scams
To Help You Research…
Get Paid To Write Reviews – As long as you are purchasing products for your blog, why not earn affiliate income too?
Try Before You Buy – A guide
How to Choose an Affiliate Marketing Program – There are a lot of choices, so go for it!
Get Started with Clickbank! – The worlds leading promoter of digital download products.
As someone who was able to avoid being scammed out of money before it was too late, I feel qualified to help you see how scammers work.
This information can be applied to many situations, as the scammer mindset is the same everywhere…to part you from your hard earned money. Please share these posts with others who may need this information. Thank you!
Programs with Questionable Value
I listed these here so that you can read the review and know for future reference how to spot questionable programs.
AWOL Academy review post – The first of the truly over-priced programs that I reviewed.
Six Figure Mentors review– And I thought AWOL was expensive…