$99 for Pro Academy; $15,882. Update Feb. July 2018: Total Cost $10,886 due to Elite Academy no longer being available. They have basically doubled the price of all the other components except Pro Academy. I wonder why…do you wonder why? A bit of a mystery there. Why did they ditch their most expensive component? hmmmm
Owners: Keala Kanae and Kameron George
Related Post: WEALTHY AFFILIATE UNIVERSITY REVIEW – why not compare apples to apples?
How Did I Find This Program?
Who is Keala Kanae? Keala is an internet marketer, with a partner (Kameron George). These two guys founded and run AWOL Academy.
This was my first affiliate program review, because Keala's video ad was the first video ad for marketing that I clicked * on purpose * on the sidebar of YouTube. I was interested in this whole "laptop lifestyle" thing and a free video is an easy way to learn. There was an invitation to click, so I did.
I clicked on "Entrepreneurial Marketing Training – Freelance Marketing Secrets PDF" from Keala Kanae, because I thought as long as it comes with a free PDF, I can read up on this guy later and see how I feel about it.
It is funny that in the latest videos from Keala Kanae, he talks about how making money fast is "a lie" and how people flashing their fancy homes and cars are misrepresenting themselves.
"Success is not easy" Keala says.
I agree, and I listen to those words while Keala walks us all around and inside his large home. *snicker*
The video, which used to be a bit over 8 minutes but is now over 10. While I did have a bit of an idea what Affiliate Marketing was, what I learned in the video was the basics of a sales funnel. A year has passed since I watched that initial video, and now Keala talks about he will explain everything and you will be surprised at how easy it is.
Dude, I have been doing this for over a year now and no, it is not easy. Rewarding? Yes. Educational? Yes. Easy? Uh, not really. Especially if you are totally new to all of this. There is a huge learning curve. Yes, signing up for affiliate programs is easy. Learning what to do with those links is a skill to be learned.
Even people with a background in marketing have a lot to learn.
They just have an easier time crunching the data.
Keala also shows himself laying in a bed of checks that he received as commissions for affiliate marketing. $130,000 worth of checks in 45 days. I am going to go out on a limb and guess that Keala has been at this for a few years, because that kind of money takes a few years to get good at.
This is a teaser to a webinar "Freelance Digital Secrets Masterclass" that you will be invited to if you give him your email address. Awesomely, Keana is being honest with the run time of the webinar now. Two and a half hours.
Want to see the page that came up after I put in my email address for the free PDF? Seems ole Keala has been housekeeping again and this page is no longer available.
I will give you the cliff notes.
Keala says that you can earn "An extra $10,000?In 90 days" Wow dude I am in! Uh oh. What do you mean "by following our instructions?"
That is marketing speak for "If we do not want to give you a refund we will use this old nugget to get away with it".
I also want to point out that in the YouTube video, Keala talks about how easy it is to find a market for weight loss products. He does not, however, mention that 20% of new bloggers are also going after that market. Unless you are already awesome at marketing, sales, choosing products, email marketing etc. you will be competing with lots of people that have the same skill level as you. Just FYI.
I wanted to know what he was selling…How does one get a bed full of checks and live in a mansion by the beach? I want to know! I won't spoil the ending for you, so read on!
Is AWOL Academy a scam or just really, really expensive?
Good question. Let us find out together. Ok, I got my invite to the webinar. The webinars seem to only have a start time of 6 pm Pacific time.
It topped out over 3 hours. Keala spent quite a bit of time in the beginning giving everyone a history of his life and how being broke was his motivation to find a better way. Fair enough.
And the rest of the first two hours was Keala expanding *a bit* on what was already on the 8 10+ minute YouTube video ad. The last hour was Q & A from the participants, with the sales pitch to sign up for his basic program. At that point, I started doing dishes and tidying up around the living room so I could still listen. Honestly, my butt was sore.
Here is someone else who had a similar experience watching the webinar:
After the webinar, I went online to look at the web page, because honestly, Keala does not answer the questions that he says that he is going to answer. You do not get to see how he makes a ton of money.
I wanted to see what is really involved in this whole sales funnel business. Remember, I was brand new to this kind of online business and from some basic searching on the internet I had a bit of an idea on what Keala was talking about.
And I still did not fall for it.
There is NO free trial. There is NO preview, video or otherwise, on what the program looks like. You must pay $99 to get inside – to access to the program. All I have found out, without paying anything, is that once you sign up, you are encouraged to purchase the upgrades including the Elite program for $10,000.00 with the assurance that you will earn it back in the next 90 days, selling AWOL Academy! (**Update 2018…Elite program is no longer offered).
However, if you have no experience with online marketing, you are going to require the other components because the $99 Pro Academy will not teach you very much (read on).
So, ya, it is not a scam per se, it is just really, really expensive and the no try-before-you-buy is like the number one way to discern if something is a scam…
Related Post: Try before you buy or money back guarantee? – Which is better for you?
AWOL Academy has 6 5 levels of products!
Starting with Pro Academy at $99, where you will "walk away with a sophisticated business system". They set you up with a sales funnel, website, and domain. Well, that is not quite a business "system", but only the beginner steps.
This is where you make a page dedicated to selling one product, and you are selling AWOL Academy. Since everyone is promoting the same stuff, you are competing with everyone else who is doing the exact same thing at the AWOL Academy, the exact same way. Are we moving into the duplicate content here? You tell me.
Related Post: Copying vs duplicate content – Ya, Google does not like this stuff.
This man tried the Pro Academy and here is his experience, which seems to be a common one!:
Will you earn your fortune? I do not see how. There is a lot more involved in earning money online, which leads us to…
**As of this update (July 2018) there is a new add on called Internet Income Explained for $49. Okay, well I am guessing but that sounds like it might be about how to use affiliate marketing to make money. I have a bunch of posts on this subject which you can find by clicking on the tab above called Earn Online; help yourself to some free information.**
Inbox Academy at $297 $497 $447 (yet another price change??) which is learning email marketing tricks. Kind of a pricey add-on when there is plenty of free information on the net. And plenty of inexpensive books and webinars teaching this. In fact, I have a free tutorial on getting started with email marketing using MailerLite here. You're welcome!
As well, not all "tricks" work for all websites. No matter what these guys say, there are no "secret" strategies. It has all been done before, by bigger and better companies.
There are tons of people earning 7 figures with their blogs, but it took them 4 or 5 years to get to that point. Most of them started blogs with mostly free resources.
For an example of this, check out the About Me page of Michelle of Making Sense of Cents. I am not an affiliate of Michelle's and I have not taken her course, but it is really popular with my fellow bloggers. The affiliate marketing is just part of the picture.
AWOL even uses a time-honored strategy to get you to enroll; "Curious to know what it is? There's only one way to find out…" That's right…anticipation.
I thought it might be helpful for you if I created an infographic
To compare what AWOL offers vs how much it costs in the real world. Siteground is $3.95 a month for the basic plan or $5.95 for the plan with daily backups (recommended), so either $48 a year or $72, still less than $99 and it is for a full year.
As for Pinterest Ninja which I think is the best course for getting set up with Pinterest marketing and bringing tons of free traffic to your website; you can read my review here. And really, you should keep your costs low in the first year until you make some money and can invest in better themes or Pro plugins.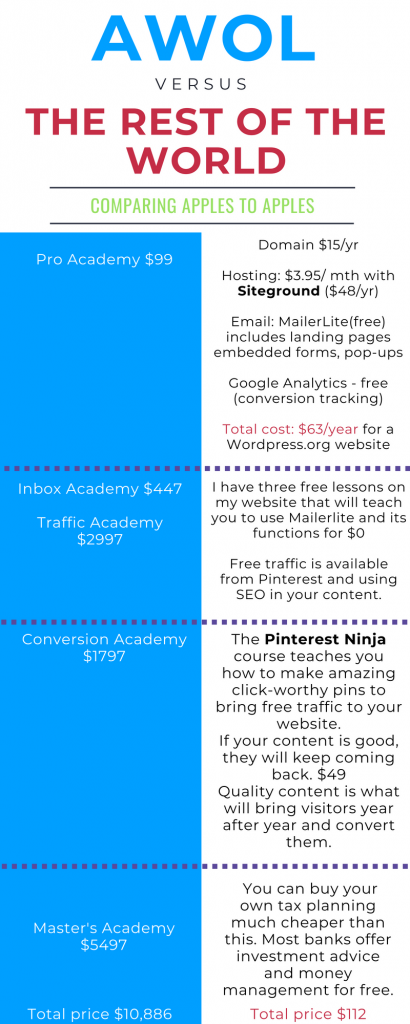 Conversion Academy at $997 Now $1,797, or how to write the kind of copy that brings in the paying customers.
This seems to be an unnecessary expense, as writing from the heart is what all the successful bloggers recommend – not selling, selling, selling. Most people can smell the sales pitch a mile away, so unless they are already willing to pay for the program, pre-made copy will not help.
As well, if you want to use copy that all the other students are using, good luck with ranking on page One with Google. The first person to use this copy can get ranked on Google, and everyone else who uses it will be dropped to the bottom of the search ranks. Because it is duplicate content. Sigh.
Traffic Academy for $997 now $2997, which is "secrets to unlocking a flood of traffic". Maybe it has to do with SEO. but again, there is lot's of free information on the internet about SEO. And SEO is a skill that you get better at with practice…over time.
According to the website "these are the secrets to generating a flood of website visitors that convert into loyal customers". Oh I dunno about that. Are you going to sign up and pay lots of money to someone that you know nothing about? Are you going to trust a stranger to tell you the truth about whatever he or she is promoting for hundreds or thousands of dollars? I do not purchase stuff off the internet like that…do you?
Generating legit loyal traffic comes from building a relationship with the people who visit your website
Hence the word LOYAL. You cannot get people to pay thousands of dollars to a stranger based on secrets that are not really secrets. People, like you and me, read reviews of these products before they buy. Because that is a lot of money to lose.
Some people are lured by the promise of awesome returns, but really you will be lucky if you get your money back. Get Rich Quick promotion is a scam, plain and simple, so I have no idea how Keala gets away with telling people that they will earn $10K in 90 days. I think the only way that happens is if you pay up front and then ask for a refund…and get it. Maybe this is why you see so few good reviews of this program…
Masters Academy $3497 now $5497, which is money management and tax planning. This would be good stuff to learn if you are actually making money this way. However, this information can be had for much cheaper. Much cheaper.
And while we are talking about this, it would make sense to learn about money management before signing up to a program that is just going to bleed you bank account dry and still not help you to have a nice "laptop lifestyle".
(**Update February 2018: AWOL Elite is not on the website anymore. I assume that is why the prices went up on all of the other components** I am leaving this here for reference) AWOL Elite for $9997, where you get a personal mentor. As soon as you sign up for Pro Academy, and do a couple of lessons you are encouraged to sign up for Elite, with the guarantee that you will make your money back in 90 days. They will teach you how to sell the same program that you just bought, so you can break even. Wow.
Why do you not get a mentor after paying $99?
Should you not have someone helping you out from the beginning? Turns out you do get one, but that person is just there to help with the upsells.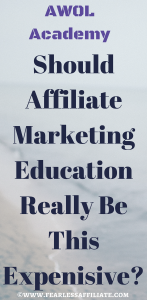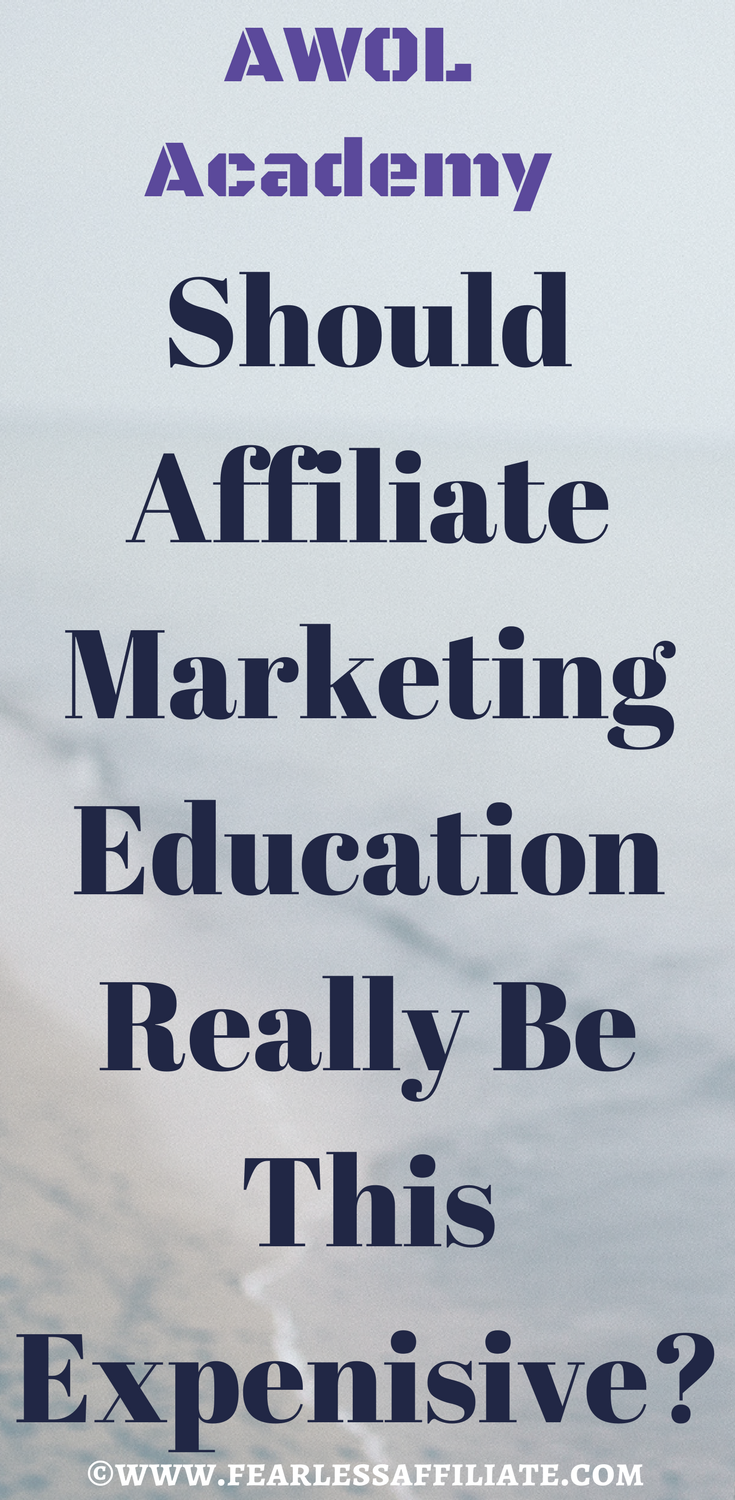 If you buy everything, your education at AWOL Academy is $15,882 Update: $10,837 , now minus Elite Academy.
That is a lot of money. To help Keala and Kameron become wealthier.
Oh, and the free PDF that I got for watching the 8 10 minute video is the exact same information as the video! I guess you could consider it to be "notes"?? Keala presents you with the basics of a sales funnel.
The key to making it work is that you need tons and tons of visitors, because most will not buy and that is just the nature of sales. The few that are left may or may not buy, hence the term "funnel". It gets narrower as more people leave it.
You can set up your own funnel with MailerLite, which comes with free landing pages, opt-in forms and pop-ups.
I went to the PRAISE tab at the AWOL website
(Update 2018: the Praise tab is gone…why??) to see what kind of reviews his students had to say. I checked a couple of the Case Studies, but these people only have a couple of posts in their web pages, and one had a 404 error, so I guess they are too busy trying to earn back their 10 grand to maintain their websites. That is not much of a recommendation. I was expecting pages of glowing reviews. Nope.
You might also find other glowing recommendations on the internet – along with income reports which may or may not be real, but what I found extremely odd, is that there is one reviewer with several websites! He has a generic review, which again says nothing about the program and only what a great guy Keala is (complete with lots of photos and no information), and he links this review to his other webpage, which (wait for it…) gives you the exact same NON-information!
Where are the glowing reviews for AWOL Academy?
I have also seen a few YouTube videos, also from people who talk about how great Keala and Kameron are. Awesome, but how does that help me to decide if this program is right for me? It doesn't.
I want to hear from someone who bought the program components and was able to earn back their money in 90 days. Or 120 days. Or even ever. Please. Anybody?? echo…echo…echo…The only place to find some real reviews is Better Business Bureau, where you can find reviews like this: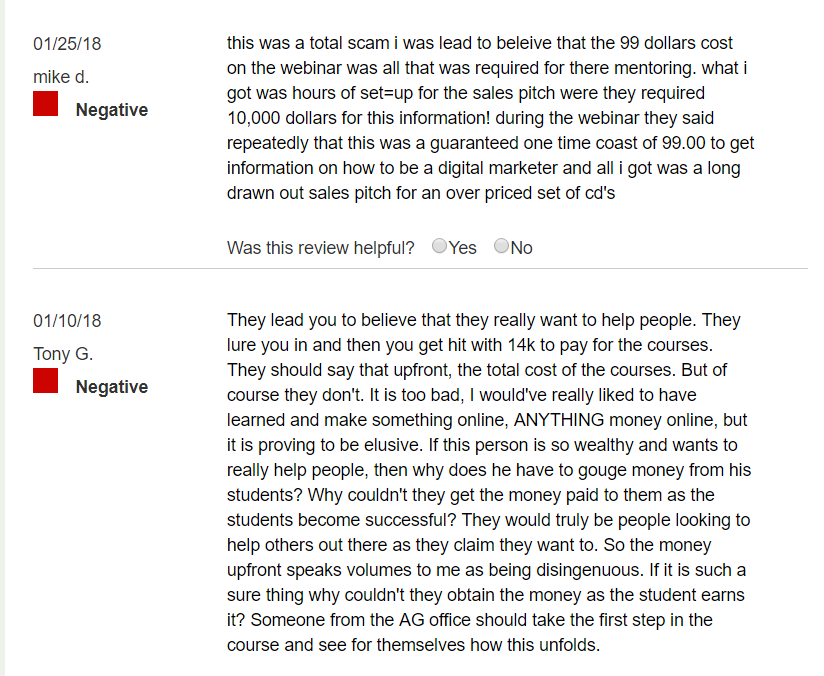 AWOL is teaching how to set up a sales funnel. You need a website, an email service provider, a landing page (which you can create using a page in WordPress), and a way to generate traffic. Long term traffic generation comes from great content (blog posts), and you can get short term traffic in a variety of ways…all of them free. Do a quick Google search of all of these items and see if you have to pay $10,000 to $15,000 for them. I have a post on the subject here.
No one needs to pay $1800 for pre-written copy that everyone else in the program is going to use, and which should be free if you are already paying a ton of money to be in that program. And no one needs a email traffic program for $3000 when you can take a full course for anywhere on the internet from $99 to $500.
Even Affilorama was offering 5 done for you sales funnels in one of 18 niches for less than $1000. Why is AWOL so expensive? You are paying Keala's mortgage, that is why.
AWOL Academy- FAIL
You do not learn anything from AWOL except how to sell AWOL- which, from what I understand, makes this a pyramid-type scheme. The only people earning money with AWOL are the ones who got in at the start. That truly sucks.
Related Post: How to start a blog and make money online
How that works is: person A buys in at the beginning. He convinces person B to buy in, thus earning a commission from that sign-up as well as earning a commission from the mandatory affiliate programs that person B is forced to buy as part of their education at the academy.
The problem with this type of MLM program is that it gets harder and harder to find people who will sign up. The more bad reviews out there, the harder it gets to find people to sign up. But even if you cannot find people to sign up, Keala and Kameron are still making a ton of cash off of all the people who have already paid and/or are going to purchase upsells.
You are still stuck selling AWOL
And if AWOL tanks? You have nothing to fall back on. Sketchy, especially now that they ditched their most expensive component (I still wonder why…do you?)
$15,000.00 (Now $10,837) is a lot of money to spend, especially since you do not get to "try before you buy". How do you know what you are really getting for $99, until you pay and check it out? And that is when the up-sells begin…
If you want to learn affiliate marketing, I suggest Wealthy Affiliate. It is $49 a month, or you can pay yearly for $359. Come in, follow the steps to setting up a WordPress.org website and learn the skills like all of the other students. It is legit.
Related Post: Wealthy Affiliate review
Another program that I know you will love is Dare To Conquer (formerly Billionaire Blog Club). Scrivs program has a robust Pinterest component, as well as blogging, SEO and affiliate marketing. It is a one time pay, and the doors are not always open, so sign up to my newsletter to get updates. $500.00 with free updates for life.
Related Post: Dare To Conquer
There are 3 BILLION people online daily, and tons of awesome affiliate products that you can promote that will earn you a tidy sum. With more than enough for everyone. You do not need to sink 10 grand into a so-so education.
My recommendation
Save your money and do some more research. You can have a successful online business if you want to!
Cheers and Happy Blogging! Follow me on Pinterest
-Irma 🙂
*Note: This post was updated in February July 2018 to reflect the prices and content of the AWOL Academy programs. It was originally published in May 2017, and has been edited for clarity and comprehensiveness. Apparently they have changed some more prices and upgraded the cost for what used to be Elite Academy. Regardless, it is a lot of money to be hog-tied to only selling one product.
Do you have experience with AWOL Academy that you would like to share? Have you been swindled by unscrupulous ads promising you vast returns in less than a year? I invite you to leave comments or questions in the box below.
As well, feel free to share this post on social media and educate your friends before they spend vast sums of money!