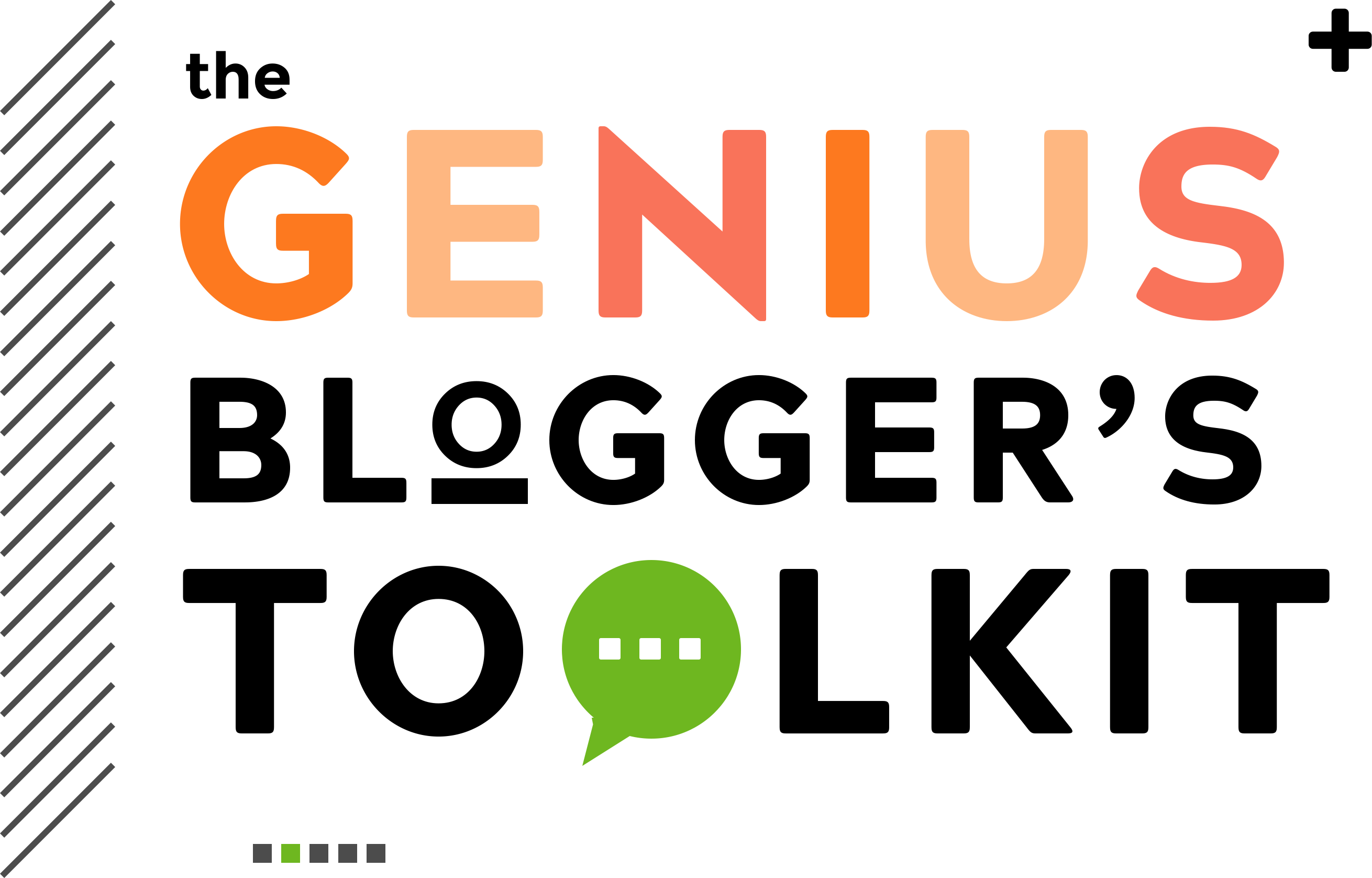 **PLEASE NOTE: THIS SALE IS NOW OVER, BUT ULTIMATE BUNDLES HAS A LOT OF BUNDLE OFFERINGS ALL YEAR LONG.
The next bundle is: Herbs & Essential Oils May 30 to June 4, 2018. Sign up to be notified here. 34 products worth $567.48…$29.97
If you are interested in becoming an affiliate, click here. It is a wonderful program and the bundles are so useful!
*************************************************************************************************************************
Looking for the best deal ever on blogging products? Not sure what the next step is for your blog?
How would you like 91 products on topics from productivity to affiliate marketing?
Check out The Genius Bloggers Toolkit which is on a flash sale May 14 & 15! It includes:
*If you follow the link to the Genius Bloggers Toolkit and purchase something, I may receive a small commission on any purchases, at no extra cost to you. This helps me to fund my blogging. See my full disclosure at the bottom of the page*
Beyond Blogging
Blogger to Author: How I Went from Hobby Blogger to Getting Two Book Deals With A Major Publisher by Erin Odom ($30.00)
Flipping Blogs for Profit by Jenn Leach($27.00)
Monetize Your Blog With Freelance Writing: Learn How to Make $2K/month Using Your Blog Writing Skills! by Sagan Morrow ($39.00)
Side Hustle Blueprint: How to Make an Extra $1000 per month Writing eBooks by Lise Cartwright ($17.00)
Blog-Life Balance
Sweetly Blended: The Ultimate Guilt-Free, 4-Step Recipe for Building a Wildly Profitable Business Without Missing out on Family Time, Burning Out or Watching Money Flow Down the Proverbial Drain! by Prerna Malik ($69.00)
The Bliss-Filled Mama's 3 Month Biz Plan: Your Step by Step Process to Designing Your Most Blissful Biz Season Yet! by Kathy Stowell ($47.00)
Your Business Personality Assessment: Manage and Grow Your Business with Ease by Melissa Llado ($28.95)
Branding
Brand Intimate: The Essentials of Your Purposeful, Profitable Brand by Vanessa Ryan ($27.00)
Brand Yourself Like A Creative Hustler by Steven Picanza ($397.00)
The Blogger's Guide to Rebranding by Cori George ($14.99)
Content Creation
1200 Blog Post Ideas by Rachael Wynn ($7.80)
Creative Sparks for Business: 31 Business Ideas for Bloggers by Jennie Moraitis ($10.99)
Food Photography Tips & Tricks: The Ultimate Guide 2nd Edition by Christina Peters ($19.95)
hope*writers 3-month membership by hope*writers ($66.00)
Make Your Old Content New Again: Six Steps to Getting More Traffic, Money and Followers By Updating Your Existing Posts by Katy Widrick ($14.99)
Never Run Out of Blog Subjects Again by Max Kuivenhoven ($7.00)
The Effective Writer by Jeff Goins ($197.00)
Webinar Essentials: The No-Brainer Guide to Delivering Your First Webinar in 7 Days by Julie Harris & Razwana Wahid ($57.00)
Creating & Selling Products
Creating and Formatting e-Books: Convert Your Word File to Kindle by Susan K Stewart ($180.00)
Epic Instructor Lab: Unique Content to Help You Easily Create Your First Online Course by Kari Sayers ($37.00)
Launch It Right! Bundle: Plan Out and Execute your First Profitable Course or Digital Product Launch by Summer Tannhauser ($29.00)
Love Plus Color's eBook InDesign Template by Jessica Safko ($32.00)
Sales Page Success by Chelsea Damon ($30.00)
Sign Up To Sold Course: 3 Proven Steps for Turning Strangers Into Customers by Caressa Thompson ($97.00)
Write, Publish & Market Your Kindle Book In 4 Weeks by Ling Wong ($97.00)
Email Marketing
ConvertKit Masterclass: The Exact Formula I Used to Grow My Email List to Over 14K in Under a Year by Monica Froese ($47.00)
Email Lists Made Easy for Writers and Bloggers by Kirsten Oliphant ($4.99)
How to Create Your First Opt-in Freebie by Angie Nelson ($29.00)
List Building Mania: Build Your List, Save Time and Grow Your Business in 7 Days by Lindsay Maloney ($87.00)
Problem to Promotion: A Training on Creating the Perfect Opt-in by Kristie McCollum ($39.00)
Getting Organized
Blog Content Creator Kit by Kaitlyn Kessler ($16.00)
Blogging Binder by Sarah Titus ($47.00)
Free Your Mind Blog Planner: Dream Bigger, Organize Your Tasks and Achieve Your Dream Life by Mom's Small Victories ($17.00)
Printable Blog Planner by Gemma Bonham-Carter ($14.95)
Getting Started
BECOME by Dollie Freeman($99.00)
Blog by Number: Every Busy Mom's Ultimate Guide to Starting a Blog by Suzi Whitford ($47.00)
Choosing Your Perfect Niche: The Key to Launching a Successful Blog by Abby Lawson ($10.00)
How to Master Google Analytics from the Beginning: A Beginner's Guide to Customizing Google Analytics for Your Blog by Dawn Aldridge ($6.99)
My 14-Point Blog Startup Checklist by Bob Lotich ($19.00)
Profitable Blogging For Beginners: The 4 Week Online Class by Tanya Peterson ($97.00)
The Beginner's Guide to Blogging: Everything You Need to Know to Start a Profitable Blog by Sarah Brooks ($12.00)
Increase Traffic
Blog Traffic Bootcamp by Lena Gott ($37.00)
Demystifying SEO: A Blogger's Guide To Search Engine Traffic by Kim Six ($29.00)
Find Your Tribe Online: Find Your Readers, Grow Your Blog, and Have Fun Doing It! by Jen Snyder ($67.00)
Ready Set Blog for Traffic by Elna Cain ($45.00)
The She Approach To Boosting Your Blog Traffic by Ana Savuica ($25.00)
Traffic, Subscribers, Yours by Raelyn Tan ($197.00)
Legal & Financial
Blog and Be Legal: The Start to Finish Guide to Starting Your Blog & Online Biz Legally by Jackie Jade ($297.00)
Copyright Infringement Workbooks by Dana Bucy Miller ($40.00)
The Blogger's Simple Guide to Taxes: A Guide to Saving Time and Money by Sarah Korhnak ($3.99)
Monetization
Affiliate Acceleration: Impactful Strategies To Increase Your Passive Income by Kayla Aimee ($27.00)
Become an Affiliate Blogger: Preparing You to Create a Full Time Income So You Can Work From Home! by Tia Mac ($47.00)
Closing Strong: Create Campaign Reports that WOW Your Clients by Danielle Liss ($49.00)
Core Affiliate Strategy Guide by Rosemarie Groner ($64.00)
How To Make Money From Blogging: The Ultimate Guide To Earning A Five Figure Income From Your Blog by Sharon Gourlay ($24.99)
Make Money Blogging at ANY Level by Victoria Pruett ($20.00)
Media Kit Smash: Increase Your Earning Potential with Professional Media Kit Using Canva by Melissa Culbertson ($87.00)
Passive Income Planner: Stop Trading Time for Money by Chantal Arnett ($19.00)
Small Blog, Big Income: Advanced Ninja Tricks for Profitable Blogging by Carol Tice ($3.99)
The Brand Magnet by Jeni Elliott ($59.00)
Podcasting
Start Your Podcast: From Idea to First Episode by Jacey Verdicchio ($39.00)
Turn Your Podcast Into Your Business by Joe Pardo ($197.00)
Productivity
Automation Education by Amber Temerity ($49.00)
Biz Boost Workbook by Tonia Kendrick ($29.00)
BlogWise: How to Do More with Less by Darren Rowse ($19.99)
Creative Biz Plan Workshop: Using Smart Strategies to Run Your Biz Without it Running You by Kayleigh Hannon ($47.00)
Don't Eat That Frog! A Liberating Look at Time Management Strategies by Stacy Farrell ($14.95)
Inbox Hero: Learn to Conquer Your Inbox and Be More Productive Every Single Day by Désirée Fawn ($35.00)
Organize Your Entire Business Like a CEO by Laura Smith ($49.00)
Piece of Cake: 42 Simple Systems For Your Business by Melissa Smith ($29.00)
Productivity Freedom by Elizabeth Masarik ($47.00)
Spend Less Work Less by Loralee Hutton ($99.00)
Professional Blogging
ACTIVATE: EBA Live Conference Video Package by Ruth Soukup/Elite Blog Academy ($297.00)
Blogging to Win: Modern Blogging Strategies for the Busy Woman by Allison Lindstrom ($179.00)
Fall In Love with Blogging: From Passion to Plan to Profit by Dwainia Grey ($17.00)
Turn Your Dreams Into Money: How to Build a Six Figure Blog and Live the Life You Want by Emma Drew ($250.00)
Social Media
10 Super Common Facebook Strategies That Do More Harm Than Good by Brittany Ann ($15.00)
Conquer YouTube by Kallie Branciforte ($375.00)
Crush It with Facebook Groups: The Ultimate Guide for Bloggers and Creative Entrepreneurs by Lindsey Aleson ($15.00)
Group Board Master: Unlock the Key to Massive Pinterest Growth! by Caroline Vencil ($97.00)
Instagram Unlocked: How to Gain Followers and Engagement that Lasts by Helene Sula ($57.00)
Own It: Amplify Your Influence & Build the Online Tribe of Your Dreams by Chakayla J. Taylor ($75.00)
Pageviews from Pinterest: The 7-Step System to Skyrocket Your Blog Traffic (& Income!) in the Next 30 Days by Krista Dickson ($197.00)
Pinterest Boost: How to Optimize and Automate your Pinterest Account using BoardBooster by MaryEllen Bream ($27.00)
Pinterest Group Boards Masterlist by Jenny Blaisdell ($10.00)
Pinteresting Strategies: How I Went from 0-200K Page Views with Manual Pinning by Carly Campbell ($32.00)
Social Media Strategies Course for Bloggers by Alea Milham ($99.00)
Twitter Strategy for Bloggers by Saira Perl ($44.00)
Two Minutes a Day to 10K Twitter Followers by Brett Romero ($47.00)
Bonuses
FREE 2-Month Subscription (any plan) to ConvertKit ($58.00)
*new customers only
FREE 2500 Credits from Mouseflow ($29.00)
FREE 3-Month Thinkific Bundle (Offer Includes 3-month Business Package Trial, Training Courses, Launch Preparedness Review, and Free Migration Concierge Services) from Thinkific ($297.00)
FREE 2 Month Lunch -or- 3 Month Snack Plan from SaneBox ($25.00)
FREE 2 Month Standard Plan from LeadQuizzes ($67.00)
FREE 10 Stock Photos Bundle from Haute Chocolate ($69)
Whew!
I got my bundle in advance of this sale, and I am just reading like a maniac every evening trying to up my blogging game. I am enjoying all of it, and I know that I have the tools that I need to succeed! I want you to have that as well 🙂
Sale ends at midnight on May 15th, so grab your GENIUS BLOGGERS TOOLKIT while you still have time! If you missed out, you can sign up to be notified of the other bundles coming out this year.

That is it for me this week! Happy Blogging!
-Irma 🙂