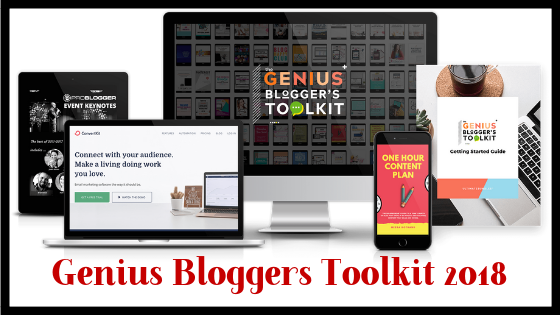 **Sorry if you missed it! This years sale is over, but mark your calendar for next years amazing bundle of products!**
Looking for the best deal ever on blogging products? Not sure what the next step is for your blog? Need a course to help you advance to the next step of your blogging? I have a solution for you.
*If you follow the link to the Genius Bloggers Toolkit and purchase something, I may receive a commission, at no extra cost to you. This helps me to fund my blogging. See my full disclosure at the bottom of the page*
Yes, it is that time of year again! The Genius Bloggers Toolkit is on sale October 10th to 15th.

This years bundle is 77 products valued at $5867.88, but you pay only $97!!
You will get:
41 ecourses
15 ebooks
9 Printable Packs & Workbooks
5 Templates
5 Stock Photo Packs
2 Membership sites
Why would I want this?
I got my bundle in advance of this, and I have checked out most of the products. You really cannot go wrong with blogging information on topics that can help you to have the most successful blog in your niche.
You get products for: SEO, Email Marketing, Pinterest, Organizing your blog, Workflow hacks, GDRP, setting up a WordPress blog, Facebook Live, Podcasting, a One Hour Content plan, CSS for your WordPress blog, and so much more!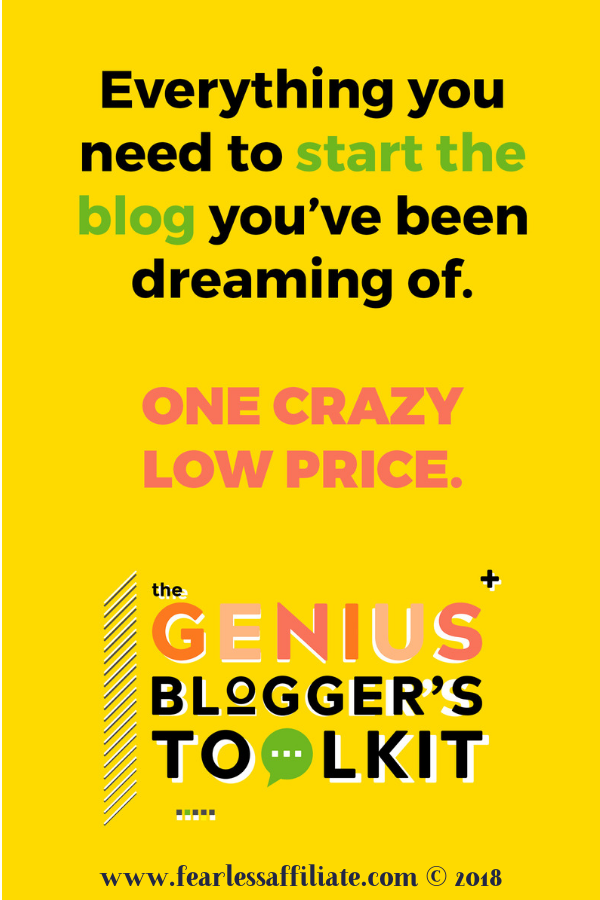 PRODUCT LIST
Business Setup (8 products worth $347.98)
Community & Support (2 products worth $201.00)
Content Creation (4 products worth $200.98)
Design & Branding (5 products worth $347.99)
Getting Started (5 products worth $517.00)
List Growth (6 products worth $717.00)
Monetization (7 products worth $615.95)
Product Creation (10 products worth $738.99)
Productivity (9 products worth $490.00)
Social Media (14 products worth $1,254.99) *Note: There are 9 products just for Pinterest!!!
Tech Help (5 products worth $383.00)
Plus…
Bonuses: 3 month subscription to Podia; 2 month subscription to Stencil; Free Site Scan and Content Audit Statistical Report from The Blog Fixer; 2 free months from Scribd, 2 months free of ConvertKit and 3 months of Tailwind.
Sale ends at midnight on October 15th
Grab your GENIUS BLOGGERS TOOLKIT while you still have time! If you missed out, you can sign up to be notified of the other bundles coming out this year.
Until next time, happy Blogging and follow me on Pinterest.
-Irma 🙂
Are you interested in becoming an affiliate of Ultimate Bundles? I know you will love it!