Genius Bloggers Toolkit…what is it? It is the best deal on blogging products for bloggers of any niche.
This years toolkit is the biggest ever, with tons of products for Pinterest, Monetization, Video and Vlogging, and many more topics. This is an amazing resource if you are looking for specific products at an amazing price or if you want to be ready for the next phase of your blog.
This post was originally published on Oct.9, 2018 and was edited to give you the current GBTK offer on Oct. 1, 2019
*If you follow the link to the Genius Bloggers Toolkit and purchase something, I may receive a commission, at no extra cost to you. This helps me to fund my blogging. See my affiliate disclosure here.*
Yes, it is that time of year again!

This years bundle is 77 products valued at $7395.27, but you pay only $97!! Cheat sheets are an extra $50 but make it easier to find and sort your products.
You will get:
55 ecourses
26 ebooks
7 Workbooks and Printables
5 Templates and Stock Photo Collections
1 Membership sites (12 months!)
Why would I want this?
I got my bundle in advance of this, and I have checked out most of the products. You really cannot go wrong with blogging information on topics that can help you to have the most successful blog in your niche.
My favorites from the 2019 kit are:
Social Boom by Ruth Soukup
VA Jumpstart by Alexandrea Harrelson
Tripwire 101 For Bloggers by Saira Perl
How To Grow Your Blogging Income Through Facebook Ads by Jessica Festa
*Note: You may have read my review post for Manual Pinning Simplified by Kyla Sims. This ebook is included in this years GBTK! If you want a simple system for pinning without paying for a scheduling tool or anything fancy, grab this ebook and start pinning with your phone. Kyla's system makes it so easy!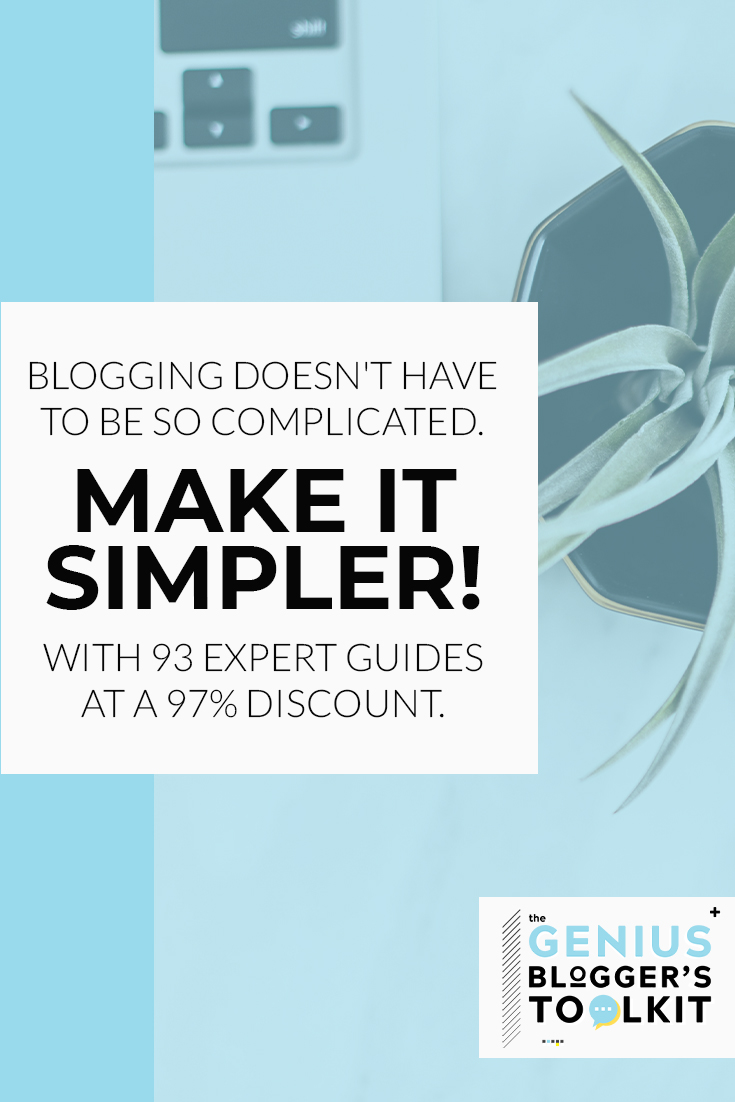 PRODUCT LIST
Affiliate Marketing (5 products worth $222.99)
Beyond Blogging (3 products worth $384.97)
Branding (4 products worth $106.94)
Building Your Blog (7 products worth $1234.00)
Content Creation (5 products worth $205.00)
Creating & Selling Products (6 products worth $695.00)
Design (4 products worth $228.00)
Email Marketing (7 products worth $481.95)
Facebook & Twitter (4 products worth $261.99)
Finance & Legalese (5 products worth $212.99)
Get Started (6 products worth $680.00)
Instagram (4 products worth $227.50)
Monetization (4 products worth $221.97)
Pinterest (7 products worth $440.00)
Podcasting & Vlogging (5 products worth $158.98)
Productivity & Organization (6 products worth $257.00)
SEO & Traffic (9 products worth $787.99)
Tech & Support (3 products worth $588.00)
Bonuses:
2 month Shaker subscription to Podia ($158 value)

Free Site Scan and Content Audit Statistical Report from The Blog Fixer ($115 value)

2 free months from Stencil ($40 value)

2 months free of ConvertKit ($58 vlaue)

3 months of Tailwind scheduling app for Pinterest and Instagram ($45 value)

5 FREE Fonts from The Hungry JPEG ($22 value)
Sale ends at midnight on October 7th
Grab your GENIUS BLOGGERS TOOLKIT while you still have time! If you missed out, you can sign up to be notified of the other bundles coming out this year.
Until next time, happy Blogging and follow me on Pinterest.
-Irma 🙂