Genius Bloggers Toolkit…what is it? It is the best deal on blogging products for bloggers of any niche.
This years toolkit is the biggest ever, with tons of products for Pinterest, Monetization, Video and Vlogging, and many more topics. This is an amazing resource if you are looking for specific products at an amazing price or if you want to be ready for the next phase of your blog.
This post has been updated for the Genius Blogger's Toolkit 2020.
*If you follow the link to the Genius Bloggers Toolkit and purchase something, I may receive a commission, at no extra cost to you. This helps me to fund my blogging. See my affiliate disclosure here.*
Yes, it is that time of year again!
(If you are early to the sale, please add your contact info to the waiting list…no obligation!)
The 2020 Kit contains:
53 ecourses
15 ebooks
7 Workbooks and Printables
11 Templates and Stock Photo Collections
86 products worth $7484.88. Available September 21 to 28 for $97!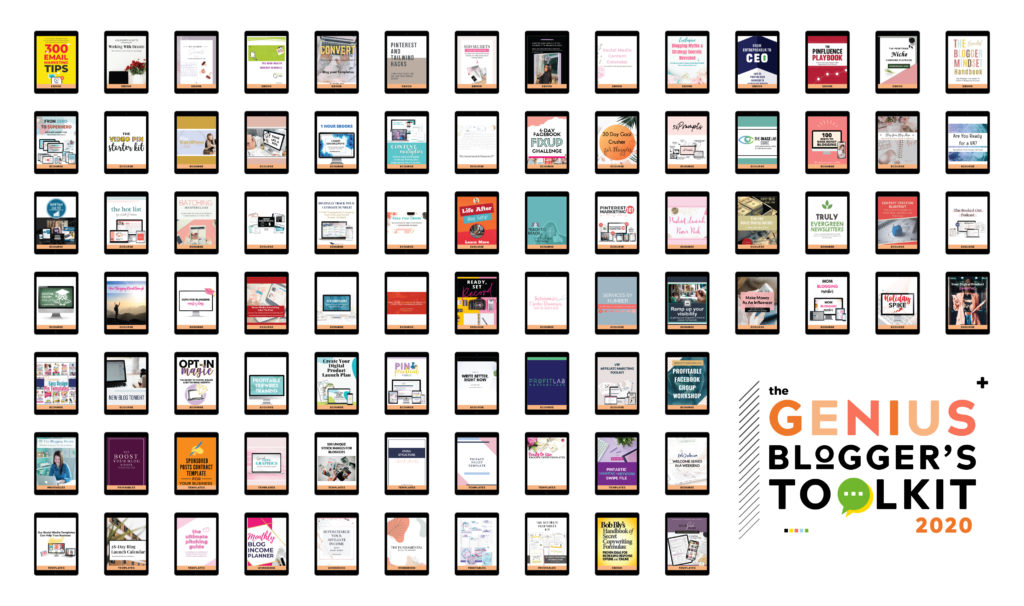 Is the GBTK Right For Me?
You know what a challenge blogging can be, especially when you are not sure what to focus on next to move your blog forward. After you purchase this kit, you will have information that you can use immediately to determine your next steps.
Need information on social media? There are a whopping 12 different courses for Facebook, Instagram, and Pinterest, including 2 courses on scheduling and creating a content calendar for your social media.
There are 5 courses on Traffic & SEO
If you want Affiliate Marketing to be your new jam, there are 5 products to help you out.
Creating Content can be a chore, so there's 10 products to help you save time and sanity.
Get 6 products to help you get started with Email Marketing.
Are you ready to create products to sell for passive income? This years toolkit contains 11 products to assist your success!
If you haven't started blogging yet, but you know that you want to! there's 6 products made just for you.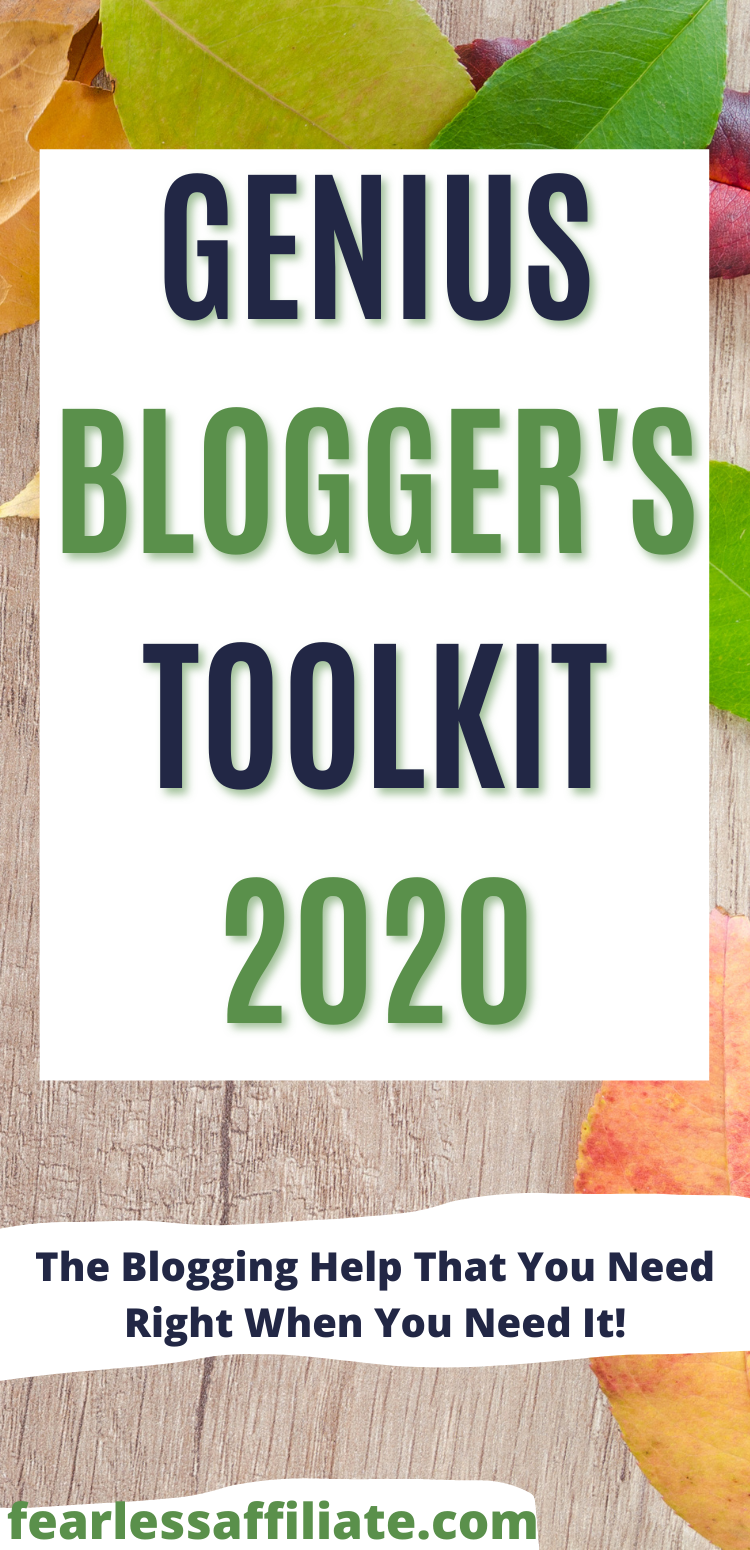 Other topics included are:
Graphics & Design – 5 products
Legal – 3 products
Mindset – 4 products
Networking & Growth – 8 products
Podcasting & Video – 5 products including Profit Lab Masterclass
Productivity & Organization – 5 products
Website & Tech – 3 products
As you can see, there are products for every stage of blogging. Get these products and be ready to take the next step with your blog!
My favorite product from the 2020 kit is:
Topic: Mindset – Faith Mariah's Think Like A Boss. Faith is amazing at motivation and success thinking! I'm not sure if I even need the other products as long as Faith has my back. Trust me, no one will motivate you to get busy and create the life of your dreams the way that Faith does.
Mindset coaching is clearly Faith's gift to the world. Listen to her speak, and you will be motivated to discover yours if you haven't already. If you need someone to light a fire under you and push your blog to the next level, then Faith is your girl. Very highly recommended.
53 ecourses
15 ebooks
7 Workbooks and Printables
11 Templates and Stock Photo Collections
86 products worth $7484.88. Available September 21 to 28 for $97!
Cheat sheets are an extra $50 but make it easier to find and sort your products.

Click on this link to get on the waiting list for when the doors are open
Bonuses For GBTK 2020
This is my fourth year with the toolkit and I have never seen this many bonuses!
**Note that some bonuses are 'early bird' and are available for a limited time**
This timer is for when the Early Bird Bonus offer expires
ADA Compliance Alt Tag Report + Content Audit Package – Blog Fixer (*Early Bird*)
$25 Credit – Sane Box (clean up your inbox)
3 Months Free – Meet Edgar (social media management tool)
2 Months Free of Stencil Unlimited – Stencil (graphic design tool)
Focus Blend Aroma Therapy – Puro Co.
28 Day extended free trial – Podia teaching platform
4 months free Membership to the VA Business Lounge – Harrelson Media digital marketing agency
FREE site Scan + Content Audit Statistical Report – The Blog Fixer
3 Months Access to the 2020 Blogger Breakthrough Summit Sessions – Bloggers Breakthrough Summit
2 Months free on Any Plan – Wordable (helps you export Google docs to WordPress)
6 Months free of QuizPipe at the Enterprise tier – Clean Commit (lead generating quiz platform)
15 Styled Stock Photos + Editable Social Media Templates – Haute Stock
60 Day Free trial – ConvertKit (email service provider) or 10 Free visual automations
3 Months Free from Tailwind – Tailwind is a Pinterest and Instagram scheduling tool
3 months free on the Pro plan – SocialBee social media management tool
Summary
You really cannot go wrong with blogging information on topics that can help you to have the most successful blog in your niche. Whenever you need information to up-level your blog or website, you will have it right now.
Sale ends at midnight on September 28th, 2020 at 11:59 ET
Grab your GENIUS BLOGGERS TOOLKIT while you still have time! If you missed out, you can sign up to be notified of the other bundles coming out this year.
Until next time, happy Blogging and follow me on Pinterest.
-Irma 🙂