Online marketing scams are everywhere on the internet, but that won't be a problem for you! I've got some helpful tips to help you spot scams more easily.
Most products that you purchase will be safe bets, but there are always a few people who don't like to put in real work to create an income. They want it the easy way.
This post was originally published June 10th, 2017 and has been updated to be current with new information. This post may contain affiliate links. If you click a link and make a purchase, I may receive a commission at no extra cost to you. Full disclosure is here.
Welcome to Fearless Affiliate.
My name is Irma and I help new bloggers to learn the ropes. There is a lot to take in that first year of blogging, from choosing a niche to changing your mindset from worker bee mentality to that of successful entrepreneur.
I like to focus on practical information and positive thinking, so if that sounds good to you please sign up for my weekly newsletter of tips and free stuff for bloggers.
Subscribers will get the password to my resource library of PDF printables for bloggers like my Google Analytics Cheatsheet or my SEO Checklist.#win-win
Still haven't picked a blog niche?
I can help with that too! Read my 5 Secrets To Finding Your Niche eReport…it's in the Resource Library. Sign up now and check it out.
What Are online Marketing Scams?
If you are looking for a way to earn extra income online, there are many options available, and they all have one thing in common…hard work and dedication.
Many new bloggers try everything they can to earn money, like survey sites, paid ads, and affiliate marketing. These are mostly easy-to-join programs that accept new bloggers.
It takes time to develop trust online. In the case of online marketing, your hard work comes in in the form of quality content that engages readers. It's a give-and-take kind of exchange.
Online marketing scams are all about the take. They take money from you.
Where you need to watch out will be:
Websites purporting to do scam-product reviews just so that they can promote their affiliate products.
Fake or unethical online marketing training programs
Domain name scams
Get-rich-quick products that promise quick results "if you just buy their product/program". Only they have the key to quick and easy cash!
There are also many programs that offer legitimate education, but in not such legitimate ways. There are also expensive up-sells and pay-to-join programs.
When it comes to buying online, it is always important for the buyer to beware! Research is your friend!
Related Post: Get Rich Quick Scams
How To Avoid Online Marketing Scams
"Scams" Review Websites
You will see a ton of these if you are researching online marketing information. Many lead to legit, but not quality, education sites. Google "affiliate education" to see them.
Three examples are:
Wealthy Affiliate – This one comes up a lot because the program recommends that you promote it as an affiliate. New bloggers will jump at the chance to earn commissions, because they make it sound easy. It's not, unless you want that to be your full-time job. Even then, there is a lot of competition.
Clickbank University (related to the Clickbank website of digital affiliate products) – Learn to promote Clickbank products in one 8-week course; learn to create products to sell through Clickbank in a different course (Vendor Training).
Affilorama – Also offers an affiliate program to encourage students to stick around.
Each of these programs promote themselves as "the best" and all three offer beginner affiliate marketing training in a membership program. Pay monthly (or yearly) for access to everything.
The funniest part is that the affiliates of these programs write review posts bad-mouthing the others while praising their own program.
Many of the Wealthy Affiliate reviews look identical, because they all use the same language from the training videos! Watch for clues like "my recommendation" or "xx/100" (Wealthy Affiliate gets 100/100 every time!), and all the amazingly supportive reviews. Part of the program is leaving reviews for other students to give them website traffic.
As well, many Wealthy Affiliate reviews have the word SCAM in the title, implying other programs are less legit.
The problem is that thousands of people join, but few become successful.
Why?
There are several reasons:
The education is basic. It's just enough to get you set up, but not enough to help you achieve success. You will need intermediate or advanced education for that.
Their education only educates you on a small amount of information. Students are encouraged to go to "chat" and ask for help from senior students.
By paying a membership fee to get your education, you end up trapped into paying monthly, even if you get no results.
Many of these programs offer lucrative commissions to be an affiliate of the program. However, you have to keep paying your membership to get that affiliate cash, so the win here is for the program, not you.
Don't get me wrong – membership programs are not scams in and of themselves.
If you join a membership program to learn about affiliate marketing, you can expect that education. If you know, going into it, that your education is basic, you can decide how long to be there.
But…if they promise you that you will get all the education that you need for success, but a year later you're still not making money…that's not right.
So, while many websites "claim" to have thousands, or even millions, of successful students, the truth is that those people abandoned their websites and moved on.
I was in two of the above programs. I met many people who quit after the free or introductory period. Blogging wasn't for them or the timing was bad.
It is irresponsible to claim those websites belong to successful students.
These bare-bones educational programs do not help you understand how to run a business. That is the real education that you will need.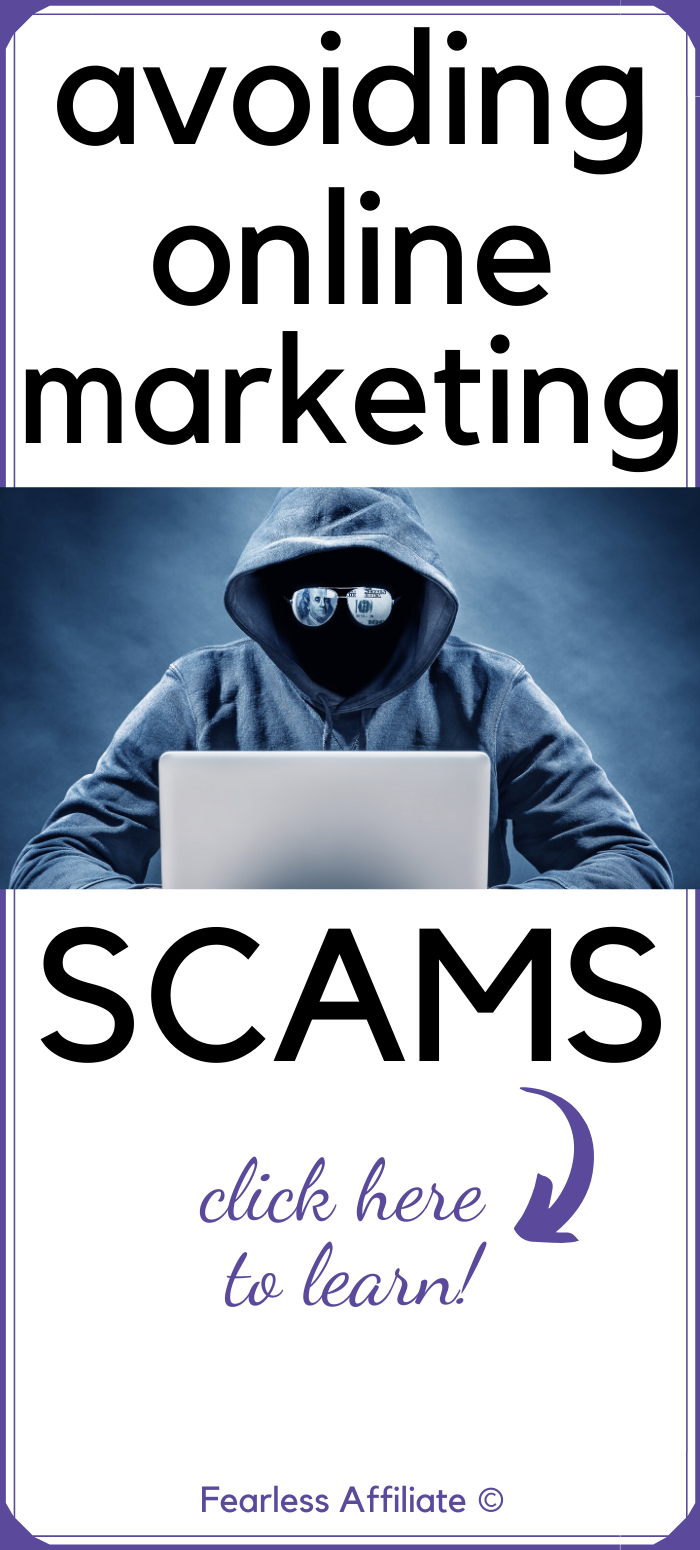 Online Marketing Scam Fake-ish Education
There are plenty of legitimate programs to teach you how to be an online marketer. An example is Blog Simple Framework (part of the Odd Noodle group pf blogging products).
Check out that page to see that the focus is on teaching you how to have a successful business. Scroll to the bottom to get your free guide, no obligation.
It is in your best interests to do as much research as possible before you pay out of pocket for expensive programs.
Trust me when I say, there are amazing blogging programs that are focused on helping you create a business, not just become an affiliate. But they cost money.
That being said, just because the education is "costly" does not guarantee that it will help you become a success.
One that I have reviewed is AWOL Academy.
While AWOL may or may not be a scam per se, you must pay $99 dollars to join.
And you get no real information on what you are getting. The up-sells for this company come out to over $15,000.00 $10,000.00!
Another similar, but way more expensive program, is Six Figure Mentors. Again, you must pay up front to access the real (not the 'intro') education. Upsells = $40,000.00+!
These programs try to convince you that the education is somehow superior to other programs, which is why it is more costly.
Marketing is a skill that anyone can learn. You can take two years of college marketing cheaper than either of these programs. And be better off, education-wise.
Domain Name Scams
Knowing full well that legit blogs need to purchase a domain name, we come to this scam. Also known as "domain slamming", this is an intellectual property scam.
These scammers want to:
Sell you domains that are higher in price than what you can get locally.
Buy the domain for 5 to 10 years, thereby getting more of your money.
List or convert a domain in a renewal scam
They prey upon your fear of losing your domain name. If you have registered your domain through a legitimate company, you should not fall for this.
If you ever have concerns, contact the company where you purchased your domain FIRST. Do not give anyone money until you know what you are up against!
Read my post on How To Buy A Domain. Avoid purchasing your domain from the same place as your website hosting, just in case you fall out with your hosting.
Get Rich Quick Offers/Pay to Join
There are many, many companies online these days that want to convince you that you can get rich overnight. There are Binary Options Trading, pyramid or Multi Level Marketing (MLM), pay-per-click (there are legit PPC's), and basically anything that will not give you all the information that you need to make an informed decision UP FRONT and for FREE.
Binary Options trading schemes are sketchy at best.
They require you to spend a lot of time online waiting for your chance to buy and sell.
These are also called All-or-Nothing Options, Digital Options or Fixed Return Options.
Multi Level Marketing
These usually require you to buy a kit or program. You then you have to sell to others, and then bring them into the fold so that they can bring in more people. Usually, it is only the top tier of people who are making money.
The most blatent example of why MLM's have a bad reputation is Herbalife. Herbalife was a pyramid scheme, in that only people at the top made money. The FTC shut down Herbalife and forced them to restructure their business.
And they had to pay out $200 million to people who were duped into signing up for Herbalife, but never made a dime.
Fake pay-per-click schemes
These offer to pay you much more money than any other PPC. For example a legit company will give you 5 cents a click, whereas the fake ones offer 1 dollar.
They usually just want your email address so they can sell it, after you have worked for free for them for a few months. It does take time to earn enough for a payout even with legitimate companies, but the fakes never pay.
And the granddaddy of the pay to join sites, the turnkey website,
This is where you pay to purchase a pre-made website, packaged with products. These can start as a basic package, which then has numerous up-sells for email and various other "educational" components that you can learn for free or cheap online.
Since most of the time you cannot make money without the other components, you are then on the hook to keep purchasing the up-sells. AWOL Academy and Six Figure Mentors fall into this category.
Related Post: Real Estate Scams
Conclusion
Any legitimate company does not mind telling you what you are getting for your money, nor do they mind if you "come in and look around". Many offer try-before-you-buy education because they have nothing to hide and they want you join and be happy there.
Related Post: Internet Dating Scams
Google "Online Marketing Programs". See who is out there. Go to the website and look around. If you get a flashy sales pitch with no real information, move on. Go to your favorite bloggers and ask them how they got involved with affiliates- many will be happy to tell you if that information is not already on their website.
Many websites will share tons of useless information (millions of satisfied students!). It does not matter what they say; it only matters if you are satisfied.
Please sign up for my weekly newsletter of tips and free stuff for bloggers, like my passive income checklists. See if a blogging "side hustle" is right for you!
Happy blogging and follow me on Pinterest!
-Irma 🙂