The BC Stack digital marketing bundle is live for one week only every year. For 2022, you can purchase from June 13th to June 19th.
If you are a blogger, or if you're thinking of starting an online business, then this bundle is for you.
I bought my first BC Stack bundle in 2018 and I have been a huge fan ever since. I just love the variety of products.
Welcome to Fearless Affiliate.
My name is Irma and I help new bloggers to learn the ropes. There is a lot to take in that first year of blogging, from choosing a niche to changing your mindset from worker bee mentality to that of successful entrepreneur.
I like to focus on practical information and positive thinking, so if that sounds good to you please sign up for my weekly newsletter of tips for bloggers.
*If you follow the link to the BC Stack sales page and purchase something, I may receive a commission, at no extra cost to you. This helps me to fund my blogging. See my affiliate disclosure here.*
BC Stack 2022
Maybe you are not ready to invest in expensive courses just to see if you are interested in a specific topic. Instead, get a bundle of products and check them out for more information at minimal cost.
If you click my link but the sale hasn't started yet, you should see
Once the Stack is gone, its gone until next year.
What is a "BC STACK"?
The "BC" stands for Blogging Concentrated. Stack refers to the fact that it is a bundle of 65 products!
I had read about another blogging bundle, but I missed the deadline to buy so I started searching the internet for other similar products. That is how I found out about BC Stack.

The 2022 bundle contains the usual 65 products.
But this year also includes 45 days of Facebook lives from various experts.
If you like visual learning, then you will not want to miss this years bundle.
You will get a calendar of who is going live and when.
As well, the 2022 BC Stack is:
"going to have 5 days where you can go through old courses still saved on your hard drive and get your questions answered on those. (No matter who wrote them)".
Here are some "for sure" products that will be in the 2022 bundle:
SEO for a rebranding
Digital Agency info
Organizing your computer for a biz
Affiliate Marketing, Scaling a Business
Pricing Products
Outsourcing
Getting on Podcasts
TikTok Marketing
Book Marketing
Kindle Publishing for 2022
ThriveCart
Working with your Spouse
It is good to see the TikTok course, since free traffic is always a good thing.
What is a blogging bundle?

Blogging bundles contain several products for multiple areas of online marketing, such as:
How to create a podcast
Using Pinterest for free website/blog traffic
SEO
Analytics
Google geek stuff
PLR (private label rights or pre-written blog content)
Stock photos
and more.
As blogging and content marketing expands to meet visitor demands, bloggers need to keep up with education on new platforms like:
TikTok
Updated ways of posting on Instagram
New rules from Google, YouTube, and Pinterest.
Where some blogging bundles stick with eBooks and eCourses, The Stack outshines with:
Tickets to eEvents
Courses to help a new blogger with their mindset
Tips on how to actually do marketing
Other fun and helpful education.
Why buy a BC STACK if I don't need everything yet?

Good question!
If you have ever checked out specific blogging education courses, you know that they range in price from $7 to $700.00.
As well, you may have purchased a course but found the education "lacking". I know I have…several times.
I do not think that anyone needs a full course for absolutely every aspect of blogging or entrepreneurship.
However, some solid education is helpful for key areas like "how to's" for social media or updated SEO practices.
You can do a lot on your own, and for free.
But at some point you are going to want to pay for things just to get things done faster.
Having a bundle with more than one item for a specific area of blogging means that you have the education that you need at your fingertips.
You do not have to waste time looking for and purchasing a course…you will already have it! You can jump in and start learning on your time.
And I know that for me, I wanted to be ready for the next step up.
So while I was not ready to up-level in a specific area, I did want to know what was required so I could plan ahead for it.
An example is sales funnels, which work better when you have planned out your content so that the customer journey flows.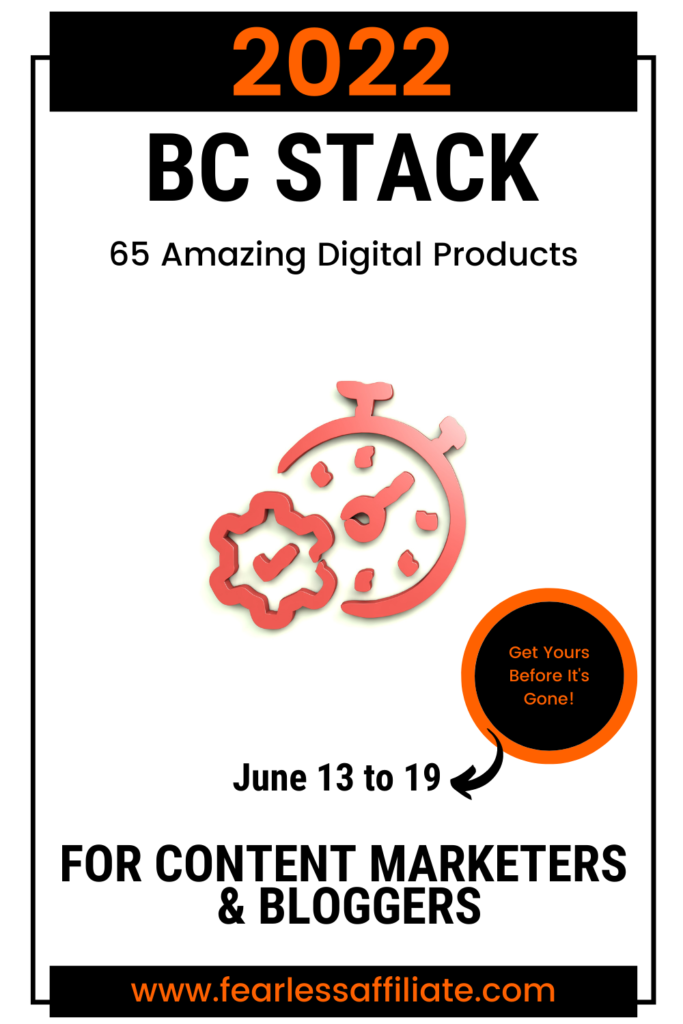 What's In A BC Stack?
BC Stack: 65 full products on current online marketing topics:
Social Media education for:
Instagram
Pinterest
Facebook Ads
YouTube/Live Video
Podcasting
Writing Content:
Copywriting
WordPress
SEO
Email Analytics
Time Management
Ways to earn online, like:
AdWords
eCommerce
Outsourcing
Remarketing
Other products, like:
PLR (private label rights or pre-written content)
How to do a virtual summit (teaching people live online)
Launching and marketing online courses
Branding
Attracting clients
How to use Instagram Stories for bloggers
Staying motivated
Turning blogging content into a podcast
Sales funnels
As well as help with:
Templates
Outsourcing
Time Management
WordPress tutorials
Imagine having all this blogging education right at your fingertips!

After you purchase you get a link to the product page. You can download everything at once or just pick and choose the items that you most want.
After you purchase, you will have 60 days to download your goodies, but they are yours forever!
You usually get two reminder emails so you don't forget to download what you want.
As well, if any of the products are "future" products, like invitations to virtual events later in the year, you get reminders for that as well.
Why Is BC Stack Such a Bargain?

Compared to other blogger bundles, BC Stack is about half the price.
Dan and Rachel Morris and the team at BC Stack do the work of compiling this awesome bundle.
The contributors are getting their products out to the world and will get tons of reviews to further promote their stuff.
So that is a win-win.
We get a great deal and they get product reviews!
If your website helps entrepreneurs, you should consider submitting a product for a future bundle.
Bundle offerings are current education. You get new courses from experienced marketers who are sharing their knowledge.
You have until June 19th to purchase your bundle, then 60 days to download everything.
Don't wait! Get yours today and up-level your blog!
If you missed the deadline, click the button to get on the mailing list for next time.

Promote BC Stack Yourself
BC Stack is an awesome bundle of products…would you like to promote BC Stack on your website or blog?
You can sign up at this link and get notified every year of pre-sale prices and exclusive deals for affiliates.
If you have just started your business, you may not be ready for this much education.
But if you have your site set up and you are regularly creating content, then you may want to grab this bundle so you are ready for your next steps.
Conclusion
I hope that you have enjoyed this post, and please share it with anyone that you think can benefit from it. Our success benefits everyone! And sharing is caring.
If you have questions or concerns, please email me and ask away. I am happy to help you 🙂
Happy blogging and follow me on Pinterest!
-Irma 🙂