The BC Stack digital marketing bundle is live for one week only every year. For 2023, you can purchase from June 18th to June 24th.
If you are a blogger, or online marketer, then this bundle is for you.
And if you want to get more eyes on your offers, then this bundle really is for you!
Welcome to Fearless Affiliate.
My name is Irma and I help new bloggers to learn the ropes. There is a lot to take in that first year of blogging, from choosing a niche to changing your mindset from worker bee mentality to that of successful entrepreneur.
I like to focus on practical information and positive thinking, so if that sounds good to you please sign up for my weekly newsletter of tips for bloggers.
*If you follow the link to the BC Stack sales page and purchase something, I may receive a commission, at no extra cost to you. This helps me to fund my blogging. See my affiliate disclosure here.*
BC Stack 2023
The name of the game for the 2023 BC Stack is TRAFFIC.
Every product in this years bundle is related to how to get more traffic to your offers in your situation:
Ads
Amazon
Bundles
Email
Facebook groups
Influencers
Instagram
JV Partners
Live Selling
PDF's
Pinterest
Podcasts
Quora
SEO
Speaking
Talkwalker
TikTok
Twitter
Virtual Events
YouTube
…and more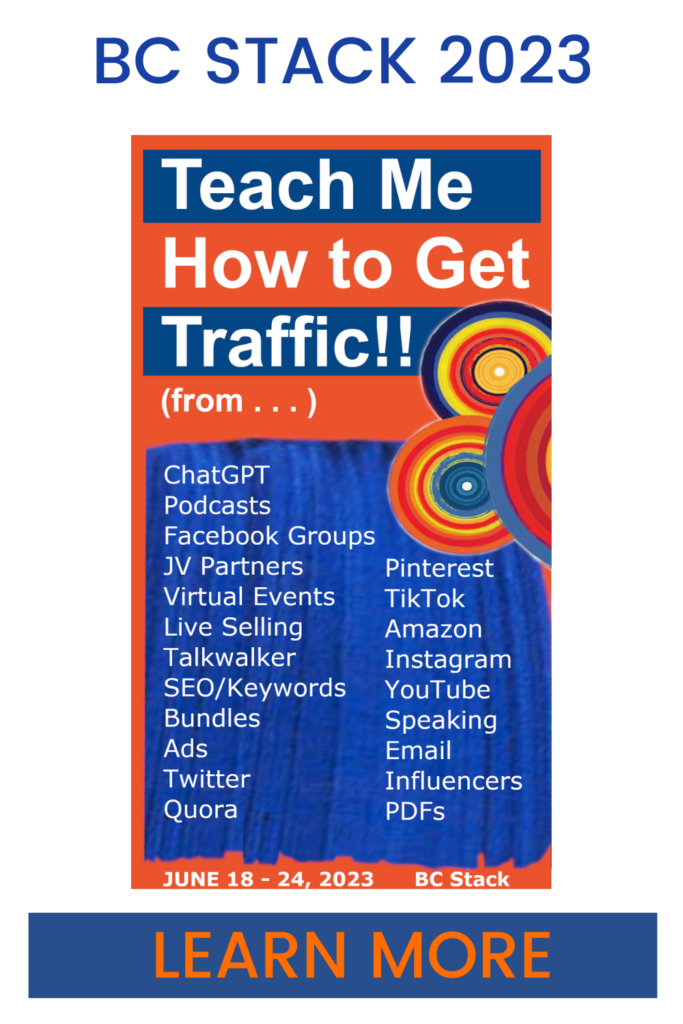 Here are some of the contributors to this years bundle:
John Lee Dumas
Joel Comm
Rachel Miller
Jenny Melrose
Carly Campbell
Donna Kozik
Krista Miller
Jessika Phillips
Connie Ragen Green
Hani Mourra
Head over to the BC Stack website to see everything for 2023. If you are early, you can sign up to be notified when the bundle is live.
What is a bundle?
Digital product bundles contain a variety of products based on a theme, such as health or blogging. There are either links to courses online, or they may be PDF guides that you download to your device.
The BC Stack bundle is always related to online businesses/marketing.
You get about 60 (+/-) full products, which are courses/videos/invitations to live events.
The products allow you to get a jump on learning what you need to know about a topic, when you want to learn it so it is a great time saver.
As well, you get a deep discount on the products themselves.
Since the BC Stack sells for $49, you are getting each product for less than a dollar!
When I started my website, I heard about a bundle of products but I missed the deadline. I searched the internet to find out more and came across the BC Stack bundle and I have been a fan ever since.
The quality of the products is what sold me on the Stack.
Why buy a BC STACK if I don't need everything yet?

Good question!
If you have ever checked out specific blogging education courses, you know that they range in price from $7 to $1000.00. and beyond.
As well, you may have purchased a course but found the education "lacking". I know I have…several times.
I do not think that anyone needs a full course for absolutely every aspect of blogging or entrepreneurship.
However, some solid education is helpful for key areas like building your audience/traffic.
You can do a lot on your own, and for free.
But at some point you are going to want to pay for things just to get things done faster.
Having a bundle with more than one item for a specific area of blogging means that you have the education that you need at your fingertips.
You do not have to waste time looking for and purchasing a course…you will already have it!
You can jump in and start learning on your time.
And I know that the majority of online marketers are always looking for new ways to expand their audience and get more eyes on their offers.

Why Is BC Stack Such a Bargain?
Dan and Rachel Morris and the team at BC Stack do the work of compiling this awesome bundle.
The contributors get their products seen by more people, and get more reviews.
So that is a win-win.
We get a great deal and they get product reviews!
If your website helps entrepreneurs, you should consider submitting a product for a future bundle.
Bundle offerings are current education. You get new courses from experienced marketers who are sharing their knowledge.
You have until June 24th to purchase your bundle, then 60 days to download everything.
Don't wait! Get yours today and up-level your blog!
If you missed the deadline, click the button to get on the mailing list for next time.

Conclusion
I hope that you have enjoyed this post, and please share it with anyone that you think can benefit from it. Our success benefits everyone! And sharing is caring.
If you have questions or concerns, please email me and ask away. I am happy to help you 🙂
Happy blogging and follow me on Pinterest!
-Irma 🙂