The BC Stack digital marketing bundle is live for one week only every year. For 2020, you can purchase from July 19th to 25th. If you are a blogger, or if you're thinking of starting an online business, then this bundle is for you.
Maybe you are not ready to invest in expensive courses just to see if you are interested in a specific topic. Instead, get a bundle of products and check them out for more information at minimal cost.
Affiliate disclosure is here.
If you click my link but the sale hasn't started yet, sign up to be notified when the bundle is live. Once the Stack is gone, its gone until next year.
Welcome to Fearless Affiliate.
My name is Irma and I help new bloggers to learn the ropes. There is a lot to take in that first year of blogging, from choosing a niche to changing your mindset from worker bee mentality to that of successful entrepreneur.
I like to focus on practical information and positive thinking, so if that sounds good to you please sign up for my weekly newsletter of tips and free stuff for bloggers.
Subscribers will get the password to my resource library of PDF printables for bloggers like my Google Analytics Cheatsheet or my SEO Checklist.#win-win
Still haven't picked a blog niche?
I can help with that too! Read my 5 Secrets To Finding Your Niche eReport…it's in the Resource Library. Sign up now and check it out.
BC Stack 2020
This is my 3rd year with the BC Stack and it never disappoints. I had recently discovered blogging bundles, and I was sad to have missed one of them earlier in the year.
In my research for other blogging bundles, I discovered BC Stack.
The 2018 BC Stack bundle had valuable courses like how to run a promoted pin campaign (Pinterest paid ads) and how to create paid products. If you are not sure which way to go to earn money with your blog, I urge you to consider a bundle.
As well, if you have ever checked our specific blogging education courses, you know that they range in price from $7 to $700.00!
Why pay higher prices especially if you are not sure if that component is what you need? Check your bundle for a similar product, dip your toe in, and see if it works for your brand.
BC Stack is a great way to get educated on the many different ways that you can earn income with your blog.
Because seriously, why stop at one?
The Stack is sought after by bloggers, online coaches, and other digital marketing professionals for it's unique and helpful products. You won't find these items in other bundles!
The 2019 Stack was massive, with fun educational products from Amanda Robinson (Live! 4 week Facebook Ads Training), a membership in the 360 Marketing Squad, and Pot Pie Girls Pin Test Playbook.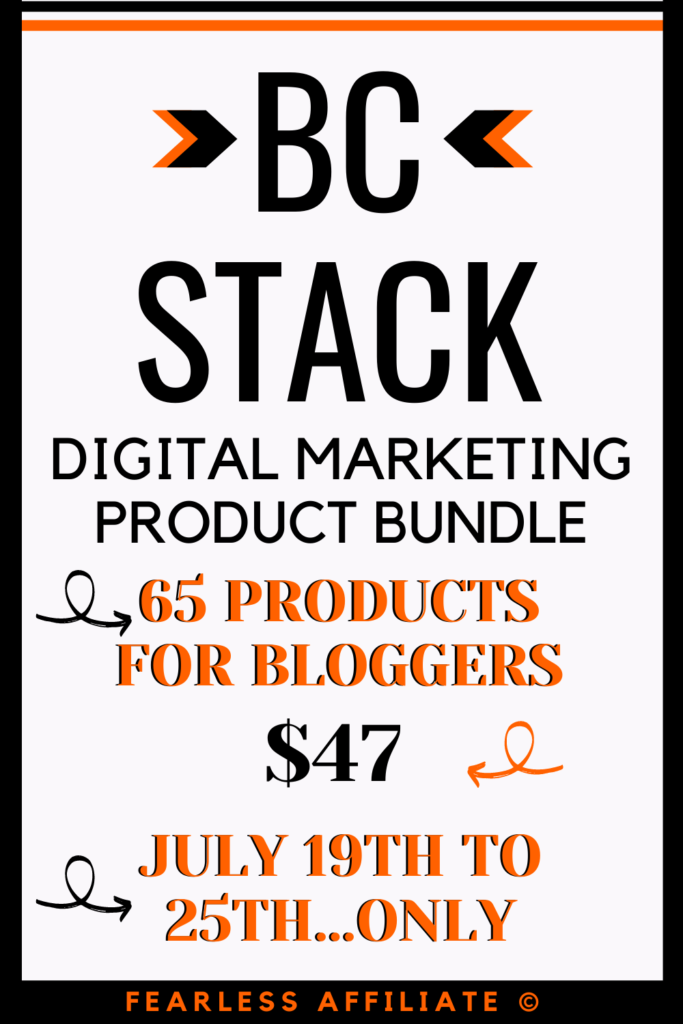 What's A BC Stack?
BC stands for Blogging Concentrated. Stack = a bundle of products. Therefore, the BC Stack is your mid-summer opportunity to grab 65 quality education components (a "stack") at a fraction of their combined retail price.
The first Stack was in 2015. I bought my first BC Stack bundle in 2018. Follow my link and then scroll down to find out what was in previous years Stack offerings. Then you will understand why this is such an amazing deal!
Imagine having 65 full, digital marketing products and "master classes" at your fingertips.
Social Media education for:
Instagram
Pinterest
Facebook Ads
YouTube
Podcasting
LinkedIn
Writing Content:
Copywriting
WordPress
SEO
Email Analytics
Time Management
Ways to earn online, like:
AdWords
eCommerce
Outsourcing
Remarketing
The bundled products are digital eBooks, eCourses, memberships, private label rights content, website help.
Sometimes there are invitations to online live events or recordings of events. These are usually influencer's in specific niches offering "masterclass" education.
Once you download your products, they are yours for life, including future updates!
The content for the BC Stack is created by other bloggers and marketing professionals, and is available to purchase from them at their usual price on their websites.
But for the week of the Stack, you get all of the products for $47 USD. This year the Stack is available for purchase from July 19th to the 25th.
Imagine having all this blogging education right at your fingertips!
After you purchase you get a link to the product page. You can download everything at once or just pick and choose the items that you most want. 65 products may be overwhelming for some people!
After you purchase, you will have 60 days to download your goodies, but they are yours forever!
You usually get two reminder emails so you don't forget to download what you want.
As well, if any of the products are "future" products, like invitations to virtual events later in the year, you get reminders for that as well.
Why Is BC Stack So Cheap??
Why is it only $47??
Dan and Rachel Morris and the team at BC Stack do the work of compiling this awesome bundle. The contributors are getting their products out to the world and will get tons of reviews to further promote their stuff.
So that is a win-win. We get a great deal and they get product reviews!
Bundle offerings are current education. You get new courses from experienced marketers who are sharing their knowledge.
You have until Friday July 25th to purchase your bundle, then 60 days to download everything. Don't wait! Get yours today and up-level your blog!
If you missed the deadline, follow the link anyway to get on the mailing list for next time.
Conclusion
Are you ready to start your blog and/or side hustle? Now is the time to create your own future and future income. Please sign up for my weekly newsletter of tips and free stuff for bloggers, like my passive income checklists. See if a blogging "side hustle" is right for you!
Happy blogging and follow me on Pinterest!
I hope that you have enjoyed this post, and please share it with anyone that you think can benefit from it. Our success benefits everyone! And sharing is caring 🙂
-Irma 🙂