Today we will look at 8 more online passive income ideas. Last week I wrote a post on some passive income ideas that bloggers can try (you need a website). These are ways that we can earn passively with a blog or website and earn more money while we sleep.
Related Post: 5 Amazing Online Passive Income Opportunites
This post was created on November 4th, 2019 and has been updated with current information.
Welcome to Fearless Affiliate.
My name is Irma and I help new bloggers to learn the ropes. There is a lot to take in that first year of blogging, from choosing a niche to changing your mindset from worker bee mentality to that of successful entrepreneur.
I like to focus on practical information and positive thinking, so if that sounds good to you please sign up for my weekly newsletter of tips and exclusive offers for bloggers.
*This post may contain affiliate links. If you click a link and make a purchase I may receive a commission at no extra cost to you. My disclaimer is here.*
8 More Online Passive Income Opportunities
1. Create an online course
There are great income opportunities creating online courses that you promote on your website. You need a niche site, and you need a good understanding of your audience so that you are creating courses that they want to purchase. Because it would suck to create a course and have no one buy it.
Create a course for almost any subject: dog training, pruning roses, decorating cakes, setting up solar power, how to get out of debt faster, how to start an exercise plan. Really you are only limited by imagination.
You can also skip the website and just promote your course with Pinterest.
Check this post from the Social Media Examiner for some best practices to promoting affiliate products on Pinterest.
You can promote your course with a product like SendOwl. SendOwl allows you to sell digital products, subscriptions and more.
Related Post: 17 Passive Income Strategies
2. Write and sell ebooks
Either on your website or on Amazon. Books do not have to be epic novels. If you know enough about a subject to write a 50 or 60 page e-book, you can sell it on Amazon and create passive income.
Small books can sell for $2.99 and up, but if you have several on Amazon, over time it equals a nice passive income.
You can write a series of books on one subject.
Amazon can give you the ability to give your book away, say over a weekend. This is the time to promote it on Facebook as well as getting all of your friends and family to grab a free copy and leave you a nice review to help push your book up the rankings.
And yes, that is how some people get that "Number one book on …subject" on Amazon. Luckily there are plenty of categories for books, and sometimes a book can go into more than one category, which allows you to rank for all of them.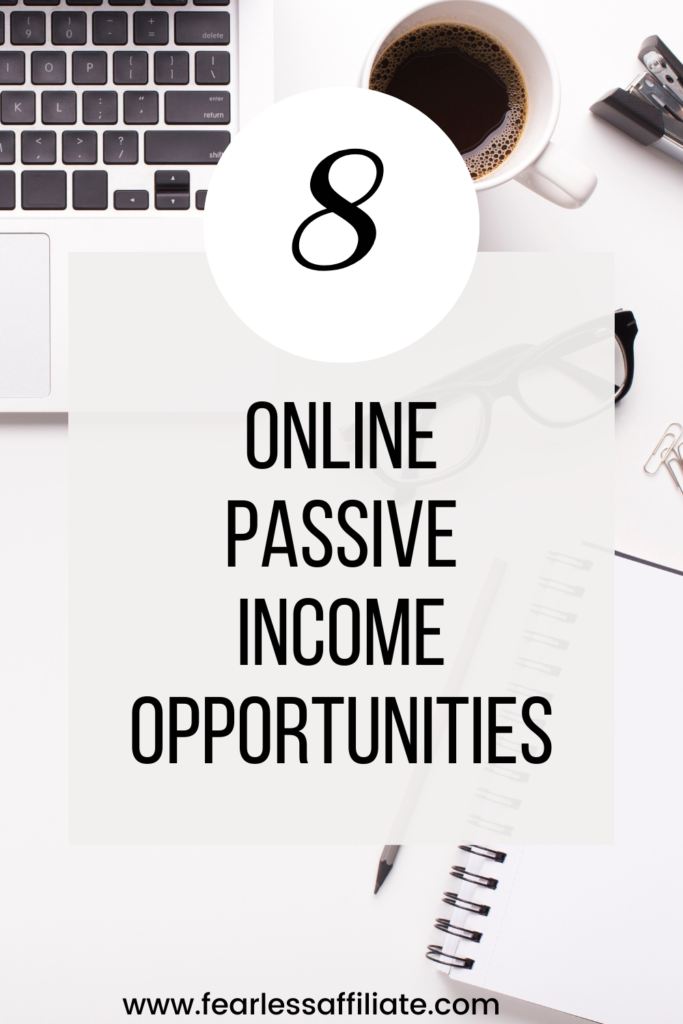 3. Google AdSense ads
This is the jumping off point for all bloggers…AdSense ads. Google will accept new websites that have been indexed, so this is a good way to learn about ads from big companies.
Google does not payout until you have earned $100 in ad revenue, so it can take a while.
However, you will notice that as your AdSense income rises, so does the traffic to your blog, meaning that as long as you keep doing whatever you are doing to improve SEO on your website, you potential income from AdSense will keep going up and you can get paid out faster.
It is not a good idea to have tons of AdSense ads, or any ads, all over a new blog. If you do not have much traffic, you will be lucky to earn 7 cents a month.
But tons of ads on your site slow down site speed so that visitors leave in frustration and it makes your site look spammy, and can be a turn-off. This is especially true if you do not have much content to read or you content is 'slim' with short posts and little information.
I would recommend an ad in the sidebar and maybe one or two in the footer, where they are not a distraction to readers.
As your traffic increases, you will earn more and faster.
Another entry-level ad company is media.net, who do Yahoo! and Bing contextual ads. You have lots of choices and customizations of the ads, so you can match them with your brand.
When you get to 50,000 sessions in a month according to Google Analytics, you can apply for Mediavine ads. This is the main motivator for my blogging friends to work hard on getting traffic from Pinterest. Once you get accepted to Mediavine, you can earn a nice income as your sessions continue to rise and this really gives you some financial freedom.
4. Create a YouTube channel
If you do not mind being on camera, or at least speaking on camera, then consider a YouTube channel. YouTube is great for anything that is hands on, like cooking, repairs, organizing, product reviews etc.
More and more bloggers are adding video to their websites, so it is the way things are going. Jump on!
You can get it set up and then monetize your videos when you reach the current threshold. Many YouTubers are earning an excellent income this way. If you like doing reviews or want to show off your skills in the kitchen, consider YouTube.
5. Shopify
Shopify is a Canadian company with a head office in Ottawa, Ontario and they offer a drag and drop website builder to help you build an online storefront, as well as a mobile app to make it simple for you to sell products.
Use this site to promote your own products, or just have a storefront that you can promote products like the owners did when they created Shopify…snowboard equipment. You can sell almost anything and create a unique store all your own.
You can accept payment by credit card as well 100+ other ways. There are tons of resources to help you with your shop.
6. Etsy
Another way to sell your crafts online. You can set up a shop on their website and promote your products as well as creating pins on Pinterest that lead to your shop.
Etsy likes homemade, vintage, and unique items so if you were a carver of wooden children's toys or knitted baby clothes you would be right at home selling on Etsy.
There is also an Etsy Studio, which is specifically for craft supplies like blank nesting dolls that can be hand painted or homemade beads that you have made.
7. Sell stock photos
If you take good photos, consider putting them up for sale on a stock photography site like Shutterstock, Pexels, or Pixabay.
You can earn cash from submitting your unique, quality photos. Do themed sets like pink flowers, or classic cars, landscapes or up close detailed photos of blades of grass.
Many bloggers are on the hunt for photos that have some white space in them that they can then use for Pinterest pins, so keep that in mind and create your own market.
8. Online survey sites
I have been doing surveys with Shoppers Voice for a long time, way before everyone did stuff online. They always sent me the best coupons in exchange for my opinions, and I got a lot of good stuff for free or cheap, so I was always super excited to see that fat survey envelope show up in the mail.
I sometimes had problems with cashiers when redeeming the coupons because they were just that good of a deal and the cashier thought that they were somehow fake! If memory serves, I was redeeming a coupon for a free box of lemon pie filling mix and the cashier called the manager to check the coupon and find out where I got a coupon for a free box of anything. Hilarious right?
Now you get the same surveys online and you still get awesome coupons but for waaaay more stuff.
Pinecone used to pay $5 per survey but now pays 300 points per survey and the points are redeemable for virtual gift cards, real gift cards, and physical products. You get a nice variety of products to survey. I have had zero problems redeeming my points. It is practically instant.
I have received food products to try, several times, from surveys that I did on Pinecone. You have to watch your surveys, especially when they are about new products, for the place in the survey that asks you if you would test products at home. Many of the products that I tested were A/B tests, so I got A product one week and did a survey for it. The next week I got product B and had to do a survey for that. And I still got paid for the original survey. #freestuff
Rakuten (formerly Ebates)
This site gives you a $10 sign up bonus. On the .com (USA) site, you get a choice of a walmart gift card or a Rakuten card. You can get cash back on your purchases and have the money sent to your Paypal account (or get a check). As well, you can earn money from doing something that you are already doing, such as searching online.
The thing with websites like this is to only purchase things that you planned on buying anyway. Otherwise, if you buy stuff online just because it is a deal, it defeats the whole passive "income" idea.
Lots of websites give you percentage-off deals on website shopping, so this may be helpful to you but it does not add money to your wallet. It can save you money on things that you need to purchase, so that is kind of a win.
Conclusion
I hope that you enjoyed this post and have found some new ways to earn passive income online. You can never have too many ways to earn passive income! I love having money appear in my PayPal account from some stream that I have created with my blog months ago. I usually turn around and use that money to buy something for my blog like a new theme or Pro plugin just to keep "upping my game".
Create a website or blog and start creating multiple streams of income for yourself and family. Who knows…you may end up creating something that earns much more. Many 6 figure bloggers started out blogging as a hobby!
Sharing is caring! Please share this post with anyone that you think can benefit from it. Thank you. And please sign up for my FREE weekly newsletter of tips and exclusive offers for subscribers.
Happy Blogging! And follow me on Pinterest.
-Irma 🙂