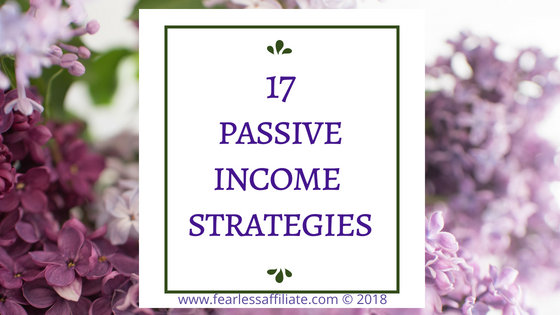 Today, my friend, I want you to consider your passive income strategies.
And why would you do that? Well why wouldn't you? Extra money is awesome! This article from Forbes says that 63% of Americans don't have enough savings to cover a $500 emergency. Don't be one of those people!
When you start receiving bits of cash or good discounts more and more often, you will know, without a doubt, that you are doing it. You are creating your own stuff. It is within reach, all of your dreams.
And it feels good! And the better we feel, the easier it is to believe in ourselves and keep perpetuating that feeling!
When I was a teenager, I had a job as a waitress for the summer. I loved it. I loved that constant stream of cash and feeling like I had hit it big in Vegas or something. I always had cash and could do whatever I wanted. It was freeing.
And passive income will give you that feeling as well.
Here are 17 passive income strategies, and most of them do not require you to blog. And some of them can even be worked into tasks that you are already doing. Win-win! I love win-win.
You can start doing some of these today and have multiple streams of income! Sign up for my email list to get the cheat sheet that goes with this post. It will be in the Resource Library after you sign up.
It is amazing how many ways there are to earn extra money, but more importantly is this. When you can do some of the things on this list and earn money you will see that there are countless ways to bring more money into your life.
And once you start finding more ways to bring in the moolah, more ideas will come to you. Pretty soon your money troubles will be far behind you.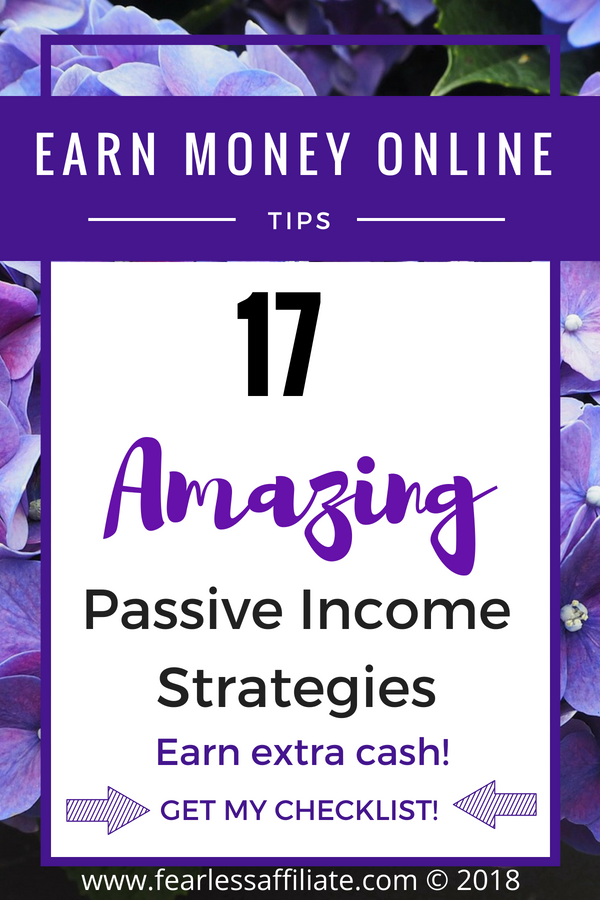 Rent out a spare room:
A personal favorite of mine right now. If you have one, you can rent it to foreign exchange students, college students or even Air BnB. This works especially well if you are close to the school or close to a bus route that can take said students to the school.
For students, you can negotiate whether you feed them or they buy and prepare their own food (depends on the rules from the school or organization).
You can also rent out parking spots if you live near a big venue. Or you can rent space in your backyard for people to camp on. Get creative with your real estate and create passive income for many years.
And/or: Buy a home to rent out
Of course this is an advanced step because most of us do not have the cash laying around to just buy another house. It goes along with the suggestion above though.
If you are able to pull together the cash for house, and then rent it out or rent out all the rooms, you can make enough money to pay the mortgage, taxes, repairs and earn some cash for you.
If you are not living the house you will have to be discerning on who you are renting to. You can create multiple streams of income from one house.
Sell stuff online: Sell your used or unused stuff on places like eBay.
People are always looking for a deal, or a rare or vintage item, so get up to your attic or down to your basement and start looking for stuff you no longer need and are willing to sell.
Search for similar products to find out how much to sell your stuff for and take some quality photos to elevate your stuff above other people's stuff.
Alternatively, have a garage sale and sell your stuff that way. I am doing a lot of that lately just to clear clutter from my home. If you are doing some de-cluttering, have a yard sale. Your junk is another person's treasures!
I am not crafty, but I have a friend who buys old dolls on e-Bay and then she cleans it up, makes new clothes, does the hair and re-sells it and she makes a killing.
If you craft and create products, have an Etsy shop. Or create a website and sell your stuff on it.
Starting out on Etsy can teach you the basics of what people are willing to buy and how much they are willing to pay, so it is a nice jumping off point to learn with.
As you get a better understanding of how selling online works, consider having your own website (or buying an expired domain website to refurbish).
Write e-books to sell on amazon:
This was what I wanted to do before I stumbled onto affiliate marketing. And I plan to do this in the very near future, because writing a short, 50 page e-book can be pretty easy if you know the subject that you are writing about.
There are tons of e-books on Amazon that sell for a few dollars, so do not worry about writing an epic novel.
You can write about something that you know about like 50 household products that you can make with coconut oil. Or the best desserts made with lemons.
And you can write as many of these books as you want. You can also give them a push up the list by offering it free for a couple of days and getting your friends and family to download the book and write a review for you.
As you get better at writing or can write bigger books on other subjects, you can sell the books at a higher price.
Sell your photos to stock photography sites
If you take decent photos, consider selling some online. 500px, Shutterstock, and iStock are always looking for new contributors that will sell their unique photos online.
Make YouTube videos
Do you have a skill or hobby that can be taught using video? Try your hand at making a video and promoting it on YouTube, and putting AdSense ads on your videos to earn some cash.
You probably have skills that you have never considered that can make you money. Are you good at cake decorating? Pruning trees? Fixing cars? Building sheds? The list goes on and on.
I know that a YouTube video saved the day for me showing me what all the numbers mean for tire sizes. The video that I watched showed real examples and the video host explained which numbers are important and why. Super helpful.
Buy an expired domain/website and reinvigorate it with new content
If you can find an inexpensive website that is in a niche that you are interested in, and pick it up for a small price, you can update any useful content and start adding your own.
People start websites and then later abandon them for whatever reason. This can be a goldmine if you find the right one.
You want a website that has established traffic and evergreen content. If it has income from Google AdSense, even better.
How much you pay is related to the value that you place on the existing content, but established websites are already indexed in Google, so that is helpful right out of the gate.
There is a new internet business that I encountered recently that is promoting just that. Buy up domains, clean them up and add new content and then sell at a higher price.
Start a blog and do affiliate marketing.
Create a niche website and write blog posts on subjects that you have knowledge of or are learning about so that you can share that knowledge.
Do not think that you have to be an expert. People enjoy learning from other people who are learning, especially if you are honest about being a novice.
Share your struggles about you did not know something and all the steps that you used to learn about it. Or how you could not find the information that you wanted online, so you create a website to help others learn about this subject.
The possibilities are endless and there are thousands upon thousands of affiliate products to go with almost any niche website that you can think of.
Many of these products are digital (books, e-courses) that allow for instant download. Customers like this because there is no wait to receive the product and they can use it right away.
As well, the products are generally priced much lower than physical products would be because they are digital and cut out the middle-man, so no printing costs, no publishing costs etc.
Affiliate marketing with a website is one of the easiest home based businesses to set up because all you need is your domain (web address), hosting, and a content management system (like WordPress.org)
Related Post: How to buy a domain
Related Post: Want a super successful affiliate website?
Or promote your online course. If you are not comfortable going in front of the camera, how about writing out the steps to completing a project of some kind?
If you can write out each step required, and why, you can create your own course and sell it on your website, along with affiliate products.
You can also link to affiliate products from within your course.
The course can be similar to the e-books that you can sell on Amazon, but can also include video instructions as well. A popular website for creating and selling courses online is Teachable.(affiliate link)
Start an online store with drop-shipping
Drop-shipping does not require you to have inventory, which is the beauty of it.
How it works is that you promote someone else's products online (much like affiliate marketing). A customer purchases the item and it is shipped from the vendors warehouse and you collect a commission for the sale.
Freelance/consultant
Got skills? Rent yourself out as a freelancer or consultant if you know lot's about something.
You can do this on a job-by-job basis, monthly, contract or other arrangement.
Virtual Assistants (VA) are cropping up everywhere in the online world, so if you have a skill that someone else needs you can earn extra cash from that.
Right now for bloggers, there is high demand for Pinterest VA's, so if you know how to create pins and how to promote them, then you can earn full-time money from working for several other people doing their pinning for them.
Online survey sites
Here is where you can earn money from doing something that you are already doing, which is searching online.
You will be looking for companies that offer cash for surveys, or at the very least something that makes it worthwhile for you. Ebates comes to mind, as they offer a $10 bonus for sign up.
The thing with websites like this is to only purchase things that you planned on buying anyway. Otherwise, if you buy stuff online just because it is a deal, it defeats the whole residual income idea.
Lots of websites give you percentage-off deals on website shopping, so this may be helpful to you but it does not add money to your wallet.
Housesit to live rent free
Free rent? I like the sound of that! If you are in a position to give up the home you are in now, and you can find several housesitting gigs that you can string together, you can live rent free.
Watch for the expectations of the people whose house you will be living in. You do not want to be surprised by any requests to rebuild the chicken coop…
It is becoming more and more popular for people to travel the world, housesitting wherever they go. This works well in conjunction to having a blog that is paying you a decent income so that you are free to leave your home country and travel, at least part of the year.
I had a supervisor who house sat for 5 years locally. They were supposed to build a house, but never got around to it because they really liked the freedom.
Renegotiate your credit cards
What you are looking for when you renegotiate is lower interest or travel or other benefits that can take the burden off of your 9-to-5 earnings.
Look for no-fee transfers of existing balance, and long low interest rates. Or you will be transferring your balance every six months after the current bonus interest rate expires. Totally do-able depending on your balance.
If you look at your statement and see exactly how much of your hard earned cash is just going to interest, this may be a bigger savings than you realize and worth your time to set up once or twice a year.
As for travel rewards, I know many people who use their reward card to pay for everything and they are racking up tons of travel benefits. And they pretty much only have the one bill to pay each month.
This works great if you are good at budgeting and are only buying what you actually need each month.
Benefits from using a travel rewards card this way are beyond just free airfare. There are free hotels/motels, free concerts and shows, free gas and tons of others. Shop around for a card that offers benefits that you can use in real life.
Find an online no-fee bank and switch over
I saved $180 in regular banking fees for a year doing this. I also get free checks, and that is the reason I ditched my last bank; they charged me $45 for 100 checks. So by switching to an online bank I saved $225 that year (I do not use checks very often).
My online bank will do anything I need them to do over the phone. There is no attitude and everyone that I have dealt with at my online bank over the past 5 years has been very helpful and accommodating.
Use your car and drive for Uber
If you are out and about anyway, why not pick up a passenger and make some money? Sign up and get started on your schedule.
Alternatively, you can also rent out ad space on your car. You will have to look for opportunities locally, to get your car wrapped with an ad, but if you are already driving around this could be the ticket to some extra money.
Create an app
You see more and more people doing this as needs arise in our digital world. Here is a story that you can read if you are thinking of creating an app.
http://nathanbarry.com/how-i-made-19000-on-the-app-store-while-learning-to-code/
http://appexpanse.com/8-amazing-coding-games-for-beginners-to-improve-your-coding-skills/
Well this post went on longer than I thought, so I will leave you with this thought; there are tons of ways to earn some extra cash. Some are one-offs and others can be done over and over to help you achieve an increase in residual income.
My next post will deal with passive income opportunities that you can do with a website or blog. That should be fun 😉
Have an awesome week and remember to follow me on Pinterest!
Happy Blogging!
-Irma 🙂