Welcome to my Adventures in SEO review post!
Adventures in SEO was recently updated to 2.0. It is a comprehensive dig into your current SEO practices and it contains information on the proper use of keywords.
There is an entire module on keywords for people who use Pinterest, but the main education is SEO for Google. So let's get to the review, but first:
This post may contain affiliate links. If you click a link and make a purchase, I may receive a commission at no extra cost to you. Full disclosure is here.
Welcome to Fearless Affiliate.
My name is Irma and I help new bloggers to learn the ropes. There is a lot to take in that first year of blogging, from choosing a niche to changing your mindset from worker bee mentality to that of successful entrepreneur.
I like to focus on practical information and positive thinking, so if that sounds good to you please sign up for my weekly newsletter of tips and free stuff for bloggers.
What Adventures in SEO 2.0 is:
Course creator: Lena Gott, from the website What Mommy Does
Full Price: $397
Effectiveness for the price: 90%
Ease of use: 100%
Support: Easy to get a hold of if you join the Facebook group for Alumni
This is an easy-to-follow course that teaches concepts based on what Google wants from us as well as their tips to rank higher.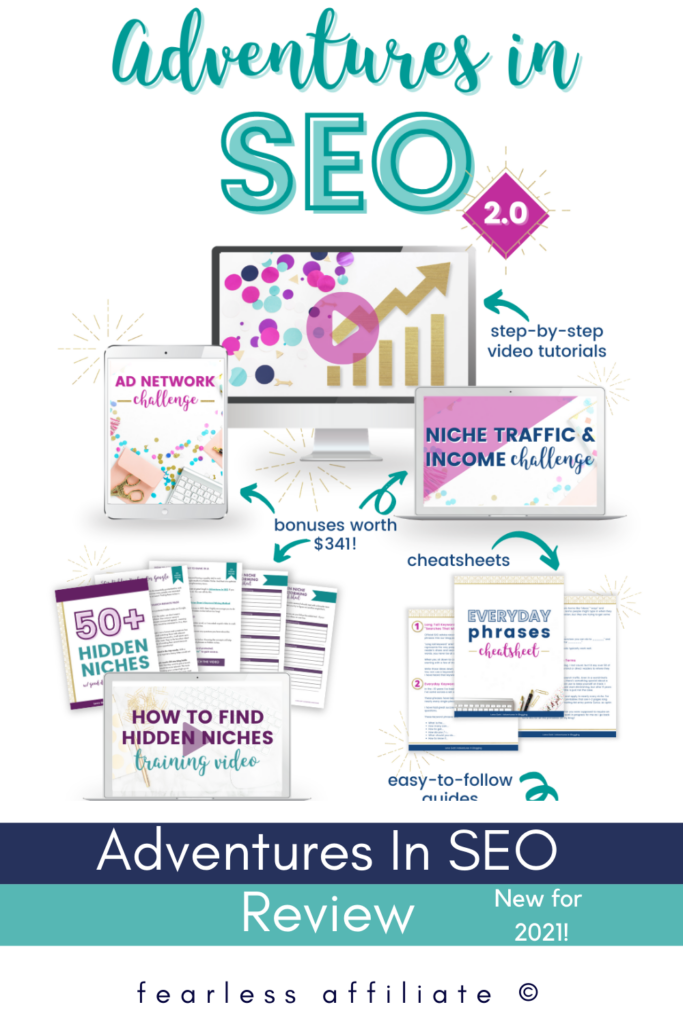 Adventures In SEO 2.0 – Pros
I am reviewing Adventures in SEO 2.0 because I believe that it contains the help that most bloggers need to repair their SEO. I paid for this course with my own money and I am writing this review to inform my readers.
Yes, there are other courses on SEO.
Everyone teaches their own tips and tricks from their own experience which means no two SEO courses are alike.
I like Lena's other courses, so naturally I bought her SEO course. Thanks to those other courses, which I did complete, I was able to boost traffic almost immediately. These include:
I have also paid for ($79) and implemented the lessons in Traffic Transformation, which is one of my favorites. So I was all-in when it came time to enroll in Adventures in SEO 1.0.
Lena teaches in straight-forward but easy-to-grasp way, so I never had to go looking for help. The explanations were clear and easy to understand for me.
There is a full module on SEO for Pinterest as well.
The reason that I gave the course a 90% effectiveness rating is not that there is anything wrong with the course, but that you may be like me and not finish it.
I am one of "those people" who find a great tip and run off to implement it. In this case, I implemented all the tips that I could for my Pinterest strategy, because my focus is getting that free traffic.
I am finishing up the other modules as I write this.
Here is a list of the AIS modules:
Module 1: Keywords & Pinterest (14 lessons)
Module 2: How to combine Google + Pinterest keyword research (12 lessons)
Module 3: How to optimize your posts for Google and Pinterest (11 lessons)
Module 4: Keyword gem mining (3 lessons)
Module 5: Content silos & Nested niches (6 lessons)
Bonus: The Income Module (2 lessons)
Bonus: Pin design tutorial in Canva + Photoshop (video tutorial)
My take on each module:
Module 1: Keywords & Pinterest
The keyword research help for Pinterest has helped me create better, and more often viral, pins. Pinterest keeps changing how it does things, and more so since it became a publicly traded company.
For that reason, many people who created courses about Pinterest have moved on to other things.
However, that being said, you can still get tons of free website traffic if you use these tips.
That is because Lena is more strategic about how she encourages you to use Pinterest. Using Lena's tips for keyword research in Pinterest plus the keyword research for Google = more eyes on your content.
This module is a "legacy" module, meaning it is not being updated. However the tips are still current and should be part of your overall pinning strategy, in my opinion.
Module 2: How to combine Google + Pinterest keyword research
This module is gold!
Being able to find great keywords that work for both Google and Pinterest is super helpful. With the almost daily changes in Pinterest, being able to mine both search engines is what has helped me gain multiple viral pins and increase my own traffic.
When Pinterest started moving away from the helpful "keyword tiles" that would pop up under the search bar, people (like me) were forced to combine keyword research.
And since Google is the number one search engine, it makes perfect sense to always use whatever works for Google for other search engines (Pinterest is a search engine, not a social media site).
This module contains helpful information on how to figure out what types of posts you should be writing to have a chance at the #1 spot on Google.
Module 3: How to optimize your posts for Google and Pinterest
I admit that when I got access to this course, I went straight to this module to see if there was anything I could do that day. My plan is always to start at the start but I just had to take a look at this module first.
This is why we do SEO…to rank on page one.
We want steady traffic to bring more email subscribers and people to click our links. If you have been struggling to get people to your website, then this is module that can help you the most.
I know because it helped me.
When I started blogging I was in a membership program. I did not realize at the time that their education was way out of date…like by multiple years out of date. Blogging techniques change quickly and information that is 5 years out of date was practically useless.
Basically, I was doing many things wrong.
When I started implementing anything Lena said, it helped.
In this case it was Blog Traffic Bootcamp, which came with a Genius Blogger's Toolkit. I could not believe that such simple concepts could make a difference, but they did.
I know that there are a lot of bloggers out there getting that same type of education, which is basically low-cost or free. And that is okay.
So of course when I started implementing tips from AIS, it helped as well.
Module 4: Keyword gem mining
One of the things that I liked the most in the Blog Traffic Bootcamp course was mining for hidden gems.
Lena realized the importance of this training and so she updated what she had, added to it and made it a module. #yay
This is basically figuring out what keywords you can realistically rank for when competing against whoever is in the #1 spot.
The information in this module comes straight from Google Search Console information is a 100% reliable way to find keywords.
This is what I was reading when I decided to stop writing blog posts (I had over 100 at that point) and start updating posts instead.
What I learned in this module I use every time I write a post and anytime I update posts.
Module 5: Content silos & Nested niches
This is creating a strategy for ranking for the keywords you want to be known for.
It is based on what Google wants from us in order to show our content to the most people possible.
And if Google is asking us to do this, then we need to consider at least testing it out right?
This module has some helpful printouts so that you can follow along while implementing. There is a lot of information on organizing content and how to properly nest niches. I'm not going to give away the content, but if your blog is not organized you are making things harder for yourself.
Bonus Module: The Income Module
I urge you to read this first. If you have not chosen a monetization goal, this can help you choose a direction for your blog/website. Not only is it helpful if you have not decided, it is also helpful if you are ready to move to another goal for your blog.
Many bloggers jump in without knowing which goal they want, so it can be confusing as to why they are not meeting the success that they are hoping for.
This module is thought-provoking and helpful for figuring out how to target a specific audience when writing blog posts.
Bonus Module: Pin design tutorial in Canva + Photoshop
I sorta skipped over this lesson as I had just taken another course in pin design that I found quite useful in helping me create better pins.
If you have been making pins "by the seat of your pants" you may find it helpful to have some more in-depth information on what Pinterest needs to show your pins more often and to the right people.
This is a video provided by Kara Fidd of Simplifying DIY Design. I have a few of Kara's courses, so I can vouch for Kara's skills.
Adventures in SEO 2.0 – Cons
Con #1:
This is not for beginner bloggers.
I suggest taking one of Lena's free courses so that you get an idea of what SEO is for and the basics of how to implement it. I have some links for those below this section.
Con #2:
This is not an introductory course.
You should have some knowledge of SEO concepts and what they are for so that you know what you should be working on fixing. As well, you should understand SEO jargon.
Con #3:
AIS 2.0 is self-paced so you can complete on your own timeline.
For someone like me, that tends to mean that I start implementing and fall down a rabbit hole. I like structured courses. That being said, I have completed most of the course except that Pin making module.
Con #4:
If you plan to use the Pinterest keyword research tips, be sure to have your profile set up for a business account.
It is recommended that you take an introductory Pinterest course, as AIS does not teach how to create and set up a Pinterest For Business account which is different from a personal account.
I recommend Carly Campbells Pinteresting Strategies 2.0. Pinteresting Strategies is a full course, but it is also a very thorough course and will set you up on Pinterest using current information.
Con #5:
If you want to qualify for Mediavine as soon as possible, you should complete AIS 2.0 first.
I do recommend that you skim-read right away, so that you have a bit of knowledge on the strategy. After you complete AIS, do the Mediavine challenge.
This way, as you are working on your SEO, you can keep in mind some of the concepts that you will be working to improve.
My thoughts on Adventures in SEO 2.0
Because I had already taken several of Lena's courses, I had a pretty good idea of what to expect going in. It was a no-brainer for me to purchase this course.
Am I happy that I did? Yes
Did I learn anything? Yes. Actually I learned a lot of useful concepts that I use now when I write blog posts.
Ultimately, you may not know anything about Lena and her teaching style. If this is the case, try and of these free trainings:
Traffic and Monetization Mini Challenge
Because if you want to make an informed decision, then you should try a taste first. An excellent and inexpensive course to help improve traffic is the Blog Traffic Bootcamp for $37.
Conclusion
When I was in that membership program, I thought it was up-to-date information. I was wrong, and when I figured it out, I jumped ship. This happens to many bloggers because we are new and don't know any better.
And it is why I do not recommend membership programs with the exception of a mastermind group, because many of them work that way.
When you figure out that you need some real help to advance your business, you have no choice but to "pay-to-play".
Either you pay for the education that you need to move forward right away
Or you pay with your time doing it the slowest way possible aka on your own with lots of research.
This is not a foreign concept; employers regularly send certain employees for more education to help them be better at their jobs or to advance them up the food chain. Those who don't upgrade do not move up.
I have a few higher priced courses that I recommend because the information has helped me move forward a lot faster than when I was in a monthly membership that only taught very basic, and outdated, information.
The fastest way to make money online is to write content.
When you figure out what your audience is coming to your website to read, create products that give them more of that information.
Free content is for the beginners and to introduce yourself to them.
Paid products are for those who want to go to the front of the line and need more detailed information on the topic.
Use proper keywording and SEO practices to encourage more visitors to come read the free stuff or buy the paid stuff. #simple
Still on the fence about starting a blog?
Grab my 5 Secrets To Finding Your Niche free report and decide if making money online is right for you.
I hope you enjoyed this post and will share it with others who can benefit. Be sure to sign up for my weekly newsletter of special offers, freebies and exclusive content.
Until next time, happy blogging and follow me on Pinterest!
-Irma 🙂