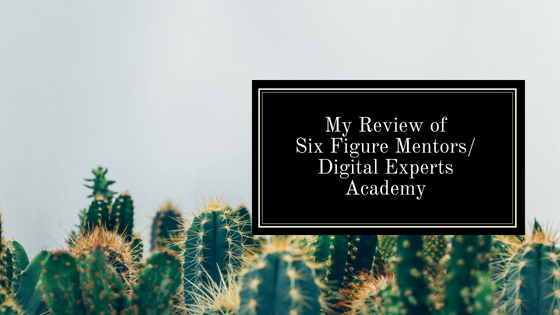 Today I am reviewing Six Figure Mentors and Digital Experts Academy. If you have ever searched online for a way to make money from home, and then gone to YouTube, you may have seen a video from Stuart Ross, sitting on a paddle board in the ocean and talking about how he has been an online entrepreneur since 2008.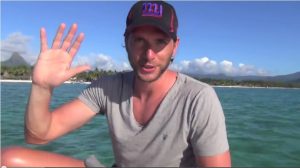 Awesome. I actually skipped over this guy to watch Keala Kanae's video instead. See my review of that program here. Thanks to Google thinking they know you well, ads on YouTube are relevant to your past searches. Note to self: clear browsing data before going to YouTube.
However, I have recently been on YouTube again, and there sits Stuart, so I thought I would do some research and see what he is offering. I signed up for the 4 part informational course on getting started with Six Figure Mentors (SFM). On the home page, Six Figure Mentors says "that the SFM Digital Business System has been expertly designed to show you how to become an effective affiliate marketer". Sounds good right?
When I first started watching the videos, I thought that this was going to be legit education and that perhaps I had missed the boat and should consider signing up. But not anymore. I will sign up for the free program, but only to add to this  post so that people who aspire to start their own business online will know exactly why they should not get involved with Stuart and Jay.
yournetbiz = Six Figure Mentors/Digital Experts Academy?
Stuart Ross was previously a member of yournetbiz.com, and he modelled his SFM business on what he learned there. Stuart has plenty of YouTube videos promoting yournetbiz.com, which I believe has been shut down for a few years now. A premonition of things to come with SFM? Time will tell. Stuart started SFM in 2010.
It is hard to find people who are making money with this program. Most of the high rollers with SFM are the original investors/creators of Digital Experts Academy (DEA), and online digital education opportunity. You see them a lot in the various videos. I searched and looked at countless webpages, but the people who post on their websites talk about how great these guys are and how wonderful the education is.
We saw that in my AWOL Academy review as well. It meant nothing with that program, and it means nothing with SFM/DEA. You can find great people to hang out with for free. And if you cannot define your success on your website, I do not care how great you say that your education has been…that means nothing to me. To quote a movie from 1996: SHOW ME THE MONEY! Explain to me how this awesome education has changed your life for the better, and how you are using your training to make the world a better place. Show. Me.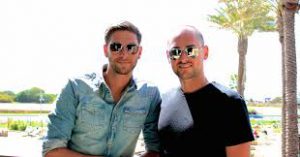 Oddly enough, the email messages that I get are not from Stuart or his business partner, Jay Kubassek (who is barely mentioned and shows up in some of the videos, but it is never explained who he is) but from a lady named Alice. I guess I must have signed up under Alice, who gives me a bit of her history in my welcoming first email. I received four emails every day from OurLifestyleMatters, and each email had a video of Stuart selling the program. When you click the play button, the video will open in a new page from the OurLifestyleMatters.com website.
The 4 videos that I was sent are:
1) The Digital Life (31:16) – A brief introduction to the benefits of digital marketing and then a bunch of testimonials from members and Stuart; members that it turns out are some of the original founders of SFM. Wow, shocking. And then more history/sales pitch from Stuart. It is a long video, and this is the first video of four!
Stuart does mention reading "Rich Dad, Poor Dad" by does not credit the author by name. He briefly mentions reading some e-books for his insight into how to stop trading your time for money, again giving no credit to the author.
2) Business Model (26:57) – Stuart's tragic employment history before he learned about affiliate marketing. I am not being facetious when I say tragic, because Stuart confesses that he lost a bunch of money in one business venture because he had no idea what he was getting into before he sank money into it.
***THIS IS A WARNING TO EVERYONE – DO NOT DO THIS! Research people! Research!!! ***
It turns out that Stuart invested $20,000 and then found out that he does not like "cold calling" (making unsolicited calls, either by phone or in person, in an attempt to sell goods or services). And this is the fellow who wants me to give him my money?? How did he not know what he was going to have to do, and how did he not know that he would not like it? Uh oh. I guess Stuart did not do his homework.
"Then I read a book called "Never Cold Call" by "a guy called Frank, if I remember correctly" Stuart says.
(Is this "Never Cold Call Again" by Frank J Rumbauskas Jr?? I Googled the meager amount of information that Stuart gives us).
Stuart mentions "another guy named Brad" who had an ebook that had big gold dollar signs all over it, and this guy is Stuart's mentor. Stuart paid $97 for this fellows program on affiliate marketing.
Really, who goes to the trouble of telling you how they were inspired by someone else's work and then they will not tell you that person's name or give them proper credit? Twice! Someone who does not want you to know that "Brad" is probably promoting an affiliate marketing start-up that is way cheaper than SFM. I can only speculate, since Stuart does not give much information about either of the books.
Then Stuart talks about being inquisitive and following your "guide" when something seems too good to be true, but at the same time seems like a good idea. He is referring to the lightbulb moments he got when reading the books of these unnamed authors, but you should follow his advice and run away from his website, before you sign up!
The best part of the next bit, is that Stuart describes all the pluses of affiliate marketing and how there is money to be made "if you commit to learning how to do this properly…" Do you mean commit to learning the SFM/DEA way? So that if you do not make the kind of money that you are expecting to make, you cannot come back on Stuart and his gang because they will tell you that you did not do it right? After sinking thousands of dollars into a program, it is your fault if it doesn't work out the way you thought??? That kind of "properly"??
Well that right there is the real disclaimer folks. This tactic is used all over the internet to part people from their hard earned money. If you do not make the kind of earnings that we talk about over and over and over again in our promotional material IT IS YOUR FAULT!

There is money to be made in affiliate marketing, and it is the way of the future at least at this point in 2017, but no way does it require you to fork over a ton of money to get started or stay involved.
3) Income Multiplier (28:42) – "Work smarter, not harder" is the motto here. Use integrated products to keep generating sales from current customers (continuous up-sells…hmmmmm).
Stuart uses the success of Apple products as the inspiration for SFM. Tying his brand to one of the most successful businesses in the world is a bait and switch tactic. Stuart wants you to think that you can have the kind of success that Steve Jobs had with Apple, if you only follow the SFM training.
Having one product that is integrated with other products…that is where the real money is, according to Stuart.  Stuart fails to mention that if you buy an iPod, you are not required to purchase an iPhone or iPad at a later date, and as far as I know, iTunes is free for everyone.
Stuart encourages students to promote integrated product suites as a way to generate 6 or 7 figure incomes, and in the following video, he encourages you to promote…(wait for it!!) Six Figure Mentors, Digital Experts Academy, and Digital Business Lounge! How about that! An integrated suite of products! Yay! Surprised? I know I was…not.
Promoting one product and then constant up-sells is the hallmark of an MLM scam. Spending more time recruiting than selling is also an MLM scam. High pressure sales tactics are a scam. Seems to good to be true…then it is probably a scam.
The big sales pitch for the program is that it is better to sell 5 programs at $2K a piece with 50% commissions, than to try to sell 100 $100 programs with 50% commissions. Same amount of commissions, but the latter has a lot more work so it is "less smart". I do not get this because Stuart is supposed to set you up with a business that you can run anywhere in the world on autopilot. So if it is set up right, why would you be working harder? Shouldn't the sales just show up?
There is a lot of this double-speak about working smarter and using auto-pilot programs, but then Stuart talks about how you can set up a business and be lazy if you want and earn less.
No one talks about how many people are online today selling lots of lower priced products for good commission; only that it is smarter to sell high priced stuff to less people. It may be smarter, but is it ethical to promote a product for one price and give your customers a limited education that requires a ton of up-sells to before you can even consider maybe possibly perhaps earning a bit of money? Let's think on that…
4) Start Your Business (transport bar disabled! You cannot fast forward or see how much time is left on the clock) aka The Sales Pitch.
Six Figure Mentors/Digital Experts Academy comes with a number of programs from Digital Business Lounge (DBL), which is a website hosting service with a suite of programs for online marketers (more integrated suites? It just gets better and better!). You get done-for-you affiliate links and sales pages, as well as marketing banners. When you join, you are given the same kinds of tools that Stuart used to start SFM, so that you can duplicate his success, and this includes selling SFM/DEA products and services.
No one thinks to tell you that everyone in the SFM program is duplicating Stuart's success. That is a lot of competition, especially against students who went through the program a couple of years ago and have websites that are much more established than yours will be, and who are better practiced at using the sales techniques, and who are also trying to become millionaires.
DBL was started by Stuart and his partner Jay, and they offer integrated programs that are free if you join the Elite program (Elite is the $2500 add-on), otherwise it is $67/month. The basic program is $37 a month. You get the first 30 days for $1.
Digital Business Lounge is the suite of programs that you are required to use as an affiliate marketer of SFM/DEA. People outside of SFM can purchase these products individually, however I am not sure why you would want to, as there are better and cheaper alternatives to these products:
Simpletrakk: $1 to try for 30 days then $9.95 a month after that. "Monitor, compare and optimize all of your marketing campaigns".
If you Google SimpleTrakk, the first post on page one of Google takes you to simpletrakk.com,  where nothing but the sign up is clickable, and there are no videos or sales pitch items. Try clicking "About SimpleTrakk" "How it Works" and "Split Testing" and nothing happens.
Going back to my Google search results page, the rest of the links are to review pages which appear to be written by members of SFM, because they do not say much but they have links to the other DBL products and minimal information. Some of those results have no information, just pages in the early stage of development. Perhaps they were abandoned??
Graphix Creator: 2 pays of $67 or 1 pay of $99. For creating e-book covers and various other graphics for your website. You can find free programs on the internet, like Canva.
Simple Lead Capture: 30 days free then $29.95 a month. Autoresponder Integration with Aweber and MailChimp and other autoresponder programs; templates and popup lead generators; built-in conversion stats. MailChimp has a Forever Free plan for up to 2000 subscribers, so this is an unnecessary expense. See my email marketing campaign using free products here. WordPress has tons of free plugins that offer these capabilities as well.
There are a lot of reviews of these programs on the internet, but the reviews do not say much about the programs or how they work, only how awesome the whole business is. Some reviewers have used one or two of the Digital Business Lounge programs but cannot speak to the others. Most of the reviews that I looked at were also promoting Six Figure Mentors and they are Digital Experts Academy founding members, so they are near the top of this triangle shaped business.
Six Figure Mentors (SFM) is the affiliate arm of Digital Experts Academy, an online marketing educational opportunity "designed to take entrepreneurship digital". So you have DEA education and you use the tools at SFM to promote DEA to earn commissions.
If you look around the internet, you will find that most affiliate marketing programs are already digital, so this is not exactly the cutting edge education that it appears to be in the promotional information.
Digital is just a fancy way of saying that you will be working online instead of in a brick-and-mortar business.
You will also be using social media (Facebook, twitter, Pinterest and Google+ etc.), analytics, and cloud for your business as well as being mobile-friendly (meaning that your website is viewable on a cell phone and does not look wonky).
Cloud just means that programs are available to you through the internet. Where once you had to buy a disk of some kind to put software on your computer, now you can download it or just interact with it from the home site.
Six Figure Mentors has four membership levels:
Affiliate access – free. Basic plan without access to Digital Business System, or training tool access! But wait! There's more! Add this $20 one time offer to your cart!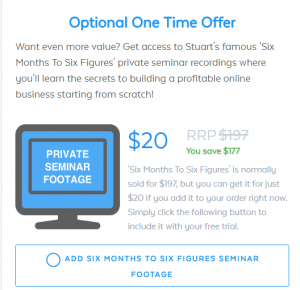 Student Access – free test drive then $25 a month. Same as Affiliate access but with Live Event Recordings and Digital Business System Introductory Module
Essential Membership – $297 Enrollment Fee and then $97 a month. All access except for Elite add-on. Notice that "access" has changed to "membership" for the two most expensive subscriptions.
Elite Membership – Add-on $2500 per year. As above but with System Setup Certification, Digital Skills Elite courses, exclusive webinars, and increased income potential (whatever that means). You must purchase Essential to be able to purchase Elite.
Digital Experts Academy (DEA): Stuart refers to DEA as a "franchise-like system" that you get to leverage (use), but only if you are an affiliate of the program (that would be the franchise-like aspect). The "modest" cost to join is $297 (an application fee), and they will waive the first month of $97 (the monthly subscription cost). This is called the Essential Program.
What did we talk about in the try-before-you-buy vs guarantee post? DO NOT PAY MONEY UP FRONT!!! And wow, the almost $400 you are spending will buy you 8 months of education at other programs…including the tools!
DEA has 4 membership levels "sequentially-designed as stepping stones to take individuals through the phases of starting a successful business". You read that right. You must pay higher and higher premium amounts to complete your education. The total price for all of these upsells is over $42,000!!
Stuart tries to soften the potential blow of this (he talks a lot, so you may have missed that little nugget about sequentially-designed), by talking about how expensive Business school is. Yes, it is expensive but you can earn a lot of money with a Business Degree. However, having a business degree is not a guarantee that you will make money from affiliate marketing, as affiliate marketing is a different skill set.
The internet is full of stories of people who work in marketing, and have degrees, but they have not been able to make money online with their education. That is because affiliate marketing is about being a middle-man who promotes other peoples products for a commission on the sale of those products. You do not need a degree to do this. You just have to find a niche and promote it as best you can. Which is why it is hard to make money with SFM/DEA…the market is saturated with all the other students.
Silver – $3000 Gain the "potential" to become marketing consultants and transition into self-employment. Who decides if you have potential? Your wallet?
Gold – $8,000 Individuals have the potential to earn a full-time income as a digital marketer. More potential!
Platinum – $11,000 Ok, now things are getting really exciting. While the Silver and Gold information pages have about a paragraph and a half of information, Platinum has a whole page! I put the link in so that you can go read it yourself…I cannot make up stuff like this!
Using their state-of-the-art Brand Incubation portal (gobbledy-goop for "we made up a new program!)
"The DEA PLATINUM Program is designed to take members on an exciting journey of personal and professional discovery to create a unique online brand identity that makes the world stand up and take notice."
What does that mean exactly? Nothing. It means nothing. The 4+ minute video shows people having fun in New York City, and talking about the friends they made and how professional the presentations are but, that is it. No one from the promo video is telling us that they had an epiphany and created Brand…x? Why is there no promotion for all the students who are now standing out from the crowd with their awesome education? Because there aren't any. For 11 grand.
Just another exciting presentation and a nifty folder full of Power-Point slides that you took notes on. How many people walk away from that presentation scratching their heads and feeling foolish because they cannot think up a cool way to brand themselves? Big company's like Coca-Cola and Apple pay teams of professionals really big dollars to come up with their unique branding.
Black – $20,000.The "final stage in becoming a digital expert". And back to two paragraphs for the pitch and a 5+ minute video. I would think that for 20K you would get a big long sales pitch. It makes me sad, really. Being DEA Black means that you get to go on the company retreat, to some exotic place. In the video that I watched, it was at a hotel near the Mayan jungle. Which sounds really cool, but still $20 K??
My big takeaway from the video: "Success is not individual, it is teamwork". Or "We are not here to be judged, just share". What the…? Learn how to tune in to other people so that you can decide whether you want to team up with them in the future??
Dinner on the beach under a full moon; sailing on the ocean; yoga. Interjecting spirituality and personal development with education. The final message is that Stuart and Jay teach you to be happy, because what is success without happiness?
Well that part is true, but is that not a better message for the early part of the training? And figuring out your "why?"…is that not better suited to beginner training? Have you seriously spent this much money on a program without knowing why you are doing it? Ugh.
The commission structure is such that if you are a member in the highest level (DEA Black) you get 40% of the sale and 10% goes to the person who referred you (the "up-line"), which makes this very MLM-like. Your referrals (your "down-line") need to promote Black as well, so that you collect your 10%. *cough* Herbalife *cough*
SFM is a prerequisite to getting into the DEA program. And SFM requires $297 upfront and $97 a month, plus a $29.95 application fee. Yes, you have to pay to apply! So at the most basic level (not free, just the basic silver DEA plan for $3000), you are paying $3326.95 and then $97 a month, so that you can learn affiliate marketing.
The bottom line here is this: you must sign up at increasingly more expensive levels to have the ability to promote these same levels of education to your visitors (referred to as "prospects"), and thereby make the big money that Stuart's videos talk about. Why do you have to continuously purchase the higher priced programs to sell them? Because that is how Stuart makes money. And who is going to buy an expensive education from you if you are not using that same education? No one.
Just viewing the membership options page shows you that the free membership offers  just enough of a taste to motivate you to go for the next upsell. You get a basic set up, but no education to sell what you have created. You must sign up for the Essential program to access the education area. If you want to learn how to leverage social media, you must upgrade. To learn lead capture, you must upgrade ($29.95/mo). To access the Graphix Creator, you must upgrade ($99/yr). Simple Trakk ($9.95/mo), education that is free only if you upgrade to Essential first.
You are creating a business to sell someone else's business, not your own. How is that working smarter? It is not. It is Stuart Ross working smarter. Once you purchase, you are in the SFM sales funnel, and there is no way out unless you quit and lose whatever money you have invested, or keep feeding into the funnel and work hard to promote SFM.
It is my understanding that you cannot keep your access to the tools that you purchase if you leave, and once you give notice that you are leaving they cut you off immediately, which is how the people at the top of this pointy business keep raking in the money month after month. They are selling you a suite of programs that you cannot access anywhere outside of the program. Stay with the program or lose everything!
If you sign up, you become a "mentor". How can you be a mentor when you have not learned anything yet?
You can sign up for free and then pay $25 a month (Student Access), which is try-before-you-buy but not a free program. And there is an application process. Why? So that Stuart can see if you are a right fit for the program. How? Do they have access to how much credit is on your credit card? If they are trying to sell me a program, why do I have to qualify to purchase it? What nonsense is this?
Does Clickbank make you qualify to be an affiliate? No. Does Affilorama make you qualify to learn how to become an affiliate marketer (for free btw – read my review)? Nope. Does Wealthy Affiliate make you qualify to learn affiliate marketing in any niche that you want to promote (free also – read my review)? Nada. But Stuart Ross and Jay Kubassek do, and for the privilege of promoting their product.
It is sad, because there are a lot of people out there who want to earn money online, or from home, or while on vacation but they choose programs like this because of the allure of earning really big commissions from promoting big ticket items. They believe that they will be earning 10K in their first 6 months, because someone else did. Nevermind that the people who earn these big bucks were in on the ground floor of this pyramid-shaped program. That happens with all MLM-type programs. The first people in are the ones who make money.
The many reviews that I read say that one person generated an income of $10,000 in the first 6 months, while others have earned $291,000+ in the first 12 months. The blog poster was kind enough to attach an income disclaimer link at the end of each testimonial. What did we learn in my try-before-you-buy post? Get rich quick (6 months is quick for $10k a month earnings) testimonials are a SCAM. Almost $300k in 12 months is a SCAM, or else that person is at the top of the pyramid. You, however, are not.
This is typically how MLM's work. The people who jump on at the beginning can promote the heck out of it. And there is some allure to promoting a new business that no one else has heard of, and that is part of the promotion. It is new. Cutting edge. Get in on the ground floor. However, after a year or two, there is no way to get to that floor. You are in the down-line, and it requires more and more selling the products to others just to try to get your money back, let alone earn a full-time income.
People who run videos with the transport bar disabled are doing that because web video is not archived and so there is no trail for the FTC to regulate what you are watching. I am not sure, but I think you can get into trouble telling people that you don't have to work for money, that you can just create something that runs on auto-pilot while you sleep or vacation or play with your kids.
From what I understand, the training in affiliate marketing for Six Figure Mentors is the same kind of stuff that you can get anywhere else, with the exception of the specific training you get to sell SFM/DEA/DBL products.
This is much like AWOL Academy/Keala Kanae , only his program is cheaper (did I just say that?). You create sales funnels and landing pages that are specific to the key product; in the case of Keala, you sell AWOL. In the case of Stuart, you sell SFM. Where does your dream fit into all of this? It doesn't. This is about Stuart's dream, or Keala's dream.
Selling a program to a prospect puts them on your team. When they sign up a prospect, you get commission money. This is MLM. Everyone has to pay that $97 monthly fee, so you make money from that.
If you have the money to invest in this program, you should invest in better education elsewhere. Or better yet, sign up for a free program first and then compare that education to what you will get as a free member of SFM, so that you do not start on that path to giving all of your hard earned cash to a couple of internet boys whose video ads show them by the pool or in an expensive car…*cough* Keala Kanae *cough*
Which reminds me to mention that the four videos that I watched have an annoying habit of going out of focus and then back into focus while targeting Stuart's DEA t-shirt….seems kinda subliminal?
I cannot recommend this product to anyone.
Promote Six Figure Mentors, using Digital Experts Academy education and Digital Business Lounge tools, and spend way over $40k to do it. Nope.
Again, you are promoting someone else's business, not your own.
The biggest problem with this whole program is that you are competing with every other person who is also trying to duplicate Stuart's success. There are countless webpages with the same cookie-cutter posts and ads and you are competing with them. Duplicate content is a big no-no with Google, and Google will penalize you with rankings that go way, way at the bottom of the Google system. This is bad.
One thing that the affiliate programs that I have experience with will teach you, is that the best way to build "your brand" is with authoritative quality content. You do not get that when copying a business model that thousands of other people are using. You do that by believing in what you are promoting, and then writing about it on your website so that you can help others.
Save your money. Try Affilorama or Wealthy Affiliate first so that you can see what is involved in affiliate marketing, and whether this is a viable way for you to earn income in the future. See what you can create at these websites for FREE. See if you think that you have the skills or can develop the skills to make affiliate marketing a real way of life for you.
Related Post: My review of AWOL Academy
Related Post: My review of Clickbank University (this is separate from the Clickbank where you get affiliate products)
Related Post: My review of Affilorama
There is a learning curve, so choose a program with a big community of like-minded people of all skill levels who can help you learn what they have learned.
A decent business takes time to gain the momentum and to create enough monthly income to replace your current employment.
If you see errors or omissions, please contact me at support@fearlessaffiliate.com.
If you enjoyed this article, please consider sharing it. And put your comments in the comment box below.
Happy Blogging!
-Irma 🙂