"How do I find a profitable niche for my website?" is one of the first questions that new bloggers ask. I think that most niche websites can be profitable regardless of the niche.
You may have to get creative, but it is totally do-able.
Welcome to Fearless Affiliate. My name is Irma and I help new bloggers to learn the ropes. There is a lot to take in that first year of blogging, like choosing a niche. As well you must change your mindset from "worker bee" mentality to that of successful entrepreneur.
I like to focus on practical information and positive thinking. If that sounds good to you please sign up for my weekly newsletter of tips and free stuff for bloggers. In return you will get the password to my resource library of PDF printables for bloggers like my 5 Secrets To Finding Your Niche. #win
That being said, if you are looking into getting into the niche marketing business, you will want to know makes a niche profitable. In order to determine if the niche that you have chosen will be profitable, you will have to do some research online. Here are four ways to help you answer the question "will my niche idea be profitable?'
1. Check the Marketplaces
You can browse marketplaces like Amazon and Clickbank to see if there is an interest in your potential niche. With Amazon, be sure to look for products, books, ebooks, and anything that Amazon thinks is related to the niche. This is a great way to get ideas for future products.
With Clickbank, you have to sign up (free) to get access to their library of digital products. Clickbank has thousands of products for pretty much any niche you can think of, but you have to be discerning. Some products in your niche may be "cheesy' at best. You might consider how you can make a quality digital product to dominate the market.
You can enter broad keywords in their "Find Products" search bar to uncover niche products. Take a look at the results and see what products are popular. Those in the top of the results page are the most popular and is a good sign that there is some demand.
For more information on what keywords are and how to use them to search your niche's potential, read my post Find Long Tail Keywords for Your Niche.
2. Check Google Search Volume
Finding out how many people are searching for your niche idea can answer "will my niche idea be profitable". Clearly, if a lot of people are searching then you have a winner!
Enter your keywords or phrases into the search bar on the Google Keyword Planner tool. You will see the monthly volume of searches being conducted for that keyword. Searches that reach to at least 10,000 per month or higher is a good sign. It shows that there are a lot of people looking for help with that topic. That can mean it is potentially profitable.
I have a post on how to use this amazing free keyword tool. You can find it at Google Keyword Planner: A Free Keyword Tool
3. Use Google Trends
You can use Google Trends to quickly check to see whether or not your niche idea is on its way up or down.The best part of using Google Trends is all the visual information that you get like demographics and interest over time.This can be more inspiring than a black and white list of related keywords. You also get data going back to the early 2000's, which is very helpful.
When picking a niche topic, you want to try and focus on evergreen niches rather than the hottest trends. Evergreen means that the information is timeless rather than seasonal or trendy (like fidget spinners RIP).
You can enter your niche idea or keyword into the search bar to see if it is a solid niche.
You can also see whether some of your niche ideas for blog posts are trending. This is a great way to get some extra Google juice by incorporating popular ideas within your niche. Google Trends is also a way to see when seasonal trends start so that you can be ready for them.
You can also use the Related Queries to find new topics for your blog. If you have not pinned down your niche yet, these may give you inspiration.
Look for popular blogs and websites to validate the online activity for your niche idea. If you find a lot of authority blogs and sites on your niche idea, it's a good sign. It can mean that there are customers online looking at that niche. A profitable niche will have easy to find hubs where the target audience hangs out. This allows you to network with the owners and drive traffic from those sites.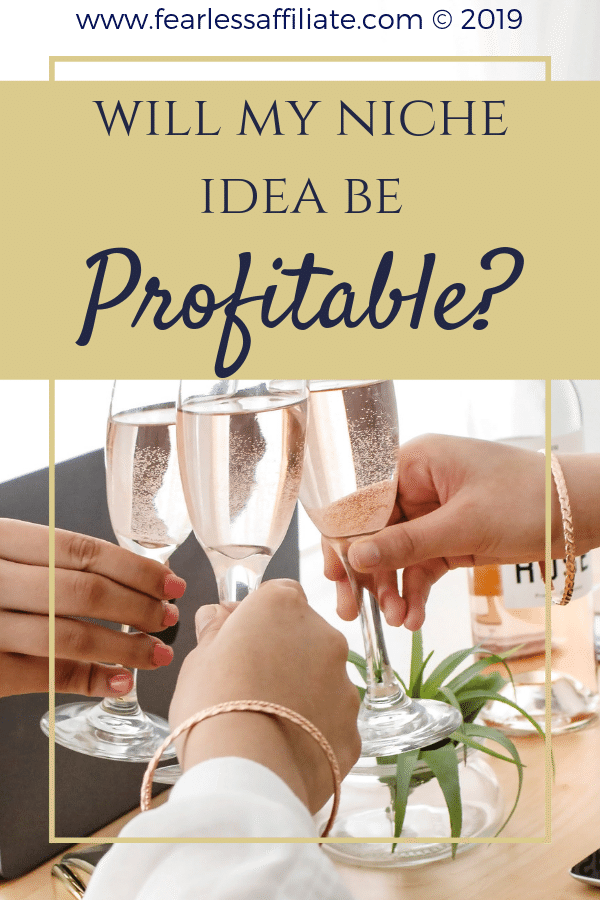 4. Forums and Message Boards
More massive forums with a lot of active members mean that people are passionate about the niche topic. And they are willing to discuss it and ask questions about it. When people are passionate about something, they are almost always prepared to spend money on it.
You can use FindAForum or Boardreader to find forums about your niche idea. Just type in your niche or niche idea and hit enter to be taken to the search results. When I searched my niche in Boardreader, many results came from Reddit, which is also an excellent place to find like-minded bloggers in your niche.
Other websites include Quora and the Warrior forum, which is a digital marketing forum. Not only do you find niche ideas, you get a look at what people are most searching for just by looking at the latest posts.
Conclusion
After you've gathered your data from these four tips, you can determine whether your niche idea will be profitable. If the data points to it not being profitable, don't worry, there are plenty more niches that you can choose.
If you enjoyed this post, please share it with others. Sharing is caring! And sign up for my FREE weekly newsletter of tips for bloggers. You will gain access to my resource library of printable PDF's like my Google Analytics Cheatsheet and my SEO Checklist. Thank you!
Until next time, happy blogging and follow me on Pinterest.
-Irma 🙂