If you want to find long tail keywords for your niche, then I have the top 8 websites that will help you do your research. Long tail keywords are the words that people type into a search engine when they are seeking answers. They tend to be over 3 words long and are a more specific search term. An example is apple versus what kind of apple is best for baking? You get more targeted search results when you use enough words to narrow down the results. This is an important consideration for content creators.
Welcome to Fearless Affiliate. My name is Irma and I help new bloggers to learn the ropes. There is a lot to take in that first year of blogging, from choosing a niche to changing your mindset from worker bee mentality to that of successful entrepreneur.
I like to focus on practical information and positive thinking, so if that sounds good to you please sign up for my weekly newsletter of tips and free stuff for bloggers. In return you will get the password to my resource library of PDF printables for bloggers like my Google Analytics cheatsheet or SEO Checklist. #win
Earning money online has become incredibly popular, because anyone, with any kind of skill, can succeed at earning an income online. There are now over 3 billion people online every day shopping, researching and asking questions.That is a lot of potential websites to supply products or answers and there is room for many more to join in.
To make money online…
you have to choose a niche that can answer someones questions.This may be the most critical part of starting a website to earn income…finding your niche. You will be more successful if you do your homework when seeking a niche. It is a balance of your passion and a lucrative market of people to promote to.
And you need the keywords that will help you write content that will rank high on the search engines so that your website can be found. For many bloggers, the use of long tail keywords are essential to getting people to not only find your answers but respond to your call to action.
The long-tail keywords play an essential role in search engine ranking and you will want at least one long tail keyword (and related synonyms) per blog post. This will tell Google what your content is about so it can be shown to the right search queries. The more that you write on one topic, the easier you make it for Google to send the right traffic to your website.
8 websites to help you find long tail keywords for your niche
*This post may contain affiliate links. If you click a link and make a purchase, I may receive a commission at no extra cost to you. Full disclosure is here*
1. Jaaxy
My favorite tool to help you find long tail keywords for your niche is Jaaxy. There are so many other features for this program, like site rank (to see where your posts are ranking in Google, Bing and Yahoo). However my favorite part of Jaaxy, is the Brainstorm tab. This area has Google Trends, Alexa Topics, Amazon Best Sellers, and Twitter Trends. All of these can help you brainstorm any idea that you have to see if you have chosen a viable niche.
Jaaxy also has a truly amazing Alphabet Soup tab that can help you make excellent long tail keywords out of shorter keywords for extra versatility. You can do alphabet soup technique yourself on Google, but Jaaxy does a more in depth job of it and can easily give you numerous ideas for blog posts, titles, and newsletter topics.
I started off using free Jaaxy over two years ago, and I switched to the paid version when their was a pricing deal right before they upgraded the tool. It is so worth it, so watch for sales or discounts.
Related Post: Easy Keyword Research For Beginners
2. SEMRUSH
One of the finest SEO tools out there, SEMRUSH can help you find the keywords that your competitors are ranking for. Unlike some of the other traditional keyword research tools you can find, SEMRUSH can help you quickly find long tail keywords for your niche from any site on the Internet.
SEMRUSH is a paid tool, and out of the budget for most new bloggers. The good news is that you can still do keyword research for free! Go to their main sales page and type in your keyword. A box will pop up asking you to sign up to get 10 free searches. That's it! You will have to sign in daily to get your free searches.
After you sign up you will be at the main keyword research page with your results. Click on View Full Report in the bottom right corner of the "Phrase Match Keywords" box to view your top 10 results.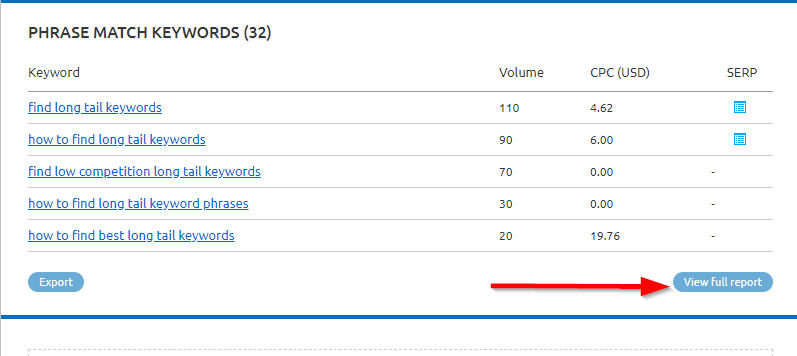 If you need help, click the Tutorial link in the top right corner. Be aware that clicking around the page can be considered a 'search', so you can use up your 10 daily searches just learning the dashboard. You may want to take note of what you are clicking on the first few times, but it is worth it for the data you will receive.
3. Google Keyword Planner
A great place to help you find long tail keywords for your niche is Google Ad's Keyword Planner. When you input a keyword, the tool will provide you with a list of related keywords, as well as simple metrics that allow you to gauge how fierce the competition is with each keyword. It will also provide you with the monthly search volume on both a global and local level. I have a detailed post on how to use this keyword tool, below:
Related Post: Google Keyword Planner: A Free Keyword Tool
You want keywords with low competition (1K to 10K monthly searches), which means the word(s) are of interest to people, but there is not too much competition for that keyword. This will give you a shot at creating better content than your competitors.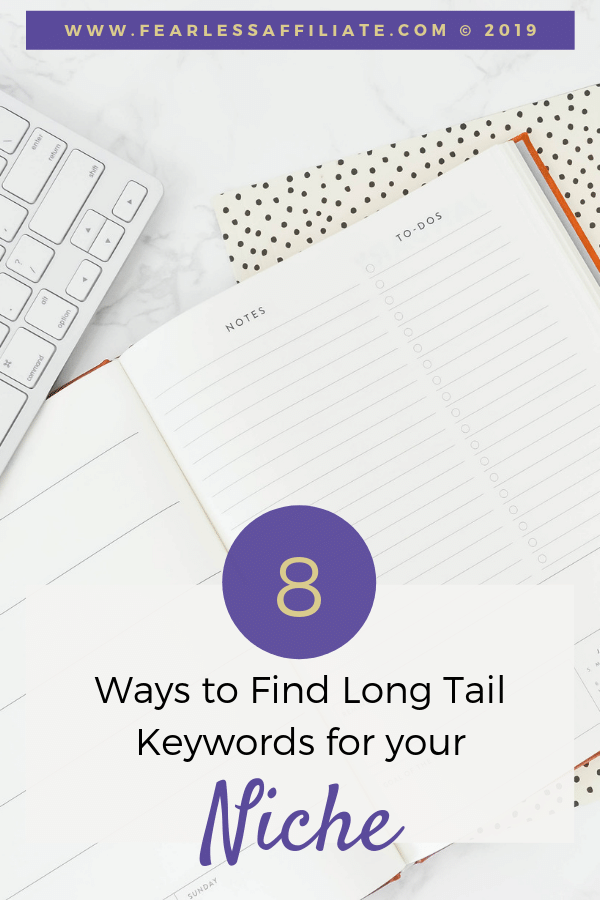 4. Keyword Tool.io
If you are looking for a list of long-tail keyword suggestions related to one that you already have in mind, Keyword Tool.io can be incredibly useful. It uses Google Autocomplete to generate a list of long-tail keyword suggestions, which can be helpful if you are searching for your topics.
There are also tabs for other search engines, like YouTube, Bing, Amazon, eBay, Play Store, Instagram, and Twitter which will make finding keywords for most platforms a breeze.
5. Answer The Public
If you want fun and interesting, yet quality results, try Answer the Public. This is a "free visual keyword research and content ideas tool". Just scroll down a bit (that man will still be there!) and type in your keyword. Then scroll all the way to the bottom to see a ton of ideas for that keyword. Seriously, you should check this out.
You will get some interesting insights on your keyword and will discover ways to use it that you may not have thought of. This is a great place to do brainstorming for your niche.
You can also sign up for a free course to help you use the tool! I wish every keyword tool had that.
6. Term Explorer
Term Explorer has probably the most in-depth research reports of any of the keyword tools on the market. From a single keyword, you can get more than 10,000 variations. It will give you data for all the results on the first page of search engines, including the number of results, trust score, link strength, and keyword difficulty.
You can sign up for a free account that will give you 5 bulk keyword jobs/day and 5 keyword analysis/day. Scroll down under the Pricing section to see a ribbon with the free sign up button.
7. Moz's Keyword Difficulty Tool
Moz's keyword difficulty tool is one of the most useful features of their paid suite. It is an excellent resource for analyzing the competitiveness of a keyword as well as unearthing low-hanging fruit. When you put your keyword into the tool, it provides you with the top ten rankings for that specific keyword. Then it assigns a difficulty score based on those pages that currently rank for that keyword.
Moz also has some free tools for SEO and marketing. Their free keyword tool will let you have 10 free queries per month, so be sure to add Moz to your keyword toolbox.
8. Bing Webmaster Tools
What I like the best about using Bing's Keyword tool, besides that it is totally free, is that you can also access trends as well. Once you are signed up, look in the left side bar for Diagnostics & Tools; under that you will find 'Keyword Research'.
Type your keyword or keyword phrase into the search box and click Search to be presented with keywords and their trendiness! The ease of use and simple interface make this one of my personal top 4 keyword tools. Feel free to look around at the vast amount of information that Bing will find for you. And once you sign up, you are usually sent an email with a free dollar amount coupon to use for paid ads.
Conclusion
Today I have given you eight excellent tools to help you find long tail keywords for your niche. Keyword research does not have to be difficult or challenging. In fact, with this variety of tools you may enjoy it! Just pick one of these great tools and get started discovering the best keywords for your niche. Add in more when you need more keyword ideas.
If you found this post helpful, please share it with anyone that you think can benefit from it. And sign up for my weekly newsletter to gain access to my resource library of free printable PDF's like my Google Analytics cheat sheet or my Passive Income checklist of great ways to earn a side income!
Until next time, happy blogging and follow me on Pinterest
-Irma 🙂