Today, you get 10 easy SEO wins. What do I mean by that? You can use these tips to start ranking better…almost immediately.
If you are new here, SEO stands for Search Engine Optimization, with the main point here being OPTIMIZATION. Optimizing blog posts is what bloggers do to rank higher in search engines. Google ranks by authority and relevance, which you can achieve with quality content and fully researched topics.
As well, proper SEO creates a pleasant reading experience for your website visitors. #win-win
This post was originally published in June, 2017 and has been updated to be current with new information.
Welcome to Fearless Affiliate. My name is Irma and I help new bloggers to learn the ropes. There is a lot to take in that first year of blogging, from choosing a niche to changing your mindset from worker bee mentality to that of successful entrepreneur.
These 10 Easy SEO wins will help you rank higher and keep visitors on site longer. #Win-win!
The best part is that you will see a boost in traffic very quickly with some of the tips, while others take time to help you build up your audience. Get creative and use any and all of these tips.
Not sure about this SEO stuff? Here is a related post: Top 9 SEO Tips
When I was first starting out with blogging and SEO, I was all about the Htags (heading tags), low hanging fruit keywords (long tail keywords) and making sure my alt text for images was a decent description for the visually impaired. Annnndddddd that was about it.
Now I know that there are other awesome tips that can help boost your rank on google quicker, make your content easier to read, understand, and share and make navigating your website easier for new visitors.
Applying these tips will have an immediate effect on your SEO and we all want those quick wins to boost engagement. Who doesn't want to improve their SEO? Pin this post or bookmark it to read later 🙂
1. Clean up the navigation structure of your website
The most important of the 10 easy SEO wins is to make your website easy to navigate. Set up a hierarchy for your blog posts to make it simple for visitors to find what they need. Create pages for each tab in your home page. Nest related categories into these pages using sub-headings to sort as appropriate. See my crude example below and don't hate me because it sucks.
Blog Name
Tab/Topic #1 Tab/Topic #2 Tab/Topic #3 Tab/Topic #4
Sub Topic Sub Topic Sub Topic Sub Topic
Sub Topic Sub Topic Sub Topic Sub Topic
In the early stages of your blog, you may only have one or two main topics that you write about. It is pretty much guaranteed that you will find more topics later as you fill out your website. Creating an easy to navigate site structure will serve you and your website for a long time to come.
For tips on creating site structure, see this post by Neil Patel.
2. See what is popular on your website and replicate that
Use your Google Analytics to find your popular posts: Behaviour > Site Content > Landing Pages. Don't have Google Analytics yet? Sign up with your Gmail account, or create a Gmail account and then sign up. Analytics can help you plan which posts to write based on what is resonating with your readers.
Change the date range to 3 months and write down your top 10 posts. Then change the date to six months and check it again. See which posts are in both lists. Those are the posts that people are coming to read, so those are the ones that you need to replicate.
The other posts may be up-and-coming in popularity or it could be they were popular for another reason, like seasonal posts. Go ahead and write another post on all of your top 10 posts and see if your audience responds.
Think of what else you can say about those topics because there is always something. Check out your competition and see what they say. Maybe you missed something? Maybe they did? Use Neil Patels Ubersuggest keyword tool to find out which keywords your competitors are using, then check out their blog posts to see what they missed.
3. Now use your GA to find posts with zero engagement and fix them up
Go back to Google Analytics to Behaviour > Site Content > Landing Pages. Set the date range for 3 months and then set the number of entries to however many blog posts you have (more or less).
Consider this a long-term project that you can chip away at to improve overall ranking. You may want to see if you can link any of your more popular posts to your low popularity posts to bring them some Google juice. This may not work, but it is worth a try. I have had some limited success linking to old posts.
For all the posts, make the text spicier, add new graphics, expand on the topic and check that all of the on-page SEO has been done. Then promote them on every social media app you use. Promote the posts a couple of times in a two or three month period to see if you get any more engagement. There will always be some posts that do not engagement, so do not worry. Just move on.
If you find pages that are no longer relevant to your website, you can make them private. I have done that with some of my earliest posts, before I changed the direction of my blog.
You can also delete them but might find a use for these down the road. Or use a 301 redirect to send people to another page on your site.
While you are poking around in the basement of your site, watch for broken links, links that are no longer relevant and too many links in one post ( a proven visitor turn off).
Give your reader one call to action per post, with clear language on what you want them to do. Examples of call-to-actions are: 'get my free PDF', 'click here for a 15% off coupon', 'sign up for my newsletter', and 'Yes, I want more traffic!'
It is always good to cull useless or outdated content or to breathe new life into an old post. The most time consuming task is going back to old posts and fixing them up to the latest SEO tips…tips I wish I had when I first started.
Try an A/B test on the color of your opt-in button. The two more popular choices are dark blue or red. Try it!
4. Look for posts with more than one idea
Then split that post into two posts! Makes sense right? Plus you get the benefit of having more content on your website while expanding what you know on that topic. And you may find that you have a new topic for your sub-categories that you can expand in the future.
There is a certain popularity in writing long-content posts, but I would advise against writing all of your posts with more than 2000 words. Not only are they hard to read on mobile, they can be overwhelming with the amount of content. Consider writing a weekly series or shorter posts, and save the long content for those posts that really benefit from a lot of explanation.
This is also a good time to switch up the graphics, check for typos, and tidy up any overly long paragraphs. And be sure to use interlinking to send your readers to a related post.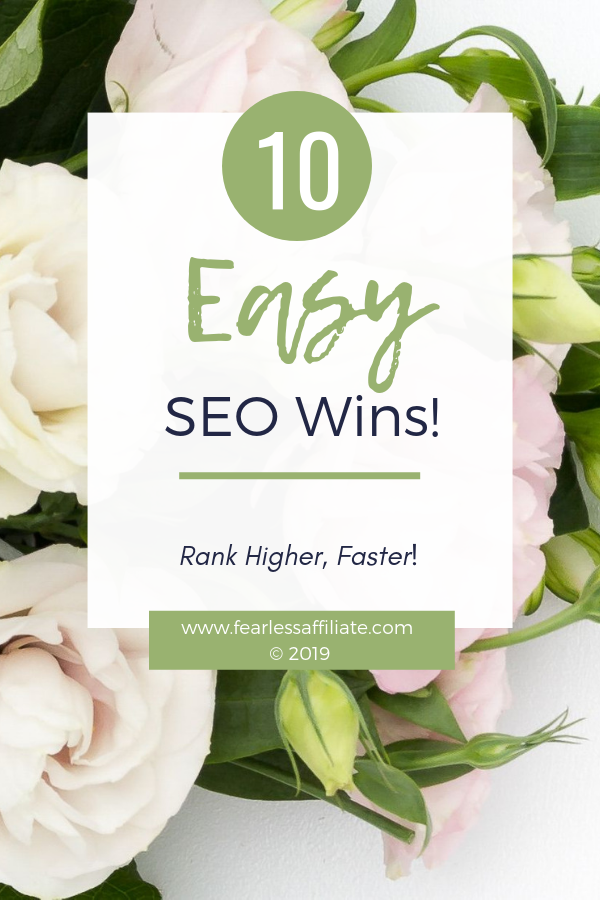 5. Use internal linking
You may have heard me singing the praises of inter-linking before. That is because I love it so! When I first tried this I was seeing a boost in traffic the same week! Yes, right away. Which is why I talk about it…a lot.
If you have just written an awesome post, why not take the opportunity to add a link to another one of your posts that is similar or otherwise helpful to that topic? This is interlinking and Google loves it.
This helps google to understand what your website is about (because of several related posts on the same subject) as well as speaking to your authority on a subject.
Use up to 3 internal links for each post, and link to one of your more popular posts on the same subject to give it more google juice. And you get the added benefit of keeping people on your website longer, which Google also loves, and which also shows your authority because people stay longer to read relevant posts.
You can either break up text with "Related Post:…" or put them all at the end of your post near your concluding thoughts. Since I learned about inter-linking, you will not see a post of mine without these internal links. That is because it works!
6. Low hanging fruit keywords
Aka long tail keywords. Don't you love these names? These keywords must have low competition, low traffic volume and low difficulty level.
Long tail keywords are keywords that are 4 words or more and are much more niched-down. The result of using these keywords is that you get traffic that is searching for that specific term or related terms.
The idea of low hanging fruit, at least in the orchard, is that the fruit is easy pickings. And because it is so niched down you get a lot less traffic, but your traffic is targeted to that search term.
I have a new post that can help you with your keyword research and how to find or create long tail keywords that can help you rank faster.
Related Post: Easy Keyword Research for Beginners
7. Break up your text into easy to read chunks
Headings, bullets, lists oh my!
Making your text easier to read is awesome and another thing that Google loves. Break up long paragraphs into shorter paragraphs. Use headings, sub-headings, bullet points and images to break up text.
In theory, a visitor should be able to get the gist of your post from the headings that you use. Encourage visitors to bookmark and/or pin your post for later and if they scan your headings and like what they see, they will come back and read more.
Don't forget to check what your post looks like on mobile, where breaking up text is pretty much mandatory. It is super hard to read a big block of text on a tiny screen. Especially if you forget your glasses like it do many, many times.
8. Check and improve your page speed
A simple win here can be as easy as deactivating one or more plugins. You do not have to delete them, but some plugins like the ones you use to optimize your website can be used once a week and then deactivated.
If you have chronic slow site speed, consider moving your hosting. You will want security (an SSL certificate), Caching (to reduce server lag) and CDN, which is a system of distributed servers that deliver pages and other web content to a user (helps with site speed). CDN stands for content delivery network.
Also you will want to optimize images: Choose .jpg for most photo images and.png for images with large amounts of solid colors. Use EWWW Image Optimizer plugin to compress images for you (this plugin needs to stay activated!)
Use Mp4 for video and choose the shortest video that will do the job.
Check your site speed with Pingdom.
9. Use or fix your title tags
It is important to use the right tag for the job, because the tags tell Google what you want it to know about your post. This helps Google show your post to the right people and we all want that am I right?
H1 for headline only. Only use H1 tag once per post. Try to use at least 3 words minimum in your headline, but do not go past 70 characters. Your main keyword should be used here, because this is the tag Google looks at to judge how to show your post to relevant readers.
H2 for sub-headings. Try to use a keyword or related keyword, if you can do it naturally. This also helps Google to classify your post for readers.
H3 for further sub-headings
In WordPress you have choices from H1 to H6 tags, but beyond H3 they are unnecessary. Stick with H1, H2, and H3 and make your blogging life easier.
10. Use the Alt text for images
This is a giant SEO win if you chese are for visually impaired visitors to your website as well as to help google search bots read your images. A screen reader will read your text to the person, so keep that in mind and write helpful text.
They are not for keyword stuffing, but you can place your keyword in the title if it fits naturally. This is just another way to help Google understand what your post is about and boost your authority on the subject.
Conclusion
So what do you think of these 10 easy seo wins? Did you learn anything new? Do you understand how all the little pieces fit together to help Google understand your blog post? I sure wish I knew all these tips when I first started. I am have a lot of work to do on old posts, but again, it is a long term project. Now I use all of these tips for every post and newsletter that I write.
Once you get in the habit of applying these tips to your blog posts, you should see a steady increase in your website traffic (as long as you are doing other things to bring in traffic…like Pinterest). If you want to try Pinterest to bring traffic to your website, read this post How To Use Pinterest for Business. SEO takes time, but you can grab some quick, free traffic from the #3 most used search engine.
Be sure to sign up for my FREE weekly newsletter (sign up box below this post) and follow me on Pinterest.
Happy blogging,
-Irma 🙂