Today in our series on beginner copywriting we will explore copywriting for your landing pages to help bring more conversions. If you missed last weeks post on the basics of copywriting, including key copywriting terms, then I invite you to read part one.
Copywriting is defined as "the activity or occupation of writing text of advertisements or publicity material". In the blogging world, this means that we can use copywriting for landing pages, direct mail campaigns, newsletters, and sales pages or other marketing purposes.
Hello and welcome to Fearless Affiliate…education for new bloggers and online entrepreneurs.
My name is Irma and I help new bloggers to learn the ropes.
There is a lot to take in that first year of blogging, from choosing a niche to changing your mindset to that of a successful entrepreneur. I like to focus on practical information and positive thinking, so if that sounds good to you please sign up for my weekly newsletter of tips for bloggers.
Sign up for my FREE 5-Minute Guide to Copywriting and start improving your website copy to increase engagement and clicks.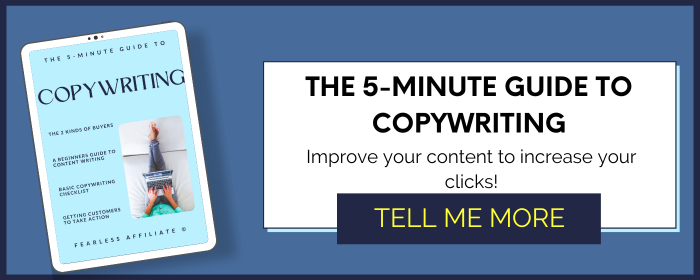 This post may contain affiliate links. If you click a link and make a purchase, I may receive a commission at no extra cost to you. Full disclosure is here.
As content marketers, we will promote our products and services using copywriting. Copywriting is different than writing blog posts because the goal is to get the reader to take action, thus increasing our conversions. Let's look at what we need for creating landing pages.
Keep in mind that "people do not want to buy things, they want to solve their problems". Good copy will take that into consideration, so we want to promote the benefits of a product or service in a concise way.
Related Post: Copywriting for Beginners: The Basics
5 Elements of a good landing page
A landing page is a page on your website that's built with a single purpose in mind, like getting visitors to subscribe to your newsletter or encouraging them to buy a product from you. A good copywriter will tell you there are five essential elements that you want to include when copywriting for your landing pages.
1. The Headline
The headline should draw in readers and make them want to know more. Spend at least half of your time writing your headline because that is what will draw your reader in. A good rule of thumb is to A/B split test two headlines and then go with the one with better conversions.
I have a post on headlines for blog posts, but these work for newsletters and landing pages as well. You may find some helpful ideas here.
Related Post: 101 Blog Post Headlines That Really Work
You can do this by asking a question, creating a list, or making a bold statement. A few examples might be:
Is Your Family Prepared for a Major Disaster?
7 Ways You Can Travel without Spending Money
The Sneaky Secrets Your Fitness Trainer Won't Tell You
2. The Body
If you spend a lot of time writing content for blogs or articles, you may be tempted to tell readers everything right now. However, don't do that—it kills the suspense for visitors and makes them less likely to click through.
Instead, use the body of your content to connect with your visitor. You want them to feel like you understand their problem and empathize. When you implement this strategy, this is where your visitor begins to trust you.
The body is the time to tell readers of the uniqueness of your product/service and then to back that up. Explain how you solve a pain point or use a supporting statement to establish credibility…without giving everything away.
Choose your words carefully. Most people do not read all the copy on any page, rather they scan the page picking out words and sentences that pique their interest. They are trying to figure out 'what's in it for me?' Your copywriting for landing pages should answer their questions.
Related Post: AIDA The Copywriting Template for Bloggers
3. The Call To Action
Once you've engaged your visitor, it's time to make the direct offer. Spend most of the other half of your time writing your call to action, because this is what will lead to conversions.
You want to use a strong call to action that tells your reader what to do next and reminds them of what they're getting. For example, if your goal is to get newsletter subscribers, you might say, "Sign Up Now and Instantly Download Your Workbook" or "Get 10% off Your First Purchase"
You want your call to action to speak to your reader.
What will happen when they click that button to subscribe? What will they get out of the relationship in exchange for their email address? Think about this when choosing your CTA. An example for a
Many bloggers report that CTA's that show what the benefit is to the visitor convert higher. An example is 'Order information and prices' vs 'Get information and prices'. They both invite action, but the second one lets you know that you are 'getting' something.
And be sure to use language that is familiar to your audience, so if your blog posts are written for casual readers, stick with that tone. Now is not the time to switch it up to "all business" or "academic".
Related Post: Copywriting for Social Media
4. The Form
Now, present your form. This could be a sign up form for subscribers (also known as an opt-in form) or an order form for new customers. In order to add the form to your landing page, you'll probably need some knowledge of coding languages or you'll need to use a content management system such as WordPress.org.
Once your form is on the page, make sure to test it several times from different devices. You don't want to drive traffic to a landing page where the form is broken. Otherwise, you'll lose all of your hard work.
If you need a great, free email service provider (ESP), then I encourage you to sign up with MailerLite. MailerLite is free for the first 1000 subscribers and it comes with landing pages, automations, and customizable opt-in forms.
Related Post: How To Use MailerLite
5. The Guarantee
No matter what you want your visitors to do, it can boost your conversion rate to add a guarantee or two at the bottom of your landing page. If you're trying to get new visitors to sign up for your mailing list, promise not to spam them or sell their email address. Use words like 'we will never spam you!'
However, if you're providing a service or product, you'll want to provide a money-back guarantee. In most industries, a standard guarantee is for 30 days. This gives customers a chance to use it before deciding if it's a good fit.
You don't have to offer a guarantee to your buyers but it is considered a good industry practice. Make sure you can back up any promises that you make about your product or service.
Note that most digital products do not offer a money back guarantee
This is because the customer can instantly download digital products after payment has been made. You may still offer a guarantee if you want, if your product is quite expensive.4
Related Post: Copywriting for Online Ads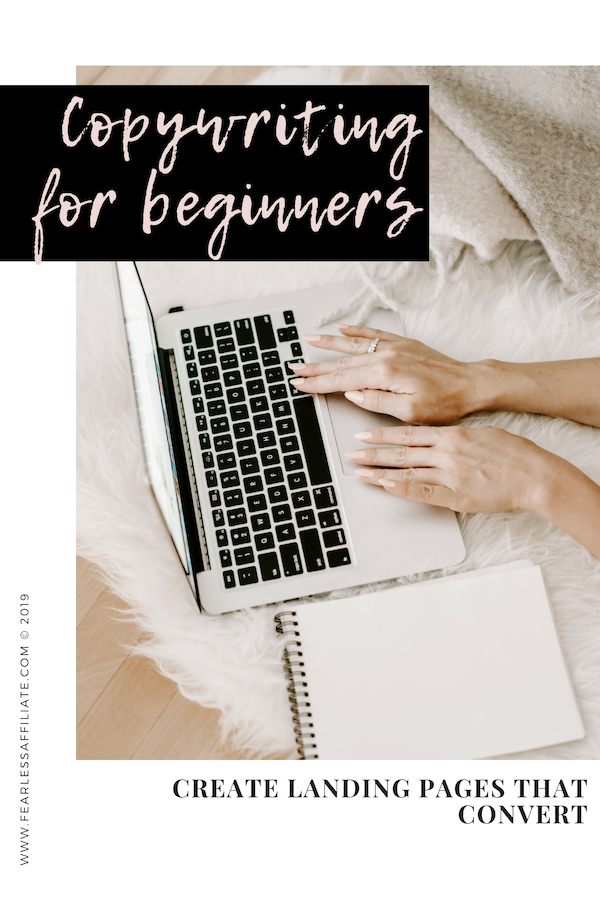 More tips for better landing pages
Focus on how your product or service will help your customer more than your competitors
Make your customer the shining star of your landing page by sharing what makes your business different from other businesses in your market/niche.
Explain how your business solves your customers problems and how you can enhance their lives. Check out your competitors or even businesses that you like to see how they promote their products. Then find a unique way to promote your business/service/product.
Make your copy as concise as possible.
You want to make your point quickly, so now is not the time to try to beat the word count from your awesome A++ essay from high school. Use the following tips to help you streamline your copy.
Write your copy in a way that makes it easy to understand for a Fifth grader. Explain any jargon and consider that your customer may not be familiar with any technical language in your copy.
Use the active voice instead of the passive voice. Example: I write a letter (active) vs A letter is written by me (passive). For more information, I will direct you to the post Active and Passive Voice.
Use less adverbs (easily, actually, obviously, quickly)
Eliminate words that explain the obvious or provide excessive detail such as redundant pairs. An example of this is "future plans" or "past memories" or '"various differences".
Eliminate unnecessary determiners and modifiers which make your text 'wordy'. An example of this is 'Any particular type of sandwich is fine with me' vs 'Any sandwich is fine with me'.
Watch for phrases or longer passages that repeat words with similar meanings, as they are unnecessary.
Be sure your customers questions are answered
Many landing pages are quite detailed in an effort to answer any potential questions that a customer may have.
Do not be afraid of making your landing page 'long form' if it helps someone to take the action to sign up. Stick with the benefits to the customer as opposed to telling them a story.
Landing pages with more information below the fold (the area of the post that is below what you see when you first land on that page) tend to convert better.
Ask yourself some questions about your potential customers buying journey, such as 'what are their hopes and dreams' or 'what has brought my customer to my landing page' (what problem do they need solved).
Write your copy in a language that your customer can understand and let them know that you are on their side. Use power words like 'You', 'Easy', 'Results', 'Save', and 'Guarantee'
Related Post: Using Analytics for Copywriting
A/B Test your copy
Try small changes and only change one thing at a time or it will be too hard to figure out which change increases/decreases your conversions.
An example of A/B split testing for a call-to-action button text might be:
A. Sign up now to get my free ebook
B. Get my free ebook when you sign up
Sometimes you only need a small change to get more conversions, so whenever you can employ A/B split testing.
Add 'social proof' to your landing page
If you have them, be sure to use testimonials on your landing page. In the case of digital products, you might get these testimonials from beta testers of your ebook or ecourse.
And if you can, add some video testimonials of people using your product especially if it is something like an app, or a new invention. People love to see video proof.
Conclusion
Are you getting excited about how to use copywriting for your landing pages? Today we looked at the 5 elements of a great landing page as well as tips to helping you create a great landing page.
Learning copywriting skills can help you in all areas of your blogging, and A/B split testing will help you learn how to focus and what attracts your customers to take the plunge and click your link.
It's important to remember that your landing page should have the main navigation and other features hidden from view. You want your visitors to either accept the offer or decline it. You don't want them getting distracted and forgetting.
And don't forget to click the image below to sign up for my FREE my 5-Minute Guide to Copywriting.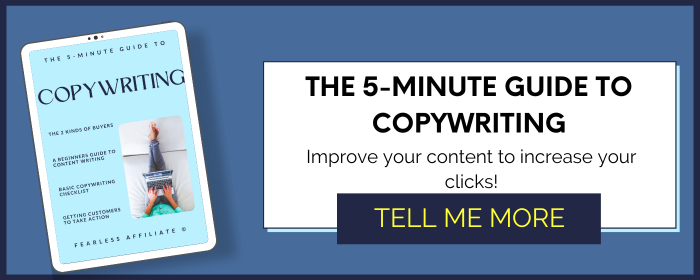 Happy blogging! Follow us on Pinterest,
-Irma 🙂