AIDA is the copywriting template for bloggers who want to create compelling pages. AIDA is acronym for Attention, Interest, Desire, and Action. If you write your copy using these four points, you will keep your reader engaged and interested in whatever you are promoting.
Think of how the information in TV infomercials is presented: problem (attention), solution (interest), benefits (desire), sales pitch (action).
Hello and welcome to Fearless Affiliate…education for new bloggers and online entrepreneurs.
My name is Irma and I help new bloggers to learn the ropes. There is a lot to take in that first year of blogging, from choosing a niche to changing your mindset to that of a successful entrepreneur.
I like to focus on practical information and positive thinking, so if that sounds good to you please sign up for my weekly newsletter of tips for bloggers. Sign up for my FREE 5-Minute Guide to Copywriting and start improving your website copy to increase engagement and clicks.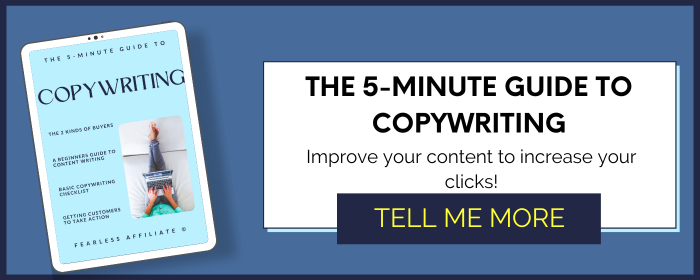 This post may contain affiliate links. If you click a link and make a purchase, I may receive a commission at no extra cost to you. Full disclosure is here.
Not sure what copywriting is?
Read my first post in this series: Copywriting for Beginners: The Basics
Whether you are writing for landing pages, sales copy, book covers, media releases, you need AIDA. And if you just want SEO-worthy copy to rank your website higher, then you need AIDA. Bloggers need AIDA.
Here's how to use AIDA in your own copy
1. Attention
The first thing you want to do when you start writing copy is grab the attention of your visitors. The easiest way to do this is with a story that causes you to question "what happens next?"
Try rephrasing the next headline you write as a question
And see if you can turn it into a compelling one. For example, your headline might be: 7 Secrets Your Teenagers Will Never Tell You. The question that readers will ask is, "What isn't my child telling me?" You always want to turn your headline into a compelling question, so your visitors are engaged with your copy and eager to find out the answer.
Related Post: 101 Great Blog Post Titles That Really Work (and they work for copywriting too!)
Use a great headline, a thought-provoking image (like a clock ticking down), and if you can, video to maintain the readers interest and encourage them to take action. It has been said that 80% of people do not read past the headline if it does not grab their interest.
2. Interest
Next up is making sure that you keep your readers attention by making your topic compelling and interesting enough to keep reading. Interest is all about making your offer interesting, by being funny, entertaining, or memorable.
An excellent way to pique interest is using statistics and facts in your copy.
Words like "75% of people who try this food will eat it again" or "Are you aware that 99% of all people do this before they get out of bed?"
This is also a great time to speak to pain points that your readers may have
such as "Wouldn't it be nice to have a hot meal ready for you when you walk in the door after work?"
And do not forget about using stories to captivate your readers such as "Mary was tired of being so disorganized when it came to preparing meals for her family. Until she discovered this…"
Answer the "what's in it for me?" question your reader has
After the headline, the main body of your copy should have amazing sub headings and an opening paragraph that grabs the reader and keeps them engaged. Now is not the time for click-baity headlines that do not lead to the answers your readers are looking for.
Now is the time for you to write a story about your own experience and how it was solved with this product you are promoting.
Many people are reading on mobile, so sub headings that help answer the "what's in it for me?" are crucial. Remember to keep paragraphs short and concise while leading the reader down the path towards conversion.
Related Post: Copywriting for Social Media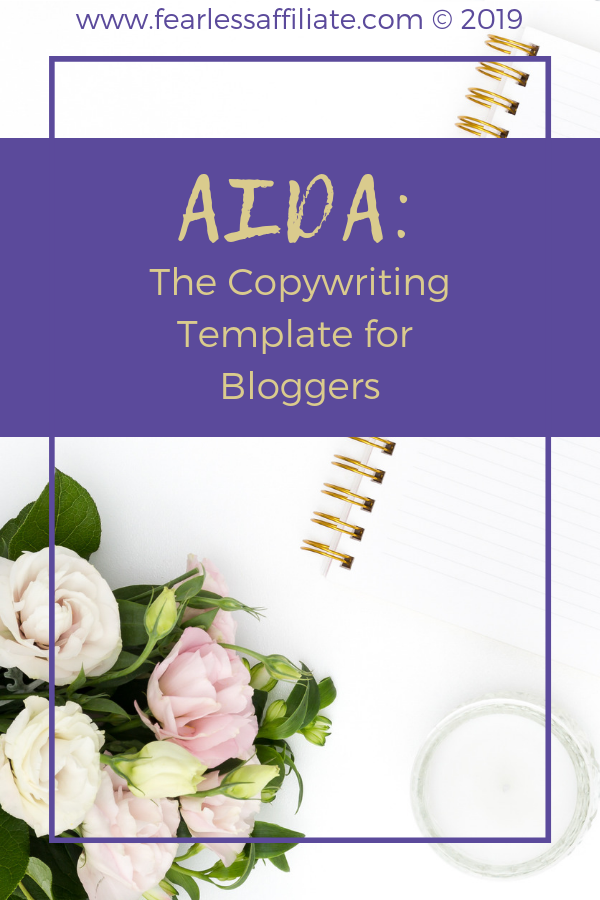 3. Desire
Interest and Desire go hand in hand, because interest will develop into desire, which has intent. Your goal here is to give your reader enough compelling evidence that life will be better with this product. You want you reader to be able to picture how your solution will make their life easier in some way.
You need to appeal to your readers felt needs
Let them know what the benefits are and how it will make their life easier of better in some way. Be sure to use emotional words that speak to the solution. Or use inspiring words in your copy, like: easy, fulfilled, balanced, liberated, or unburdened.
In the example above, Mary may need a bit of convincing that an ebook of 75 slow cooker recipes will help her get organized at dinnertime. Offering a recipe ebook that comes with a shopping list goes further. And going one step further, you might include a list of ways to organize the food and do a weekly meal prep (prepping freezer meals for later in the week, for example).
In this case, you want to appeal to Mary's desire to (a) get a good meal on the table with as little fuss as possible (b) give Mary more free time after work (c) Help Mary to feel like less of a failure and more of a food prep ninja.
If your product can convince Mary that it will meet her needs and for a reasonable price, Mary will jump at the offer.
Related Post: Copywriting for Online Ads
4. Action
Yes, the call to action. Get your readers to take immediate action by telling them to act now and click the button or link.
Make it easy for your reader to take action by telling them what you want them to do in clear, easy to understand language. Other words that can help your conversions are 'act now', 'special bonus', and "click in the next 15 minutes".
As well, be sure to use clear language that tells the reader exactly what they are getting when they click. An example might be "click the link to get one month free and 10% off your first purchase". Or "click the link to subscribe to my weekly newsletter. We will not spam you! and you get this free PDF as a gift from me".
Offer a clickable link at the top of your landing page (above the fold) as well as the bottom. This makes it super easy for people to take action. Some people do not require all the sales copy to make a decision.
Related Post: Copywriting for Landing Pages
Related Post: Using Analytics for Copywriting
Conclusion
I hope that you have enjoyed learning how to use the AIDA template for your copywriting needs.
Please share this post with anyone that you think can benefit from it. And don't forget to click the image below to sign up for my FREE my 5-Minute Guide to Copywriting.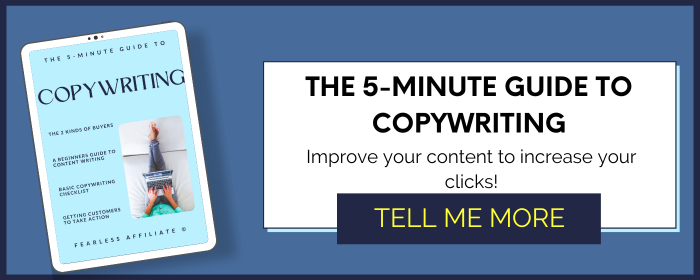 Happy blogging! And follow me on Pinterest!
-Irma 🙂