What are Internet Marketing "Methods" and how can they prevent business failure?
Today we are talking about being proactive in your business. If you know the potential pitfalls of business, you are in a position to avoid them. Or at least mitigate your problems.
And this involves thinking about what problems businesses can have based on those who have created businesses before you.
Welcome to Fearless Affiliate.
My name is Irma and I help new bloggers to learn the ropes. There is a lot to take in that first year of blogging, from choosing a niche to changing your mindset from worker bee mentality to that of successful entrepreneur.
I like to focus on practical information and positive thinking, so if that sounds good to you please sign up for my weekly newsletter of tips and help for bloggers and online marketers.
Be sure to grab your copy of 5 Minute Guide to Internet Marketing Success guide. Once you have read through this guide, your will have tons of ideas for an online business that will help you earn extra cash or even full-time income!
This post may contain affiliate links. If you click a link and make a purchase, I may receive a commission at no extra cost to you. Full disclosure is here.
Do Your Research On Practices Other Businesses Use
Thanks to the pandemic we have seen a lot of interesting things crop up with businesses: supply chain issues, employees quitting en masse, and businesses failing.
Many bloggers and online entrepreneurs dabble in selling merchandise online, like "merch" on Amazon (T-shirts, mugs etc).
Shipping issues can affect everyone down the line and will impact your bottom line if they happen frequently.
This can impact your online business income.
No matter how unique your business idea is, it is highly likely that another entrepreneur in another place already tried the same business venture.
You can observe the difficulties that they faced.
And while doing that, you can also take a look at your future competitors.
Your task is to observe what problems they are facing and how they are coping with them.
This will give you an idea on how to overcome risks, pitfalls, difficulties, and hardships related to your planned business venture.
Think of Possible Reasons For Your Business To Fail
This requires using some imagination.
Think of possible reasons possible events, and possible circumstances which might cause your business to suffer or fail.
When thinking about internet marketing, many products you sell are probably digital.
However, if you promoting physical products, such as some affiliate items, possible risks may include the following:
Fluctuations in gasoline prices
Frequency of natural calamities in the area that might affect shipping
Scarcity of competent delivery truck drivers
We saw some of this play out during the pandemic, with supply chain problems and shortages. This can effect your business as well.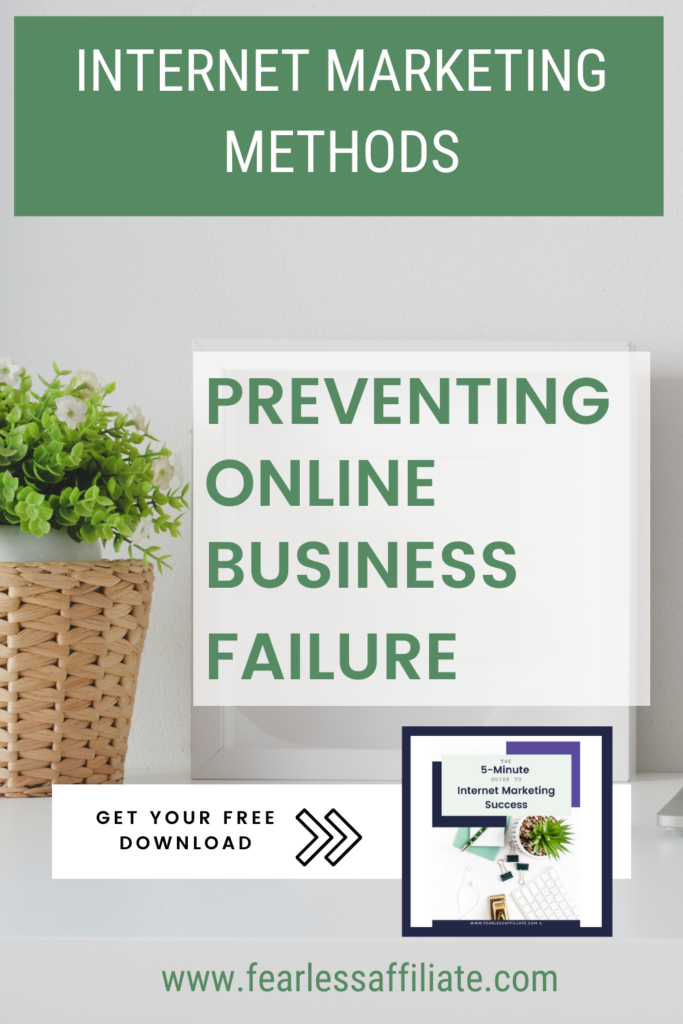 Formulate Possible Solutions/Preventive Measures To Possible Risks
Enumerating possible difficulties that you might face is only the first step.
Next, you have to think of ways on how to counter them should any of them happen.
You need to be ready for all the possible situations.
This is part of the so-called 'risk management' which many companies invest a lot of effort into.
While you cannot know which calamities are going to happen, it will help to have some kind of backup plan.
An example could be that if you cannot sell your usual physical product, due to supply issues, maybe you can to offer a digital product at a discount price.
This way your customers have something. In this case, you would have some kind of product ladder, which are related products at different price points.
Get a Business Advisor
It might not be necessary in all cases, but if you decide to get into a new area of business to add to what you are already doing, get some expert help.
This is especially necessary if there are some things in your chosen field of business that you are not very familiar with. Find an expert in the field and see if they will give you some answers to your most pressing questions.
Be ready to do more research after that, so that you are prepared.
Assume That Possible Risks Are Real
You have to progress with the mindset that your assumed risks and dangers are real. Some businesses fail at this and they begin to lax.
If you do this, it is as though you are underestimating the risks involved.
While it is always good to think positively about your business, it is a reality that businesses fail so you should prepare along the way.
If you underestimate the risks, they might hit you hard when you expect it least and when you are least ready. Believe it or not, this can actually cause businesses to fail completely.
Make Sure Your Suppliers Are Still In Business
The suppliers of a business establishment are among its most valuable and most important asset.
Companies get bought and sold all the time and you may not be aware that one of your affiliate products is no longer an option for you to market.
Whatever business you will be in, you need to make sure that you have good suppliers – those that you can rely. Analyze the status of your most valued suppliers.
Have Backup Financing
This applies at all stages of business, but may only impact your business when you want to scale it up.
Most businesses have several sources of financing (e.g. personal money, loan companies, borrowed money, etc.). What you want to avoid is relying on one source of financing only.
You need to have several sources of financing or at least, you should have reserves.
This is important because most businesses do suffer financial problems from time to time. Having a stable source of financing will help you absorb losses when needed.
Check The Prices of Different Suppliers
Don't think that Amazon has the best prices to offer your customers. Online marketplaces are increasingly being taken over by scammers who use professional photos for their 3rd rate junk.
If you can, go straight to the manufacturing website and make sure that marketplace pricing is in line with the supplier. Try to maintain the highest quality offerings for your business.
Check The Reliability of your Suppliers
Is your supplier showing any signs of financial trouble?
Does your supplier seem to be going out of business?
Is there a history of disappointing its clients with your supplier?
These are just some of the questions that you need to ask yourself. You need to analyze and evaluate the performance of your prospect suppliers.
This is because if one of your suppliers suddenly goes out of business, it might not be that easy for you to find a replacement.
This is especially true for suppliers of unique products (Chinese ingredients, Arabian curries, Philippine bananas, etc.).
Re-Assess Every Now And Then
You may have already found a supplier that offers an attractive price.
But that does not mean that they will always be the cheapest.
New suppliers may come along and some of them may offer better prices and conditions than your current suppliers.
Get a Clear Cut Agreement First
The first thing you look for is prices. But you should not decide only according to that.
You also need to check the conditions of your prospect suppliers.
What are the terms of payment?
Are there any problematic shipping/delivery arrangements?
Will they pay for goods damaged on transit?
These are just some of the questions that need an answer. Also, you should avoid entering into a contract without settling an agreement with your prospect supplier first.
Conclusion
Last weeks post was: Internet Marketing Secrets: Who Will Buy From You?
Next week we will look at Easy Internet Marketing: When To Create Your Business Plan, so watch for that post.
If you found this post helpful, please share with others…sharing is caring! Be sure to subscribe for more blogging help and let me know in the comments how these tips work for you!
If you are ready to get started with an online business, then I have what you need!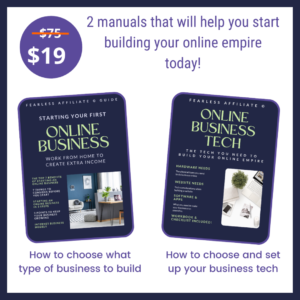 Your First Online Business gives you the information that you need to start your business:
7 things you should consider before starting an online business,
The different and most popular business models for online marketing,
How to start your business in 3 steps and
Ways that you can make money with your business model, plus a lot more
Also included is the Online Business Tech guide, which will teach you what kind of tech you need depending on which business model you chose. Learn about hardware, software and apps you may want to use in your business.
The Tech guide also comes with a 15 page workbook so you can take notes while researching your choices. And you get a checklist for the tools you choose to help you stay organized and for later reference.
This is an amazing deal for this much comprehensive help so if you have been thinking of starting an online business, please check out the Your First Online business bundle to see if it meets your needs.
Until next time, happy blogging!
-Irma 🙂