Todays Pinterest for business tips will walk you through setting up a business account for Pinterest.
Why Pinterest? Isn't it just for crafters?
Nope. Try to think of Pinterest as a visual version of Google. When people search for something in Google, they are taken to a page of words for search results.
In Pinterest, the search results are graphics, in the form of "pins" that people save FOREVER. Yes, forever. More on this below.
This post was originally published April 3rd, 2018 and has been updated to be current with new information. This post may contain affiliate links. If you click a link and make a purchase, I may receive a commission at no extra cost to you. Full disclosure is here.
Welcome to Fearless Affiliate.
My name is Irma and I help new bloggers to learn the ropes. There is a lot to take in that first year of blogging, from choosing a niche to changing your mindset from worker bee mentality to that of successful entrepreneur.
I like to focus on practical information and positive thinking, so if that sounds good to you please sign up for my weekly newsletter of tips and free stuff for bloggers.
Subscribers will get exclusive content, including the password to my resource library of PDF printables for bloggers like my:
Google Analytics Cheatsheet or my SEO Checklist.#win-win
Still haven't picked a blog niche?
I can help with that too! Read my 5 Secrets To Finding Your Niche eReport…it's in the Resource Library. Sign up now and check it out.
How To Use Pinterest For Business
If you want to increase your website traffic organically, look no further than the #3 search engine…Pinterest.
If you do it right, Pinterest will become a major source of traffic for you.
But first you need a business account.
There are two types of people using Pinterest: consumers and creators.
Creators (you) are making pins to point consumers to helpful products.
You want a business account so that you get data that can be used to better market to consumers.
You can use your personal account and just add on the business part. Or create a new account with your website name (recommended).
We will briefly touch on Pinterest SEO, which will be helpful in creating viral pins. Viral pins will bring a massive amount of traffic in a short period of time.
I am here to help so let's get started!
Create or convert your Pinterest account to a Business account
You want to have a business account because this gives you access to Pinterest Analytics.
The Pinterest analytics will tell you what you need to know to tweak what you are doing on Pinterest. Combine this information with your Google analytics for awesome helpful data.
Sign up for Pinterest here. Pinterest makes this simple and straightforward.
If you already have a personal Pinterest account you can easily switch it to a business account.
In the top right corner, click the 3 horizontal dots and choose SWITCH TO BUSINESS. Follow the instructions.
If your personal account has a lot of pins that are not related to your niche, then consider creating a new account just for your business.
If you only have a few pins that are unrelated, you can create a "secret" board for them so that they are not on your main feed; more on secret boards below.
Apply for Rich Pins
Having Rich Pins will improve your ranking with Pinterest.
If you are already creating your own meta descriptions for your blog posts, Rich Pins will add this information to your pins.
Because Pinterest is a search engine and this is helpful information for visitors.
Once you have updated your website or at least one post with metadata, you can apply for Rich Pins. Rich pins sync data from your website to the pin. You can identify rich pins by:
The extra data above and below the pin on closeup.
You will also see a bold title in your feed.
If something changes on your website, rich pins will update your pin to reflect the change..
Use Rich Pins validator here https://developers.pinterest.com/tools/url-debugger/.
There are 3 types of rich pins:
Product Rich Pins – include up-to-date pricing, availability, and product information
Recipe Rich Pins – Add title, serving size, cook times, ratings, diet preference, and ingredient list
Article Rich Pins – Add a headline or title, the description, and the author of the blog post or article
If you are not creating recipes or selling products (like a shopify or Etsy store), go for ARTICLE RICH PINS.
You will want Rich Pins for all posts that you are promoting on Pinterest.
If you are not using an SEO plugin to create your meta data, you will have to do it manually. Prioritize your most popular pins if doing this manually, just to get started.
After you get Rich Pins, you will see that your pins have a "bold" description underneath them, giving visitors more information about your pin.
This is where you give them an incentive to click through to your website and sign up for your newsletter.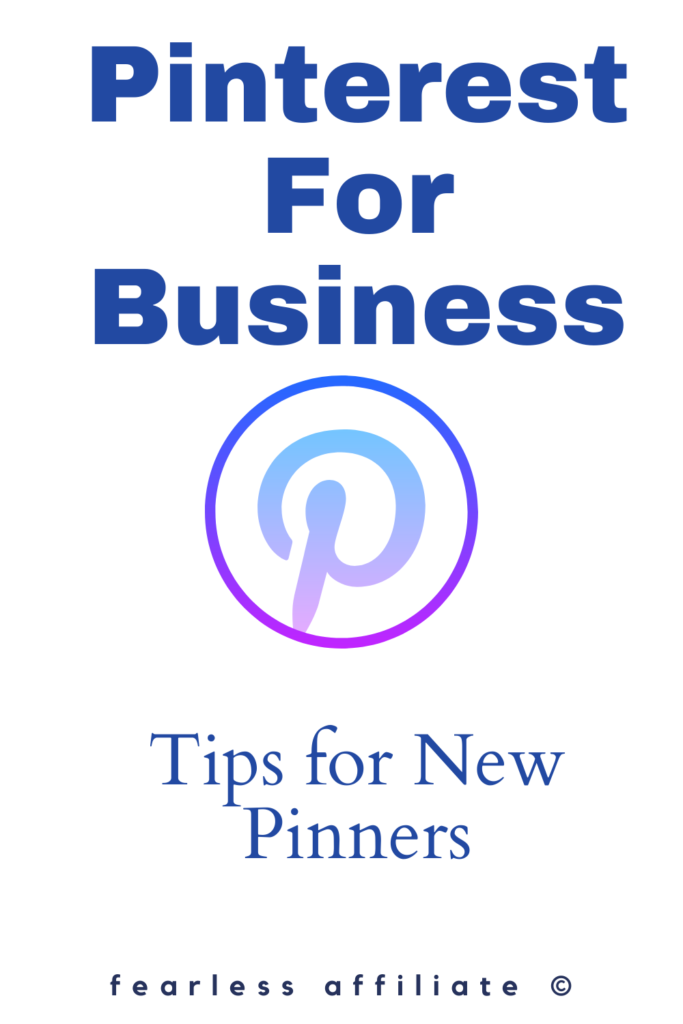 Optimize Your Pinterest Profile With Keywords
Pinterest is a search engine so any SEO that you can do, the better. This includes using keywords that you want to rank for within your main profile.
In Pinterest, go to your profile picture in the top right corner and click it. Choose SETTINGS. Scroll down to PROFILE. Where it says Business name is where you put your keywords.
After the name of your account (your name or your blog or website name), you will have to entice visitors. Choose the keywords that people would search for in your niche to find you.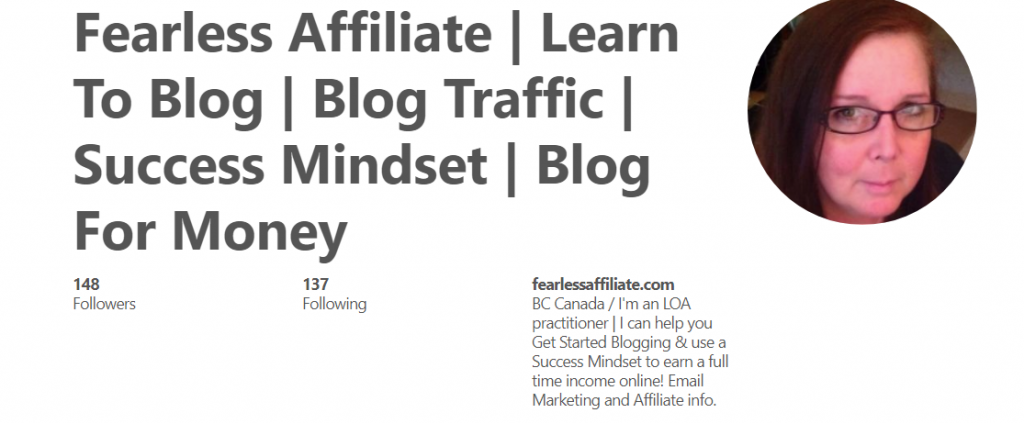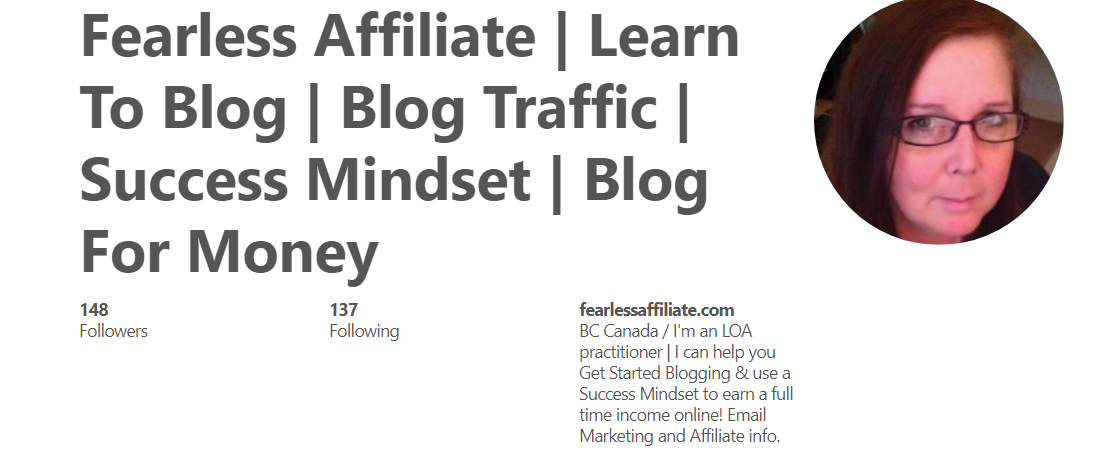 You can separate the sections with the vertical "pipe" icon but try to make the keywords look natural.
If you are stuck on how to word your profile, try searching one of your keywords and look at what others in your niche are doing.
You can tweak any part of your profile any time that you want and as often as you want.
As you start "working" the Pinterest system, you may find yourself drilling down into your niche a bit more, to stand out from the crowd.
Add a nice head shot (no selfies!!) to your profile. Try to use the same photo of yourself across all of your social media accounts, your website and Pinterest so that visitors know they are in the right place.
You can also use your logo if you want people to identify you with that.
In the About You section, you can add some personal details to give visitors a bit of information about you and how you can help them.
Set up your Pinterest boards with keyword rich descriptions
Pinterest is now a publicly traded company, so they keep tweaking the site as they update. This will only affect you the first time you set up your profile.
The process for creating and uploading pins, and reading data, is essentially unchanged.
On your main profile page, under your bio, you will see CREATED and SAVED. Choose SAVED.
From here you can now create boards for your profile.
Consider creating at least five boards right away.
The board titles should match the headings for your niche topics, because you are going to put your blog posts in here.
Use keywords in the board descriptions for extra SEO punch.
You will not do yourself any favors naming your boards "Yum!" or "projects", even if that is what you have named the categories on your website.
You need to use real live searchable keywords so that people will find you when they search.
The first board that you should create can be called "best of".
In this board you will put only your pins. Anyone who visits your profile can then find only your content here.
This board is the last board that you pin your website pins to.
Pin them to your other relevant boards first, to help the Pinterest algorithm figure out who to show your pins to.
For this board, you will create pins for each of your blog posts that link back to your website.
This is where people will come to find out more about what you have to offer them.
Make board covers for your main boards
This is optional, but it makes navigating your Pinterest boards easier. You can title your board covers in larger fonts, making them easier to read.
You can also move them into prominent positions.
Over time, some of your boards will be used more often than others. Don't be afraid to move pins to other boards or create new boards that are more appropriate.
Having board covers makes your profile look more professional.
The easier that you make navigation, the longer people will stay on your profile and check things out, and possibly find a pin that will go viral.
And it is also a great time to shine! Bring out your personality and add some bling to your profile page with board covers that elevate you from the crowd. Show us who you are!
Your boards will instantly stand out from people who don't use covers. But again, this is optional and not priority.
Use Canva or other photo editing program
…to create custom board covers for each of your boards (500 x 500 or 600 x 600 pixels works), and make them all visually similar.
Related Post: Simple Branding Tutorial (how to use Canva for graphics)
You can simplify this process, as well as creating pins, by making a template in your photo editing software of choice and just re-using it over and over.
Use your brand colors and the same two or three fonts, and just switch out a photo every now and again.
You can also create some "odd" boards for random pins, but do not make a cover for these unless they are related to your niche. As I mentioned above, "drag" these odd boards to the bottom.
Source pins from within Pinterest and start filling up your boards
Recent "rules" about Pinterest are that you should be pinning 10 to 12 pins per day. Evenings and weekends are the best time.
This practice has not changed much since March 2018, when I first read about it. Plus you need to start somewhere.
If you want to watch your analytics climb, then pin at least 10 pins daily, every day during these times.
You can easily do this if you put the Pinterest mobile app on your smart phone.
An excellent strategy for doing this is in the eCourse: Manual Pinning Simplified (review post)
Doing your pinning from you phone makes it easy to build up your Pinterest profile.
Put all of the pins that you create for each of your blog posts into your relevant boards first.
If you do not have a board, create one. You are giving Pinterest clues on what your pin is about so that it is shown to the right consumer.
Pinterest can read your pins, but the more help you give it, the better results for you.
You help Pinterest in this way by:
Using keywords in board titles
Having a well-keyworded pin description
Properly keyworded pin title
Using relevant images on your pins
Linking pins to matching keyworded blog posts
Add the new pin to the most relevant board; then the next relevant board and so on.
When you run out of applicable boards, then add it to your "best of" board.
Fill your boards (except your best of) with other people's content.
I will caution you to not save pins unless you follow them through to their website, at least when you are first starting out.
Some pins look awesome and have a great Rich Pin description, but the link is broken.
Or worse, it takes you to a cheesy landing page for who-knows-what.
This will be a negative for you if you pinned this stuff, and is bad SEO practice because crappy pins bring down your profile.
After a while you will be able to spot the "fakes".
Follow Other Bloggers In Your Niche
Choose one of your board topics and type it into the Pinterest search bar.
When the search results come up, your search bar will have changed and now has a down arrow button at the right end that lets you choose All Pins, Your Pins, Videos, People, Boards.
Choose People or Boards.
From here you can follow other bloggers in your niche and (hopefully) get better quality pins.
Do this for all of your boards except your "best of" board.
You do not have to follow to save their pins. And if you get the wrong kind of pins, you can easily unfollow anyone.
Experiment with following 20 other profiles a week
…and check to see if any of them follow you back.
You need to give people time to follow you. Having followers helps your "brand recognition" when applying for group boards (see below).
When you find someone that you want to follow, go to their profile page and look to see how many pins they have and how many followers.
Try to follow some people who are really popular influencers in your niche and pin some of their pins.
Your visitors will find the other person's high ranking pins on your board and that will help your traffic as well, especially if they click through.
Or save the pin because it is now linked from your profile.
Plus you can learn what the pros are doing and emulate it! Win-win.
Create Your Own Pins
Pinterest gave guidelines in 2018 that they wanted pins with a 2:1 ratio, such as 900 x 600 pixels.
The slots on your feed are designed for long pins, so use Pinterest guidelines for creating pins that work.
Canva also comes with a Pinterest pin template, which works well.
There are tons of videos on the internet that show how to create pins with graphic design tools like Photoshop, Canva, or Pic Monkey.
Canva has a popular free option and allows newbies to get started right away.
Related Post: Simple Branding Tutorial (how to use Canva for graphics)
I have been reading lately that people are experimenting again with short and/or square pins. I'll keep you posted. For now, try the long pins.
You can also create a board for your random stuff, and then make it secret.
Secret means that only you can see it, and putting random pins in here means that you keep the pins but your visitors do not see them.
Just click the pencil icon from the board and scroll down and toggle the switch to "secret".
Create a secret board for pins that you find that have an inspiring design, interesting colors, or topics you want to write about in the future.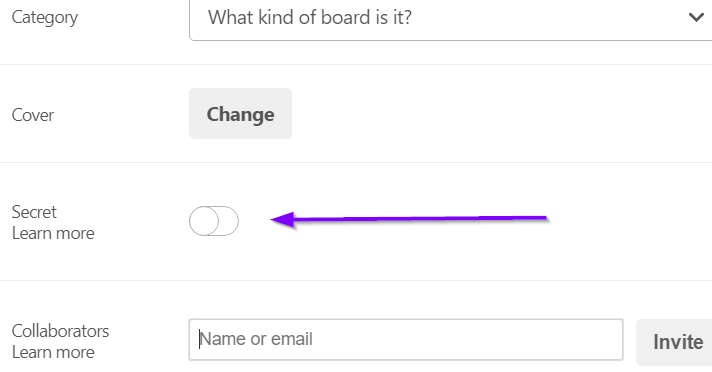 Find some Pinterest group boards
This can be tricky and there will be some trial and error involved. My advice is to just go for it and learn from the experience.
Group boards are not as popular anymore.
Pinterest sent out guidelines in 2019 that suggested that group boards were meant for smaller groups of collaborators. Not the massive groups they were seeing online.
This sent pinners into a tizzy and they started closing access to group boards.
You can still find them, but it's more work getting accepted into them.
This encouraged many people to join the "tribes" part of Tailwind (a pinning scheduler). Tribes works kind of the same way, in that you send pins to your tribes. This gets eyes on your pins that might not otherwise see it.
A free trial of Tailwind nets you 5 free tribes, if you want to test it out.
People are drifting away from schedulers, but the tribes feature is helpful.
Facebook groups for your niche may have people with Pinterest group boards in there.
If not, consider starting your own group.
There are also pin sharing groups on Facebook, and they can help you find active group boards.
Take advantage of any of these that you can find as you try to build up your profile, but be careful of who you follow.
If you are following someone who is not in your niche, you will get their pins in your daily feed.
This happened to me and I ended up with countless pins for Vegan recipes. I am not vegan lol.
You can also search Google for group boards
Such as "your niche + group boards".
Some people have blog posts with "100 group boards that you can join today!" and you may find a few that are a good fit.
You can apply to quality boards but they may not accept you, because you do not have enough pins, or followers, or whatever.
Keep trying until you have at least 10 group boards
You may apply to what you think is a quality board, but no one is pinning to it except you (not good! No other blogger activity means no one sees your pins).
You may find an awesome board that is now no longer accepting new pinners. It is all trial and error, so keep trying!
Not all group boards will be worth belonging to.
Monitor each board for a couple of months. If you check a board and see mostly your own pins, then it is likely that no one else is pinning into that board.
0You may want to archive it for a while and wait to see if new members join.
I took a screen shot of each board that I applied to, because they have rules for applying and if you get accepted you do not want to risk getting kicked because you were spamming the board with your pins or pinning the wrong kind of pins.
Some people use a spreadsheet to keep track. Use what works for you to keep on top of the rules.
When you start using a pin scheduler you will only have to set up your schedule with the rules for each board once and then forget it.
Conclusion
Pinterest is the most under-utilized search engine out there. Because so many people are not using it to its full potential, now is the time to get on board. When the rest of the world figures it out, you will already be set up to receive them into your sales funnel!
People save pins forever and your pins can go viral at any time.
This is the beauty of Pinterest. I pinned a pin in May that no one looked at. Suddenly at the end of August, it went viral and it's still viral 2 months later.
That pin is bringing tons of traffic and I'm getting multiple new subscribers daily.
You don't get results like that from Google search.
Even if you never use a scheduler, you should consider learning how to use this massive powerhouse to your advantage.
Need help with copywriting? Use my Copywriting Checklist to write compelling call-to-action text for your pins. Encourage readers to come to your site for more information. Sign up for my weekly newsletter and get all my PDF printables for bloggers in my Resource Library.
Happy Blogging, and follow me on Pinterest! And sign up for my free weekly newsletter of tips, deals, and freebies for bloggers.
-Irma 🙂