How to start a blog and make money online…this is the question for the ages.
Every budding online entrepreneur asks that question…daily. I have previously written blog posts on creating passive income both online and off. Those posts listed starting a blog as a viable way to earn passive income, and it is my favorite.
Blogging is such a great way to connect with your visitors while solving their problems. Win-win!
This post was originally published July 24th, 2018 and has been updated to be current with new information. This post may contain affiliate links. If you click a link and make a purchase, I may receive a commission at no extra cost to you. Full disclosure is here.
Welcome to Fearless Affiliate.
My name is Irma and I help new bloggers to learn the ropes. There is a lot to take in that first year of blogging, from choosing a niche to changing your mindset from worker bee mentality to that of successful entrepreneur.
I like to focus on practical information and positive thinking, so if that sounds good to you please sign up for my weekly newsletter of tips and free stuff for bloggers. In return you will get the password to my resource library of PDF printables for bloggers like my Google Analytics Cheatsheet or my SEO Checklist.
Have you started your blog yet? If not, I have some helpful tips on choosing a niche. Sign up today to get this and all my helpful guides.
Can I Really Earn Money Blogging Online?
Of course! Look at Amazon. That business is 100% online. The business that you create may or may not be a store like Amazon, but you can certainly earn a good living form sharing content online.
By content, I mean: blog posts (articles), videos, podcasts, or any combination of these.
As well, you can create an online store with Shopify or Etsy. And you can create and sell your own digital products.
If you are interested in how to make money from a website, you are in the right place!
I was new to all of this in the spring of 2017. Back then, I thought it was all about affiliate marketing; now I know now that my vision was too narrow.
Now I am in the unique position to help you get started. The beginning steps are still a close memory, but I have learned a thing or two since then.
Creating passive income is huge on the internet these days
I want to have as much information on my site as possible to help you prepare yourself for all the steps.
However, before you can start building that passive income, you need a blog. Well, you do not need a blog, but it helps. A lot. Having a blog opens up the possibilities for ways to promote affiliate links. So let's start there.
How To Get started With a Blog
Choose a Niche
You need to choose a topic for your website, also known as a niche.
If your goal is to help people in some way, how do you want to do that? Your niche is based on this. For example, you may know a lot about fixing cars and can give advice on various things that people can do at home to maintain or fix their vehicles.
The top 5 niches to get into are:
Money (frugal living blog, financial tips)
Health & beauty (diets, exercise, fashion)
Babies/children/teens (stay at home parent blog, travelling with kids)
Lifestyle (homesteading,camping, travel)
Home (DIY, organizing)
There are lots of other niches, but these five can get you thinkig.
If you want to make sure that your niche will be profitable while you are helping people, read my post Find Your Niche in 15 Minutes or Less.
Think of a suitable Domain name
Your domain is the name of your website and it usually follows www.
On websites with SSL security, the domain follows https://, as in https://fearlessaffiliate.com. My domain name is fearless affiliate.
Famous domains are Apple, Amazon, Nike, NFL, and of course Google.
Once you have chosen a name and set up your website, your domain name will also be part of your websites email.
You can go online and look to see if the name that you want is available. A fun website to do this is NameVine, where you can also check to see if your domain name is also available for your social media handles.
Related Post: How to Buy a Webname (Domain)
Before you run out to buy a domain, check out website hosting first. Sometimes you get deals, in that hosting will give you a domain when you purchase a full year of hosting.
Get Website Hosting
This is the bridge between your website and your online presence.
Siteground is the most highly recommended website hosting and is popular with many bloggers because of their reliability and excellent support.
Many hosts also offer free one-click WordPress install.
What is this WordPress that I speak of? It is a content management system (CMS) and it's the software you use to do your writing. More below.
Make sure you have a Content Management System (CMS)
Your CMS is sort of like a bigger more powerful version of MS Word, and with more features.
30% of the world's websites are using WordPress.org as their preferred CMS. Siteground, BlueHost, and HostGator all offer WordPress.org along with their hosting.
The original WordPress CMS has the extension ".org" at the end (WordPress.org)
The free website version (for hobby bloggers) has .com at the end (WordPress.com). WordPress.com is a free website that comes with Ads on the site. The ads pay for your free site, so you cannot put affiliate ads on your free WordPress site.
Related Post: What about free WordPress hosting?
If you are going to blog as a business, you need the WordPress.org version, which is free and is likely included with your hosting, usually as a one-click option.
WordPress.org is free, open source software. You should NEVER be charged for WordPress.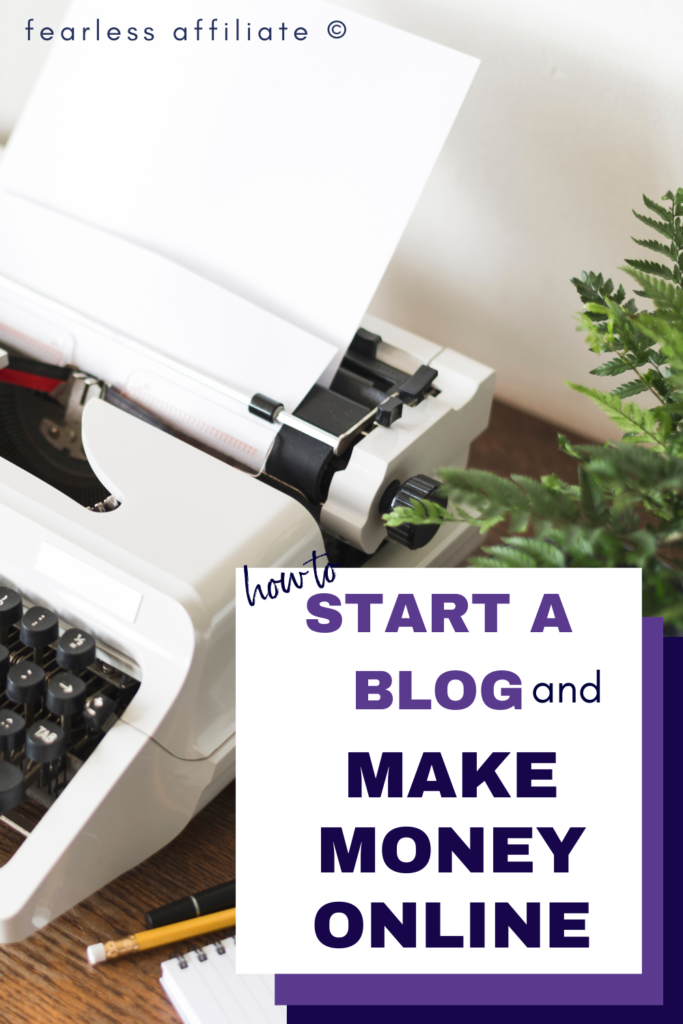 Get A Theme And Start Writing
WordPress comes with tons of themes
Many of them free and ready to go for woo-commerce. Themes are "skins" for your website, so you can pick a theme that goes with your niche.
There are also a ton of plugins that you can use to optimize your website for speed, image compression, spam capture, social shares and thousands more.
Three that I recommend and I use daily are:
Akismet anti spam
Kraken.io Image Optimizer
Yoast SEO
Search Engine Optimization (SEO) is a way of giving signals to search bots what your content is about.
SEO what you will use to create your connection to…
Google!
You will want a connection to Google so that every time you publish a blog post, you can link it to Google using their Google Search Console (GSC).
You link to the search console and request that Google crawl your webpage (It's a one-click button).
Googles spider bots then crawl the page trying to determine what it is about so that they can share it with the right people.
You use your SEO plugin to create a sitemap that you give to Google.
Google will then index your website, which ensures that you can get your posts/pages crawled. Once your site is indexed, then you will not have to do it again.
Be sure to install Google Analytics, which is a different tool than GSC.
Related Post: Google Analytic Tutorial
Google Analytics gives you the data from your website traffic so that you can monitor how many visitors you are getting and where they are coming from and where they go on your site.
This gives you valuable information that you can analyze and utilize. If you have one popular post, you can find a way to repeat it!
Here is some information on how Google searches.
Blog Posts
Blog is short for "web log" or online journal. When searches started to discover the wealth of information available via blogs, blogging exploded.
No one has to read a book or talk to a specialist anymore…blogs got that covered.
Obviously that means there is plenty of room for scams and junk websites, which is why SEO is important. SEO proves to Google that your blog post is what it says it's about.
At the same time, being authentic (true to yourself) is the best way to be found and create a popular blog. FYI popular = money.
So consider creating as much content in your own voice. Add a little sarcastic flair. Throw in a bit of niche jargon. Use popular slang.
In other words, write like you talk in real life.
A blog is the part of your website where you write regular posts.
Once you write and publish your first blog post you can add your link to Google Search Console and get the Google bots to crawl your site. I do this immediately after I hit publish.
The standard advice is to write "evergreen" content, which is content that is always relevant.
Unlike a post that is about fidget spinners (remember those??), evergreen content is helpful year after year and contains useful current information.
It is best to write posts that are at least 1000 2000+ words long.
It will take several hours to research your topic, write it out, edit it and have it ready to publish.
Longer posts show your audience that you have, indeed, researched your topic. And that you understand it well enough to write about it. Google loves this!
Quality posts move up the rank faster. Alternatively, write 5 posts of 500 words (i.e. 1 short post daily) if you do a lot of video content.
Later, as you get better and better at writing and understanding your niche, you will be able to go back to old posts and freshen them up.
Update with new information and insights, new images or videos and other helpful information to give your readers the best understanding of the topic.
Updating posts also shows Google that you care enough to go back and fix or update information.
And that you want readers to have new information.
Note: If you basically have to re-write the whole post, do that and create something new and current. You can mark the old post as "private" or let it sink in the search results.
Just don't delete it. You may want it someday and its already indexed.
This is part of SEO – Search Engine Optimization.
You can do this kind of tweaking once a year, or whenever new information comes to you that you can add to your post.
Writing these evergreen posts is what will give you authority in your niche as well as bring you traffic for many years.
How To Get Website Traffic from Pinterest
Making money online is a numbers game.
Priority one is writing compelling content with links to useful paid products.
Your second priority is to get traffic.
You need high numbers of traffic because very few people will click your links the first or even second time they see them.
A quick way to start getting that traffic is Pinterest.
You may be familiar with Pinterest as a hobby or scrapbooking site, or that place you go for recipes. I used to get so annoyed when I did a search on Google on my phone and it kept coming up with results from Pinterest.
It finally dawned on me what I was looking at…a search engine. A visual search engine. Actually Pinterest is the third largest search engine, right behind Google (#1) and YouTube (#2).
It is worth learning how to leverage the traffic that is on Pinterest searching for solutions.
Don't be like me and put off learning how to get traffic from Pinterest.
Jump into Pinterest and start grabbing that free traffic!
Related Post: How to use Pinterest for Business
An excellent, robust and inexpensive course to learn how to start using Pinterest is Pinteresting Strategies by Carly Campbell.
Note: you should have at least 20 blog posts on your site before trying Carly's system. This way you have more options for testing different strategies.
Just don't wait too long. The sooner you start getting use to creating pins and using the platform, the better.
Carly's course is popular for 2 reasons:
It's a thorough system for manual pinning (so you don't need to pay for a pin scheduling tool like Tailwind) #savemoney
Carly is a Pinterest geek. She is all over the daily changes made by Pinterest. #savetime
Honorable mention: This course is very inexpensive considering it's help in bringing website traffic. #saveevenmoremoney
You can either pay someone for a shortcut to traffic (i.e blogging courses; paid ads on Facebook etc) or do it yourself the slow way (SEO).
I recommend doing both.
You don't even have to create your own pins.
Carly has pin templates for sale! You get 10 pin templates that work on free Canva.
Try the pin template starter kit to see if it's for you. It's a free sample of 7 Canva pins, 3 Pic Monkey pins, and video instructions for both. I've already had a viral pin with one of the pin templates and it's bringing steady traffic to my website. win-win!
Carly also has a couple of Facebook groups where you can catch up on any Pinterest platform changes.
Since they became a publicly traded company they are changing how they do things.
Carly will help you with tips on creating pins, as she discovers new ways to get traffic by experimenting on Pinterest. Carly is making regular videos and sharing them with us to explain why she does what she does.
I've learned a lot about how my pins should look and they are getting a lot more engagement
Related Post: Simple Branding Tutorial (How to create blog graphics with free Canva)
How To Make Money Online
Affiliate products
Affiliate marketing is writing about other peoples products, using a specific link, and getting commissions for any sales.
If a person clicks the link, you potentially earn a commission. Clearly, you will need more than one product to promote.
This is not get rich quick. However, you can make money if it is done right.
What I mean is that many affiliate programs payout 4 to 6 weeks after the month that the sale was made, or after a minimum dollar threshold has been met. Another reason to be promoting a lot of good quality products.
Related Post: How to choose an affiliate program
You should include affiliate product links anywhere in a blog post where it looks natural.
One sure fire way to make it look natural is to do product reviews.
People are always reading reviews online before purchasing a product, so you can write product reviews to help people find good quality products that you use and trust – or have well researched.
Related Post: Earn Money Writing Reviews
It's in your best interests to have affiliate links for different priced products that are related, such as a beginner course, intermediate, and advanced.
You likely won't get sales on the highest priced product, but you might get a sale on the lowest.
If the person enjoyed the product, they may come back to you for the next level product.
Other ways to earn online are:
Coaching – If you know something, you can coach others
A membership site – This works well for helping people get set up in some way. For example memberships for people wanting to improve mental health, who may want group coaching for six months.
Creating your own products – many bloggers see a gap in the market and so they create their own stuff to fill it. These can be eBooks, eCourses, or selling your homemade items on Etsy.
Ad companies – They pay you to put ads on your site. Basically you rent them space on your website. Look at the banner ad right below this…
Promote Your Website and Affiliate Links
Email Marketing
Email marketing is you setting up a weekly newsletter to your website subscribers. You can then market your affiliate products to them.
The benefits:
Your list is yours; not Googles or Pinterests
People who are on your list become "your people". Unlike the random visitors on your website, they do like you and will buy from you.
The Cons:
You have to set it up. You need an Email Service Provider (ESP) like MailerLite (recommended), ConvertKit or MadMimi.
Most ESP's are paid services, so you have a monthly or yearly cost. FYI: MailerLite is free for your first 1,00 subscribers
This is where you create a way for loyal visitors to get more information, freebies and exclusive content in exchange for their email address.
Loyal subscribers are the people who will purchase your courses and more expensive items after you have created a relationship of trust with them. This post explains it:
Related Post: How To Use MailerLite
The sooner you start your email marketing, the better. If you want to make money online, you need to sell. A simple way to start selling is by promoting affiliate links in your newsletter.
This gets both you and your subscribers used to it. It is an awesome way to connect with people who already like your content. This is huge!
If you have a problem with the "salesy" part, then find free stuff to promote to your list. Just get used to putting links into your newsletter, as well as writing that weekly newsletter.
Conclusion
I hope that I have given you enough information to make an informed decision about jumping in to online marketing.
This is an amazing world that I enjoy belonging to, and I want you to join us! There is room for everyone.
Please tell me in the comments about your experience with blogging, affiliate marketing and any success or mistakes you made as a new blogger.
Are you a subscriber yet? Sign up for my weekly newsletter of blogging how-to tips and get the password to my Resource Library of PDF printables like my super popular Copywriting Checklist.
Allright then! Do you have any questions about this process? Did I miss anything? Do you have any insights on setting up an email service? Tell me in the comments – I love hearing from you 🙂
Until then, happy blogging! And follow me on Pinterest.
-Irma 🙂