Hello tribe! Are you looking for a simple and easy way to do manual pinning? Do you want to be able to pin from your smartphone or tablet 'on the go'? Do you need a system that you can start and stop as time permits? I've got just the thing for you.
*This post contains affiliate links. If you click a link and make a purchase, I may receive a commission at no extra cost to you. I only recommend products that I use and believe in. Thank you!*
Welcome to my review of my new favorite manual pinning method, Manual Pinning Simplified which is $39. I will give this a 5/5 for ease of use. And 5/5 for the improvements to my Pinterest account, and by extension, my website.
Who created manual pinning simplified?
Kyla Sims is a Pinterest strategist who created Manual Pinning Simplified after not finding satisfaction with the other manual pinning systems that she had tried.
Kyla has created massive success in just a few years with her website, Dish It Out Social, using Pinterest, and now teaches others how to do the same.
I admit that I hesitated to try this system because I had already tried a couple of manual pinning strategies/ideas and was not too keen on the whole spread sheet tracking aspect. I was hoping for something simple and easy to set up, because who has time?
Kyla's system is very clear that this can be done with a smartphone and does not require spreadsheets or tracking software, so I thought what the heck.
I am happy that I did! This is a super easy system to learn. You can do it while you stand in line or in a waiting room, while you are cooking dinner, or whenever you have a couple of minutes to pin.
Manual Pinning Simplified is just that…simple, manual pinning. It is easy to figure out where you left off, so you can be pinning at odd times over the whole day, which Pinterest luuurrrvvvs.
Why use manual pinning simplified?
Prior to these new manual pinning books and courses, people did their manual pinning their own way and kept track their own way, usually using some kind of spreadsheet like Google docs or Excel.
Many people choose to manually pin to save money on schedulers, which is especially helpful if you are just starting out, or if you are blogging part time and not earning much from your blog yet.
One of the issues that caused an upswing in manual pinning in 2018 was the loss of the pin scheduler Boardbooster (RIP).
What is the boardbooster scheduler?
Boardbooster was an affordable tool with a set-it-and-forget it interface that made scheduled pinning super easy. However it was not an approved partner.
This was tragic because my stats were crazy when I used it, and they dropped rapidly over the summer after I stopped using it. #mesad
A lot of people were bummed by the loss of Boardbooster and not ready to have to re-learn a new tool (show of hands?), so the timing was perfect for the manual pinning strategy books and courses to have a surge in popularity.
When I started using this system, I decided to time-block 3 chunks of time to manual pin. I set up my Google calendar and I set an alarm on my phone, just to get into the habit. It only takes a few minutes to pin and I can move on with the rest of my blogging day.
You do not want to mass-pin into Pinterest. If you do not have much time during the day to pin, try this manual pinning system rather than trying to do all of your pinning work at one time – which causes Pinterest to think that you are a spammer.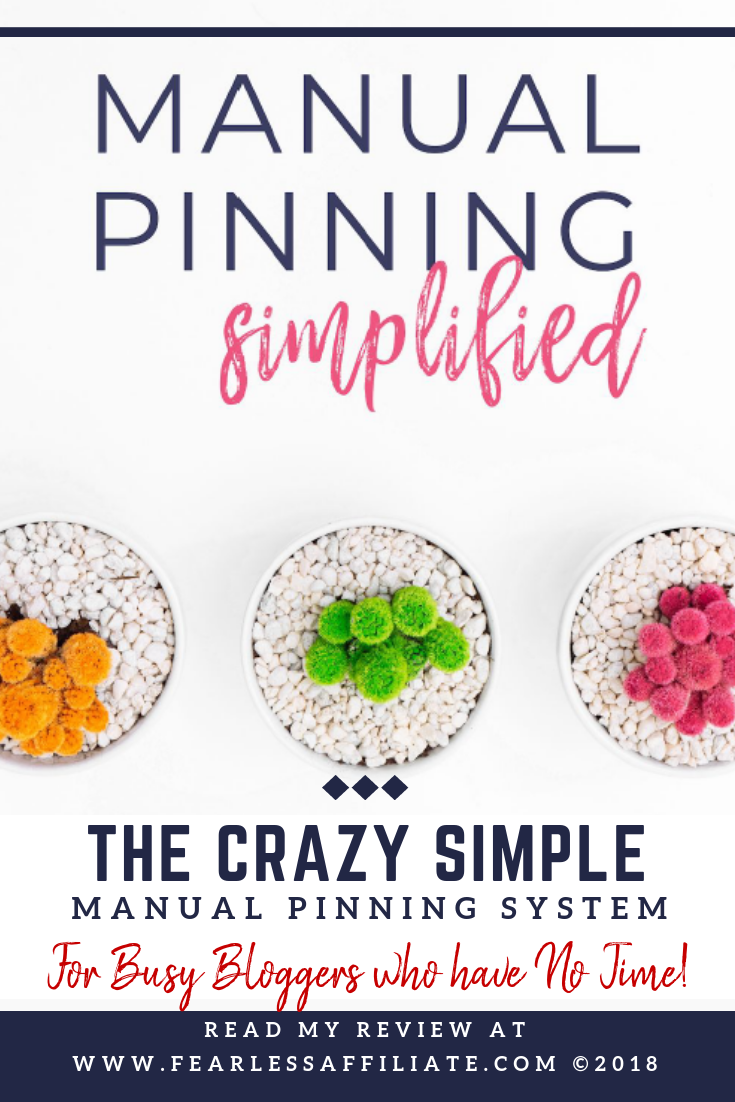 Why pin manually?
Some people have amazing success with manual pinning. Other people swear that using a scheduler is the only way to go. Many bloggers use both, as do I.
This manual pinning system is much faster than scheduling pins! I opted to put all my boards in alphabetical order. This has them in the same order that you will find your pins on mobile. This makes it easy to figure out where you left off if you are pinning while out and about.
And I am also going to say that I believe that tweaking my manual pinning this way has helped me recover from my Pinterest nosedive that was happening over summer, while I was using only a scheduler. I will be explaining all of this in my next post, so watch for that.
If you do not have a strategy in place yet or you want a boost to your scheduling work, try Manual Pinning Simplified.
When I first started using Pinterest, I only used manual pinning (I did not know that scheduling tools were an option), and my stats went crazy. I was shocked.
When I added in Boardbooster, it went nuts. I had set up email marketing to capture visitors and I had 28 in one week. Yes, from pinning. I thought all those people talking up Pinterest and how great it is for traffic were out of their minds, but I was so wrong.
This also proves that daily pinning is rewarded. The other benefit to the Pinterest views was that I was getting more page views on my blog, which is why we do all of this stuff anyway.
How to get started with Manual Pinning Simplified
Included with the Manual Pinning Simplified system, Kyla will walk you through all the steps to getting set up with Pinterest for Business, verifying your website and setting up your boards, but here is a synopsis:
You need to have a Pinterest for business account with an optimized, keyword-rich "bio", Rich Pins, and an optimized profile bio, with keywords if possible.
You need to have 10 to 15 relevant boards that relate to your niche.
And you need some group boards as well. The people in the group boards will be sharing out your pins, which gives you a level of reach that you cannot get on your own in the beginning.
You will also need a notebook or a way to keep track of which pin you are pinning each day, so that you are not spamming group boards, but this is still easier than using a spreadsheet!
about group boards…
Kyla also has a section on the easiest way to find group boards!
You do not have to join 40 in one day; just add in the ones that accept you and start watching your Pinterest analytics every time you join a new board.
Fair warning. It does take time to see results from changing things on Pinterest. Joining a couple of new boards in one day will not skyrocket your views by the next day. Give it at least 3 to 4 weeks to monitor changes before tweaking again.
Need help with creating pins?
Manual Pinning Simplified will give you the correct and updated information on what works best on Pinterest these days for the size of pins, and how to optimize them, in the course.
Kyla also has a FREE 5 day Better Pins Challenge. You can sign up on her website Dish It Out Social. The sign up form is at the bottom of the post.
Let Kyla help you create stylish and click-worthy pins to help your success.
I used one of the pins templates that I received from Kyla's challenge and it went viral 8 days later. Do not be afraid to switch it up and try new pin templates. #happydance (I totally stole that hashtag from Kyla!)
Related Post: How to Get Blog Traffic from Pinterest
Final Thoughts
I have thoroughly enjoyed learning the Manual Pinning Simplified system. It is a huge time saver and has improved all of my stats since I started implementing it.
You will probably be like me and wonder how you were doing things before especially if your stats are lagging. Or worse, they have stalled. I know that well, and I am here to tell you that you can recover!
I hope that this post has helped you and that you will share it with others. Sharing is caring! And be sure to sign up for my newsletter of deals, freebies, and tips for affiliate bloggers.
Until next time, happy pinning and follow me on Pinterest!
-Irma 🙂