The steps to starting an online business can be confusing. Not because owning a business is confusing in and of itself.
No, it is because there are so many variables that each entrepreneur has to choose from…variables that need to match their goals. An example is business models…there are a few choices and each one comes with its own strengths and challenges.
However, the benefit of making your online business different from everyone else's is key to success. And your happiness as a business owner.
Welcome to Fearless Affiliate.
My name is Irma and I help new bloggers to learn the ropes. There is a lot to take in that first year of blogging, from choosing a niche to changing your mindset from employee to CEO. Now you make all the decsions.
I like to focus on practical information and positive thinking. If that sounds good to you please sign up for my weekly newsletter of tips and exclusive content for subscribers.
Right now, get this 5 MINUTE GUIDE TO INTERNET MARKETING SUCCESS to help you understand better how to use internet marketing to create income online. You will be added to my weekly newsletter of tips for new online entrepreneurs.
This post may contain affiliate links. If you click a link and make a purchase, I may receive a commission at no extra cost to you.
Thank you for supporting my business! Full disclosure is here.
In this post, we are going to look at some things that new entrepreneurs need to consider when starting a business.
When I first started my online business, I had joined an affiliate marketing membership group and I thought that it was the way to make money online.
I did make money, but I did not like how limited my options were.
Or that my income was tied to the membership.
When I left that membership, I lost out on future income.
Sigh. But it had to be done so that I could have the kind of business that I wanted, aka I pivoted.
I am going to list some of the things to think about, in broad terms, and we can explore them in more detail today and in future blog posts.
First Steps to Starting an Online Business
You are going to read many of these from other people because they are the foundation of any business, online or brick-and-mortar (physical stores).
These are the beginner steps:
Who do you want to sell to aka who is your ideal customer?
What are your goals for the business?
Why you need to know what the competition is up to
How to create an action plan and business timeline
Where to get help if you get stuck
When to pivot
These are not just questions with basic answers. Many of these questions lead off to other questions and you can get lost in research.
For now, it is good to look at them and start thinking about your answers.
Let's briefly touch on each question and explore a bit, so that you understand what is behind the question.
1. Your Ideal Customer
Your ideal customer goes hand-in-hand with the niche that you have chosen for your business.
The niche you choose will have a built-in type of customer (someone who is already familiar with the topic), as well as people who are new and want to learn about it.
This person is known as your 'avatar', and is the person that you write copy or make videos for.
It is imperative that you do not try to sell to everyone, because this does not work.
Instead, write a "customer persona" and consider who this person is and what their struggle is, so that you can swoop in and solve it for them.
Read more about this topic in my post Internet Marketing Secrets: Who Will Buy From You and then grab my free Avatar Exercise workbook to help you figure out who your avatar is.
2. The Goals You Have for Starting a Business
Of course when you ask people their goals, they all say "to make money". But that is not an actual goal unless you can also say how it will be done.
So what you need in this case is a business plan.
You need to create a system to monitor if what you are doing is working.
And if it is how you can scale it to make it work better.
An example if if you create 10 pieces of content on various aspects of the same topic (video or written content).
You want to check your Google Analytics to see what people are attracted to, so that you can create more content like that.
Because we always want to go with what is working.
And if one topic really resonates with your audience, you can consider creating products or promoting affiliate products, to help your people with more detailed help.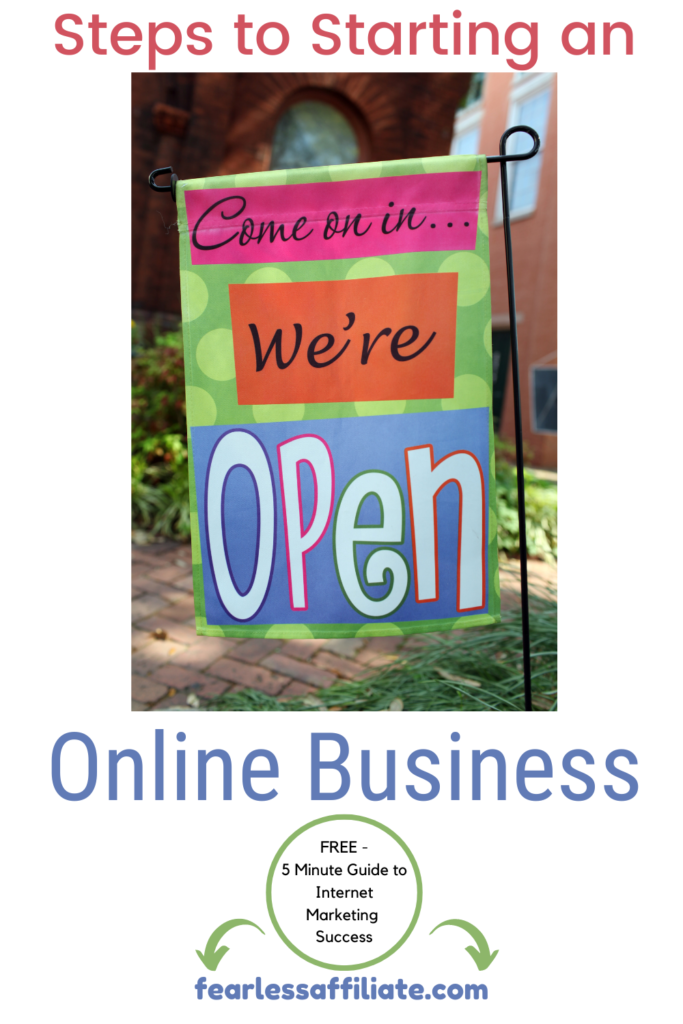 3. Why you need to know what the competition is up to
Researching what your competitors are up is a great way to get content and product ideas that can help your audience.
If you look at Burger King and McDonald's as examples, both businesses sell hamburgers…but differently.
Both have their own fans, and their food items differ enough to make them unique to each business.
And both have tried new foods that failed
McRib anyone? BK Shake 'Em Up Fries?
The key point here is that both businesses keep trying and do not let failure hold them back.
4. How to create an action plan and business timeline
The purpose for creating an action plan and biz timeline is so that you focus on moving your business forward and not dilly-dallying with projects.
If you plan to have employees or Virtual Assistants (VA's), you have to have systems so that these people can help you achieve your vision.
And it saves a lot of time.
An action plan may include:
Content creation calendar
Regularly looking at analytics to see what is not working so it can be adjusted
Setting regular income goals
Breaking large projects into bite-sized chunks
A business timeline may include:
Creating timelines for each task, such as only spending 1 hour per day on content creation
Realistic goals – giving yourself a set time to complete tasks
Following a specific roadmap for your big projects
Learning to stay focused on one task until the time is up and then moving on to the next task
5. Where to get help if you get stuck
The best place to get help is from a mentor who is where you want to be.
I wrote a blog post on this subject, so be sure to check out How to Find a Busines Mentor for some great tips.
If you can find a mastermind group that you can join for a few months, you should be able to get the help you need to advance through some of your projects.
Otherwise, look for the big players in your niche and join their Facebook groups.
And follow their social media accounts to learn from them.
Ask them for advice on where to get help for your problem. Just beware that these are business people, and they may try selling you a course or product.
Continue doing your research before buying anything, to make sure that it will help you where you need the help.
6. When to pivot
There is a difference between a pivot and outright quitting, and you need to understand that difference.
For example, in the early stages of your business you may find things confusing or hard and my want to quit for that reason.
Streamlining processes and focusing on a single target can help move your business in a better, simpler direction.
There are a few reasons that you may want to pivot in your business:
You think that you should switch focus to a new, emerging part of your niche market
The business model you have chosen does not align with your core values
What you offer appears to be no longer relevant; customers are leaving
Your intuition says it is time to change things
There are lots of potential reasons to pivot, so these are just a few to consider.
Conclusion
In future posts, we will look at some of these topics in more detail, as well as the topic of an entrepreneurial mindset.
I struggled with my "employee" mindset for a long time and had to learn how to be the boss…the for real boss, of my businesses.
Other ways to earn online are: membership programs you run, coaching, putting ads on your site or paying for ads to promote products. When you create your online business, you can combine many of these for a totally unique business.
Be sure to get your copy of my free 5 MINUTE GUIDE TO INTERNET MARKETING SUCCESS. It is a bite-sized introduction to the benefits of internet marketing for beginners. You will be added to my weekly newsletter of tips for new online entrepreneurs.
Please share with others…sharing is caring! Let me know in the comments if these tips work for you! Until next time, happy blogging and follow me on Pinterest!
-Irma 🙂