Are you interested in affiliate marketing to earn passive income, but are unsure of how to get started? Are you wondering if you can turn it into a full-time income? Does earning money online seem too good to be true? Is affiliate marketing for beginners?
When I first looked into ways to earn money online, I was overwhelmed with all the blog posts that I read promoting courses and ebooks on the subject, but I did not know who to trust, and I was sure not going to give some stranger money for a course that may or may not answer my questions.
I went back and forth for weeks trying to figure it all out, because initially I was really only looking for information on how to write and sell ebooks (FYI…I am still researching this!). However, I kept running into the word 'affiliate' everywhere…at the bottom of website, within blog posts, and I finally had to see what was what.
Eventually I was able to put some of the pieces together, and I decided that this is a legit way to earn money online. And, as it turns, one of the simplest to implement. Imagine that!
What I will do today is talk about how to start affiliate marketing and what you need to get started for free. After that I can point you to some resources, free and paid, if you want more advanced information.
If you are interested in earning money online, and not in a get-rich-quick kind of way (because that just does not exist unless you win a lottery), then I will direct you to some awesome networks where you can discover all the great products available for you to promote. But I am getting ahead of myself. Let's start at the start.
*This post contains affiliate links. If you click a link and make a purchase, I may receive a commission at no extra cost to you. Full disclosure at the bottom of the page*
What is affiliate marketing and how does it work?
Affiliate marketing is you (the affiliate) promoting someone else's products, and receiving a commission for the sales. According to Wikipedia, "Affiliate marketing is a type of performance-based marketing in which a business rewards one or more affiliates for each visitor or customer brought by the affiliate's own marketing efforts."
This is a win-win situation, because you earn from your sales and the product company does not have pay a ton for marketing because you do it for them, along with the other affiliates promoting the same products.
Affiliate marketing has been around for a long time on the internet. Most of the blogs that you go to have affiliate programs of some kind or they are working on creating products that you can be an affiliate of.
There are products for pretty much any blog niche that you can think of. Check the footer of the websites that you like to frequent and you will see something like "become an affiliate". When you see this, you know that you can sign up and promote that website/company/product.
You do not need a blog to do affiliate marketing but it is much easier to do the marketing that way.
Commissions range from smaller 4%-8% on Amazon (more about that later), to 35% to 50% commissions for private affiliate products on products for almost every niche.
Many people create blogs specifically to become affiliates, as this is an excellent way to earn passive income. A blog post written two years ago can generate affiliate income today!
Related Post: Can I do affiliate marketing without a website?
What do I have to do to get started?
As I mentioned earlier, the easiest way is to start a blog. You can get started with two free websites and 10 lessons to help you set it up here.
This is a WordPress.org website (the most popular content management system to use), that has thousands of plugins, tons of free themes, and most importantly, you can monetize these websites with affiliate links!
The two websites also come with free hosting. You do not require a domain with free websites, which gives you time to search and acquire the best .com domain that you can get when you decide to upgrade to paid options.
Free websites are a great option for testing the waters of blogging without any cash outlay. You can transfer your content to a paid website later if you want, but you will have to pay for a domain name (whatever.com) and hosting (like Siteground – see the banner ad to the left).
You also need a niche for your website
A niche is the topic or subject of your blog. If your goal is to earn an income from your blog and affiliate programs, then it is best to choose a niche where it is easy to earn money.
The easiest niches to earn money with are the subjects that many, many, many people search daily:
Money (earning, saving, investing, earning money online)
Relationships (Dating, love, family, babies, toddlers, teens)
Health & Fitness (fixing or improving it)
Food (Vegan, Keto, Sugar Free, Whole 30,)
Personal development (law of attraction, positive thinking, Goal Setting, Planners).
Fashion & Beauty (clothing, makeup, skincare products)
Pets (toys, training, accessories, clothing)
Travel (cruises, in an RV, camping & equipment)
There are lots of other niches, but not all of them have a ton of products to promote.
Regardless of which niche you choose, you need to be solving the problems of your readers. They may read your opinions on many subjects but ultimately they want you to solve the issues that they have, like a dog who chews everything or a baby that just will not sleep at night.
So it is a good idea to start a website about something that you already know a lot about or that you are willing to research a lot of blog posts about.
You can also do something called a Lifestyle niche, which allows you to talk about whatever you want, like homesteading, hobbies, decor or all three!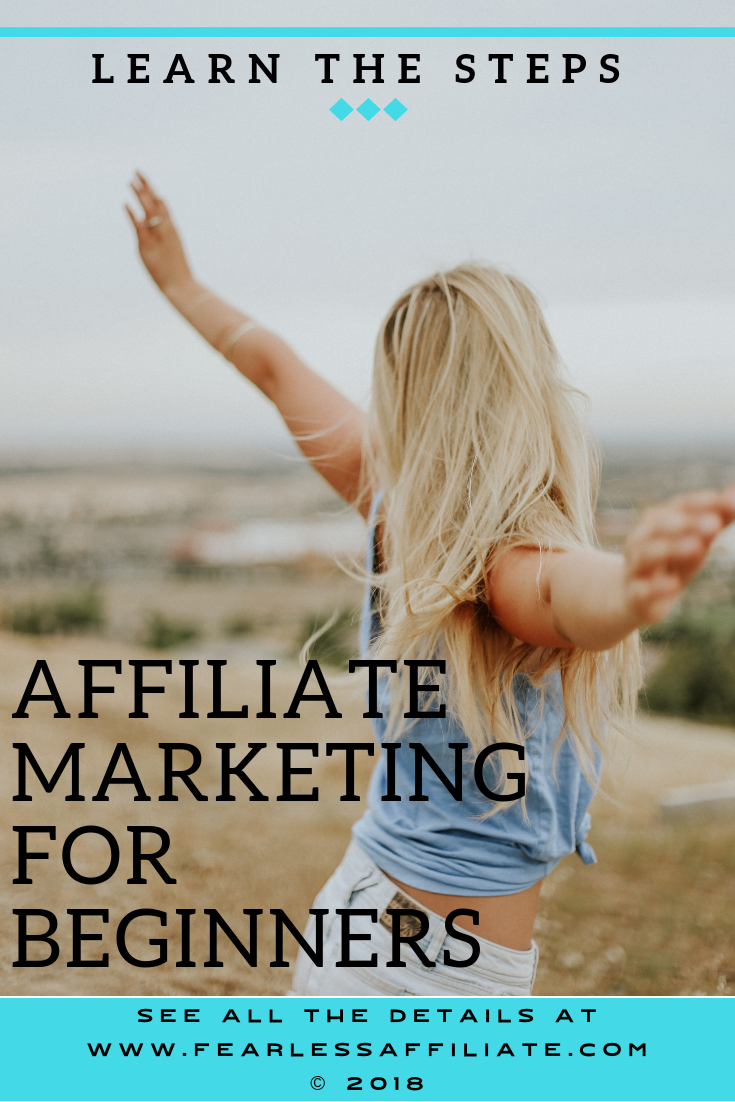 Why would I do affiliate marketing?
Passive income baby. That sweet, sweet cash. Moolah. Coin. Cheddar. Okay, enough. Passive income is a kind of set-it-and-forget-it income. You write a post, it earns money for as long as it is searchable on the internet.
Write a post today and have it earning money for your forever, as long as the post is well written and helpful to others and the affiliate links are sprinkled throughout and not on every line of the post.
And writing consistently and using affiliate links can turn from passive income into a full time gig over time. Just keep scaling what you do and soon you will have several posts earning you money every month.
Use Google Analytics to keep track of which of your posts are the most popular every month, three months or six months, and keep writing posts like that.
Related Post: Google Analytics Tutorial
Where can I find these affiliate marketing programs or companies?
Affiliate networks are free to join. If someone asks you to pay to promote their product, run the other way! You should never have to pay to be an affiliate of anything.
The biggest affiliate program is Amazon Associates. If you can write a post and link to a product, then Amazon takes care of the fulfillment part. You can easily become an Amazon Associate from your personal account, or you can create a business account. If you are outside the USA, then create one locally (your country) as well as the .com version.
Amazon has the lowest commissions, but they make up for that with having a bazillion products for you to promote. And if someone clicks your link but purchases a different product with 24 hours, you get the commission for that sale!
Other affiliate networks include: ShareASale, CJ Affiliate, and Clickbank. Apply and look through their catalogue of products. These are three that I know and use, but there are many others.
Related Post: Get Started with Clickbank!
This is also a great way to see if the niche that you are thinking of has any good products.
For example, in the blogging about blogging niche (mine), ShareAsale offers Tailwind, a hugely popular pin scheduling tool for Pinterest marketers who share blog posts on Pinterest. Click my link to Tailwind and try it for free and get a free month on the yearly plan!
Another amazing affiliate program is Ultimate Bundles, who sell bundles of ebooks and courses for many niches including bloggers, crafting, healthy meal planning, photography, personal finance, homemaking, and coming soon, goal setting and personal productivity (new for 2019). Different promotions happen monthly as well as periodic flash sales for recently expired bundles.
If you would like to apply to Ultimate Bundles to be an affiliate, here is your invitation. They pay a 40% commission for bundles sold and give you tons of promo items to use, like banners, links, swipe copies and a Facebook group for questions.
How do you know which product is right for you and your blog?
A lot of affiliate marketing is trial and error. You just have to sign up for a product, review it on your blog and strategically place your links. And then move on to another product, rinse and repeat. Try to keep your products related to your niche to make it easier. In other words, promote dog toys on your dog training blog and not kids clothing.
If you choose a niche that you are not familiar with but are curious about, then you can also purchase ebooks and courses and then review them for your readers. And feel free to tell your readers that you are new to this topic and that they are free to learn along with you!
Writing product reviews is the easiest for you and most helpful for your readers who are interested in products but do not want to do all the research.
Related Post: Earn Money Writing Reviews
When and how will I get paid?
When you make a sale, you will not get paid for at least 30 days after the sale and likely a bit longer. This is because of people who impulse buy and then change their minds, or if their payment is not successful. All the affiliate programs that I deal with have a hold-back period.
This is why you need more than one product to promote. Ideally it is nice to have some sales every month, giving you some extra cash to live your life on your terms. Many affiliate programs require you to have some kind of online payment system in place, like PayPal or Stripe.
Who will purchase these affiliate products?
People who need the solution that you are promoting. If they search out their problem and end up at your website, and you have a compelling blog post with links to the solution, then…TA DA, you have a potential sale.
So obviously you need some traffic to bring these people to your blog. A fast way to bring free traffic is Pinterest. Write a post, create a pin that points to that post and has a clear call-to-action on the pin to encourage click-throughs. Rinse. Repeat.
Related Post: How To Get Blog Traffic from Pinterest
Final Thoughts
Affiliate marketing is a long game, and anyone who wants to earn extra money can do this; seniors, students, stay at home moms, and anyone with some spare time in their week to set up a website, write some posts, and add their links.
If you need a more detailed course, I can recommend Carly Campbell's Affiliate Marketing for Bloggers, which has tons of tips and strategies for promoting affiliate links, as well as all of the best practices. Carly has the successful blog Mommy on Purpose, and I learned several new tricks from her course. ($79) This is the course that I chose when I needed to learn more, and it is super helpful for any blogger at any stage of affiliate marketing.
You can also check out Udemy, an online university where you will find tons of courses on affiliate marketing. Many of the courses are $14.99
Related Post: Start Affiliate Marketing Today (part one of a four part series)
Related Post: How To Start a Blog and Make Money Online
Affiliate marketing is just one form of passive income, but it is the most popular because you can get started with a free website, affiliate programs are free to join, and PayPal is also free to sign up for. So it is a win-win-win!
I hope that you have enjoyed this post and will share it with others who can benefit. Please sign up for my newsletter of tips, freebies, deals, and exclusive content, and free printables.
Until next time, happy blogging and follow me on Pinterest!
-Irma 🙂