Create a sales funnel to monetize your blog. Sounds simple right? It is! Affiliate programs may come and go, but your email list of loyal subscribers will stay with you forever! So how do you get people on your email list? You create a sales funnel using free resources. Then later on you create a paid product that meets your readers felt need. It is this paid product that will net you passive income.
A sales funnel is your first step in connecting with your readers and potential customers.
You bring people in to your funnel by offering them a great free item in exchange for an email address, gaining you subscribers. Or you can create pins related to your paid product and promote the pins on Pinterest to gain free traffic to that item.
Hello and welcome! My name is Irma and I help new bloggers to learn the ropes. There is a lot to take in that first year of blogging, from choosing a niche to changing your mindset to that of a successful entrepreneur. I like to focus on practical information and positive thinking, so if that sounds good to you please sign up for my weekly newsletter of tips and free stuff for bloggers, including my Google Analytics Cheatsheet and my SEO Checklist. Win-win.
What is a sales funnel?
You have probably seen funnels in action and not even realized it! Or you may have been in someone else's funnel and not realized it. Anytime you give your email address in exchange for something, like a free checklist, you went into another bloggers funnel.
Recently I discovered a whole underground movement devoted to Pinterest marketing. And my outlook has changed. There are a lot of successful bloggers out there creating their own digital products to sell visitors. Most of them are following a basic marketing principle: A sales funnel with effective email marketing in place.
Some people are still offering up crappy free stuff, but a lot people are offering up legitimate value within their free stuff.
This also has the side benefit of causing you to prioritize your money-making projects first
Because seriously, most of us are trying to earn a living with our websites, am I right?
As well, when you change your focus to one where you offer a lot of value that will bring you some loyal subscribers, you also work harder on giving your visitor awesome value in all of the free content, because you want to set yourself apart from the people giving away crap.
Onward!
**This post contains affiliate links. I may receive a small commission if you click that link and purchase something. This is at no extra cost to you and it helps me fund my blog. My full disclosure is at the bottom of the page.**
here is What happens without an effective sales funnel: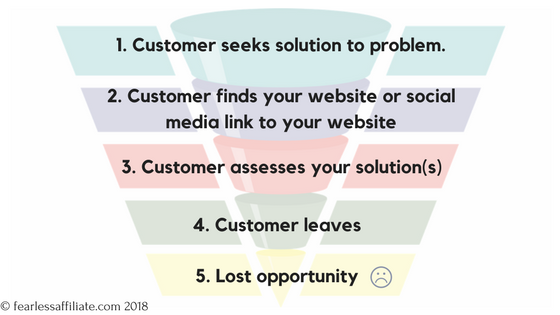 #1. Customer seeks a solution
This can be anything…a recipe…how to clean your headlights…how to trim your dog's toenails. They are searching.
Someone is seeking a solution to a problem. You have a solution for this person, so it is only a matter of making a connection between you and them.
#2 Customer finds your website or link from social media to your website
You write an awesome blog post offering a perfect solution and then put your links in social media. And people find you and come to your website and this is AWESOME!
#3 Customer assesses your solution
They may look at your post and scan the text looking for clues as to whether you can help them or not. They may not have time to read your whole post, so they scan the headlines and…
#4 Customer leaves
Bummer.
#5 Lost Opportunity
So we can see that the problem happens at point number 3, when the customer assesses your solution. It may be an awesome solution but it is not keeping them at your site and it is not encouraging them to come back for more.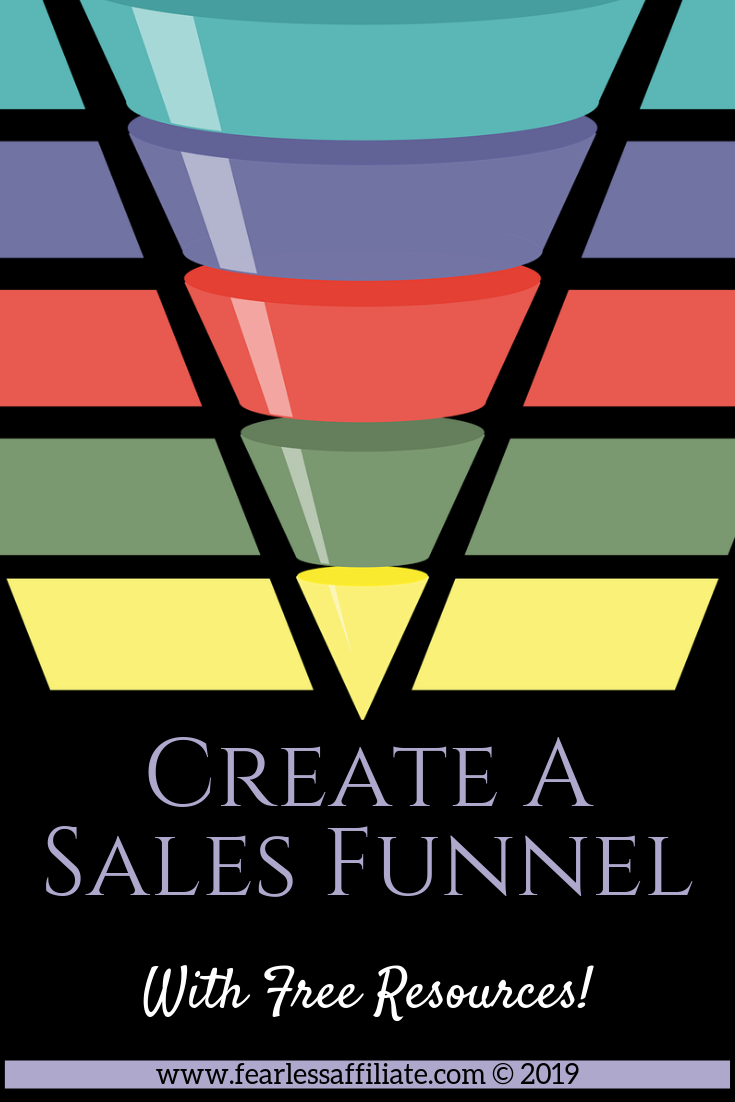 This is the point where you NEED an email system in place.
Not a "sign up for my newsletter" random box in some obscure spot on your blog. Everyone has a newsletter, so that is not really compelling. And not a basic opt-in plugin because it does not give you the tools that you need to make a solid connection with your visitors.
No, your opt-in box requires priority placement and a way to send newsletters (not RSS feed, but a letter that you write)! RSS feed is boring and may send blog posts to people who are not interested in that topic.
Sign up for MailerLite if you need an Email Service Provider (ESP)
They are free for the first 1000 subscribers and you can create tons of opt-in boxes for your website that you can customize with your brand colors.
Related Post: How To Use MailerLite
Write a blog post about your freebie. An easy practice to set up would be to think up the paid product first. Then think of a freebie that can be created that is a teaser to encourage purchases. The final step is to create a blog post on that topic which encourages readers to grab the freebie. It looks like this:
Blog post > freebie > paid product
An example is: Cooking With Apples blog post (listing one or two varieties that you can cook with but is more about how to cook with apples) > Checklist for which apples are best for cooking > 25 recipes for cooking apples (pies, crisps, coffee cake etc.).
Another example might be: Dealing with back pain blog post > Stretches for back pain checklist > Eliminating Back Pain The Easy Way ebook.
Think about what steps you took to learn about a topic and create a free and paid item that shows how to progress so that you eliminate the pain point.
And no, you do not have to do this for all of your posts. Maybe once a month or every six weeks or so.
Examples of great freebies are:
Coupons, Discount codes, and Special offers – Incentive to buy from you in the future!
Giveaways or sweepstakes – a great way to get a bunch of signups is a contest that you can promote on social media. They have to sign up for your newsletter to get their name in the draw (check your local laws for how to set up this type of giveaway so that you are not doing anything illegal!). The prize can be an ebook that you have written or a personal consultation for 30 minutes.
Checklist, Worksheet, Free Report, PDF, Infographic – These are simple to create in Canva, which already has tons of free templates. Just swap out your brand colors and pertinent information. Create a mock-up or screen shot the freebie and put in your blog post!
Free: Consult, shipping, upgrade, personal call (Value of $), strategy session – these are great for people who need to connect to a real person so that they can ask questions or gain clarity.
You do not have to spend too much time on the freebie
Some of them work and some don't. You will have to try different wording, pictures and incentives to see what resonates with your audience. Some people want a checklist and others may want something "meatier" like a mini-ebook or mini-ecourse.
Use Free Canva to create as many of these as you want and test them all. Read my blog post A Simple Branding Tutorial on how to use the main features of free Canva.
You can also promote a free course that you offer only through sign up
This does not have to be complicated. I have signed up for some really decent content that was basic text-only daily emails with no pictures or media of any kind, but it was quality education and very helpful. Later on, you can package the units into an ebook!
Pinterest Tip: Make a pin with a thumbnail of your freebie and put that on your pin. Be sure to use large easy-to-read fonts and emphasize the word FREE (call to action). Make sure that your website URL is on your pin as well. Then link it to the blog post. Part way down your blog post you put the box with the freebie opt-in. Monitor the results.
Your freebie needs to encourage the people who see your social media posts to feel compelled to click on over to your website and check it out. This creates the link from #2 in the funnel to #3.
After that, we want to change what happens in our funnel from the one pictured above, to one with better results at #4 and #5: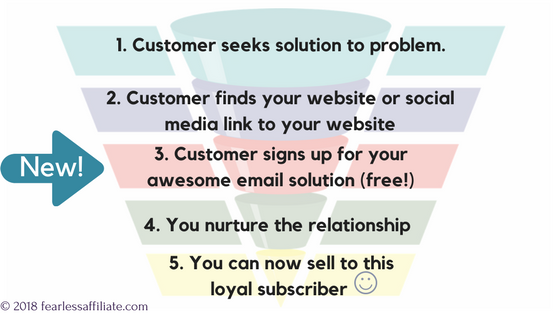 Once you have people on your email subscriber list, you want to nurture that relationship. You send them great tips, links to blog posts (don't assume they have read all your stuff already!), helpful information from other bloggers in your niche, and strategies that they can use to help themselves.
Be consistent and helpful
If your free stuff is crap, they unsubscribe. But if they are still around at this point THEY ARE YOURS! You can now nurture your relationship to them and have a better chance that they will make a future purchase.
In the early stages, during your welcome series of emails, you can promote something low-cost and not offend too many people with a sales pitch. If you are doing 4 or 5 emails in a welcome series, promote your item in the last or second last email. You want to do this after you have introduced yourself and explained how you can help the person.
If you have series of posts that you can re-package into an ebook, you can sell that for cheap (around $9). If someone buys that, then you will likely be able to sell them something more expensive later. Add in bonuses like checklists, resource lists (affiliate links!), or step-by-step instructions to entice buyers further.
You are not trying to make a fortune with this transaction

Instead, you want to give a little bit more of what you have to offer for a small amount of money. You are kind of testing the waters with your subscribers to see what interests them and who wants to buy. This also gets them used to purchasing from you.
This reminds me of when a tail light went out on my car and I could only find one YouTube video on how to fix it, and wow it looked complicated. I bought the tool that I needed but when I started the project I gave up because it was clearly going to be a pain in the neck, and I did not want to be hanging off the back end of my car in the hot and sweltering summer heat trying to figure it out.
A few weeks later, I went to one of those quickie oil change places. The guy there offered to fix my tail light for 5 bucks. I jumped on that!
The point with my story is that people are at various stages of research and may encounter your website at any point. At that point, I was very willing to pay 5 bucks for someone to fix my problem for me.
If your people are in the stage of your relationship where they are starting to trust you
They will not mind paying $7 or $9 for a solution. Even if it is not too helpful, it is still not much of a financial loss, so it is easier to swallow that price.
You may surprise them by giving them super awesome value for that $7. Now you will now have a very loyal repeat customer.
And the best part is that if people do purchase these products, then it is likely that there will always be a market for it. And that means you create it once but sell it forever. Evergreen passive income…yippee!
That was the gist I was trying to impart that when I wrote the post on Pinterest Ninja. I feel that I got a superior value for the money that I spent, because that information helped me immensely.
conclusion

I hope that I have inspired you to start an email campaign and create the start of a sales funnel. You hear tales told of 6 figure bloggers who all say that they regret waiting to set up email marketing, and who knows how much money they left on the table because they did not take the time to "get 'er done".
It will not take long to set one up. You need:
–Email Service Provider. Free: MailerLite, MailChimp
–Freebie for opt-in. Create with free Canva
– 4 or 5 emails for your welcome series, where you introduce yourself and how you can help, as well as useful and pertinent information to keep them from unsubscribing. Then weekly updates or whatever you want to offer. You want to keep your subscribers engaged so the stick around.
3 steps…easy!
An effective email system is hub of successful affiliate marketing and a sales funnel that will bring some cash for your hard work. And creating your own digital products to sell guarantees that your product is always available. Then you just have to keep working on step 2 in the funnel because everything else is done.
Please share this post with others who may benefit and sign up for my FREE weekly newsletter of exclusive content, tips, and free stuff for bloggers.
Happy Blogging and follow me on Pinterest.
-Irma 🙂