Today I will give you simple tips for email list building. We will start with the basics, like why you need a list, as well as some top email auto-responders.
In future blog posts, I will cover other topics on building up your list and expanding your reach.
If you have not started your list yet, I hope this information will help you move forward with that.
Welcome to Fearless Affiliate.
My name is Irma and I help new bloggers to learn the ropes. There is a lot to take in that first year of blogging, from choosing a niche to changing your mindset from worker bee mentality to that of successful entrepreneur.
I like to focus on practical information and positive thinking, so if that sounds good to you please sign up for my weekly newsletter. Get 21 Email Marketing Hacks guide to help you build your list faster…it's FREE!
Why You Need a List
I just watched an episode of a show I like on YouTube and near the end of it the host put out a request for all of his subscribers to sign up for his email list.
The reason?
Some big YT channels have been hacked; the thief renames the channel, gives it a new logo and then deletes the videos and replaces them with scammy videos about crypto currency or such.
If you rely on social media for your sales, you need a list
Having a secondary way to contact your people just makes sense!
It doesn't matter what form your online presence takes – be it blogging, creating video content, running an online store or growing a social media presence – any online business can benefit from having a list and focusing on growing your subscriber base.
What makes email lists so special?
It gives you a chance to talk directly to your audience. You don't have to wait for them to come to your blog or login in to Instagram to see your content, your message, and your offers.
Instead you get to go to them … their email inbox to be more specific.
You can speak to your readers individually
Blog posts, videos, and social media posts lend themselves to talking to your entire audience at once.
With email, if you segment your list, you can tune in to specific topics that are relevant to your people.
Email marketing converts better than any other form of marketing
This is the main reason why all your other marketing efforts should focus on growing and expanding your list. In other words, the list allows you to make a living from your online business. And it's also a safety net. Let me explain.
Things happen. Murphy's Law holds true, even on the web…. Anything that can go wrong will eventually go wrong.
But if you've focused on building a list, you always have a way to recover.
You have a chance to get to know your readers better.
You can build a relationship with them through the daily or weekly emails you send to them (as well as their replies). You start to build trust with your audience.
Why is that important?
Because once you have earned that trust, they will gladly take you up on the offers you sent them via email.
And provided you treat your list well and share great stuff, it's sustainable.
You can make offers for things they want and need over and over again.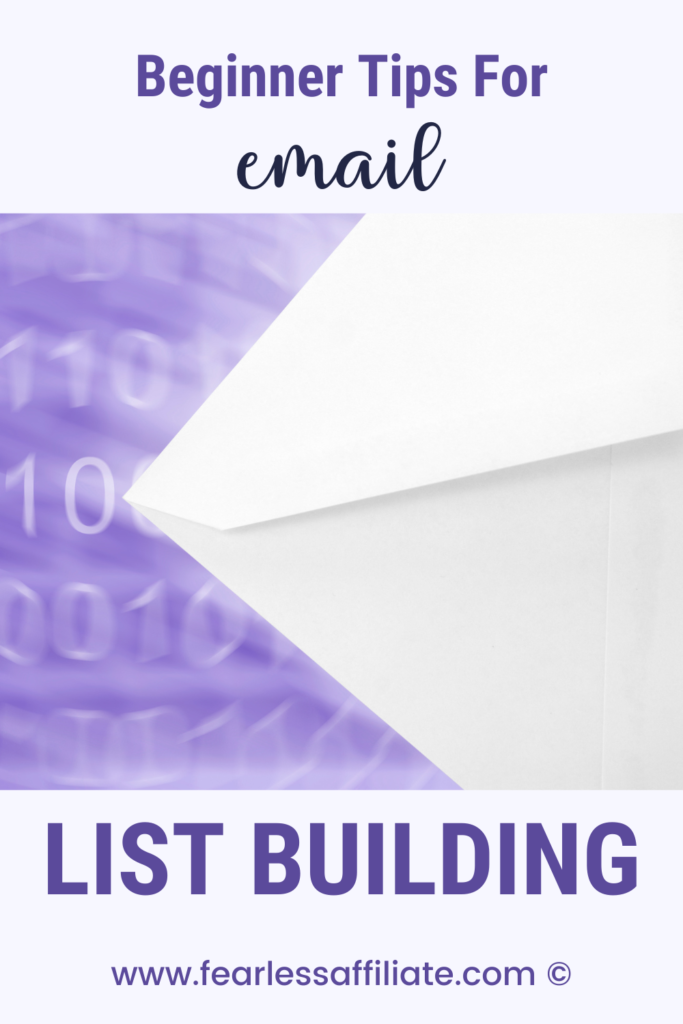 The Basics of List Building
List building is a back-and-forth exchange. You give free content to help your people and in exchange, your people give up their email address to get said help.
What is the most important is that you write a newsletter that is geared towards whatever you want to promote.
I did not get this part right away when I was building my list.
I knew I would want to promote things, but at the time I really did not have much to promote. So I mostly just gave long newsletters with blogging advice.
If you have products to promote, then your list should be used to promote them.
What you need for online business sales & marketing:
So a visitor comes to your website to read a post or watch a video. You would then offer them some kind of free opt-in gift, which they must sign up for using the opt-in form.
This gets them on your list.
Using an automation, or a series of welcome emails, you would then send an email with a link to the free item.
This fulfills your offer of a freebie in exchange for an email address
Then they are ready to receive your newsletter.
There is nothing wrong with sending informational newsletters as long as this is not the bulk of your emails.
People expect to get discount coupons or special pricing for products…that is why they sign up. Or that is why I sign up.
I do online shopping more when I get a great coupon.
So help your people out by giving them great content as well as selling them even more detailed help if they need it.
There is no shame in making an income from your expertise.
Auto-Responder Software
An auto-responder is a company that stores your readers email address and other pertinent information and allows you to send emails to your list.
Different auto-responders pretty much all have similar features.
Most, if not all, have:
Integrations with WordPress (makes adding forms to webpages easy)
Options to add photos from stock photo sites, gifs and giphy's to emails to personalize them
Templates for emails and landing pages
Analytics
Segmenting contacts depending on what actions they take
A/B split testing: subject lines, design, content etc.
Free importing of contacts from another email company
I hope this information will help you make an educated decision when it comes time to sign up.
All auto-responders we're discussing here are subscription services
That means that you'll pay them a monthly fee for their service.
Some offer a limited time free trials, so be sure to check that out and get an idea of what that company offers.
Compare apples to apples when looking at their features
They may name the features differently, but you want an ESP that will give you the features needed to bring in subscribers.
I will start with the one I know best…
MailerLite
I have been with MailerLite for a few years now, and I highly recommend them.
MailerLite has 4 pricing levels:
Free for up to 1k subs
Growing for $9/mo.
Advanced for $19/mo.
Custom (contact MailerLite)
You get the choice of drag-and-drop or HTML for your newsletters, and there are tons of customizations like adding video, countdown timers, and surveys. And you can create mobile-ready emails now that almost everyone reads emails on their mobile phone.
The MailerLite form builder is easy to use, as are their automations.
If you have different topics on your site, you can segment your list and send the different segments tailored content. And you can group your subscribers by interests.
You can connect your Google Analytics to MailerLite and get email campaign reports for more insights.
FYI: When I signed up with MailerLite, I needed a branded email address. I created a GMail address the same name as my website, and had no problems.
Aweber
Aweber has been in the business of list building and providing autoresponder services for ages. They have a great reputation and work hard to ensure their emails are delivered to your reader's inboxes.
Aweber has two pricing options:
Free for up to 500 subscribers
Pro pricing starts at $16.15/month
Over the years they've expanded and added a lot of features for list segmentation, testing and tracking, and list building templates.
Aweber offers all the same customizations as MailerLite and Convert Kit
You get landing pages, analytics, customization options and all the other bells and whistles, so it is up to you which auto-responder seems like it will fit your needs the best.
Convert Kit
Convert Kit was developed by a professional blogger who was sure to include everything he'd want in an autoresponder service. And because it was the first auto-responder that had the options that bloggers needed, it became #1 with the content creators.
Pricing options for up to 300 subscribers:
Free, with limited options
Creator for $9/mo which unlocks some of the options missing from the free tier (but not all of them)
Creator Pro at $25/month.
The pricing changes depending on the number of subscribers you have.
Move the slider on the pricing page to 1k subscribers:
Creator is now $25 a month
Creator Pro becomes $50, so it is pricey.
For this reason, ConvertKit is also popular with content creators because the affiliate plan has the chance to pay out more.
Mail Chimp
I started out with MailChimp, but at that point in time, creating forms and doing automations was overly-complicated and there was no help on the free plan, so I ditched them.
I made the right decision.
Mail Chimp has 4 pricing tiers:
Free – up to 2,500 emails/month
Essentials $11/mo
Standard $17/mo
Premium $299.00/mo.
From what I can see, the email templates look out-dated compared to pretty much every other auto-responder.
The Essentials plan also only allows for 3 'audiences' which in Mail Chimp-speak is a way to group people depending on the campaign. Uh-oh.
What this means is that if you send a campaign to one group of your subscribers, they are grouped like that for life. Contacts cannot be moved between audiences, so that sucks.
And there are no segmentation options that allow for future growth.
So you cannot set up segments for people who signed up for a freebie or bought an upsell (you would do this to avoid sending sales emails to people who already bought that product).
There is also no affiliate marketing allowed on Mail Chimp, so that makes it pretty much pointless from a business standpoint.
Conclusion
I hope that this has been helpful to you. If you have not started your list, I hope that you will prioritize it. Yes, there is a learning curve but you only have to learn it once 🙂
Then you just have to do some housekeeping once or twice a year to cull the people who do not read your emails and maybe update your automations.
Did you grab your 21 Email Marketing Hacks guide? Just sign up for it and get started increasing subscribers the easy and practical way!
Happy Blogging and follow me on Pinterest.
-Irma 🙂