If you are interested in creating some passive income you may want to start affiliate marketing…today.
Passive income is income that you generate while you are asleep or on vacation. It is created by setting up a system and letting it run on auto-pilot. You do this by writing blog posts or creating instructional or entertaining videos.
Then you link out to products that can help your student to master whatever topic you have written about. These products are called "affiliate" because they are produced by other people.
This post was originally published September 5th, 2018 and has been updated to be current with new information. This post may contain affiliate links. If you click a link and make a purchase, I may receive a commission at no extra cost to you. However, my opinions are my own. Full disclosure is here.
Welcome to Fearless Affiliate.
My name is Irma and I help new bloggers to learn the ropes. There is a lot to take in that first year of blogging, from choosing a niche to changing your mindset from worker bee mentality to that of successful entrepreneur.
I like to focus on practical information and positive thinking, so if that sounds good to you please sign up for my weekly newsletter of tips and free stuff for bloggers.
Subscribers will get my guide The 5-Minute Guide to Affiliate Marketing. Learn what you need to know about getting started with affiliate marketing and earning passive income from home!
What is Affiliate Marketing?
Affiliate marketing is promoting other peoples products. You have likely seen it in action without being aware of what it is.
If you check out a recipe site and see ads on the site, those ads are for affiliate products. The person who owns the website has an agreement with the product creators to promote their products.
In exchange, the website owner earns money from commissions when someone buys a product through their links.
It might sound complicated, but once you get into it, it really isn't.
How do people get affiliate links?
Many website owners are part of Amazons affiliate program, so if you see links to Amazon, these are also affiliate links. You can easily add links with photos or create a grouping of ads for Amazon products.
People go to Amazon to purchase the item(s) and you get a commission for sending them over.
There are also affiliate product programs/networks that have legit products that you can market to your audience.
So if you wanted to create a recipe site, you would be able to link to many different products like cookware and ingredients. Or you can link to products created by other website owners that are aligned with your website, like digital recipe books.
And you can create your own products and have other affiliates promote your stuff.
If you get a lot of people asking you for advice on a subject that you know a lot about, you can create a website to answer their questions.
Then you can create an ebook or ecourse to sell to earn income, sharing how you do things your way, and get other people to promote it for you. win-win!
Related Post: How to Find Affiliate Products
What Is The Purpose of Affiliate Marketing?
If you ask many successful affiliate marketers what the most important element is for success, they will likely tell you "marketing, marketing, marketing."
No one will buy if they do not know you are selling! Makes sense right?
Once you have established a product or service that speaks for itself with a reputation of integrity, it's time to step forward and market those goods or services.
With more and more businesses moving online, the need for online marketing is expanding.
This can be seen by the sheer volume of online courses teaching various ways to freelance.
As well as by the number of products available for promotion by affiliate programs like Clickbank and ShareAsale. People are needed to promote these products.
Marketers are needed.
To properly sell multiple affiliate products, you would need a website that allows you to put the links on the site.
Most free websites do not allow this, because they put their own links on your site in exchange for it being free. And they do not want competition.
The answer to this problem is to create a self-hosted (paid) website.
You purchase website hosting and they install the WordPress software for you.
Website hosting is about $3 to $4 a month (based on paying yearly) and most decent hosting companies have a one-click WordPress install. This lets you get started on the same day.
Related Post: How to Promote Affiliate Products
Online marketing stands to be one of the most lucrative ways for businesses to reach optimal success and increase their bottom line. Affiliate marketing is one of those ways.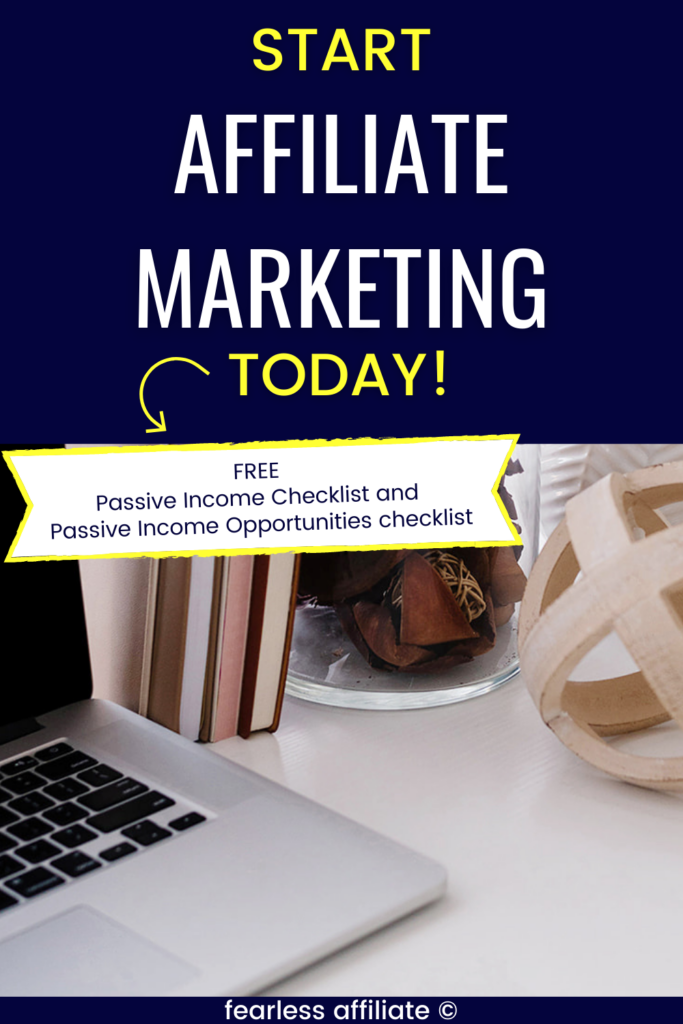 How To Start Affiliate Marketing – For Beginners
It is important to start at the beginning.
Choose A Niche
A niche is your space on the internet, such as a recipe site or one that teaches how to train pets. Whatever your expertise is, that is your niche.
You can type your niche with "+affiliate" after it and see what types of affiliate products are available i.e. "dog training + affiliate".
This will let you know if there are products for you to promote, outside of Amazon.
Some niches have tons of affiliate product items.
In the example of the recipe site, that could be ingredients, cookware, or recipe books etc.
Other niches may require you to search out products to promote using affiliate programs like ShareASale or Clickbank (digital products).
Related Post: Make Money With Clickbank Affiliate Marketing
Over time, you will likely drill down into your niche to make it more specific
For now, just choose whatever you are comfortable writing or creating about.
Related Post: Find Your Niche in 15 Minutes
As you start creating content for your site, you will figure out what you like to talk about. And you will also discover what you want to teach others about your niche.
This is called "niching down".
As you pare away what you do not want to talk about, you will find an audience that wants your perspective on one topic.
You can have multiple topics on your website, but your audience will be coming to read about only a few topics in that niche. You can have different audiences coming to your website.
FYI: You use a helper app called Google Analytics to discover who your audience is and what they are most interested in, so that you can create more of that.
Make a List and Check it twice
Make a list and take a good look at your passions, desires, hobbies, and interests.
Do any of these look appealing to you?
Ask your family members, friends, and co-workers if this is a subject that is appealing to them as well. Dig a little deeper. Are you interested in gardening, for example?
There are hundreds if not thousands of sites on that subject, but not every website talks about every gardening topic.
As well, some people need to read multiple blog posts to understand a topic. You can be one of those.
Why not dig a little deeper and create a sub-topic on eco-friendly gardening or roof top gardening or gardening for baby boomers?
By creating a sub-topic you can hone in on your target audience.
One of the most basic tools necessary in marketing is to know your target audience.
In order to effectively market your website, there has to be a need and desire for it from potential viewers.
If your website teaches something or offers help in some area, then there is a better chance to market and monetize your site in the first place.
Creating Site Content
You can create blog posts (written) or videos or both. As you become more comfortable with creating content, your content will become better quality.
The better the quality and the more value you give to your readers, the more likely they are to buy from you.
So it is a good idea to create a lot of free content for your readers. If you give to them, they will trust you enough to purchase something.
In marketing no one likes to be sold anything, but people do love to buy.
If you are not passionate about what you are creating, it will show.
When it comes time to associate yourself with similar goods or services to sell through affiliate marketing, you want to have a successful money making website from the onset.
Please note: it does not take years to create "enough" content. Some bloggers who really want to talk and share can start making a good income in the first year.
There is no "get rich quick" if you want to create the kind of business that pays you while you sleep. It takes content so that you can find your audience.
Create An Online Business To Market From
Even if you are just starting out online and plan to monetize your website in various ways, it is imperative that you treat your business like an actual business.
As well, even if you choose to do video for most of your content, it is good to have a website to send people to where you promote products specifically for them.
It is important to have an end game in mind and know what steps that you need to take that will get you where you want to go.
Online Business Models
There are many business models for online blogs or websites. What it comes down to is:
Do you just want to write blog posts and do affiliate marketing?
Would you like to get your people into a membership site so that you can teach them in a more intimate setting?
Can you create products to sell and make money with?
Is your niche better suited to private coaching?
All of these methods work, but you may not be comfortable with one or most of them. If you are not comfortable doing live video, you may want to stick to a membership site and/or creating products.
At least until you feel confident about being on camera.
Check out the Competition
Once you have honed in on your target audience and chosen your subject for your website, take some time to check out the competition. In this way, you can see what works for that competitor, what doesn't work, and what you can do to make your site more unique and engaging.
A great way to do this is using Pinterest.
You can type any niche or hobby into the search bar and hit enter.
Then when the search results come up, look to the right of the search bar for the down arrow and in this sub-menu choose "people".
The results will be people associated with this niche and they will be your competition.
Go to their websites, see what they are doing.
Are they promoting products in their blog posts and what kind?
Do they have ads on their site?
What subjects do they talk about?
How is their site set up?
Is it easy to navigate?
If you already have a website established, there are a few things you want to make certain of before you look into affiliate marketing:
• Are you highly interested in this topic? Are you being authentic in your enthusiasm for the subject matter?
• Is it a site that has a lot of value and interest for others?
• Do you have the opportunity to write quite often on the subject?
You can also check out Google Trends and see if there is still interest in your topic. It could be on the rise, which can help you get seen faster.
• You will want to know if there a continuing need for information on this subject
• If interest is growing, can you write a post/make a video and promote an affiliate product right away?
• Is the target market the same as who you are currently marketing to?
• Will you have the possibility of developing many fans?
Once you have an established website with a fan base, you will have an easier time marketing to them.
Monetizing Your Website with Affiliate Marketing
Now that you have some basic information and have a valuable website, it's now time to get some information about how to earn money with affiliate marketing.
You can totally put affiliate links on your website from day one. However, if you have no audience you will get no commissions. Sad but true.
If you want to start getting traffic quicker, then you will need to pay for ads. You can use paid ads on Facebook and Pinterest to generate visitors.
I suggest looking at some education into how to use these platforms, so that you do not waste your money while you are learning.
Is Affiliate Marketing Easy to Learn?
Affiliate marketing is fairly straightforward.
You join an affiliate program and pick your products of choice.
The merchant will provide the necessary code for your website.
This will direct the potential buyer to the merchant's web site.
The affiliate program will provide the links, banners, or ads, and once you copy and paste the code on your website you can begin the referral process.
Once that potential buyer converts into a consumer by making a purchase, you earn your commission.
Different Forms of Affiliate Marketing
This is simply a brief overview of some of the different forms of affiliate marketing:
Pay per Purchase
You get a commission in the form of a percentage of the sale upon completed purchase. This is the favored way to earn from affiliate sales.
Pay per Click
Means that you get paid for referral traffic when a user clicks on an advertisement.
This is how Google AdSense and Media.net work. You put their ads on your website and they pay you after an earning threshold has been met.
You have probably seen these ads on websites that you visit and too many of them make pages load very slowly.
Pay per Lead
Receive pay once contact information is provided by a potential customer through a contact form.
If a potential consumer follows an affiliate link to a merchant's web site and completes an action, such as signing up for a monthly newsletter or giving contact information, you'll receive a commission.
The Benefits of Affiliate Marketing
There are numerous benefits to affiliate marketing.
While it may sound like a quick and easy way to make money, you do have to put in some time and effort and learn about affiliate marketing and how it can benefit your online business.
Affiliate marketing pairs well with other business models, like creating products of your own that contain affiliate links. These are usually somewhere in the "resources" section.
There are No Out-of-Pocket Expenses
One of the great benefits of affiliate marketing is there is no startup fee necessary.
Moreover, you do not have to pay a marketer to market your goods and services, nor do you have to pay to create, store, advertise or sell your own goods and services.
Unlike many other ways to earn money from home, you do not need to expend any money at the outset, outside of purchasing website hosting and a domain name for your website.
Work from Home
Today with remote and telecommuting positions all over the world, working from home has not only become legitimate, but lucrative as well.
Many companies are looking for people to promote their products for them and the cost of the commissions is easier than hiring advertising companies.
Since it is in your best interests to promote the products to get a commission, your blog posts are sure to be exactly what shoppers need to read to encourage the sale.
You can start your affiliate marketing endeavors during the nights or on weekends.
Money saving benefits:
• Save money on clothing (work in your pajamas!)
• Not spending money on fuel and traveling back and forth to work
• Also no wear and tear on your vehicle
• Less money spent on lunch, coffee runs in the morning and mid-day and even dry cleaning
That is the best part of passive income…you decide how much time and work to put into it.
Make Your Own Hours
Of course you would start out learning the basics and see if this is right for you. You, and only you, can make that decision. If you do choose to dive in further, you will be able to set your own hours as an affiliate marketer.
Flexibility – No need to constantly babysit your marketing efforts with affiliate marketing. You can earn passive income while you are at work, asleep, or on vacation.
There is also no need to worry about answering any customer questions or issues. All you are doing is referring business.
Affiliate marketing really is a win-win way to earn money.
Conclusion
I hope you have enjoyed this introduction to affiliate marketing. Please share this post with anyone that you think can benefit from it.
Be sure to opt-in to my weekly newsletter to get your copy of The 5-Minute Guide to Affiliate Marketing. You will get it free when you sign up.
Until next week, happy blogging and follow me on Pinterest!
-Irma 🙂