What to look for before you spend your money
If you are looking for a way to earn extra income online, there are many options available, and they all have one thing in common…hard work and dedication. It takes time to develop trust online in the case of affiliate marketing, and this is where your hard work comes in, in the form of quality content that engages readers. Or you must spend some time online researching legitimate Pay-Per-Click programs, paid search or survey sites if you want to get paid for doing that work.
There are also many programs that offer legitimate education, but in not such legitimate ways. There are also expensive upsells, pay-to-join programs, and domain name scams.
When it comes to buying online, it is always important for the buyer to beware! Research is your friend!
Fake affiliate marketing training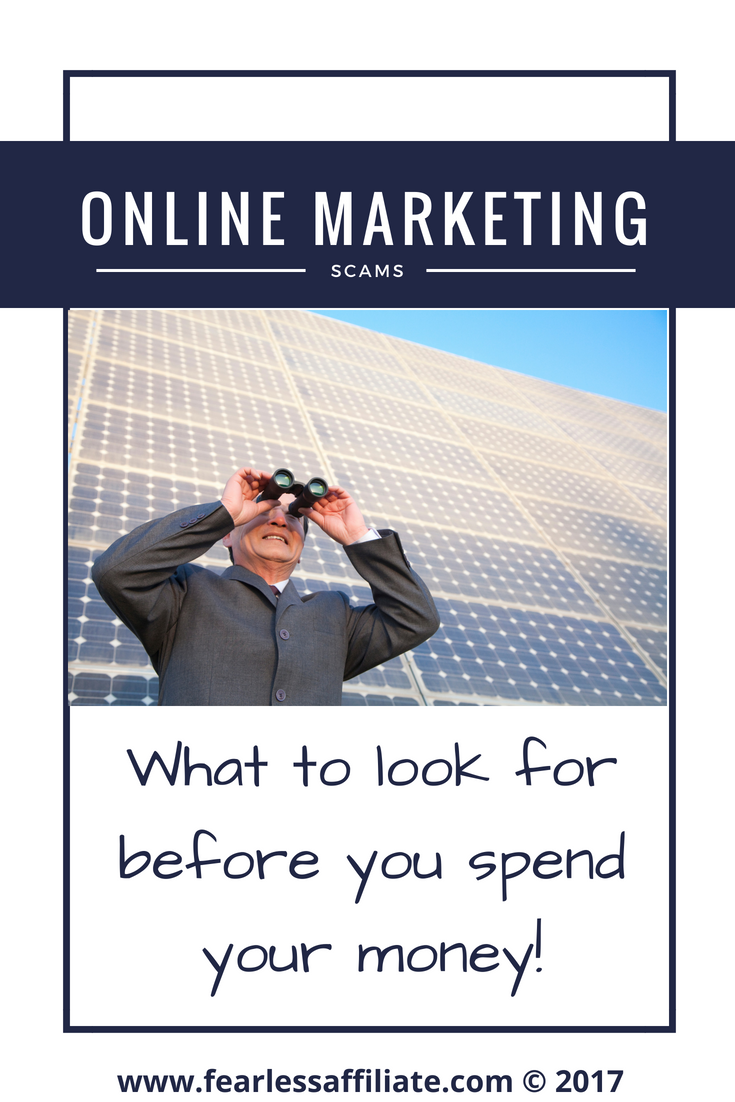 There are plenty of legitimate programs to teach you how to be an affiliate marketer. It is in your best interests to do as much research as possible before you pay out of pocket for expensive programs that require more and more up-sells so that you can get online and make some money. One that I have already reviewed is AWOL Academy. While AWOL may or may not be a scam per se, you must pay $99 dollars to join, with no real information on what you are getting. The up-sells for this company come out to over $15,000.00!
On the other hand, you have programs like Wealthy Affiliate and Affilorama, who are offering education on a pay by the month basis, with lots of free try-before-you-buy education. You can learn how to get a website up and running and how to place affiliate ads, without spending a fortune. Check out as many free programs as you can until you find the kind of education that resonates with you and your goals.
Domain Name Scams
It is quite expensive, because either the domains that they want to sell you are higher in price than what you can get locally, or they want you to buy the domain for 5 to 10 years. They prey upon your fear of losing your domain name. If you have registered your domain through a legitimate company, you should not fall for this. If you ever have concerns, contact the company where you purchased your domain FIRST. Do not give anyone money until you know what you are up against!
Get Rich Quick Offers/Pay to Join
There are many, many companies online these days that want to convince you that you can get rich overnight. There are Binary Options Trading, pyramid or Multi Level Marketing (MLM), pay-per-click (there are legit PPC's), and basically anything that will not give you all the information that you need to make an informed decision UP FRONT and for FREE.
Binary Options trading schemes are sketchy at best, requiring you to spend a lot of time online waiting for your chance to buy and sell. These are also called All-or-Nothing Options, Digital Options or Fixed Return Options.
MLM's usually require you to buy a kit or program (remember Amway?), and then you have to sell to others, and then bring them into the fold so that they can bring in more people. Usually, it is only the top tier of people who are making money.
Fake pay-per-click schemes are the ones that offer to pay you much more money than any other PPC; for example a legit company will give you 5 cents a click, whereas the fake ones offer 1 dollar. They usually just want your email address so they can sell it, after you have worked for free for them for a few months. It does take time to earn enough for a payout even with legitimate companies, but the fakes never pay.
And the granddaddy of the pay to join sites, the turnkey website, where you pay to purchase a pre-made website, packaged with products. These can start as a basic package, which then has numerous up-sells for email and various other "educational" components that you can learn for free or cheap online. Since most of the time you cannot make money without the other components, you are then on the hook to keep purchasing the up-sells.
Related Post: Internet Dating Scams
Related Post: Real Estate Scams
Related Post: Get Rich Quick Scams
Affiliate Marketing is a great way to create extra income,
and give you freedom that your current income does not provide. Any legitimate company does not mind telling you what you are getting for your money, nor do they mind if you "come in and look around". Many offer try-before-you-buy education because they have nothing to hide and they want you join and be happy there.
Google "Affiliate Marketing Programs". See who is out there. Go to the website and look around. If you get a flashy sales pitch with no real information, move on. Go to your favorite bloggers and ask them how they got involved with affiliates- many will be happy to tell you if that information is not already on their website.
Happy blogging and follow me on Pinterest!
-Irma 🙂