The best side hustles for quick success are the ones that use skills that you already possess. In my previous post, Passive Income Strategies, I gave you ideas for some great set-it-and-forget-it income streams that you can start today. However, if you want really great side hustles, then you need to use what you already know.
Use the passive income from your side hustle any way that you want – a nest egg for bad financial times, money for retirement, or to finally take that exotic holiday that you have been dreaming about. Can you imagine sitting on a tropical beach somewhere while money is flowing into your bank account? This is reality for more and more people every day and you can be one of them.
But first, please sign up for my weekly newsletter. You will get FREE access to my resource library of PDF printables for bloggers including my Google Analytics Cheatsheet or my SEO Checklist and more.
What is a side hustle?
A side hustle is a way to earn money that is outside of your regular job. The Avon lady? Yup, that is a side job. So is renting out a spare room in your home. There are easy side hustles, online side hustles, and side hustles from home. The best side hustles are the ones that naturally fit into your life in some way. And, like those kids who sell lemonade on the side of the road, the best hustles make money if you do it right.
The best strategy is to set up one side hustle, then another one, and another one. Some of these will not make much money, and others will be quite lucrative. The idea is to keep coming up with lucrative side hustle ideas to create a steady stream of income. Then discard the less successful ideas. If any of your side hustles generate income, consider keeping them even if the income is small. Anything that creates income is a good thing and you might be able to tweak it for more success.
The beauty of this is that once you successfully create passive income, you will be able to come up with more ideas naturally as you do your research. You will see other peoples side hustles as you research your own, and you can use these ideas. The idea of passive income that once you set things up, you can leave it alone and it will collect money for you while you do other things, so of course you will want to replicate this concept.
What are some easy side hustles?
The easiest way to discover the best lucrative side hustles for your is to do a browser search. Try typing in "easy lucrative side hustles"; the results will show you page after page of list posts full of ideas. But how does that relate to you? How do you know which side hustle is going to be good for you?
The first thing you need to do is to make a list of things you're passionate about. This includes your hobbies, skills and your interests. You may wonder why you should start with hobbies. The reason is that if you are already good at something, or really enjoy it, you can teach others. You only need to be a step or two ahead of anyone that you teach, and they are looking for that next step, so you can help.
Some side hustle ideas are:
Uber driver
Delivery driver (and you could eventually have your own business because of the demand)

Affiliate marketing

(earning a commission from the sale of products that you write blog posts about)
Virtual assistant (you remotely link to another persons computer and do work for their blog or website, like Pinterest scheduling or office work)
Buying and selling on eBay (I have friends that have been doing this since before "side hustle" was a thing)
Selling merchandise ("merch") on Amazon. This includes T-shirts, blank journals, lined note paper.
Custom cake and cupcake decorating – for weddings, bridal showers, children's party's, or any event that needs a unique dessert.
Tutoring school subjects or helping teach English to immigrants.
Selling your crafts on Etsy or drop-shipping with Shopify –

Etsy

is a website for crafters to sell their items, like wood carvings, homemade candles, embroidery, printables, website themes, etc.

Dropshipping

is having an online store with no merchandise. You have wholesalers that you buy from and they ship to the customer.
Small engine repair, knife sharpening, or shoe repair – You see less and less of these in brick and mortar buildings but you can place local ads or have a Facebook page.
Flipping – houses, websites, cars. You buy low and sell high for profit. Probably the original side hustle.
Starting with hobbies is always a good idea because it means you can do these tasks without getting bored. Skills are also a good thing to include on the list because it's something you know you can do easily. If you are a good cook, you can teach others. Lastly, listing your interests will help you further narrow down the things you want to do.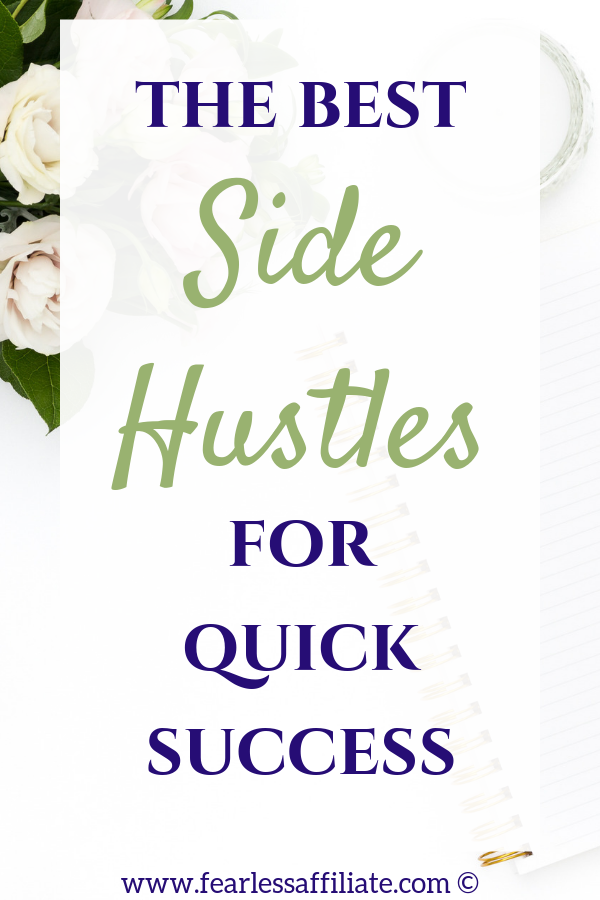 choose a side hustle that you're passionate about
Do people ever tell you that you are great at something? Maybe you explain things well, or you are naturally skilled at watercolor painting. You may even think "why would anyone pay me for that!?! But the truth is people will pay you. Many people will if it is the right side hustle for you.
Try to find lots of good ideas related to your hobby/passion, so that you target a broad audience of potential customers. This is easier when you already know a lot about your topic and its sub-topics also known as niches (pronounced neesh).
Write a list of all the things that interest you in more than a passing way. Do you like video games? Write it down. Like making homemade beauty products? Add that to your list. The longer your list is, the more side hustles you can potentially create.
Next, you will want to list all the things that you are good at. Maybe you have writing skills that you could sell on Fiverr (a freelance services website – you can buy or sell). Or you are good at softball, so you can coach. Are you good at making wooden toys for children? You can sell these around the winter holidays.
You may be a very empathetic person and could do counselling. If you are good at organizing you can sell your services locally and online. There are lots of opening for tutors of all kinds, like English as a second language, Math, Sciences, or university prep.
How do I earn money from my side hustles?
It helps if you enjoy the side hustle that you have created, because that will help to motivate you. You only have you to take care of your side job, so if you succeed or fail it will be all on you. Choose something that will motivate you to take extra steps to ensure its success. Here are some places that you can promote your side hustle:
blog – start a blog website to talk about your chosen topic. Do affiliate marketing or sell your own products, either digital or physical.
podcast – discuss your topic and bring in guests to discuss related topics
YouTube channel – YouTube is great if you want to show how to do things like fix a headlight on your car or how to preserve excess food.
ebook – This does not have to be thousands of pages. You can sell books from your website or on Amazon.
ecourse- You can promote your course on your website and sell it using SendOwl or you can put it on another website like Teachable or Thinkific.
Some side hustles, like writing an ebook or creating a course, can bring income for many years. It will not necessarily be a fortune, which is why it is a good idea to have several side hustles. Five different side hustles that each earn $200 a month is a cool grand of extra monthly cash. Read the following post for more ideas:
Related Post: Make $500 A Week!
Earning money from renting a room in your house may be cyclical. If you live near a college or university, you can easily rent a room during the school year. Same goes for event parking if you have a large yard and don't mind strangers coming and going all day.
Many people have turned their side hustles into full-time careers and businesses. It can take a couple of years to work up to this level, depending on the success of your first tries. Learn from your mistakes and tweak your side hustles as necessary.
Conclusion
Succeeding at your side hustle will mean developing an entrepreneur mindset. This means not being easily discouraged, and the ability to think outside the box. Entrepreneurs think big and they focus on their long-term vision. They don't sweat the small stuff. They take negative feedback and turn that into a better system/product/service.
Related Post: 5 Easy Ways To Eliminate Fear of Success
If you want to turn your side hustle into a successful business venture someday, then focus on that goal. Do everything within your power to ensure your dreams come to fruition. There's no better validation that you chose the right side hustle than by actually succeeding at it!
Please take a moment to sign up for my weekly newsletter of tips and free stuff for bloggers. You will get the password for my resource library of FREE PDF printables for bloggers.
Until next time, happy blogging! And follow me on Pinterest.
-Irma 🙂