Business goal setting is crucial to blogging success so creating big, achievable goals is important to online entrepreneurs. When you set the right goals for your business, it can really boost your success. However, if you are newer to setting goals you may not even realize that you are making mistakes that can halt your progress.
A simple way to set goals is using the SMART acronym, which stands for Specific, Measurable, Achievable, Relevant, and Time Bound. Even using the SMART system, you may still make these rookie goal-setting mistakes. So, if you want to ensure your business goals are a success, below you'll discover 5 mistakes to avoid when setting them. This post is targeted to bloggers, but anyone can use these tips.
Related Post: How To Set Goals In 5 Easy Steps
Hello and welcome! My name is Irma and I help new bloggers to learn the ropes. There is a lot to take in that first year of blogging, from choosing a niche to changing your mindset to that of a successful entrepreneur. I like to focus on practical information and positive thinking, so if that sounds good to you please sign up for my weekly newsletter of tips and free stuff for bloggers. In return I will give you the password to my resource library of PDF printables for bloggers. Win-win!
1. Not making them specific
One of the biggest mistakes with business goal setting is making them too vague. It's crucial you make the goals as specific as possible if you want to make sure they are achievable.
A good example of a vague business goal is where you state you want to "increase your blog's income". While it is great to want to increase your income, this goal doesn't give us the specific ways that the goal can be accomplished. For example:
How are you going to increase your income?
What steps can you take to increase your blog income?
Which options do you have to work with?
Where is your blog at financially and how much do you want to increase your income by?
These are just some of the things you need to consider to break your goals down. The more specific your goals are, the more likely you'll be to achieve them.
A better goal might be to start researching where you can get traffic, both free and paid. Compare which ways are a good fit for you and your business. Choose one or two and apply them to your website and check your analytics for a month or two. See if you are getting improvement and tweak or replace systems that either work or do not work. Once you find systems that work for your blog, you can move on to your next goal or project.
2. Setting unrealistic business goals
It is usually those who are new to goal setting that make this mistake. The pro goal setters tell you to set big, scary goals. Goals that frighten you and make you excited at the same time. However, if you are new to goal setting you may shoot past realistic goals and into the stratosphere. An example of this is setting a first year blogging goal to make your first million dollars. This is a huge challenge if you have no name in the business and are still learning how to write great posts.
It is excellent to have a grand vision of where you want your business to go, but it needs to be realistic and achievable. If you are new to setting goals, you may find it easier to start off with smaller goals until you know the direction that your blog or website is going. You do not want to set goals for things that you may not care about in six months. An example of this is setting goals for AdSense income and then deciding that you hate having ads on your website.
Instead, start off with setting two or three main goals. Great first year blog goals might be:
You are writing and publishing consistently
Making sure all posts have proper SEO
Organizing the structure of your website to be user friendly as you develop more content
Finding good free or inexpensive traffic
Update your theme to a Pro version
Testing different ways to monetize
Then add in some secondary goals, like researching products that you can create further down the road. Make your goals challenging enough to get you outside of your comfort zone, but realistic enough to be achievable. Second year goals build on what you have established in the first year, plus any expansion that you have planned.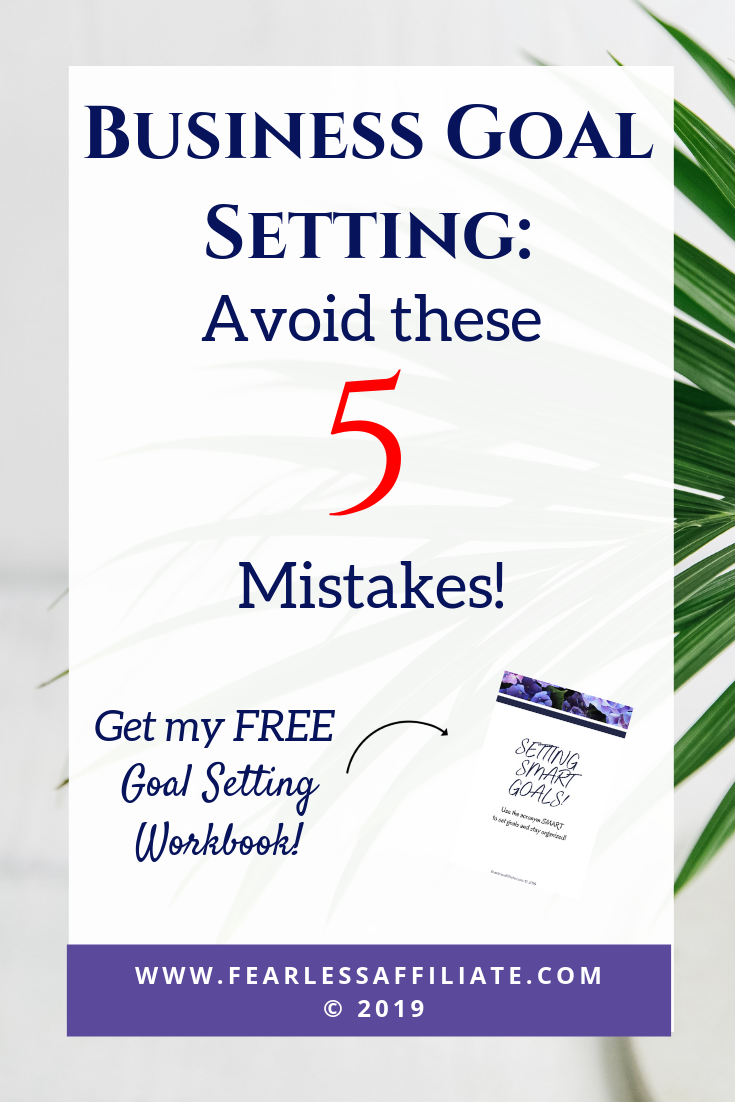 3. Prioritizing the wrong things
Business goal setting is much easier if you have some kind of roadmap to follow. Knowing that you have to prioritize building a foundation before you build any higher allows you achieve success realistically. There is no point in putting paid ads on a website with no content. There is no reason to put affiliate links into a post that is difficult to read or has no clear call to action.
However once you have been blogging for a while, it might be a challenge to prioritize with so many options to choose from. After you create your foundation, the next step is to grow your reach. This can involve paying for ads, but for what end goal? Once people come to your website, what do you want them to do?
Related Post: The Importance Of Setting Goals
You should give your audience two choices on your website
Either click your links or sign up for your newsletter; all of your posts should have a call to action. Clicking links might be: asking your audience to click links to social media (collect more followers). It could be affiliate products links that you want them to click (earn commissions). It could be clicking a link to another one of your blog posts (to keep people on site longer).
Signing up new subscribers to your newsletter has several benefits. You can give your email list exclusive content and great deals which you use to encourage your readers to share your blog with others (increasing your traffic). And you can test out new affiliate links, because your loyal fans are more likely to click and it is easy to see this in your analytics (commissions).
Now is the time to decide what is most important to you and your business because monetizing is easier if you have a steady supply of traffic. So look at the options that are available and choose the ones that align with who you are and what you know about your audience.
4. Failing to review them
Remember kids – analytics are your friends! This is where you want to make sure that you have Google Analytics linked to your blog. And if you are doing email marketing, and you should be, you should have analytics with your email service provider (ESP) as well. Double data!
Related Post: Google Analytics Tutorial
This can help you have a well rounded idea of what is going on with your audience. If you can, avoid checking your analytics daily or even weekly. It can be tempting to start changing things when you see stats going up or down, but try to resist. It can take a good 4 weeks to see whether something you are doing is having the right effect.
Check your analytics to see which posts are popular so you can replicate them. Look at your audience numbers to see if that is increasing; if it is, keep doing what you are doing. If not, tweak one thing and assess again in four weeks.
Related Post: How To Use MailerLite
5. Not being prepared for failure to learn from mistakes
I know that it might be a bit depressing to think that some of your business goal setting might not bring you success, but that is the reality. During the early stages of your blog, the whole "throwing pasta at the wall to see what sticks" mentality is all you have. Inevitably, you will have failures as you figure out who your audience is and what you want to offer them.
Please, do not be alarmed by this and just consider that course corrections are all part of building a business. In this regard, setting goals and not achieving them is part of the learning process as you shoot at a target.
It's through your failures that you learn how to succeed. So, set your goals and be as realistic and specific as you can, but don't assume everything will run like clockwork. Be prepared with a "plan B" and keep moving forward.
Conclusion
Business goal setting is a work in progress, but know that the more you flex your goal setting muscle, the stronger it becomes. And the process becomes easier. I recommend getting a journal or planner that allows you to write in your monthly, weekly, and daily goals so you have a visual reminder of what to do next.
In my next post in this series I will give you 5 types of goals that you can set for your online business. Watch for that next Tuesday.
Please sign up for my weekly newsletter of tips and freebies for bloggers. Immediately after sign up you will get the password for my resource library of printables for bloggers, like my SEO checklist! And share this post with anyone that you think can benefit from it.
Until next time, happy blogging and follow me on Pinterest!
-Irma 🙂