Today I have 5 business goals examples that are aimed at bloggers. I am sure that these examples of small business goals will help you find direction if you are struggling to set worthy goals.
When you are new to setting small business goals, you may wonder where to start. I remember setting some seriously huge goals when I first started, but I quickly realized that I was out of my depth trying to achieve them. Sigh.
Welcome to Fearless Affiliate. My name is Irma and I help new bloggers to learn the ropes. There is a lot to take in that first year of blogging, from choosing a niche to changing your mindset from worker bee mentality to that of successful entrepreneur.
I like to focus on practical information and positive thinking, so if that sounds good to you please sign up for my weekly newsletter of tips and free stuff for bloggers. In return you will get the password to my resource library of PDF printables for bloggers like my Google Analytics cheatsheet or SEO Checklist. #win
Related Post: The Importance of Setting Goals
So, what different types of goals can you set in business? Below, we'll look at 5 business goals examples for bloggers. Set realistic goals based on how old your blog is, how your blog is doing financially, and where you think you should/could be by the end of the year.
1. Income goals
Let's jump right in by discussing everyone's favorite goal: making money. So many bloggers quit because they do not make the riches that they thought they would in the first six months. Sometimes this happens because the goals are too big. Sometimes it happens because there are no goals in place.
Blogging is a long game, and you should be encouraged by all the 6 and 7-figure bloggers who have come before us and paved the road. Knowing that random people are now making 6 figures because they stuck with it should help. Consider looking for big players in your niche and following them. Read their income reports to see what they promote. Most of them will have a mix of the following 4 ways to earn with your website.
4 ways to earn consistent money with a blog are:
Creating your own products or services to sell online (ebooks, courses, coaching, 1-on-1 calls etc).
Affiliate Marketing (putting links for affiliate products within your blog posts to earn commissions)
Ad companies (CPC or CPM) with companies like AdSense or Media.net (they pay you to put ads on your website)
Email Marketing (promoting products, either affiliate or your own, to your subscribers)
Income goals are not just about what you earn, but also what you spend. Look at goal setting to cut costs or to just not spend as much on your blog until your income from it is more stable.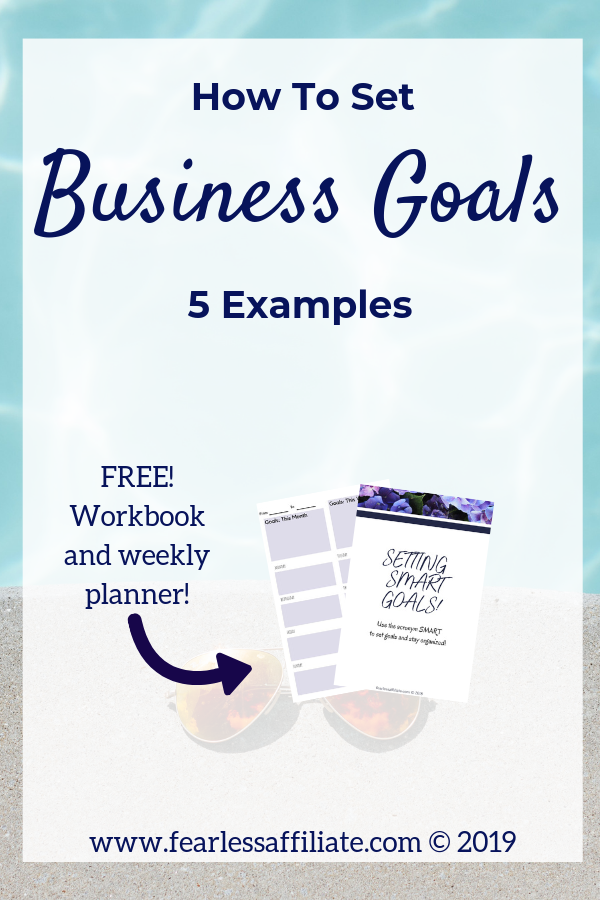 2.Customer service goals
Customer service is so important to bloggers! If you play your cards right, you will get a lot of referrals from happy customers and your loyal blog followers. Treating anyone who contacts you about your blog or website is an important consideration.
A great goal to set along the customer service line is to ask readers to share your content with others. People like to be helpful and this encourages participation from your readers. If they are just meeting you and they like what they read, they will be happy to share. You can also encourage people to sign up for your newsletter as well, which can help your income goals as well.
Here are some tips for customer service goals:
Always respond to emails from customers or subscribers as soon as possible
Avoid using jargon. Your customer may not understand it, especially if they have English as a second language
Eliminate commonly asked questions by providing the information on the sales page/blog post/newsletter
Take your customers privacy seriously
Be kind and considerate of those who might not understand everything immediately
Feel free to use a chat bot on your website so that people can contact you right away about problems
Related Post: How To Set Goals In 5 Easy Steps
3.Product or Service goals
Creating your own products to sell on your website is the number one way to create a steady income from your blog because you are in control 100%. Companies change all the time and so will the affiliate links, but your own products are…your own.
Products or services that you can sell on your website are:
eBooks (compile blog posts into a helpful book for people new to your niche)
eCourses (more detailed information that helps people solve a larger problem than the ebook)
Create a monthly membership site
Coaching services
Shopify (for physical products)
Consider creating a product of your own and launching it this year. It could be a small course where you teach what you know, or an ebook. Start small with a smaller price point to encourage new visitors to try out your stuff. Pay attention to feedback or problems and tweak your product as necessary, considering a price increase if you add a lot more information.
A key component in this area is to have an email service provider set up and be familiar with the various options that you can use, like custom landing pages or opt-in boxes. I suggest MailerLite as a great free option. It comes with everything that you need for your welcome sequence, opt-in boxes, pop-ups, and add-ons for newsletters like timers and clickable buttons.
Related Post: How To Use MailerLite
you can offer coaching services to a group or individual.
As well, you make yourself available to all members on a daily or weekly basis for group coaching .
You do not need a membership site to do coaching and you can simply offer your services with a special email address just for coaching clients to sign up or a specific phone number. Membership sites give you monthly income based on the number of members and can be a great form of income.
4.Productivity and Motivation goals
Setting productivity goals can be as easy as using a planner to set daily goals or using software like Trello to stay organized. Decide when you think that you are most productive and schedule your main blog work for that time. Save checking email or social media for when you need a break or at the end of your day.
You can also use a Google extension for Chrome called "News Feed Eradicator" that will sub in helpful positive thinking quotes for your Facebook feed.
Create productivity goals, such as writing 500 words a day for 30 days. Then every day you know that you have that one task and it will help you build your content out and improve your website authority. You can also work on traffic, post more to social media, or any other task that helps your blog return on investment (ROI).
Just try to use your most productive time of day to work on tasks that bring you closer to your goals.
Writing 500 words every day for a month is 15,000 words! That could be 15 blog posts for your content calendar and a nice buffer for when life gets busy. Breaking large tasks into smaller "bite-sized" tasks keeps us from getting overwhelmed. And small steps keep us moving forward.
Keep track of your blog posts, keywords, and other blogging chores in Google Sheets (part of Google Drive). You can access this tool from a Google browser page. Look in the top right corner for 9 squares in a 3 by 3 pattern and find Google Drive. Click it. When it opens, there is a "+ New" button at the top left. Click it to be given the choice of apps to work with. Google Sheets is the spreadsheet option.
5.Expansion goals
Also known as traffic. You will not meet your income goals unless you have traffic bringing buyers to your products or services.
In the early days of your blog, you will have little to no traffic if you are relying on SEO alone. SEO takes time to build, so many bloggers look to places like Pinterest to drive free, targeted traffic.
Related Post: Pinterest Strategies (how to use Pinterest for free blog traffic)
The early days are the time to "build" the foundation of your website and blog, and prepare it for future expansion. You choose a niche and decide how you want to serve your audience. You also create an avatar to write to and you start tracking your data using analytic tools. Your writing evolves and so do the subjects that you write about.
Next, you start seeking out a steady audience, or your "true fans".
These are the people who respond to your emails or who regularly leave comments on your blog posts. You will find your fans when you branch out into guest posting, which broadens your audience reach. A great post on getting started with guest posting can be found at Quicksprout.
Start working on your "traffic" posts.
If you have a good amount of blog posts on your website (at least 25 to 50), you can back off of regular content creation. These are posts that you write to get backlinks or to start connecting with the influencers in your niche. An example of this type of post is the "roundup".
Actively approach other bloggers for their opinion on a topic and compile the answers into a blog post that links to each influencer. You let the influencer's know that the post is published and they can comment on it and share it.
Start today by creating a spreadsheet in Google Drive
Label it "influencers" and start looking for the people that you want to talk to. As soon as you have 20 people that fit the criteria, create your question(s) and start emailing them. You can also do case studies on specific influencers and how they have impacted your life as a blogger of …(insert niche).
You may also want to consider using paid ads on Facebook or Pinterest
Consider what goal you are trying to reach (more newsletter subscribers or more people clicking affiliate links) so that you can monitor the results.
It is a good idea to have one or two social media accounts that you actively work on. During expansion you may want to up your game and really learn everything that you can about one social media platform. Or you may want to add in a new platform.
Once your business is doing well you can start to focus on expanding outward into the next phase of your business. Create a content calendar to keep up with consistency of publishing. Consider creating digital products to sell and eventually have your own affiliates. Automate as much as possible (i.e using templates, hiring an assistant) and keep doing what works.
Conclusion
I hope that the wheels are turning for you! Today I have given you 5 different business goals examples to spark your interest. My last post was also on goal setting for businesses…check it out.
Related Post: Business Goal Setting; 5 Mistakes To Avoid
Next weeks post will be tips for effective goal setting for online businesses, so I hope you come back and read it for more goal setting pointers for new bloggers. And please sign up for my weekly newsletter of tips and free stuff for bloggers. In return, you will get the password for my resource library of free PDF guides.
Until next time, happy blogging and follow me on Pinterest!
-Irma 🙂