Internet marketing goals are slightly different from regular business goals. Large organizations have departments to monitor goals for them. Since most internet marketing websites are a one person operation, if you set the wrong goals, or out of order, it could be months before you realize that you went down the wrong road.
Welcome to Fearless Affiliate. My name is Irma and I help new bloggers to learn the ropes. There is a lot to take in that first year of blogging, from choosing a niche to changing your mindset from worker bee mentality to that of successful entrepreneur.
I like to focus on practical information and positive thinking, so if that sounds good to you please sign up for my weekly newsletter of tips and free stuff for bloggers. In return you will get the password to my resource library of PDF printables for bloggers like my Google Analytics cheatsheet or SEO Checklist. #win
What are internet marketing goals?
Internet marketers have specific goals that they want to reach to gain success with their website. These goals are based on traffic, influence, brand, SEO, and creating content. Other goals may be building an email subscriber list or expanding your social media reach. And still other goals may be to create products like ebooks or ecourses to sell in your sales funnels.
All bloggers have different goals for their internet marketing. Some bloggers do not want ads on site and so must look for other forms of traffic. Some bloggers are not interested in being an influencer and would prefer to only earn enough money to escape their 9-to-5 job.
Tips on Setting Goals
Follow the acronym SMART to create your goals: Specific, Measurable, Achievable, Realistic and Time-bound (or Timely). This ensures that you set goals that you can achieve and later build upon.
Specific: What do you want to accomplish? An example: Build an email list of subscribers
Measurable: How many subscribers do you want? Example: 100
Achievable: How will you achieve this goal? Example: I will create a freebie and offer it within several opt-in boxes on my website.
Realistic: Can I reasonably expect to achieve this goal? Yes, but how quickly or slowly depends on my commitment to it.
Time-bound: What is my deadline for this goal? Example: I will have 100 new subscribers in the next 90 days.
A great way to get better at setting goals is to set some smaller goals that are easier to achieve. The positive feelings from these small wins can help propel you forward to setting bigger and more challenging goals.
A smaller goal based on the examples above may be to sign up with an email service provider (ESP) and just familiarize yourself with it. Take some notes on which feature you want to learn about first and set that as another small goal.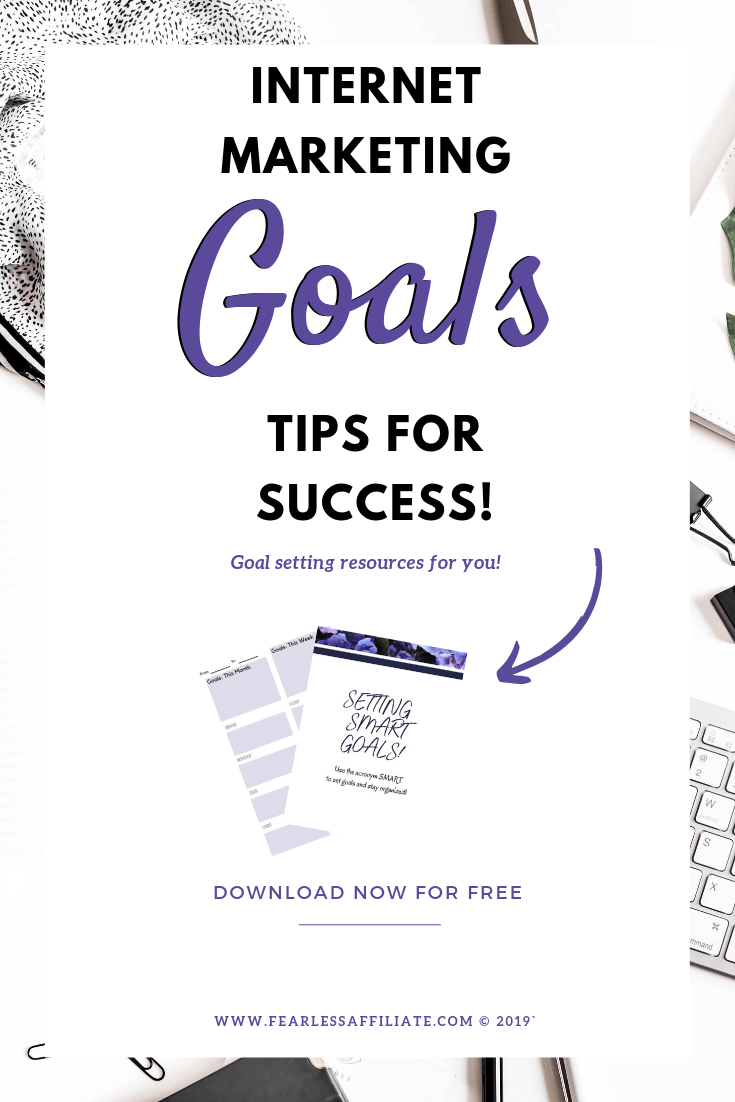 Tips for Effective Internet Marketing Goals
You'll need to make sure you are setting effective goals which are both easy to achieve and easy to review. To give you a little inspiration, here you'll discover some of the top tips for setting effective business goals you can follow.
Here are the five main goal-types that internet marketers use when setting business goals:
Grow Sales: use affiliate links or create your own digital products to sell on your website; use paid ads to bring traffic; use Pinterest for some free traffic
Grow Customer Service: encourage people to contact you; make it easy for people to contact you; set up chat bot to capture questions from readers; reply to all comments on blog posts
Grow Your Brand Awareness: Create exclusive (digital) products to sell on your website, and maybe create your own affiliates. Use guest posting to get your name out there; use the same branding across all platforms; consider using video on your website so that your audience knows who you are and that you are a real person; consider doing webinars to further your reach.
Create Loyal Customers: offer exclusive content for subscribers (i.e blog posts before they are published); offer your subscribers an opportunity to purchase your new digital products before they are available for sale on your website; consider creating a membership site; do surveys to find out what your subscribers want from you and then create it.
Create Systems to make blogging easier: Setting up sales funnels to automate income; setting productivity goals to increase content or create freebies; set up a spreadsheet or Google Drive sheet to track keywords, hex colors, affiliate links, income & expenses, etc.
Related Post: 5 Business Goals Examples For Bloggers
Review where your website is currently at
The purpose of business goals is to help improve the business. Establish what is really going on with your website by asking yourself some questions:
How many subscribers do you have?
Using Google Analytics, how much traffic do you have monthly?
Do you have a lot of content or are you just starting out?
Is your content many random posts or do they fit into a theme of posts?
Are your affiliate products aligned with your brand? And do people click the links?
The answers will tell you what you have been focusing on and where you might want to focus in the future.
Ask other bloggers for goal setting insights
If you're struggling to come up with ideas of how you can improve your business, you may find it useful to ask other bloggers. Join some Facebook groups for bloggers in your niche and start networking with them. This is a good practice in general and a great way to learn what is going on in the blog world.
Be aware that other bloggers may have different goals and you may end up down a rabbit hole that does not even apply to your business. This can happen if the other bloggers tell you to focus on an area that your website is not ready for, like paid ads. If your blog has little content or is not making any money, you may not want to pay for ads yet.
Be 100% clear about the goals you set
You already know that the business goals you set should be specific and measurable. However, it can't be stressed enough that the goal needs to be 100% clear. You must be sure that this goal is going to help your online business move forward.
A clear goal is: I will double my email subscribers in 3 months by increasing the number of free items I promote. I will actively promote blog posts with a clear call to action to encourage sign ups.
If a goal isn't clear, you're going to find it pretty tough to achieve it.
Make sure they are realistic
When my blog was fairly new, I tried to set goals for my business. I knew what I wanted to achieve, but I had no idea how to connect that with my fledgling website. The goals that I set were massive "pie in the sky" dreams more than goals. And I had no concept of how they could be achieved in the real world.
I am a firm believer in positive thinking and having a success mindset, but realistically there was no way I was going to make the vast sums that I hoped for.
No. Way.
If your blog is new(er), then set goals to make your blog "less new". Do this by creating content, keeping the navigation of your website clean and simple, and by networking with other bloggers. And a key part of this is to remove the "dummy" posts and other pages that came with your theme. It can be hard to convey authority if your website tag line is "just another wordpress blog".
Related Post: Business Goal Setting: 5 Mistakes To Avoid
Determine which goal you will work on first
Work on your goals in a logical manner. You want to have something for visitors to do when they get to your website, so work on content creation before you start working on bringing in tons of traffic.
New bloggers can work on tasks like these in the first year:
Content creation: write 500 words a day; set up your content calendar
Set up analytics for your website to capture data
Write a series of posts on one topic for your niche (show your authority for that subject); follow that up with a new series on a new topic
Learn good SEO practices; update old posts with new SEO concepts
Pick one social media platform to learn and use
Set up basic email marketing; create a freebie to give away to subscribers and start capturing subscribers
Second year bloggers can build on the previous foundation and improve it:
Increase blog traffic using Pinterest (free) or paid ad sources like Facebook or Pinterest promoted pins (ads)
Work on increasing subscribers by creating more freebies to see what "sticks"
Look into different ways to monetize your website or create passive income
Publish a few large and extensive posts of 3000+ words that really flesh out a topic
Add in another social media channel to attract traffic
Related Post: How To Use Pinterest For Business
Understand what resources you will need
If setting goals is not your jam, then you may need a helpful resource like Trello or Asana, which are online organizational apps. I have just started using Trello and I am testing out some Trello boards about goal setting that I have received from other bloggers. We will see if Trello trumps my planner (I am betting against, but that is me).
Personally, I use the living well planner (see it here). I was not willing to invest in a decent planner until I learned how to properly set goals. The idea of spending more than $5 bucks on a planner really bothered me. I thought it would end up buried under my desk, but 9 months later I am loving it! Clearly this planner works for my brain. Your brain may need a different resource.
I have a weekly planner page as well as a SMART goals worksheet so be sure to sign up and grab them from the resource library!
Conclusion
So, there you have it – some of the top tips to help you set more effective goals. By taking the time to plan ahead and ensure you have everything you need to achieve your business goals, it's going to significantly increase your chances of success.
Next weeks post will be on the subject of whether goal setting is crucial or not, so come back and read it!
If you are ready to get started with an online business, then I have what you need!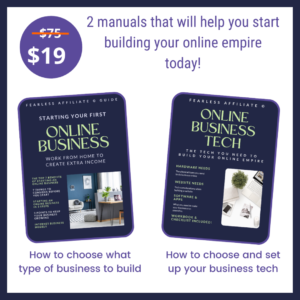 Your First Online Business gives you the information that you need to start your business:
7 things you should consider before starting an online business,
The different and most popular business models for online marketing,
How to start your business in 3 steps and
Ways that you can make money with your business model, plus a lot more
Also included is the Online Business Tech guide, which will teach you what kind of tech you need depending on which business model you chose. Learn about hardware, software and apps you may want to use in your business.
The Tech guide also comes with a 15 page workbook so you can take notes while researching your choices. And you get a checklist for the tools you choose to help you stay organized and for later reference.
This is an amazing deal for this much comprehensive help so if you have been thinking of starting an online business, please check out the Your First Online business bundle to see if it meets your needs.
Until next time, happy blogging!
-Irma 🙂