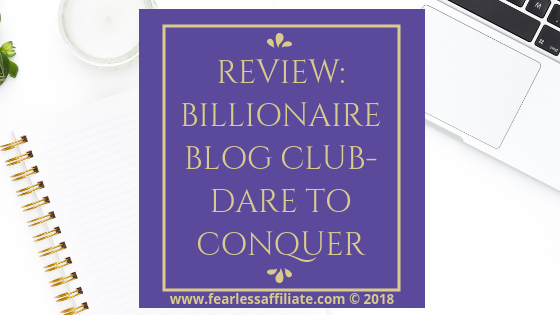 Show of hands. How many bloggers would like, or dare I say love, more time in a day to spend away from the computer? What is it worth to you to have the balance that you crave in your life? Is all the blog/life tightrope dance draining your life force away?
In a vast, seemingly endless sea of blogging courses, ebooks, and blogging "universities", there are few safe shores. One of those safe places is the all new Dare to Conquer (DTC), formerly known as Billionaire Blog Club (BBC).
I am a member, and this is my review of the program.
This post is long-ish, so bookmark it and pin it for later. And don't forget to share 🙂
**This post contains affiliate links. If you click a link and purchase, I may receive a commission at no extra cost to you. Thank you!! Full disclosure is below. Links open in a new tab.**
What's with the two names? Is it BBC or Dtc?
It has been Billionaire Blog Club for several years, however Paul Scrivens, a.k.a Scrivs, is updating every course and challenge and has changed the name to reflect the new changes and new vision that he has for the program.
The official new name is Dare to Conquer, which is a challenge to all members to be the successful bloggers that they want to be, "You create what you dare to conquer". And that includes conquering those time-wasting tasks that do not move your blog forward or increase your return on investment.
Where did it come from?
The owner of DTC is Paul Scrivens, 'Scrivs' for short. Or Paul; he answers to them all.
Scrivs has been blogging since 2003, and then started blogging fo real in 2014, when he quit working working (i.e a "real job") and started professionally blogging. You can read his whole bio here, and currently Scrivs runs 13 blogs in many niches, proving that you can make money in niches that are not about blogging. Here is an income report if you want to see the deets.
Who is it for?
Dare To Conquer is blogging education, there to help you learn how to blog professionally.
As BBC, the curriculum consists of three sections based on how advanced your blog is: Starting from scratch, Blog is launched but still early stages, and Getting decent traffic already and ready to grow.
So there is something for everyone regardless of what stage your blog is in.
Why would I want this product?
*Update: As of November 7th, BBC is officially closed and DTC is filling up with new content. New members still have access to BBC until the migration is finished, so sign up now!!
Scroll down for links to 4 FREE Bootcamps to warm you up for the awesomeness that is DTC!
If you are new to blogging, then you might as well get everything in one place!
You have access to all of the courses/challenges in BBC, so you can start in one section and work your way through. This is a huge time saver because you do not have to figure out what to do next.
Or, if you are seeing blog growth
…but it is slower than you would like, BBC also has challenges for anyone who just wants to jump right into an area, like creating your first product or getting 10K page views. The challenges are there to help you gain traffic.
More traffic into your funnel = more customers = more potential conversions = more of that sweet, sweet cash.
It is just math. You need to large numbers of people to trickle down and become paying customers.
The Pinterest course has been updated to reflect the loss of the Boardbooster tool (R.I.P), so now there is a course for Tailwind, as well as the current updates from Pinterest, of which there were many this year so far.
When is it available?
BBC DTC opens its doors randomly throughout the year, so it is not always open. I email my newsletter subscribers to let them know when it is open as well as the price or any updates/bonuses, so if you click through and the doors are closed, please join my list for updates, including all the freebies that I can round up each week.
How much is DTC?
The price is $447 $500
This is a one-time fee for access to everything, including insider secrets for rapid success, future updates, quick answers and extra content. Considering you are getting full courses on SEO and Pinterest, as well as email marketing, content creation, and creating products I would say this is a bargain price.
You also get a 30 day, no-questions-asked refund if you are not happy with the program.Win-win.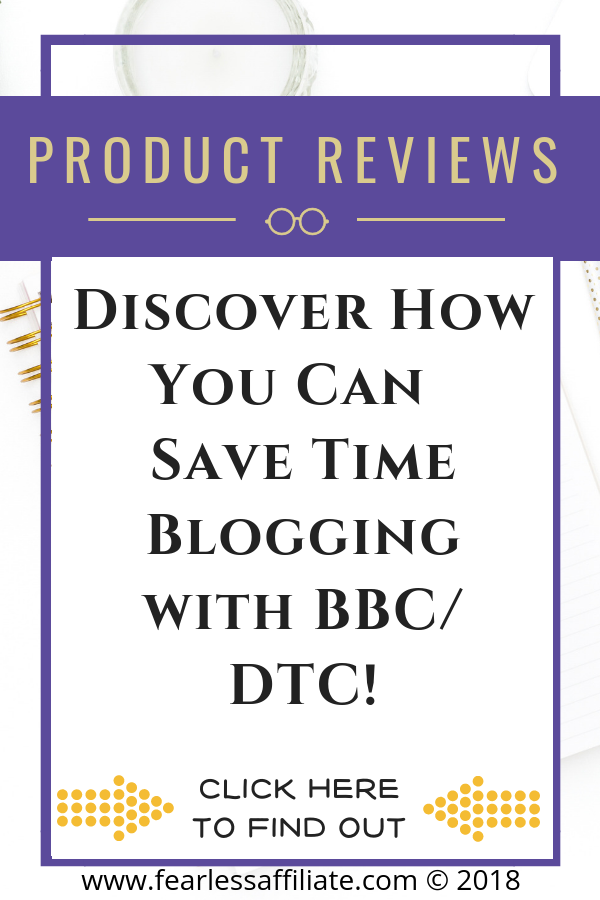 My experience with DTC/BBC
I went through the BBC 12 day Blog Bootcamp last year, and was offered the BBC program at the end. The price back then was $299. As a new blogger I found the price expensive, even though I really liked the 'no B.S' approach that Scrivs has and the bootcamp was super helpful to a new blogger like myself, showing me the steps to success.
Sigh. Live and learn. I did not buy. And I struggled to learn, doing my blogging piece-meal and not sure which things were actually helping and which were not. Sigh.
While I was taking a Pinterest course last winter, I ended up in a whole new world of Pinterest marketers, Facebook groups and blogging groups.
I discovered that paying $299 for blogging education was just the tip of the iceberg.
I have seen courses for email marketing that top out at $600 if you take the payment plan. And that is for one component of blogging (FYI it was email marketing).
As well, over and over again, I was finding that many of my fellow marketers were graduates of BBC! Even graduates of other programs take BBC to fill in the gaps of their education.
And yet, if you get value from the course and it helps you to achieve your blogging goals faster, it is totally worth it right?
Because that is what is important…the return on investment.
You have to weigh the cost of the course to the potential earnings that you gain from the knowledge.
When the opportunity came up to join BBC last spring, and knowing that Scrivs was going to be updating the program over the summer, I thought 'now is the time'.
So I went for it. And I have not looked back. It has exceeded my expectations. See why below.
What it is like 'inside'
All of the BBC content will be moved over to DTC by the end of October (*Update: Nope, this is not complete yet lol). If you enroll before the migration is complete, you get access to both BBC and DTC content. Win-win.
I have been through the updated Pinterest course, which now has components for Tailwind! I would be lying if I said that I finished the Pinterest book however. 165 pages…ya. But I took out of it what I needed at the time and I will revisit it.
The first two components of the SEO course are at DTC, with parts 3 & 4 coming this week, but you can still access the full BBC SEO course.
*Update: SEO course now contains all 5 components with 30 modules.
The BBC curriculum offers a number of courses, all self-paced.
Courses include: SEO, Pinterest, email marketing, affiliate marketing, Google Analytics, Tailwind, niche selection, WordPress, and content creation.
The majority of the courses are video-based
Text based content is coming with the upgrades. The Pinterest course comes with an accompanying ebook of a mere 160+ pages to go with the 33 video lessons. Because there is a learning curve before you get all that free, organic Pinterest traffic.
You are encouraged to go through an entire course first to get an understanding of the subject. Then start at the beginning and work your way through each lesson, doing whatever actionable steps are required.
There are four challenges that will also help you boost your organic traffic
How to reach $1000 in revenue
Launching your blog and getting 10K pageviews (pageviews are important if you want ad revenue)
Creating your first paid product (the best way to ensure success as a blogger is to promote your own products)
How to gain your first 1,000 subscribers (aka your loyal fans who will buy your products from you)
This is also a huge time saver because boosting traffic in the beginning can be a challenge on its own, but you get four different challenges that are created to help you while saving you tons of time because the research is done and the steps are laid out for you.
You also get access to the Slack community
Slack has channels for each course topic, as well as general conversation, wins, daily goals etc. It is kind of like a mastermind group, and is a great place to network with your peers.
The best part of Slack is that Scrivs is in there all the time, so you will get quick answers from someone who knows.
BBC also has the Exchange
This is where you earn points for doing tasks for other members and you can spend your points to get blog post comments, pinterest pin shares, and other help.
All of this great content is being upgraded and ported over to DTC
New with DTC: The new and updated courses for Pinterest and SEO are already in the DTC menu, and more is coming in daily.
New: Members of DTC will be getting written lesson material for those of us who are visual learners (Me! Me! Me!)
New: Scrivs is doing a video series called "Empire Builder", where he will create a website from scratch and monetize it while we 'look over his shoulder', but not in a creepy way. So if you want to see how to build a successful blog from the ground up, then this is for you.
New: Journey: '$1,000+ a month with ads' is now available for members. And it looks like all the modules for the SEO course are in the dashboard as well.
New: Scrivs is busy creating a bloggers roadmap, for those who do not like blogging 'on the fly'. I will update this when I know more.
How has BBC helped me?
One word: structure. I really needed to 'see' the step-by-step process, and be able to follow it. BBC/DTC offers me a way to strategize what I am doing, putting one foot in front of the other to move forward in logical and progressive ways that equal more traffic, more email signups, more everything!
This is a huge time saver for me because I am not wasting time on things that are too advanced for where I am now. Or missing critical items that need to be done in the early stages.
More words: a smack on the back of the head. I really need a no BS person to tell me to stop goofing around on Facebook and get back to work! Now I put my time to only the tasks that benefit my blog, which actually frees up more of my time. Who knew?
And I have learned some truly awesome tips on how to best use Tailwind to schedule my Pinterest stuff and save time there as well, thanks to the amazing people in the Slack community.
Freebies from BBC. Go ahead and take a test drive!
Dare to Conquer Free 12 day Blogging Bootcamp
Free Affiliate Marketing Bootcamp
What are the downsides?
Well for one, the price.
It is a chunk of change. Not as much as some other courses, but still, you may need to save up. The only option is a one-time pay; however you can use Paypal to pay.
It is lifetime membership, with free updates for as long as you are a member.
Along with that, there is a bit of information overload from the sheer volume of lessons.
The video lessons are kind of like Netflix, and I binged a lot in the first two weeks. Lucky for me, I went on a vacation in the sun right after that and I am better now 🙂
The doors to BBC open randomly throughout the year, so you need to be on a mailing list to find out when it is open. I invite you to sign up for my newsletter if you want updates on DTC deals.
Scrivs also uses some colorful language, but he does know what he is talking about, so if you can get past that, you are golden.
Final Thoughts
Blogging is hard work, no doubt about it. There is no overnight success in blogging.
Save time by getting everything that you need to be a successful blogger in one place…Dare To Conquer.
I wholly recommend DTC and I find the price to very reasonable compared to purchasing individual components from elsewhere (even better if you enroll before the price increase this Friday).
As well, you do not often find a 30 day money back guarantee for online education
Most digital products do not have a return because once you download, you have it. How do you do a return?
Plus, the Slack community is an excellent bonus.
I hope that you have enjoyed this post and please share this with anyone that you think can benefit from it.
And sign up for my free newsletter of tips, deals, and freebies for bloggers!
Until next time, happy blogging and follow me on Pinterest!
-Irma 🙂