Now until June 30th!
If you are thinking of starting an online business or you have started and are looking for some resources, you should consider this amazing bundle of educational tools for your resource toolkit.
*This post contains affiliate links. If you click my link and sign up or purchase something, I may receive a commission or benefit from it, at no extra cost to you. See my full disclosure at the bottom of the page*
$1521.96 worth of digital products for only $47!!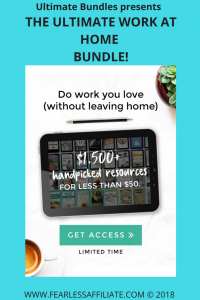 There is a nice variety of products in here and if you are looking for different ways to work online, then this bundle has something for you.
Want to be a mystery shopper? There is a mystery shopper training program!
Want to sell on Etsy? There is a tax guide for makers and crafters!
Want to be a freelance writer or editor (or both?)? There is a book with tips and templates for you!
Want to work online but not spend a ton of money? Spend Less, Work Less by Loralee Hutton!
Want to be a freelancer? Services Superhero by Lizzie Davey (a $79 value) can help you ditch the 9-to-5!
Want to know the financial and legal side of online work? Smart Cents by Natalie Joy ($196 value)
Want to be a home transcriptionist? We have a book with everything that you need to know!
Want to start a home cake business? Rebekah Allan has an e-course for that! ($73.65 value)
Want to improve your SEO? FindMe: An SEO Cookbook for Busy Entrepreneurs by Rachel Brenke (value of $129)
And there are more. Lots more. You can check them all out at the Work At Home Super Bundle page.
And if you are not quite sure what you want to do to earn a living online, there are tons of ideas in this bundle to help you sort it out.
This bundle also includes Lead Generation Academy by Cloris Kylie, which is $297 value!
What you get in this bundle:
23 e-books
9 e-courses
4 printable packs
1 audiobook
If you purchased these items online they would cost over $1500! That is 97% off!!
There is a full 30 day "happiness" guarantee. If you are not satisfied, you can get a full refund. Win-win!
Have the resources that you need to create an online income, as well as saving time by having them at your fingertips!
You can get this bundle until June 30, 2018 so grab one today!
Happy blogging! And follow me on Pinterest!
-Irma 🙂