Hello friends,
Today I am going to tell the sad tale of how my Pinterest business analytics plummeted over the summer and what I have done to recover my Pinterest analytics.
This is a long post, so bookmark it for later, and do not forget to share with others!
Sign up for my weekly newsletter to get my free printable checklist for this post!
*This post contains affiliate links. If you click a link and purchase something, I will receive a commission, at no extra cost to you. Full disclosure at the bottom of this page*
My Pinterest Analytics history
Last winter I was searching for a new way of getting traffic. As a newer blogger, I had been focused on learning SEO and finding the best low hanging fruit, but SEO is a long game. I was interested in finding other ways to bring people to my blog. Now.
I kept reading about people using Pinterest and I thought it was crazy. How can a recipe sharing site be helpful? And yet it kept coming up over and over.
I was using my phone to search for something and the top answers always seemed to be coming from Pinterest, so I decided to research this further and sure enough there were tons of blog posts touting how amazing Pinterest for business is.
Pinterest Analytics can be confusing in the beginning…
After spending a bit of time fiddling around on my Pinterest account, I quickly realized that I was completely lost as to how to use the Pinterest platform. I purchased a course to learn how to set things up and got right to work on setting up Pinterest for business, creating pins, and pinning daily.
My stats when I started in January of 2018 looked like this:

Yes, calling it dismal is being kind, but we all need to start somewhere, am I right?
Just pinning daily boosted everything in my Pinterest analytics dashboard, so clearly manual pinning works.
I kept following through with the course and kept manually pinning daily, and my stats kept going up and up and up! Hey, this Pinterest stuff works! I could check my Google Analytics and see that, yes, I was getting more traffic. A dream come true.
Then I signed up with Boardbooster. And my stats went nuts! My average monthly viewers was going up by the thousands every day and I was getting more conversions.. #thrilled

And here are my stats just before the whole Boardbooster debacle. Sigh. When I started using BB in March my monthly views was 1,200. I got up to 57K monthly viewers before the nose dive. It took 4 months to recover my stats. Find out why below.
How my analytics dropped
Boardbooster was not an approved tool
Pinterest busted Boardbooster because it was not an API (Application Program Interface) tool and they could not come to an agreement so Boardbooster is gone (RIP). As the news of the loss of Boardbooster turned from gossip to rumor to reality, I watched my stats fall!
That was June of 2018 and the falling stats in my Pinterest analytics continued all summer. Signing up for Tailwind in July did not help and my stats continued to fall. I finally sat down and figured out a strategy for the Tribes feature, but my stats continued to fall, just slower.
I was super busy over the summer helping my mom get ready to move.
Some of my recovery methods just did not work. Mistake #1 was trying to mass–pin when I was at home after being at my mom's all day.
Wrong! Pinterest hates this and my stats kept going down even though I pinned daily. I knew that Pinterest dislikes this kind of mass pinning, but I was desperate and I wanted to pin daily.
Summer can be a slow time on Pinterest
It was a challenge to know if some things were working but I could not tell because it was summer, or whether they were just not working. Lesson learned: do not try to fix Pinterest analytics in summer. It is a losing battle.
After watching my stats fall all summer and into the fall, I had to do something. I purchased Manual Pinning Simplified at the end of August, because it assured me that I could pin 'on the fly'. As long as I had access to a mobile phone or tablet, I can pin and I did not need a spreadsheet to keep track of what I was doing. Sounds perfect!
This was super helpful because I was so busy and all my spare time went to helping my mom declutter, pack and get ready to move in mid-September. An easy manual pinning system meant that I could be pinning throughout the day while I was away from home. #winwin
Related Post: Manual Pinning Simplified review
Joining Facebook groups that are NOT niche specific
Mistake #2 is that I was in several of these groups. I wondered if they were hurting my reach (they were). Especially after Pinterest told us that we need to pin to a RELEVANT board first. Were people with travel and food blogs pinning my stuff into the right kind of boards? See below.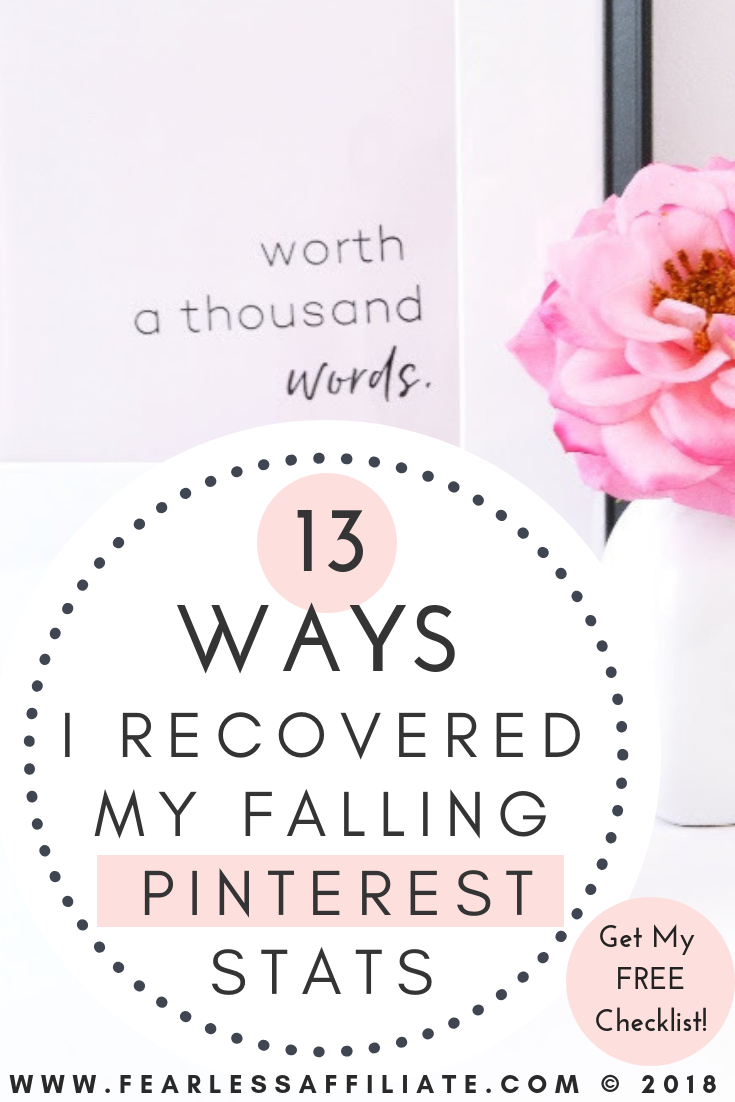 what I did to fix my Pinterest business account analytics?
Make sure you have Google Analytics installed
And that you can find your engagement stats from Pinterest on it. Use Pinterest analytics in conjunction with Google Analytics to get an idea of what is happening on your account.
Related Post: Google Analytics Tutorial
You must have a Pinterest for Business account, with Rich Pins set up and verified website before you can access Pinterest analytics, so if you have not done that yet, go do it!
Related Post: How to Use Pinterest for Business
If you are busy, get some help!
After learning how to use Kyla's Manual Pinning Simplified, I started time blocking when to pin. I set alarms on my phone to remind me to pin as soon as I got to my mom's house. Then I would be good for a few hours.
This manual pinning course is da bomb, and I mean that. The ability to pin anywhere WITHOUT a spreadsheet is gold! Read my full review here, or use the link above.
From early June to September, I watched my stats drop from 57K to 30K monthly views. I started manually pinning with Kyla's system in September. And then I literally watched my falling stats stop falling! And then climb! By November I was back where I started. It took two months!
Get some dashboards to check your analytics
I highly recommend getting a Pinterest analytics dashboard for Google Analytics (GA). I have one from Kristie Hill. This is a freebie for signing up, and you will not regret it. I love, love, love this dashboard because it is a shortcut to seeing all your Pinterest analytics in one place.
Just change the date range and you can see which pins are bringing the most traffic with no fooling around. It is an all-around snapshot of what is going on with your Pinterest account and it will help you to learn how to use Pinterest analytics more effectively.
I stopped using the Facebook groups for daily pinning
If you are in niche specific groups, I think you will be fine. I was in multi-niche groups, which I joined at the beginning of my Pinterest journey. This turned out to be not fine.
I would check my daily notifications each morning to see who was pinning my stuff and the type of boards it was going to. Uh oh. Some people were pinning my pins into boards that are not even close to being relevant. Pins about affiliate marketing are going in boards called Home Office furniture. Huh? Nope, not relevant. I get it, but it was not helping me.
Stay with the Facebook groups for information sharing and keeping up to date on changes in the Pinterest platform.
Get Tailwind Tribes
I started with the 5 free tribes near the end of July, pinning into my tribes 30 times per month. I did this for two months before I upgraded my tribes to the next power up, which gave me 10 tribes with 80 pins per month. Tribes is by far the best thing about Tailwind, I cannot express this enough.
Get a free 1 month trial of Tailwind so that you can access 5 freeTribes. This link will get you a free month of the scheduling tool, and you can keep using your 5 free tribes forever, and get the weekly insights.
Monitor Your Tribes
Be sure to sign up for the weekly tribes newsletter, which is different from the regular weekly Tailwind report. The tribes newsletter lets you see engagement stats from your tribes. You get tons of information that you can track while deciding if your tribes are effective for you.
I suggest that you track your stats for 4 weeks before making any changes. Always, always, always join tribes with high activity. You can see this stat between the number of members and the join button for any tribe you are applying to.
Time Block your Tribes Pinning
I also time blocked this, so that I pinned 2 different pins into my 10 boards for a total of 20 per week x 4 = 80 pins per month. I pinned into my tribes every Tuesday. Pick any day that works for you. If you have 30 pins per month, then just pin 7 pins per week.
Then re-pin from tribes into your boards, a few every day. Remember to do this to stay active in the tribe.
If you are not using a scheduler, try Tailwind for free
Here is a FREE 1 month trial of Tailwind. Use it to schedule pins to go out to your group boards. As well, you can be pinning into your niche-specific tribes feature. Getting Tailwind, even with the free tribes, gives you access to their metrics and board insights. Can't have too much data, am I right??
Tailwind has a Chrome extension that you can use to easily upload your pins into Tailwind. This feature makes pinning tons of pins into your Tailwind drafts a breeze.
Count your pins
Count the number of pins that you are pinning daily, both manually and with a scheduler. Try to stick with a daily number of between 30 and 50, with 60 to 70% your own pins and the rest third party (other peoples) pins.
More than 50 pins per day seems to bring diminishing returns and is also a lot of work. If your stats are falling, create a schedule so that you are not exceeding your 50 a day.
Try a new pin template
Change up your pins. Try some completely new and different templates, colors, fonts and what have you. Free Canva has tons of templates built in, so try something new. You never know what Pinterest users will like.
Manual Pinning Simplified has some excellent help for creating pins that work. Consider purchasing this as a resource; when you need help, you need help. Just do it.
Use the Pinterest search bar to seek out more pins in your niche and capture some new ideas for your own pins.
Keep Searching for New Pinterest Group Boards to Join
You want as many eyes to be on your pins as possible. I encourage you to sign up for group boards asap. Over time you can weed out the ones that are not effective, but you need some in the beginning.
A simple way to find some group boards is to search your niche in Pinterest. After you click enter for your niche, the search box will now have a down arrow at the right end. Click it and either click people or boards. Scout around the results looking for group boards in other peoples profiles.
You can tell are group boards by the divided circle in the bottom left corner. Non group boards have a circle with the profile photo or icon in it. When you find the group boards, read the description to see if they are accepting contributors and follow the instructions to join.
You can also try pingroupie. It does take a bit of work, but those groups will help you share your pins out to the world.
Final Thoughts
These are all things that I tried when I could not get my stats to stop falling. My current stats may not be impressive to some people, but I was happy. My all-time low was 30k monthly viewers mid-September (moving day for my mom). I was able to climb back out, reach my previous all-time high of stats, and surpass it in two months!

If your Pinterest stats are falling, you are going to have to change some of the things that you do. "If you always do what you've always done, then you will always get what you've always got". So true.
Keep monitoring your analytics, both Pinterest and Google, and do not be afraid to try new things.
I hope that this post has been helpful to you and you will share it with others. Sharing is caring! Be sure to sign up for my weekly newsletter of tips and freebies for bloggers (free courses, deals on products) as well as access to the Resource Library where the cheatsheet for this post is located.
Until next time, happy blogging and follow me on Pinterest!
-Irma 🙂