When people ask me "how can I start internet marketing, many of them really have no idea what IM is. And that is because there are multiple ways to set up an online business.
People are just looking for a way to have more money without working more hours at their current job, but get confused about how to start.
So the best place to start is at the start…the basics. And that means figuring out who you would be in online space. Today we look at how to figure out what your business will be about.
Welcome to Fearless Affiliate.
My name is Irma and I help new bloggers to learn the ropes. There is a lot to take in that first year of blogging, from choosing a niche to changing your mindset from worker bee mentality to that of successful entrepreneur.
I like to focus on practical information and positive thinking, so if that sounds good to you please sign up for my weekly newsletter of tips and free stuff for bloggers.
Be sure to sign up to my newsletter and grab your 5 Minute Guide to Internet Marketing Success guide. Once you have read through this guide, your will have tons of ideas for an online business that will help you earn extra cash or even full-time income!
This post may contain affiliate links. If you click a link and make a purchase, I may receive a commission at no extra cost to you. Full disclosure is here.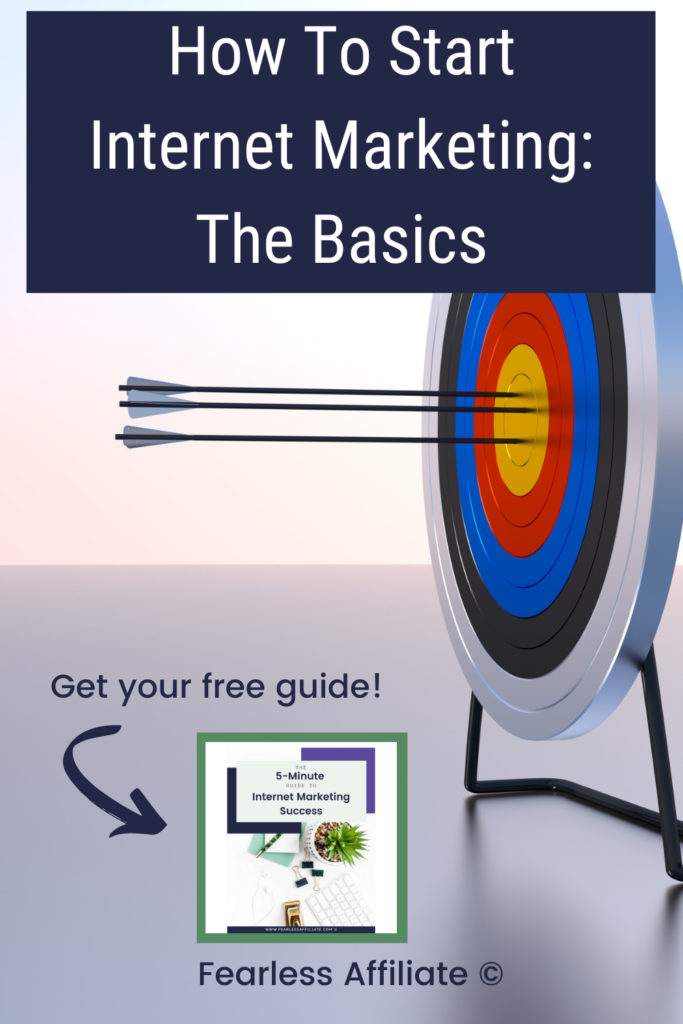 What Are Your Hobbies or Interests?
Motivation is easier to find if you are already interested in the topic. Some people have started online businesses without much knowledge of their topic, and trust me on this, it takes longer.
Why?
Because you have to learn a lot about the topic to sound credible.
Anyone with slightly more knowledge than you have can tell when you do not know what you are talking about.
So when coming up with a business idea, it is a good start to consider the things that you are personally interested in and/or passionate about.
For example, it is more likely that a computer store will be managed more correctly if its owner and managers are personally interested in computers.
For an online blogger who blogs about flowers, showing photos of yourself in your garden shows your credibility. It is just a way to show that you can actually help people with their flowers.
Interest and passion should not be your only basis.
You also have to ask yourself: do you have the qualifications to do business in that area?
If you are planning to open an auto supply shop for example, you may ask yourself: do I know enough about cars?
Do I have a vast knowledge on car parts and how they work?
Of course, you can always hire people who are knowledgeable in the field. But it is better if you also have some know-how. The same is true in the online marketplace.
Are There Current Products for Your Topic?
An easy way to tell if your hobby or passion can be turned into a successful online business is if there are already products for it.
The type of products you will be looking for while researching are:
Physical products, such as clothing or tools
Digital products, like eBooks that explain concepts or teach start-to-finish about an area of the topic
Membership sites: has anyone created a private site where you have to pay to get access to the education?
Coaching: Many people are willing to pay for a few months of private help to overcome their problems. Is one-on-one coaching something you can do within your niche? Is anyone else doing it?
Affiliate products: Type the name of your niche, as well as "+ affiliate" into a search bar and see what is available to sell to your readers. For example, "yoga + affiliate" will show you the types of products that people sell to customers who are interested in yoga products.
Who Is Your Competition?
The best part of internet marketing is that it opens up education for the world. People from one country can access education provided by someone on the other side of the planet.
That means that there are usually multiple people in any given niche. But do not fear…competition is a good thing.
You want to type your niche/topic into a search bar and take a look at who sells what in the online space.
And then look for an opening with little to no competition.
I know this sounds challenging, but you do not have to "niche down" as it is called, immediately.
You might be thinking "but I just want to help people learn to knit!", and that is perfectly fine. Start there.
Later on, if you see that you have a particular skill or some super secret tips, you can use those to separate yourself from the competition.
And what if there are tons of competitors?
No worries…there is plenty of room for everyone. Some people are going to love how you explain things, and other people will not, and that is okay.
You want your people…the people who really love how you do what you do. They are the people who will buy your stuff, whatever it is.
In the same way some people prefer Burger King to Wendy's, your peeps will prefer your content to other peoples. Lots of room for everyone.
Go Back And Look At Those Products…
Did you see anything where you thought "I could do that"? Or was everything "ugh, I would never buy that".
If you know that you can create something that would fill an area of the market that no one else is filling, you can create success with that.
We want to build a business that:
Helps people solve their problems
Earns us an income for doing so
This requires balance between helping and marketing.
I have noticed since the pandemic happened that there are tons more scammers online. And people are getting better at sniffing out who wants to take money from them.
If you start out with the intention of helping people, and then you work on your marketing, you will achieve balance. And gain a reputation for being "one of the good ones". win-win.
Conclusion
I hope that you have enjoyed this post and found it helpful. In part two of this series we will be talking about the mindset you need to succeed, and since mindset is crucial for success you will want to watch for that.
Please share with others…sharing is caring! Let me know in the comments if these tips work for you!
Next week, we will look at the mindset of the entrepreneur. It is a lot different than the mindset of an employee, so be sure to watch for it, because it will help you through some tough times.
If you are ready to get started with an online business, then I have what you need!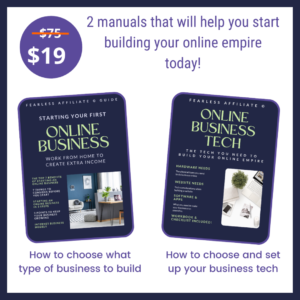 Your First Online Business gives you the information that you need to start your business:
7 things you should consider before starting an online business,
The different and most popular business models for online marketing,
How to start your business in 3 steps and
Ways that you can make money with your business model, plus a lot more
Also included is the Online Business Tech guide, which will teach you what kind of tech you need depending on which business model you chose. Learn about hardware, software and apps you may want to use in your business.
The Tech guide also comes with a 15 page workbook so you can take notes while researching your choices. And you get a checklist for the tools you choose to help you stay organized and for later reference.
This is an amazing deal for this much comprehensive help so if you have been thinking of starting an online business, please check out the Your First Online business bundle to see if it meets your needs.
Until next time, happy blogging and follow me on Pinterest!
-Irma 🙂