The best internet marketing advice I ever got was to focus on one product and promote it exclusively.
But there has also been lots of other good business advice, which I really needed because I had never had my own business before.
Today I want to share some thing that can help you improve your business. And I have some business tips to keep yours from failing. Let's get into it.
Welcome to Fearless Affiliate.
My name is Irma and I help new bloggers to learn the ropes. There is a lot to take in that first year of blogging, from choosing a niche to changing your mindset from worker bee mentality to that of successful entrepreneur.
I like to focus on practical information and positive thinking, so if that sounds good to you please sign up for my weekly newsletter of tips and help for bloggers and online marketers.
Be sure to grab your copy of 5 Minute Guide to Internet Marketing Success guide. Once you have read through this guide, your will have tons of ideas for an online business that will help you earn extra cash or even full-time income!
This post may contain affiliate links. If you click a link and make a purchase, I may receive a commission at no extra cost to you. Full disclosure is here.
Internet Marketing "Do's" For New Entrepreneurs
These are not things you need to rush out to do today. But they are informational and can help you understand your business.
If you plan to outsource some of your daily work to a VA, be sure you understand how to do them yourself first.
That way you know what to ask of your new hires, and so you get more bang for your buck.
Enroll in a Short Business Course
You do not have to graduate; you only need to attend short business courses which can only include a few units.
What you are after is not the diploma but the knowledge that will give you an edge.
If you are unsure of which type of course to enroll in, look to see if there is night school classes for that topic. A semester of business marketing can help you understand how to market your own business.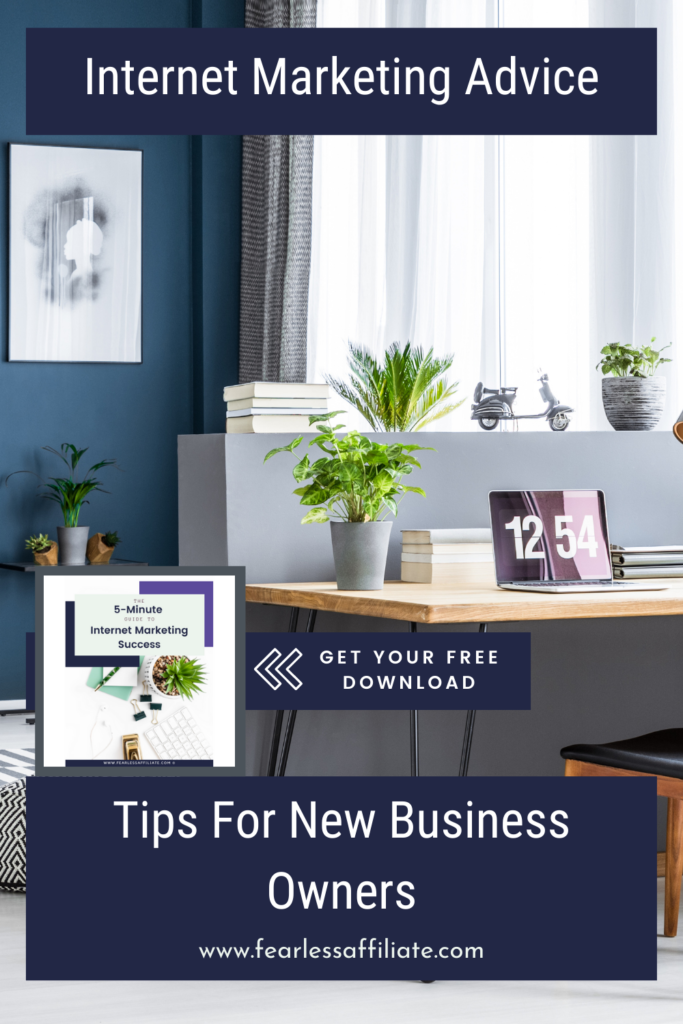 Learn Basic Accounting
A huge part of business management is the accounting part.
If you have even the basic knowledge about accounting, you will a better idea about the flow of funds in your business. And more importantly, how to keep accurate records and how to get business write-offs or credits.
A Short, Basic Law Course
Or at least a basic understanding of your legal part in your business dealings. In conducting business, you will be dealing with legal matters as well.
This is why it is important that you have some knowledge about business law. Check to see if a night school or short online course is available to you.
Read Business Books.
If you cannot attend classes or join an online course, you can borrow books from the library. Be sure the author is an authority in your country, because laws are not the same everywhere.
Business books locally available in bookstores will also help you a lot.
Read Business-Related News Articles
Find the big guys in your niche and sign up for their newsletters. If they send links to blog posts, read them.
This is particularly important if you are doing business in an industry that has a very fast-moving trend.
You need to stay updated so you can react accordingly to changes.
Pay attention to the Economy
Experienced entrepreneurs survive downfalls in economy because they predicted in such downfalls in advance, such as supply-chain issues.
They are also able to take advantage of favorable situations because they predicted those favorable situations in advance.
Get Advice From Experts In Your Niche
Many things in business cannot be taught inside the classroom.
Some things are learned by experience.
But you do not always have to experience them by yourself. Look for a mentor in your niche.
Keep Notes About What Is Happening In Your Niche
Take note of the trends in your online business.
You will soon realize that changes and movements often follow a pattern. Familiarize yourself with these patterns and this will help you make better plans in the future.
Maintain The Rights of Your Employees
Your employees have rights that are protected by law, and that includes your online and internet marketing hires, like VA's.
As an employer, there are certain rights that you are expected to protect.
It will not do your public image any good if your employees complain about human rights violation.
Be Aware of The Environmental Impact of Products You Promote
Of course you cannot know every little detail, but try to do a bit of research into the products you promote.
Make sure that they are ethical to your brand.
It would not be helpful for your business if you are known for being "green" but your affiliate products contain toxic ingredients.
Consider Having A Charity To Donate To
If your business is bringing in steady income, consider donating to a worthy cause. People like to know that the company they deal with cares about others, so if you do, let people know.
You can also link to it on your website, so that visitors can donate as well. win-win.
Online Business Tips to Avoid Biz Failure
Try to avoid purchasing things for your business that require you to use credit cards or borrow money until you have steady business income.
Once you have steady income from your business, try to stick with purchases you can easily pay off right away.
Don't Pay Debts With Debts
Debt comes with interest rates. By paying a debt with another debt, you will shoulder more interest rates.
This is why it is not advisable that you pay a debt with another debt unless you can pay it off quickly. Otherwise, you will only increase the expenses of your company.
Avoid Multiple Debts
For starting companies, debt must be kept at minimum.
In an attempt to raise more funds, some entrepreneurs make the mistake of incurring too many debts aka maxing out credit.
This can cause business failure if the debt becomes overwhelming.
Pay Debts With Accruing Interest First
Debts normally have accruing interest rates.
This means that interest payable will continue accruing (accumulating) while the debt is not yet paid. For such debts, it is not good to keep them unpaid for long periods of time.
If you are planning to get a loan with an accruing interest, make sure that you pay the debt before the deadline.
Make A Plan To Pay of Debt Before You Borrow
Some young entrepreneurs get stuck in thinking they need this or that for their business, so they borrow to pay for it.
This is unhelpful thinking and can cause business failure. Before you get a loan, you must first plan ahead how you will pay the debt.
You need to ask yourself:
Where will I get the funds to pay the debt?
When will I be able to pay?
Will I be able to pay before the set deadline?
Keep A Contingency Fund
Many companies go bankrupt because of poorly managed debt. One way to avoid this from happening is by having a contingency fund for absorbing losses.
As your business starts bringing in steady income, consider creating a fixed amount of money for a contingency fund.
This way you will have money for unexpected purchases or to pay off debt faster.
Avoid Personal Comments In Your Business Social Media Accounts
You should avoid stating comments through your Facebook, Twitter, Instagram or other public forum where your business can get unwanted publicity from that comment.
You should especially avoid commenting on controversial topics that negatively impacts your online business.
Conclusion
I hope that this has been informative and helpful for you. Business skills are important because many new entrepreneurs are used to being an employee and are not used to the business side of business.
But as an internet marketer, you have to wear both hats: employer and employee.
If you are ready to get started with an online business, then I have what you need!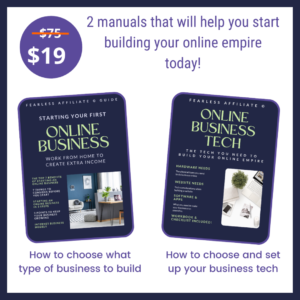 Your First Online Business gives you the information that you need to start your business:
7 things you should consider before starting an online business,
The different and most popular business models for online marketing,
How to start your business in 3 steps and
Ways that you can make money with your business model, plus a lot more
Also included is the Online Business Tech guide, which will teach you what kind of tech you need depending on which business model you chose. Learn about hardware, software and apps you may want to use in your business.
The Tech guide also comes with a 15 page workbook so you can take notes while researching your choices. And you get a checklist for the tools you choose to help you stay organized and for later reference.
This is an amazing deal for this much comprehensive help so if you have been thinking of starting an online business, please check out the Your First Online business bundle to see if it meets your needs.
Until next time, happy blogging!
-Irma 🙂