Today I will help you understand how to get blog traffic from Pinterest. Whenever I write a post and talk about the subject of traffic from Pinterest, I am surprised by the number of comments that I get from readers who do not know about this amazing source of traffic. Huh? I thought I was the last person to discover this gold mine! Today we talk about
There are two sides to Pinterest. First, there is the Pinterest for scrapbooking types, crafters and people who post recipes. In other words, shoppers.
And then there is Pinterest for business, and these people are also known as marketers. Are you picking up what I am putting down?
"This site uses affiliate links. If you click a link and purchase something, I may receive compensation at no extra cost to you. This helps to fund my blog, so thank you for that. Full disclosure at the bottom of the page."
Who uses Pinterest for business, you may ask?
Well, on the Pinterest "Success Stories" page, you can read how Carnival Cruises started marketing with Pinterest in 2016 because 62% of pinners plan future travel on Pinterest.
Or how Honda started working with Pinterest because many pinners are actively searching for cars that they want to buy, and Pinterest reaches 59% of adults who are likely to buy a car in the next 6 months.
Related Post: How to Use Pinterest for Business
Who else uses Pinterest?
Sephora. Lowe's. Shaw Communications. Stella Artois (A Belgian beer). These companies are all jumping on the Pinterest bandwagon because they can see the reach that is available from people who are searching and shopping on the world's number one visual search engine. Join us!
I personally went from having almost zero views on Pinterest to having 60K in about 3 and a half months. Now those are Pinterest views, not page views via Google Analytics.
Need an awesome Pinterest course for beginners?
I recommend Pinterest Ninja, which is both affordable and robust, and will help you organize your blog for success! If you are a beginner blogger looking for traffic, this course will set you up for the win!
However those Pinterest views translated into page views, which increased monthly.
The first month that I was actively pinning (pinning my stuff and pins from others) my page views went up by 700; the next month it was up by 1000. In the beginning I did not belong to any group boards. I now belong to about 22 33 and I keep applying.
Yes! Free, organic traffic coming to my blog daily.
Can you see the value of being a part of this? Pinterest loves content marketers because they provide something for the shoppers to shop for! Would you like to tap into some of those shoppers? If so…
This is how you get blog traffic from Pinterest
1. You need a Pinterest for business account
If you have a personal account, but it is not related to your niche website, then go ahead and create a new business account. There is no penalty for having two accounts.
Just go to the top right of your profile page and click on the 3 horizontal dots and Pinterest will offer you a free business account.
The business account gives you access to analytics, which will tell you which of your pins are being clicked most often so that you can keep creating that type of content.
2. Verify your account
You will also want to verify your account by uploading the URL from a blog post (not your home page), and wait for approval, which can take a few hours to overnight.
3. Apply for Rich Pins
Rich pins give shoppers more information about what you pin(s) are about. For many bloggers, the Article rich pins allow you more promotion options for your website from within the pins. If you will be posting recipes with your pins, then recipe rich pins show your recipe ingredients when someone clicks that pin.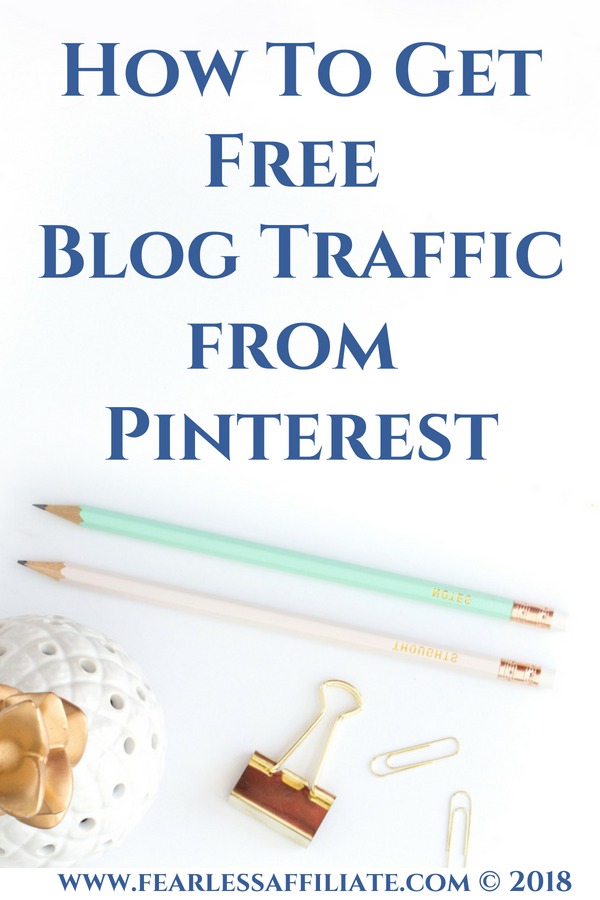 Create pinnable images for your blog posts
You can use a photo editor like Canva, which comes with Pinterest pin template. The ideal size is 600 pixels wide by 900 pixels high, a 2:3 ratio. Longer pins will get cut off in the feed.
If you want to learn how to create great images right off the bat, I suggest you sign up for my newsletter and get access to my resource library. I have a free printable guide to creating pins using free Canva. The opt-in form is at the top of this page.
The following post shows you how to use Canva 1.0. The latest version of Canva is 2.0 but the guide still applies. Canva 2.0 just has more than the 1.0 version.
Related Post: Simple Branding Tutorial

Create a pin and insert it into your blog post. Be sure to keep it full size. Check this in the right side menu as you are choosing your image.
Next, upload the pin to Pinterest, link your blog post URL and write a keyword-rich description and include a few relevant hashtags if you like. Hashtags are not mandatory but a description is very important.
After you save the pin, Pinterest will ask you if you want to see it. Click yes, and then take the URL from your pin and go back to your blog post and edit the alt description of the pin with your new URL from Pinterest so that they link to each other.
Pinterest likes helpful pins
Without giving your blog post away, write as much into the pin description as you can to describe how it will help readers. And don't forget the call to action!
If you look around Pinterest you will quickly be able to tell which images seem to more pinnable than others. Bright, happy colors versus dark. Easy to read fonts versus cursive scripts that are almost illegible. Photos that convey a positive feeling. Photos of yummy, attractive foods. And don't forget that call to action, so promote, promote, promote.
Related Post: Start Pinning with Pinterest
When to pin
Well, according to the latest updates Pinterest is looking for fresh pins daily. Time of day no longer seems to matter, however consistency does.
The latest from Pinterest says that you should save the new pin the most relevant board, and then pin it to your "Best of " board, so I upload a new pin on day one to the relevant board and the next day I pin the same pin to my best of. Rinse. Repeat.
Because I am also using Tailwind, I have access to their analytics as well. After you have been pinning for a couple of weeks using Tailwind you will see when the best time to pin to your group boards is, which is a handy feature because the more eyes that you can get on your pin, the more potential visitors will come to read your blog post, and hopefully click on your call to action.
Create niche-specific boards for your profile
For example, if you have a recipe site you might have boards called: breakfasts, lunches, dinners, snacks, desserts, soups etc.
Try to create at least 10 boards
Plus your Best Of board, which is where you pin only your own pins.
When you are first starting out you will not have many pins for each of the boards, so use the search function in Pinterest to find other profiles in the same niche as your website. Look for pins that you can save into your new boards.
This is also a great way to see how other people name their boards. Ideally, you can just search your niche and click enter and Pinterest will give you the top search results.
You can also use keywords for your board names.
Look at my boards (and feel free to follow me while you are there! Thank you!) to see how I did it. Not all of my boards are keyword specific because even though the topics are relevant in some way, they are not relevant to my website per se.
For example, my Income Reports board or my Saving Money and Frugal Living. People want to know how long it takes to earn money with a blog or how to survive while you are waiting to make money, so I am happy to have boards with that information.
Join group boards
A webinar came out in May 2018 that said Pinterest does not agree that giant group boards with tons of collaborators is a good idea. So of course people started to freak out.
These days you will see a lot of small group boards starting up and accepting new contributors, so it should be much easier to find boards to join.
Try to avoid general "catch all" boards.
Boards that are for any and every niche make it harder to get quality pins for your niche. Instead, be choosy and niche-down as much as you can.
If you blog about blogging,freelancing, making money online, or other related topics you can join my group board, Fearless Bloggers. Just follow my profile, email me with your profile link and I will add you. You must pin one of the boards pins for every pin of yours that you save to the group board.
find groups that are engaged in active pinning
This is more important than finding groups that have thousands of collaborators but no one is sharing pins. You want as many people to see your pins as possible, and to click through to your website.
Going back to the Pinterest search bar, type in your niche and hit enter. To the right of the search bar, you will see a down arrow. In this menu, choose PEOPLE.
Now you will see a ton of people that you can follow, but what we really want is to see which group boards these people are in. Click one of the people to see their boards.
You are looking for group boards, which are different from regular boards; you can tell the group boards by the circle in the bottom left corner with several people or icons in it.
write down the instructions for how to apply to the group board
One thing that is always necessary is to follow the owner of the group board before you apply. If there are no instructions, they are probably not accepting contributors right now, so skip over that group.
You might want to write down which boards you are applying to, since you will need to apply to a lot of them. You will not be accepted to all the boards that you apply to. Not all group boards say when they are no longer accepting new collaborators either.
Related Post: Pinterest Strategies – This big update of April 2018 threw bloggers into a tizzy. Learn what happened and how to use this information.
Final Thoughts
I hope that I have encouraged you to consider using Pinterest to boost your blog traffic. Yes, there is a bit of a learning curve, but with so many bloggers using Pinterest there is also a ton of free information on how to use it. Or leave a comment below with any questions or success stories that you have on using Pinterest for traffic.
Be sure to share this post with anyone that you think may benefit from it. Sharing is caring!
And sign up for my weekly newsletter of tips and free stuff for bloggers. You will get the password to my resource library as a bonus. Inside you can grab my Google Analytics Cheatsheet and my SEO Checklist, as well as other PDF printables.
Until next time, happy blogging and follow me on Pinterest
-Irma