Have you ever wondered if quality keyword research can ever be truly free? Are you tired of tools that say they are free, but they limit their use? Or have you given a tool your email address only to be spammed daily? If you have never tried the Google Keyword Planner, then you have not tried the best free keyword tool available to bloggers.
Why use Google Keyword Planner?
You may be surprised to find that Google provides a totally free keyword tool and the only requirement is a Google email account. No credit card required. No nonsense.
Gone are the days when stuffing your blog post full of your chosen keyword will get it to rank in the number one spot in the search engine results page also known as SERP.
These days, finding good keywords is like a new form of alchemy; instead of trying to turn lead into gold, we are trying to turn keywords into a full time income.
It is possible, but it takes some work and skill. And creativity. And I know you are up to the task because you are here reading this. Let's go!
*This post may contain affiliate links. If you click a link and make a purchase I may receive a commission, at no extra cost to you. Full disclosure is here.
Keep track of your keywords
It will be helpful to you to create your own keyword tracker for your blog posts. You can do this with an inexpensive notebook or you can create a spreadsheet in Google Drive or Excel.
I like those 5 for a dollar exercise books that we all used in elementary school; you know the ones that come in different colors. In Canada they are made Hilroy and they look like this: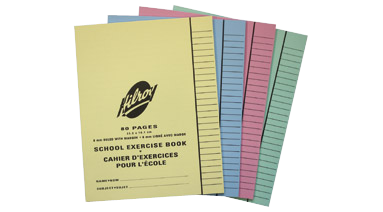 I keep one just for keywords. I have separate two-page spreads for each topic on my website. You may find, like I did, that once you start writing about one topic, more ideas flow from it. Use the left page for ideas and right page for the posts you publish and the keyword you are trying to rank for.
The plan then, is to have a series of posts that are all related. Each one ranks for one unique keyword/keyword phrase, without using that same keyword in two different posts. You can use similar keywords sprinkled within all of your posts on one topic, as long as they keyword you are trying to rank for is unique each time. This should be easy enough if you are writing about different aspects of your niche/topic.
If you use the same unique keyword and try to rank for it with two posts, you are only competing against yourself. The only exception is if you are already ranking high with that keyword already. If you are not ranking for it yet, do not compete with yourself for that keyword. Read this post from Yoast on best practices.
Sign up for Google Keyword Planner
Anyone with a Google email account has access to the keyword planner. Right click on this link and choose to open it in another window so you can follow along.
You do need to enter some details like your email, country and currency, but you do not have to pay to use this tool. It may not seem like that when you first sign up, but trust me, it is free.
Once you are logged in you will be at the main dashboard. In the top right area near your account information you will see the wrench icon. Click that and under the Planning tab choose KEYWORD PLANNER.
Click the arrow in the box labelled Find New Keywords and in the next area input your keyword, long tail keyword, or keyword phrase. When finished, click the blue Get Started button.
Once you are logged in to the main keyword research area, I suggest bookmarking it. I have a folder of keyword tools and user guides in my Chrome browser.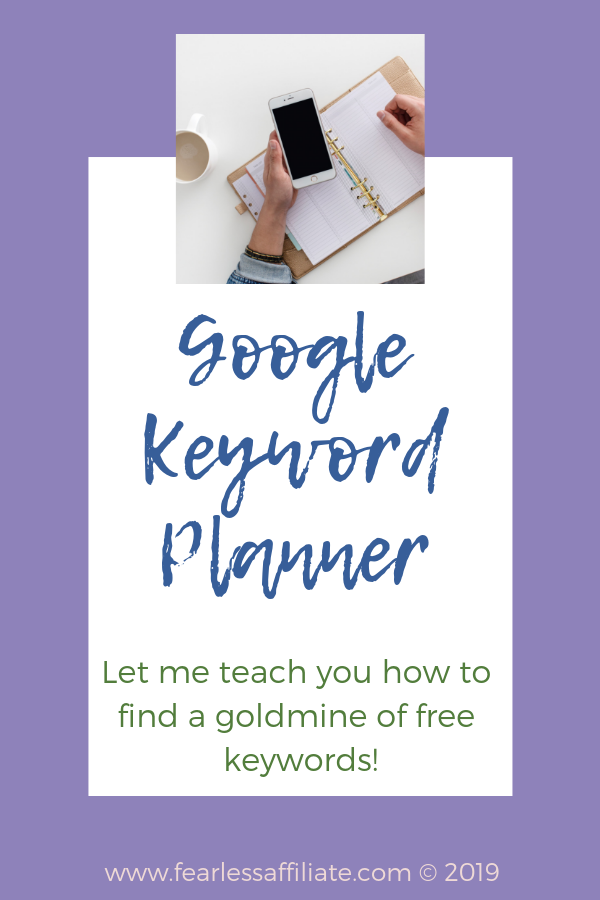 Searching keywords with Google Keyword Planner
I would suggest you input a single keyword at a time until you see the results. If you are not getting many results, try using a short tail (up to 3 words) keyword/phrase. Google will give you related keywords for your chosen keyword. Write down any that you think will fit with your niche/brand.
Take the results of these keyword searches and create long tail keywords that are unique to your website. It is easier to rank in the top spot for long tail keywords because they are so niched-down. Watch for two single or short tail keywords that you can string together into a long tail keyword.
You will be at a page with keyword ideas related to your word/phrase. A filter is automatically added called "Show broadly related ideas; exclude adult ideas".
add another filter
You can do by clicking the blue filter icon on the right side. Choose COMPETITION and then tick the box marked LOW and click apply. This will automatically sort your results based on low competition (which we want).
Ideally you want the Avg. monthly searches to be in the 1k to 10k range, with low competition. This means there is some interest in the keyword, but not many people are using it. #winwin.
Google does not tell you the exact search numbers, but if you use other free tools you can get a good idea of whether your keyword is closer to 1k or 10k. Ideally you want your competition to be around 2k to 3k to rank faster.
Write down any keywords that work with your niche.
Note any keywords that you can chain together to make a keyword phrase of 6 or 7 words. If you can do this without it looking unnatural, you can try to rank for both of these keywords and use them both throughout your post. Plus you have created a totally unique key phrase.
As you search for appropriate keywords you can easily end up down a rabbit hole of post ideas. Try my hack below before you switch out of one result screen or if you want to search another keyword.
Hack #1: Screenshot your results. Take one screenshot of the keywords in the Avg monthly searches and one for the low competition. Put these in a folder and you can add them to your keyword list/spreadsheet later. Clear the search and try another keyword and screenshot those results.
For this, I use the snipping tool on my pc, which I keep in my taskbar. Super handy. Or use the PrtScn key on your pc. Use the Windows key + PrtScn key (near the F12 key at the top of the keyboard). The file is saved to a folder named Screenshots saved within the Pictures folder.
On a Mac you can screenshot by using Command + Shift + 3 (entire screen); Shift + Command + 4 gives you a crosshair that will let you create the shape that you want to capture (if you do not want the whole screen captured). Release the mouse or trackpad to complete; Shift + Command + 5 will give you a dialogue box with options for you to choose for what you want to capture (entire screen, full window, or portion of the screen).
You can duplicate this process for every keyword that you want to use and potentially rank for.
Hack #2: Pay attention to low competition keywords with high numbers in the TOP OF PAGE BID (Low Range). These are keywords that people are paying for, so they are good ones – at least for paid ads. Add them to your list.
Other free keyword tools
It is never a good idea to put all of your keyword "eggs' into one basket. What I recommend is using Google's KWP in conjunction with other keyword tools, primarily Bing and Ubersuggest. My favorite keyword tool is Jaaxy, which comes with 30 free searches.
Bing's free keyword tool is similar to Google.
You have to sign up and answer a few questions about your website. Then you submit your sitemap. On that same page you will get a bit of code to take back and add to your website.
Wait a minute or two for everything to catch up and then you have free access. Look in the left side menu for Diagnostics & Tools and under that is Keyword Research.
Bing shows you whether your keyword is trending. This is super handy if you do a lot of seasonal posts or if you need ideas for posts.
Ubersuggest is Neil Patel's free keyword tool.
I find that it can be helpful, but is nowhere near as robust as KWP. The real benefit of this tool is the ability to see what your competition is ranking for or more specifically what they are NOT ranking for. Click on one of search results to get a list of websites that are using the keyword or similar keywords. Look for under utilized keywords or phrases.
Using Google Keyword Planner to find top notch keywords, Bings Keyword Research to check trends and Ubersuggest to track competing websites will give you well rounded research for your chosen keywords.
I can also tell you that Bing will throw you a credit towards paid ads, just like Google does when you sign up to them. Watch for those in your inbox when you want to drive traffic to a specific post.
Free Tool Honorable Mention
Jaaxy will give you 30 free keyword searches. I use Jaaxy all the time, because the search results are quality and I like the site rank feature. I suggest using Jaaxy to confirm your other research. Be aware that those 30 free searches go by quick so use them for your pillar or cornerstone content.
You can also try Keywordtool.io. It will give you keyword ideas but not the other search data. Good for finding related long tail keywords. Try typing in your keyword and using the alphabet technique to find a ton of keywords.
Read the following post for more ideas and free tools that you can use for keyword research, as well as an explanation of different keyword types.
Related Post: Easy Keyword Research for Beginners
Hack #3: Alphabet Technique: In a search bar, type your keyword, space, and the letter "a". Your results will pop up with words that start with 'a' that are related to the keyword. Go through the alphabet like this to find keywords.
Example: Dog training plus 'a' yields results like Dog Training app or dog training academy or dog training arm sleeve.
Hack #4: Type your chosen keyword into a Google search bar and hit enter. Scroll down to the bottom of the page to see what Google thinks are related search results. Take any ideas that might be useful for your keyword reseach. #goldmine
Related Post: Keywords and what they do
Final Thoughts
Google Keyword Planner is a great tool to find keywords and related keywords. I resisted using this free keyword tool because I thought that I had to pay for ads to use it. It does give limited information for your chosen keyword, because it is used by companies who want targeted ads, but it works for bloggers quite well.
Once I found out how to use it properly, I found that it became my go-to keyword tool. Use it in conjunction with the other free tools mentioned to get awesome keyword ideas for your blog content.
Please sign up for my free weekly newsletter of tips and free stuff for bloggers. And follow me on Pinterest!
Happy blogging,
-Irma 🙂