Who wants blogging to be easier? Show of hands? This post is for anyone who is looking for easy keyword research. Save yourself some blogging time and use it for other things!
My thinking used to be that you could just find one keyword, sprinkle it about my post and call it a day. I was a newbie. Don't do what I did! Knowing how to find good keywords for your website is what will propel your website up the ranks.
Be sure to bookmark this page for later and sign up for my weekly newsletter of tips and free stuff for bloggers. Let's get started with the basics…
Note: This post may contain affiliate links. If you click a link and make a purchase, I may be compensated at no extra cost to you. Full disclosure here.
Who is your avatar?
The first thing that you need to do when researching keywords for your website is to understand your avatar. Yes, I know. I am right there with you. I did this exercise my second day of blogging. Trouble was, I was not going deep enough.
Knowing your avatar will make keyword research much easier. I have an 8-page Avatar Worksheet. Just sign up for my FREE newsletter and start defining who you are writing to while you read this post.
What do you blog about?
Your next project is to create a list of potential problems your avatar might have that you can solve. You may have already set up your blog with tabs for different types of content, so this is a good place to start.
If you do not have any tabs yet, think about different topics within your niche. An example for a recipe blog: breakfast, lunch, dinner, dessert, snacks. Each of these topics can be a tab to help readers find what they are looking for.
A health blog might have: healthy food, beginner exercise, advanced exercise, mental health, and supplements.
If you have not set up your site structure, I urge you to do that. It makes navigating your website easier for visitors and can keep them on-site longer. If you need help with your site structure I will direct you to this post from Neil Patel.
As well, by creating a logical site structure you can see which tabs need more content and then you can write to fill out that area of your website.
How to find keywords
Types of Keywords
For the purpose of this post, we will look at the 4 main keyword types which are single, short (or short tail), long tail, and LSI, or Latent Semantic Indexing.
Single Keyword/Head keyword
As the name suggests, this is one word and the basis of many a new search. People who do not know what they are searching for sometimes will type one word into a search bar and see what pops up. These people are at the beginning of their buyer journey and are probably not ready to buy yet.
Single word keywords have a bazillion search results because they are so broad. Think of words like "shoe". Men's shoes? Women's shoes? Brake shoes? More information is needed to get a good satisfactory search result, therefore they don't convert well.
Single word keywords can be used to gauge the popularity of a topic…in some cases. Obviously the word shoe is not a good example, but words like "health", "babies" and "camping" can be the start of awesome blog niches.
Short/Short tail keywords
These are up to three words long and have a more information than single word keywords, which helps the searcher find what they are looking for faster.
An example is "women's sports shoes". There are less people searching for this term because it is more focused on a specific topic – not men's shoes, not children's shoes, and not just "shoes".
These are the keywords you want to rank for. People using these types of keywords to search are closer to buying in their journey.
Ideally you want to rank for a popular topic, like shoes, but specific to one group of people. You are targeting those searching for sport shoes, specifically for women.
Long tail keywords
These keyword phrases and they are far more targeted than the previous examples.They have more than three words and are more specific to a smaller group of people.
For example "Asics women's cross trainers blue".
Keep in mind that you will get far less traffic with long tail keywords, but it will be targeted traffic. Use two short tail keywords or a single keyword and a short tail keyword to make up a long tail keyword phrase. This way you satisfy Google while offering more details to potential customers to help them find you.
Try to use long tail keywords naturally within your blog post. It is not a good strategy to write all of your blog posts using long tail keywords because it will take your website longer to gain traffic in general. But if you find an awesome long tail keyword that fits your post and has the potential to be found by searchers, go for it.
A good first step to finding these long tail keywords is, of course, Google. Type your awesome short tail, or 'seed', keyword into Google, hit enter and scroll to the bottom of the page. You are looking for the "searches related to" area. Google is so helpful!
Google usually gives you 10 results here. Mine them for ideas. Take the best ideas and search Google for that term, being sure to keep track of them. You can create an easy spreadsheet with Google Drive, or just use a notebook.
LSI Keywords
Latent Semantic Indexing. What the what? When I first heard about LSI, I thought that I had missed out on some secret strategy for finding awesome keywords. It turns out that LSI keywords are synonyms or related words.
Latent = hidden. Semantic = relationship between words. Index = improve information understanding. Therefore LSI = finding hidden relationships between words to help improve understanding.
You will add them to your writing to make it easier to understand for the reader, as well as to help Google understand your article, on the off chance that Google has not figured it out by reading your heading or sub-headings.
Using the example of women's sport shoes, these words might be "running", "joggers", "footwear" etc. Sprinkle these words in to help add clarity to your blog post.
Use them to help turn short tail keywords into long tail keywords. Go back to Google search and those "related searches" to see terms that you can add to your keyword.
Short tail keywords are the main search term. Long tail keywords narrow the focus of the search. LSI keywords broaden the information related to the search and show Google that you understand your topic.
The more specific your post is about its topic, the easier it is for Google to show it to the right type of people. This lessens bounce rate from people who were confused about the topic of your post.
Having related search terms in your post helps you rank better, improves your website authority, and lessens the chance of your post being labelled as spam.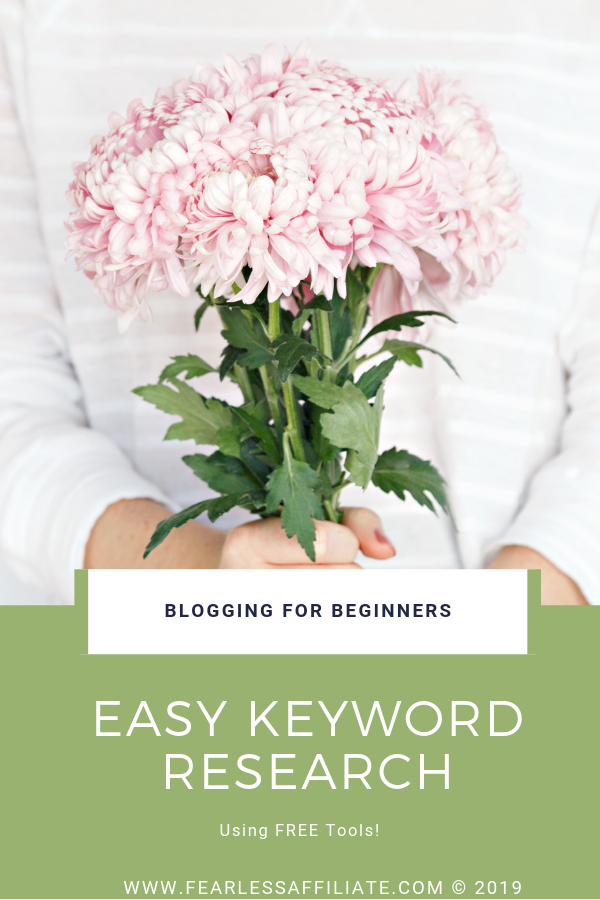 Free keyword research tools
Google Keyword Planner
Naturally the number one most recommended keyword research tool is Google Keyword Planner (GKP). This tool is designed to help you find optimal keywords for your Google Ads, but don't let that scare you. It is not complicated to use. Type KEYWORD PLANNER into a Google search bar. Your result should look like this:

Click the result and you will see a sales page.
Click on "Go to keyword planner" and it will ask you to sign in with your gmail account.
Once you arrive at the dashboard, go up to upper right corner and look for the wrench icon ("Tools").
Click it choose keyword planner from the tab labelled "Planning".
Click the arrow in the box labelled "find new keywords".
Enter a short keyword or phrase and check the results.
I do not recommend using GKP by itself because it is designed for use with ads so results are limited. You get closely related keyword results. Use this tool to identify keywords with 1k to 10k monthly searches. Then use those results to search in the other tools. Here is a recent post on how to use Google's Keyword Planner:
Related Post: Google Keyword Planner: A Free Keyword Tool
I use Google's keyword planner, Bing Webmaster tools, and Jaaxy (I have a paid plan). There is also Neil Patel's Ubersuggest.
Bing Keyword Research
A handy tool is Bing's Keyword Research tab. If you do not have Bing Webmaster, I highly recommend it. It does not take long to sign up, but they do require your sitemap of course. Bing offers a dollar amount credit for future paid ads, so that is a plus.
Once logged in, look in the left side menu and scroll down to find Diagnostics & Tools and look for Keyword Research.
Where Googles keyword planner will give you closely related keywords in the results, Bing will give you tons of LSI keywords. And…wait for it…trends. Bing will actually show you how a keyword is trending. Ah.mah.zing! If you write a lot of seasonal posts, this can be a goldmine, so mine it!
Jaaxy
Jaaxy is a fun keyword tool because it gives you results that are color-coded based on how easy it is to rank for that term. Green is good, yellow is normal, and red is poor, meaning you have little chance to rank #1.
There are tons of awesome features for the paid plan, which I do recommend.
Related Post: Jaaxy Review
For our purposes today you can totally use the 30 free searches that you get with the trial version. Use them wisely. And when your blog is making decent money, purchase the Pro version of this tool. It is worth it.
Ubersuggest
Another helpful tool is Neil Patel's Ubersuggest. This keyword research site has the benefit of giving you the top sites that are ranking for your keyword. Why would you want to know that? Because you can swoop down and find related keywords from these websites! For FREE.
Click on a search result and the page will split into two sections with websites using that keyword on the right hand side. Click on one of these results to see a list of related keywords they are using.
Your job is to find related keywords that they are NOT using! I feel like a junior spy when I do this. I love it.
Honorable mentions
Another tool you can use is called Keyword Shitter. Ugh, I know. However, I typed the word "keyword" into it and it popped up 400 results in about 20 seconds. It is still populating results as I write this.
You can also search Quora with your keyword and see what kind of results you get. Or Wikipedia. Or type your keyword "+ forum" into a search bar and go looking for websites similar to yours. Look at their blog posts to see what they write about.
Another recent discovery for me is Answer The Public. Type in your keywords and see an amazing graphic with some interesting answers/ideas.
And going back to Google, check out any ads that pop up at the top of search results. When you search Google, you will inevitably get ads on your result page that Google believes matches your search query.
A lot of research has gone in to putting the right ads in front of the right people. Look at the ad copy to see if you can glean some fresh ideas. Look at what they are selling and the words they use in their ad copy.
Pinterest
I will briefly touch on using Pinterest for keywords. If you do not have an account, you should get one just to find keywords. Pinterest is a visual search engine, and the third largest search engine, so take advantage of it.
Sign in and you should be on your profile page. Type a keyword into the search bar but do not hit enter yet. Look in the results in the drop-down box for any potential keywords and write them down. You may not see any if your word is too narrow or broad to get a good result. You might see bloggers with that keyword in their profile name, as well as Pinterest boards with that term in their name. Now click enter.
You should see a row of colored tiles with related keyword search terms.
I typed in "keyword" and here are some results:

The colored tiles are the most popular searches, from left to right, for that term. Steal these ideas! Click on any of the tiles to go to a page with pins related to that term. Also an excellent place to get ideas for current and future keywords.
If you did not get any colored tiles, then your search term is too vague and Pinterest does not know what you are asking it. Try using a broader term. Or use synonyms or related words or try using your word in a sentence to see if you get any hits.
Related Post: Creative Blog Post Ideas
Conclusion
Finding good keywords is basically a treasure hunt. If your blog post brings you traffic, you found the treasure! Be sure to keep a list of all the great keywords that you find, and do not use the same keyword in more than one blog post or you are defeating your efforts.
Honing in on your avatar and niching down your website will help you discover ideas for blog posts. Using all the free keyword search resources that you can find will net you a steady supply of keywords and ideas for your blog or website. #winwin.
Remember to sign up for my weekly newsletter and follow me on Pinterest.
Happy blogging,
-Irma 🙂