Get paid to work at home…when I first heard this phrase it was like angels speaking to me. I had an intense desire to know more and discover how I could make this a reality in my own life.
Can you relate? Does the idea of making some extra money that turns into a full time income appeal to you? What could you do with extra cash? Would you save for a family vacation? Would you put it into a savings account? Or would you buy something that you have wanted for a very long time but could not justify the expense?
Welcome to Fearless Affiliate.
My name is Irma and I help new bloggers to learn the ropes. There is a lot to take in that first year of blogging, from choosing a niche to changing your mindset from worker bee mentality to that of successful entrepreneur.
I like to focus on practical information and positive thinking, so if that sounds good to you please sign up for my weekly newsletter of tips and free stuff for bloggers, including my most popular download, The 5 Minute Guide to Internet Marketing.
This post was originally published on May 17th, 2017 and has been updated to be current with new information. This post may contain affiliate links. If you click a link and make a purchase I may receive a commission at no extra cost to you. Full disclosure is here.
How Can I get Paid to Work at Home?
There are several ways to do this. The most popular ways are affiliate marketing, creating and selling digital products, coaching, or having a membership site.
Your best bet is to consider which system align with your personality and start there. If you have a lot of knowledge on one subject, then coaching may be a good fit for you. Or a membership site, where you can give more personalized attention to your students.
Alternatively, if you understand your niche quite well you might want to consider creating your own products to promote. Later, you can have your own affiliates to promote for you.
For most beginner bloggers, you can jump right in to affiliate marketing by writing product review posts and linking to the product. If people click and purchase, you get a piece of that pie.
Affiliate Marketing
Affiliate marketing means that you promote someone else's products and receive a commission for the sales. Most bloggers are affiliate marketers because of the vast number of available products for many niches.
Many of these products are digital downloads, so the buyer gets their product almost immediately after they click the buy button. As an affiliate, you would receive your commission later on, once payment is verified and the return policy time has passed (this is common practice).
Products can either come through an affiliate network, like Clickbank or ShareASale, or you can promote the products of other bloggers.
Amazon Associates
Amazon also has a profitable affiliate program. You can sign up for your local Amazon affiliate program, as well as the Amazon.com program (typically associated with the USA).
This helps you to make sales locally as well as from people in the USA who click your link but are redirected to their local Amazon storefront.
Amazon cookies only last for 24 hours, but the plus is that customers do not have to purchase whatever you have linked to. They can buy anything from the Amazon site, so you can end up with a commission from things that your customer already had in their cart.
PPC
This is when you apply to an ad company like AdSense or Media.net and you let them put ads on your website. You earn money when people click on the links within the ads.
If you like the idea of getting paid for the ads on your website, then you will want to work on increasing your website traffic. When you get enough sessions in a 30 day time period, you can apply to better ad companies like MediaVine, who pay better. Many bloggers earn a full time income from the money they get from ads.
Surveys
And finally, you can make money doing surveys, from places like DailyRewards or Swagbucks. If you are online anyway, and do lot's of searching, this can be a way to make money.
Why Is Affiliate Marketing a good choice?
Affiliate marketing is simple. You are basically writing review posts about the product and sprinkling in links here and there so that people can click over and check out the product.
You earn money based on the volume of people that you can get to click. It is simple math that you will need a lot of people visiting your website to make money this way, but you need that for all of the different ways to earn money online.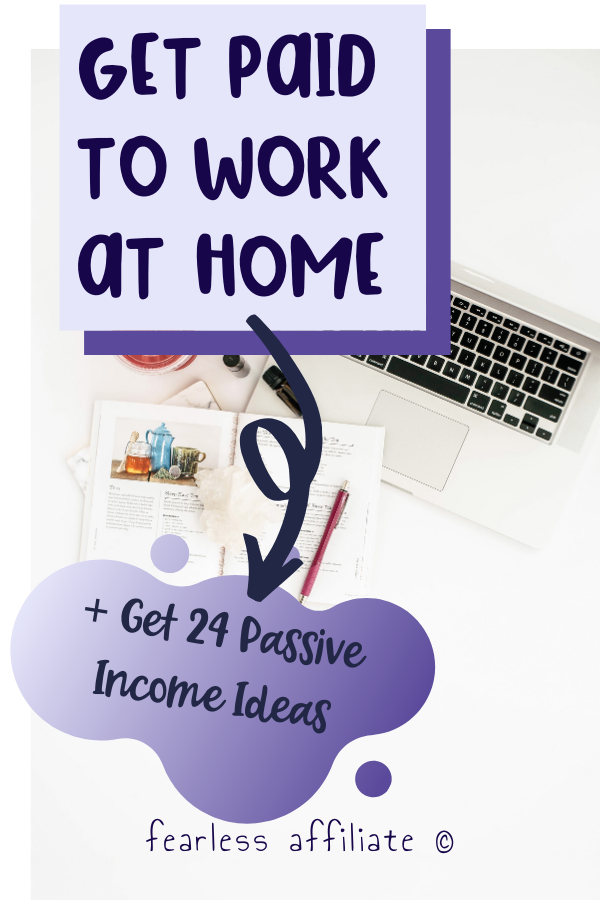 Creating and Selling Your Own Digital Products
This is a very lucrative way to make money online. If you know enough about your niche, you should be able to come up with a product or two that will help your audience solve problems.
These products are usually eBooks or eCourses. You can write a book that solves a problem and then sell it on your website. Ditto for courses.
Many people who blog about blogging sell digital courses and many of these products contain affiliate links for other products, so it is a win-win.
Create a Sales Funnel
When you are thinking of these products, you want to reverse engineer your products so that you are offering different products for different price points. This way all of your visitors and customers feel like they are getting something valuable.
Start off thinking about what kind of bigger ticket product you would like to sell. Then create a lesser product that you can sell as a tripwire product. And finally you will want a small version freebie item.
You may not have a bigger ticket item available, but if you know someone who does, you can be their affiliate until you create something.
How a Sales Funnel Works
A funnel is an inverted triangle; wider at the top (where most people come into it) and narrow at the bottom (where the buyers are). Your job is to attract as many people as possible into the top of the funnel. Most of these people are not buyers, which is why you need a lot of them.
The beauty of this income model is that your buyers, if they are happy with their purchase, will buy from you again. And again. And that is why you offer everyone who comes into your funnel some kind of product that fits where they are in the buyers journey.
A free product for the lookie-loos; a "no brainer" inexpensive product ($7 to $29) that you offer as a limited time special price (often called a tripwire product); and then the higher priced product.
Related Post: Create A Sales Funnel With Free Resources
Note that if you have a weekly newsletter that you offer to subscribers, you can promote any products that you are an affiliate for to your subscribers.
Membership Site
If you know a lot about your niche, then you can create a membership site. This is a great way to be in touch daily with your members and you can give them personal service.
Use your membership site to link to Facebook group live events or webinars. Ask your members to share event links to help bring in more members.
Many new membership sites charge less in the beginning and then as they add more content, the price goes up. If you are already creating freebies to attract newsletter subscribers, you can use this content for your membership site.
You can also ask your members to beta test any new products that you create and get valuable feedback to tweak it before the official launch.
Coaching
Much like membership sites, coaching allows you to give more tailored and personal service to your clients. You may think that you require a lot of education to be a coach, but that is just not true.
As long as you know enough about your niche to be a step or two ahead of your clients, you can be their coach. This is much the same other types of coaching, like sports or math.
You can offer coaching calls, emails, and newsletters to your clients. You can charge in 15 minutes increments or full hours; it is up to you what you think people need or want versus how much time you want to offer individuals.
So How Do I Start Working At Home?
For most of these ideas you will need a website.
Many affiliate programs require that you have a website because they want to know that you will be working to promote the product(s). This is true for Amazon, Clickbank, ShareASale, and many other affiliate networks. It is standard procedure.
Starting a website is the easy part, as you can just choose a website hosting provider, like Siteground (recommended). Siteground comes with a one-click install of WordPress.org, which is the world's most popular blogging platform or content management system (CMS).
Siteground will provide you with everything you need to get your website up including a website specific email address, support, and cpanel. cpanel is the backend dashboard for all the geeky aspects of your website like adding domains, site improvement tools, a file manager and many others.
You need a niche for your website, also known as the topic.
Most niches fall into a few main categories, but you should consider drilling down to find a specific niche topic. The more detailed your niche, the easier it is to find customers/clients. Here are some examples:
Health (drill down: > mental health > stress > avoiding stress)
Fitness (getting in shape > yoga)
Children (babies: getting baby to sleep through the night; children: helping them socialize at daycare)
Related Post: 19 Profitable Niches for Your Blog
Food (How to start: Vegan, Keto, Vegetarian, Auto-Immune protocol diet etc)
Outdoors (getting started with: camping. Where to buy the best camping gear)
Pets (training puppies; teaching your kitten how not to scratch the furniture)
Travel (specific places like travelling to Europe, what to pack, learning the basics of the language and currency)** There are people who house-sit for others all around the world and then write about the places that they live in their travel blogs! HOW COOL IS THAT!!!
And then you need to purchase a domain name for your website.
Many hosting providers also sell domains, but it is never a good idea to keep all of your eggs in one basket. Consider buying your domain from elsewhere.
Check the Whois to find out if the name that you want is available. Try to get the .com version because most people automatically type in .com.
Avoid the weird extensions like .io.
If you are creating an educational site, you can go with .org.
Another option is to get a local extension if you are starting a website to attract more local customers. In that case, go with a regional extension, like .ca for Canada or .hk for Hong Kong.
Conclusion
Choose a niche, the topic for your website
Get hosting that provides you with WordPress.org (

not

the free wordpress.com)
Purchase a domain name (the name of your website. My domain is Fearless Affiliate. You need this for your address on the web)
Did you sign up for your free guide to Internet Marketing? There are a bunch of ideas for making money online!
I hope that I have given you some food for thought. There are many ways to get paid to work at home, and I have listed just a few of them. Start thinking about what you would like to offer to the world and then get busy setting it up.
Cheers and happy blogging! And remember to follow me on Pinterest!
-Irma 🙂