Do you know the difference between copying and duplicate content? The word duplicate content might seem to mean one thing but it actually describes another. At least according to Google, who most bloggers favor to rank their blog posts.
Google has rules about duplicate content, but they are mostly talking about the instance of two identical pages, such as a "regular" page and a "printer" page.
There are also pages that have been stripped down for mobile devices. And there are duplicate pages that exist when moving your site from one domain to the other. We will briefly discuss what to do about some of these below.
This post was originally published on August 31st, 2017 and has been updated to be current with new information. This post may contain affiliate links. If you click a link and make a purchase I may receive a commission at no extra cost to you. Full disclosure is here.
Welcome to Fearless Affiliate. My name is Irma and I help new bloggers to learn the ropes. There is a lot to take in that first year of blogging, from choosing a niche to changing your mindset from worker bee mentality to that of successful entrepreneur.
I like to focus on practical information and positive thinking, so if that sounds good to you please sign up for my weekly newsletter of tips and free stuff for bloggers. In return you will get the password to my resource library of PDF printables for bloggers like my SEO Checklist for Beginners or my Google Analytics Cheatsheet. #win-win
Copied Content
What many new bloggers may think is being referred to as duplicate content is actually called copying, or scraped content if you are using a bot to help.
Copied content is, according to Google, the out and out copying of information from one website to another, or "deliberately duplicating content across domains in an attempt to manipulate search engine rankings or win more traffic". #bad
The "bad" kind of copying is directly taking someone else's blog post and claiming it as your own.
Some new bloggers will direct copy another bloggers post and claim it as their own. They seem to believe that they cannot be caught due to the massive amount of information on the web. They are wrong.
According to Google.com, "if Google perceives that the content has been duplicated with the intent to manipulate ranking, they will make adjustments in the indexing and ranking of the sites involved". #bloggingabyss
Google is telling you not to plagiarize other people's content.
You will go to the bottom of the search engine ranking or not be indexed at all if you are caught. This is not good if you are you are hoping to earn an income from your site one day.
Copied content is not just a problem for Google. It is a problem for people searching on the internet and finding page after page of mostly similar content, especially if it is stuffed with keywords.
This is quite obvious in review sites, where everyone is reviewing the same crock pot or makeup product.
These pages do not add anything to the visitors experience on the web. They all use the same ranking method, the same wording, and the same photos. No one is adding anything new to the conversation.
If you have started a niche website and are not offering original content, then visitors will not stay, because they have likely already read your content on a higher ranking web page. There are no wins in this situation.
The bottom line is to research as much as you want, online, and then write your content from what you have learned, using your own words.
Do. Not. Copy.
So What Exactly Is Duplicate Content?
Note: I am only going to discuss basic blog content issues; going into all the reasons why Google may target your site for duplicate content is outside the scope of this article.
There are a few things that do not set off any red flags with Google, such as multiple URLs, syndicated content, or store items that are linked via multiple distinct URLs. Search engine bots know that this content exists and they choose what to crawl accordingly.
Duplicate content issues crop up when you have several blog posts that appear similar
For whatever reason, and these duplicate pages confuse the Google bots.
This happens when you change the URL of your website without correctly re-directing pages/posts. Or if you have written several blog posts on the same topic and they appear similar to Google.
Most of these issues do not set off any red flags with Google, but they can be confusing to the bots just the same. If you have the time and are willing to learn, fixing these issues is a good thing.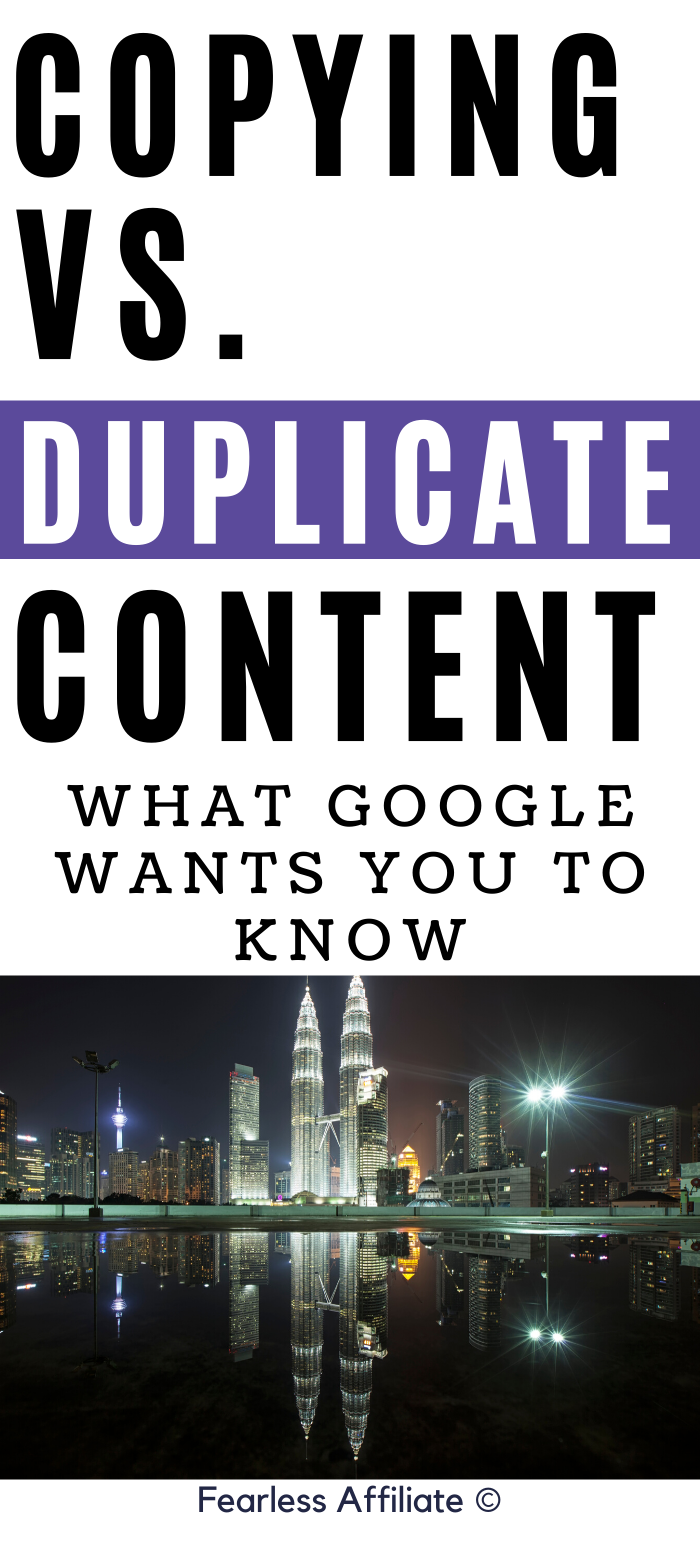 How To Fix SEO Duplicate Content Issues
301 direct:
If you've restructured/moved your site, use 301 (Permanent) redirects in your .htaccess file to change the URL of your page. 301 redirects do what it says, they redirect your visitor to a new URL. I will not be discussing how to do this as there are many variables.
Only use this option if you have moved your site to a new domain and are never coming back to the old one. If the move is temporary, or you may come back, use a 302 (Temporary) redirect. This way your site does not suffer from a loss of traffic, and the Googlebots know what to do.
According to Google, you should ideally try to go from the old site in one hop for each page/post. Hopping from 301 to 301 to 301 may result in Google just abandoning that crawl.
Rel=canonical:
This is a coding tag that tells the search engine which page to crawl if you have duplicates. If your site can be accessed through several URLs (i.e. HTTP vs HTTPS; www or non-www), then you should choose one as your main (canonical) site and then use the 301 redirect to send other URLs to your preferred URL.
Search engines can read your website pages in many ways, so it is not a stretch that your page comes up in several different ways. You can help Google out by checking this and fixing anything that is not helping you.
Check out this ultimate guide to rel=canonical from Yoast SEO. It's pretty geeky, but if you think you have problems in this area, it is good read.
I suggest that you use Google Search Console to check for duplicates
Go to Search Appearance > HTML Improvements. If you have any, they will be here.
As well, use Google Search Console to set your preferred domain, and then Google will use that for future crawls.
On the Search Console Home page, click the site you want.
Click the gear icon and then click Site Settings.
In the PREFERRED DOMAIN section, select the option you want.
You may need to verify ownership of both versions of your domain.
Noindex:
Google has a page dedicated to teaching you how to block search engine indexing with 'noindex".
Noindex is a tag used to tell Google to not crawl pages or posts.
If you have AIO SEO on your WordPress site, you can go into your settings and scroll down to the No index settings and check the boxes for pages or posts that you do not want indexed. While Google will still crawl the page/post for errors, it will not be indexed.
This is great for "thank you" pages, where a visitor will come to grab their free .pdf that you are offering to subscribers. If you leave this page to be indexed, anyone who finds the page while searching can access your freebie without signing up, which is a loss of traffic for you.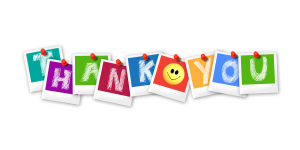 The instructions from Google to manually prevent most search engine web crawlers from indexing a page is to add a <meta name="robots" content="no index"> to the <head> section of your page. Switch out the word robots for googlebot to prevent only Google web crawlers from indexing a page.
Note that if Google finds multiples of the same post, the bots will crawl all of them to determine which one it believes is the original. You have to make sure that the bots have access to all pages and posts on your website, so that they can find these "originals".
What To Do If Someone Copies Your Original Content
This can easily happen if you use RSS feed to send your blog post out automatically. Make sure that there is a link back to your post from the RSS, so that you get credit for it.
If someone does work around your post to remove the link back to your website, try to contact them and ask to have the link put back. If they know they are caught with your content, they may be willing to.
They may have copied the content so that they could translate it to another language, but they have still stolen it. Try to sort it out the easy way first.
If necessary, refer to the article on rel=canonical: The Ultimate Guide from Yoast on how to add the canonical link back to your website.
How To Add A Copyright Your Original Content
If you are using a WordPress platform, then you can add a plugin compatible with your theme, to automatically add a copyright notice your blog posts.
You can manually add the copyright symbol (©) into every post. On my pc keyboard, you hold down the ALT key and type 0169 to get the symbol.
You can copyright your website through a national agency within the country that you live in. There is usually a fee associated with this, however it is nominal for your peace of mind.
Conclusion
I hope that this post has been helpful in clearing up some of the confusion between copied and duplicate content. It is my hope that we can all be successful with our blogs. Let's create the kind of content that we can be proud of!
Please sign up for my free weekly newsletter of freebies and tips for bloggers. You will receive the password to my Resource Library of PDF printables for bloggers like my Google Analtyics Cheatsheet. Or get my 101 Blog Post Titles swipe file. #win-win
Happy blogging, and follow me on Pinterest.
-Irma 🙂