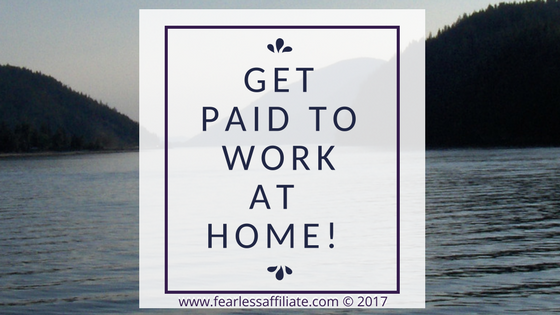 How does that sound to you? Get paid to work at home…get paid to work while on vacation…get paid from somewhere other than your current employer.
*This post contains affiliate links that if you click them and purchase something will give me a small commission at no extra cost to you. This helps me fund my blog. Full disclosure at the bottom of the page*
How Can I get Paid to work from home?
There are several ways to do this. Affiliate Marketing, whereby you have a webpage or blog and you place ads, known as "Affiliates" on your page. If someone clicks the ad and buys something from the company, you get a commission. Clickbank is the most well known retailer of digital affiliate products, and has a wide variety of partner offers. Share-a-Sale is another retailer with quality products.
Amazon Associates also has a profitable affiliate program, however they only keep cookies for 24 hours, so if the customer does not buy, you do not get the commission. On the plus side, if the customer clicks your link and buys something completely different within that 24 hours, you will get a commission on that item! While commissions are low with Amazon, you can still earn good revenue if you are promoting higher end products. Amazon is also country-specific, so if you do not have an Amazon where you live, this will not be a good fit for you.
A rookie mistake is to sign up with Amazon Associates before you have enough blog traffic to earn any money. Amazon gives you 6 months to start earning and then they will delete your access to the program (and then you need to remove those links from your blog posts!). Yes, I did this…like I said, rookie mistake lol.
You can always reapply, so it is not a complete waste, but it is much easier if you concentrate on creating lots of great content (i.e blog posts), and then add an affiliate link or two and test how this goes over with your audience.
You can also find distributors for products and then purchase a number of items and sell them yourself on Amazon – many people do this. There is some trial and error, but there is much money to be made online, and the future gets brighter every day as it seems like Amazon is taking over the world!
There is also PPC or pay per click, which also requires a website. The company with the ad pays you whenever someone clicks their ad on your site. Google AdWords is a good example of this. You see their ads everywhere, though you may not know that it is Google promoting them. You can identify them easily, since the ads are targeted to your search history.
And finally, you can make money doing surveys, from places like DailyRewards or Swagbucks. If you are online anyway, and do lot's of searching, this can be a way to make money.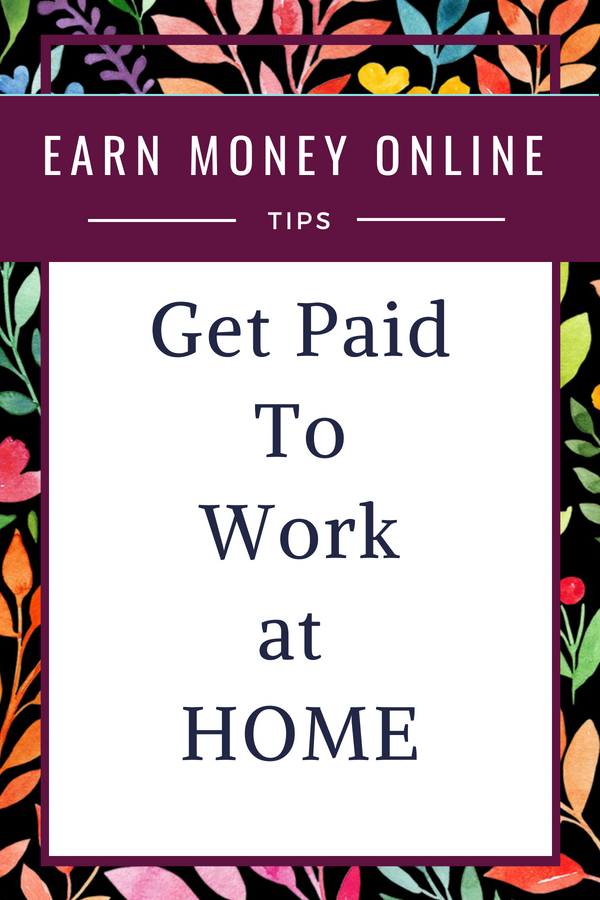 Why Do Affiliate Marketing?
Successful affiliate marketing can give you ability to earn money 24/7, from anywhere in the world. Imagine being able to take your laptop with you to some sunny, tropical location, and be earning money the whole time, as well as coming up with ideas for more content! This is the reality.
It takes time to get set up, and to generate traffic, but once you have made even one dollar online, you will know without a doubt that you can make more. The sky really is the limit!
If you write posts on your website about things that you are passionate about, and place affiliate ads that line up with your passion, the product will sell itself. I have an article on choosing a niche here.
But How Do I Earn That Sweet Cash?
Every niche has affiliates. Every.Niche. If you check out the websites of businesses selling products online, many of them have an affiliate program.
You will see the link to join an affiliate program at the bottom of a webpage. Here is an example from Brain Sync with Kelly Howell, which I featured in a post here.

Just click the link at whatever website you want to check out and read all about it. It is pretty simple, since they just want some basic information from you and a way to pay you (usually PayPal). Have a look around the websites that you enjoy going to. Many, if not all, will either have an affiliate program or be affiliates themselves.
How they pay, how much you earn and other pertinent details are different for every affiliate program. Some pay you a flat rate and some pay a percentage of the sale. Try to stick to programs that promote a quality product more than how much you will earn. A really great affiliate product will earn you money for years. And if you have several of these, well…
A few ads in the right places can bring you that income that you want so that you can replace your 9-to-5 gig. Usually you place them in blog posts and maybe in the sidebar or footer of your website or wherever it looks best. It works best if you promote products that you either use or trust, since your enthusiasm for the product will help promote it.
So what do I do to get started?
You need a niche, which is the subject of your website. After you get set up, you need to start writing blog posts. If you think you are not a writer, think again! If you can talk, you can write. Just start, because you will find your voice and your writing will improve. Do not worry in the beginning, as you have much to learn about all sorts of stuff, so just throw learning to write better onto that pile and keep going.
If you want to check it out, figure out your niche and then go looking for affiliate programs. Here are some broad categories for your niche. I say broad because if you can drill down and find a specific topic, it will help.
Health (drill down: > mental health > stress > avoiding stress)
Fitness (walking, running, swimming, hiking etc)
Children (niches can be babies, toddlers and/or pre-schoolers, teens etc)
Food (vegan, vegetarian, keto, paleo etc)
Outdoors (camping, hiking, barbecuing, cottages, camping gear etc)
Pets (training pets, pet health, pet toys)
Travel (specific places like travelling to Europe, what to pack, learning the basics of the language and currency)** There are people who house-sit for others all around the world and then write about the places that they live in their travel blogs! HOW COOL IS THAT!!!
So, your tasks are:
-get a niche, and then find affiliate programs
-get website up and going. Sign up at Wealthy Affiliate for a free 7 day trial that includes free hosting and 2 websites.
-place affiliate ads in your post and maybe the sidebar.
Yes, it does take time, but in this case slow and steady does win the race. You are building a business. One that will pay you while you are at the beach. Can you already feel the sun on your face??
3 Steps to getting your website up and going
Choose a domain name that is appropriate for the service that you are providing. Choose a couple of alternates in case your first choice is not available. Search your name at goDaddy.com. If it is available, purchase it. Avoid domain names with special characters, like hyphens, if someone else has the name that you want. Also avoid hard to spell names. If possible go for the .com, unless your site is location specific. I have more information on choosing a domain here.
Choose a website building site, such as WordPress, where you can build your webpages. Use WordPress.org if you have a domain of your own, or wordpress.com if you want to use their sub-domain with free hosting. I have an article on free WordPress website hosting here.
Choose your host site, if you are not using an all-in-one. Bluehost.com and goDaddy.com are popular sites. Be sure to compare a few different companies, as well as comparing apples to apples with the available options. I cannot recommend one right now, as my hosting comes with my Wealthy Affiliate membership, along with a ton of other benefits.
Once you have these three steps taken care of, you can go back to your website builder and start choosing themes and plugin options, and posting articles. Congratulations on starting a website! Now wasn't that easy?
If you have more time to invest in your website, I say GO FOR IT! You will reach your goals that much faster. Quality posts are the way to go, and then set up email marketing and one affiliate, and then monitor the results with information that you learned from my tutorial on Google Analytics.
Cheers and happy blogging!
-Irma 🙂
Please leave a comment below if you enjoyed this article, or if you see errors or omissions. I am striving to be helpful to people who are new to this area of earning money, and I want to make it easier than I found while I was searching.
If you are interested in getting started with the All-In-One Affiliate Certification Course at Wealthy Affiliate, which I highly recommend, the follow my link and try it for free for 7 days. You can do the first 10 lessons of the program in your free trial and learn how to set up a WordPress site, create pages and posts, and many other parts of building a website!
You will get everything that you need to have a website like mine (choose your own theme!), as well as hosting, email, 24/7 support and many extras, starting for ZERO dollars!
Happy Blogging!
-Irma 🙂