So, summer slump. Real problem or fake news? And can we
Avoid Summmer Slump?
For bloggers it can be one or the other. I have read some blog posts on how to earn money while traffic is low. And I have read other posts of people who bemoan the summer months. Sigh. I think that now is a great time to work on SEO and other ways for us to show our authority, considering the August 1, 2018 Google algorithm update just kicked a bunch of rank #1 blogs out of the top spot due to the change in their local and organic ranking system. It is a long story that you can read
here
.
What is summer slump?
It is that time when all of our loyal readers are at the beach. Or the pool. Or their backyard. But one place they are not is on the computer reading blog posts or newsletters. Our loyal readers are outside! Oh, the humanity! Summer slump appears to be less about how much traffic and more about what you can do with the traffic that you do have. Because you are still getting traffic right?
So what exactly does this slump mean for bloggers?
In theory, it means that traffic will go down because people are not at home on their computers, but does that mean that conversions are down? Not necessarily. Want to know what this one blogger discovered about summer slump? Hint: more conversions. In this blog post by
PotPieGirl
, Jennifer noticed that her conversions were up! Granted this post refers to Amazon sales, but seriously…conversions going up in summer? Hmmm. Not so much of a slump for some bloggers. I do not sell much from Amazon and so have not noticed an increase in conversions. Actually, I lied just then. I have not even checked my stats lately. Ahem.
Ok then what can we do to avoid this slump?
Well, you could go outside too you know. But if that is not an option, and I know it is not an option for lots of bloggers (bad weather, nearby forest fires, sick kids, all of the above) then this would be a great time to finish some projects and cross things off of your list. Since there are people shopping, now is a good time to offer more stuff on your website as opt-in incentives. Create a new content upgrade for the people who are visiting.
For me, personally, I finished up that 7 Day Auto-Responder Audit email course I was working on.
It is a new freebie opt-in offer and because email marketing fascinates me, I was hoping that other people who are fascinated as well might like to spruce up their auto-responder. Be sure to sign up for my newsletter (opt in forms are above and below this post) to find out about new courses or sale prices for any of the paid products I will be mentioning below. I will try to get another free course done before the end of August, but I am going out of town for a week (sun! pool! Free concerts!). Good times.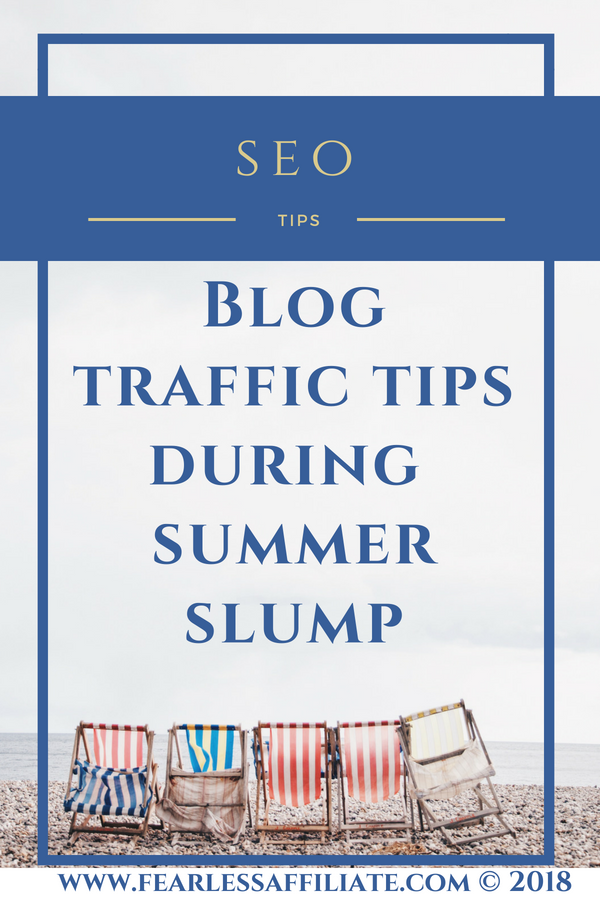 Add new content to old posts
I am currently updating my old posts as well, so you will not be alone in screaming in horror at your old posts. I actually found a post that was just a bit over 400 words. 400?? Ugh, I shudder. Lately I am lucky if I can stop at 2000 words per post. It takes restraint, so finding a short little post like that horrified me. So I went in there with gloves and goggles on, ready to get into it and I kicked it up to over 1500 words! Yup, pretty proud. New blog post banner and new pins too!
And while you are digging around in the vault, look for content that is outdated.
Or that you can remove the date from, such as that awesome Christmas post from 2016. Make a note to yourself to update it and change the date and use it for this season. Okay, enough. If you are still reading, stop. Go outside before summer is over. Come back in after a reasonable amount of time and get back to work. Summer slump? Nope, not here! We are giving our visitors the best and most valuable content possible 🙂 If you find this post helpful, please share it freely with others.Thank you. And sign up for my free weekly newsletter of tips and free stuff for bloggers. Have a great week and happy blogging. Follow me on
Pinterest!
-Irma 🙂