Avoid summer slump this year by being pro-active with your blog/website. Traffic tends to fall off during summer. Is this your cue to go to the beach? Maybe.
Or it could be your opportunity to do those tasks that you've been putting off…and then go to the beach!
This post was originally published August 7, 2018 and has been updated to be current with new information.

Affiliate Disclosure

.
Welcome to Fearless Affiliate.
My name is Irma and I help new bloggers to learn the ropes. There is a lot to take in that first year of blogging, from choosing a niche to changing your mindset from worker bee mentality to that of successful entrepreneur.
I like to focus on practical information and positive thinking, so if that sounds good to you please sign up for my weekly newsletter of tips and free stuff for bloggers.
Subscribers will get the password to my resource library of PDF printables for bloggers like my Google Analytics Cheatsheet or my SEO Checklist.#win-win
Need Some Traffic? I Have Ideas
I can help with that too! Read my "30 More Ways To Get Traffic"…it's in the Resource Library. Sign up now and check it out.
What is A Summer Slump for Bloggers?
It is that time when all of our loyal readers are at the beach, the pool, or their backyard.
But one place they are not is on the computer reading blog posts or newsletters. Our loyal readers are outside! Oh, the humanity!
Summer slump appears to be less about how much traffic you currently have and more about what you can do with the traffic that you do have.
Because you are still getting traffic right? As well, now is the best time to get ready for Q4 and the upcoming holiday sales time.
Yes, You Can Avoid Summer Slump!
I have read multiple blog posts on how to earn money while traffic is low.
And I have read other posts of people who bemoan the summer months. Sigh.
Summer is a great time to work on all those nagging little tasks that you have been putting off.
Clean up your website, start or update your newsletter, clean up old emails…trust me, there is always lots to do!
Here Are Ten Ways To Tackle Summer Slump
Well, you could go outside too you know.
But if that is not an option, and I know it is not an option for lots of bloggers (bad weather, nearby forest fires, sick kids, all of the above) then this would be a great time to finish some projects and cross things off of your list.
1. This is a good time to switch your hosting if you have been thinking about it.
I switched to Siteground, and I couldn't be happier.
I highly recommend Siteground, because they are so helpful. They never make me feel like I am wasting someone's time asking questions or seeking help.
Chat is the fastest way to get things done. You get a tech person almost immediately, which is great, because they chat is live. That makes getting things done much simpler.
2. Update Your Website with A New Theme
My theme comes from Generate Press. Get a free version or just go crazy and spend $49 for the Pro version.
Generate Press is a simple theme that you can add on to and create a totally custom website.
Since you only add on what you want, the theme is quick and responsive. There is no bloat and it loads quickly. They also have a lively Facebook group where you can ask question and get direction for customizing the theme.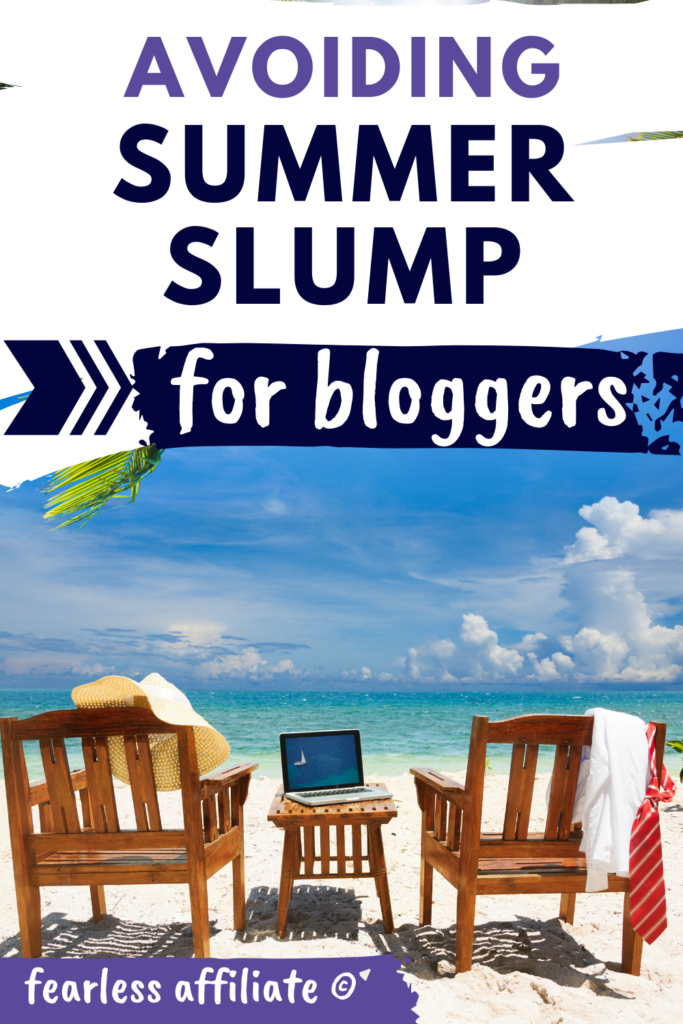 3. Create A New Opt-in Incentive
Create a new freebie to entice readers to subscribe to your newsletter. Plan out a new sales funnel and create a nice incentive for your readers.
Make your freebie part of your overall plan to earn more passive income.
4. Create A Tripwire Product
Along with creating a new freebie, how about creating a "next-step" products as well?
If you've been thinking of creating a product for passive income, there is no better time.
Create an inexpensive digital product that is an extension of a popular freebie that you already offer.
Sell it for $9 to $29 and pay for your hosting, email service provider, or to buy a new theme.
5. Add New Content to Old Posts
I am currently updating my old posts as well, so you will not be alone in screaming in horror at your old posts.
I actually found a post that was just a bit over 400 words. 400?? Ugh, I shudder.
Lately I am lucky if I can stop at 2000 words per post. It takes restraint, so finding a short little post like that horrified me.
So, I went in there with gloves and goggles on, ready to get into it and I kicked it up to over 1500 words! Yup, pretty proud.
6. Optimize Your Content For SEO
If you are missing any SEO steps with your content, now is the time to fix it.
We are heading for Q4 and the holiday shopping that brings more sales, so get your content on page 1 with excellent SEO.
Related Post: 10 Easy SEO Wins
The latest Google algorithm update just kicked a bunch of rank #1 blogs out of the top spot
This was due to the change in their local and organic ranking system.
It is a long story that you can read here. And here.
In theory, it means that traffic will go down because people are not at home on their computers, but does that mean that conversions are down?
Not necessarily.
Want to know what this one blogger discovered about summer slump? Hint: more conversions.
In this blog post by PotPieGirl, Jennifer noticed that her conversions were up over the "summer slump".
Granted this post refers to Amazon sales, but seriously…conversions going up in summer? Hmmm. Not so much of a slump for some bloggers.
I am not an Amazon Associate, but if you are, keep this in mind. Because Prime Day is in July for a reason.
7. And while You Are Digging Around In The Vault, Look For Content To Update.
If you have posts that no longer serve your blog and what you want to share, go ahead and archive them, especially if they don't bring traffic. DO NOT DELETE. You may want that post for later.
If they do bring traffic, just keep updating them, because they bring traffic.
You can update the publishing date to the current date. This moves the post up in your blog roll…great for new readers.
8. Remove or Fix Dated Content
I discovered early on in my blogging that you can re-use blog posts for yearly sales, like Amazon Prime day. Just be sure that you do not put the date in your blog post URL.
Then every year I update the post and republish it.
Super helpful, because the post is already ranking. You can add the current year to updated images and pins.
If you do have dated content, you can change the URL using a re-direct plugin. Only do this if you are comfortable doing geeky stuff within your content management system i.e WordPress.
9. Update Blog Post Images
Create a new featured image and make some new pins to share on Pinterest (if you are using Pinterest for Business), for any updated posts.
People do scroll Pinterest from their phones while at the beach, so do not discount this platform. Be sure to make new pins for landing pages and get them out into the pinning-sphere now.
10. Make More Pins
Pinterest likes fresh pins daily. I'm getting in the habit of creating 3 pins per post. I use one and put the others in a folder with the current month.
In two months I will come back and add one of the extra pins to my current rotation.
You cannot add the same pin over and over in Tailwind, but you can make similar pins and upload those to Tribes every 2 months.
11. Start Using The Pinterest Native Scheduler
The native scheduler is awesome! Load it up with your pins, and schedule them to go out whenever you want.
Have one pin scheduled for different times, or a different pin every day. This is an amazing time saver.
You can add 14 pins at one time, setting each to go out at the time your people are typically scrolling the feed. Easy peasy.
12. Use Better Quality Stock Images
You can sign up for Shutterstock or Deposit Photo and start using images that are different from the ones everyone uses from free photo sites.
Not only are the photos different, you know that the up-loader has permission to upload it. There is no guarantee of that at free sites.
A great deal from Deposit Photos can be had if you are signed up to AppSumo.
They have an annual deal for 100 photos for $49 (half price!).
Alternatively, Haute Stock and Ivory Mix send out freebies if you are signed up for their newsletters. These are mostly feminine and floral photos, but they have plenty of white space for text.
13. Prepare for The Upcoming Winter Holidays with New Posts
Choose your popular holiday topics and create a new post that goes along with them. Use Google Analytics to see what was popular for you during last fall/winter.
Related Post: Google Analytics Tutorial (subscribers get the cheat sheet!)
You can never have too many posts on self improvement, goal setting, diets, fitness , and positive thinking ready for the upcoming new year.
14. Update Your Permalink Structure
It used to be recommended to have the date within your blog post URL, but that is outdated. If you want your content to be evergreen, you should avoid having the date of publish on your posts.
Be sure to get help with this if you don't understand how.
Watch a YouTube video, like the one below, but please don't attempt this if you are unsure of anything about it. No point making a mess if you don't need to.
15. Learn To Use A New Social Media Channel
This could be a great time for you to look into using Facebook ads, or how to start an Instagram account, or start pinning for traffic.
I would only recommend learning one of these at a time. Become proficient with one before moving on to the next.
16. Reach Out To Other Bloggers
Make a new blogging friend…or two. Find bloggers who have a similar niche do a guest post swap. Look for ways to network with other bloggers that can promote your blog.
Or just look for blogging mentors that can help you get to the next level, with advice or tips.
17. Read A Helpful Blogging Book
Blogging pro's are always writing helpful books. Take their advice and see how you can incorporate it into your blog. Read up on ways to tackle your inbox, how to deal with all your sticky notes, or how to create a useful content calendar.
18. Take A Blogging Course
I recommend Pinterest for traffic. If you are interested but are not sure where to start, I recommend any or all of these:
For brand new-to-Pinterest bloggers, I suggest Pinterest Ninja to get you set up.
Manual Pinning Simplified is the course for pinning using your mobile phone.
And if you don't want to pay for scheduling tools, get Carly's Pinteresting Strategies.
19. Set Up Your Email Newsletter Welcome Series
There is no better way to connect with your tribe than email. And once you get set up you will wonder why you waited.
Set up your welcome series of 3, 4, or even 5 emails, set to go out automatically. Welcome your new peeps with a warm and personal message explaining how you can help them.
20. Do Some Blogging Housekeeping
Clean up and delete emails.
Unsubscribe from emails.
Tidy up your desk.
Organize tasks in your planner.
Set new goals. Update older goals.
Plan seasonal content
Organize blog courses and eBooks on your computer. Move files to a usb drive or external HDD for safe keeping.
21. Back up Your Blog!
I use UpDraft Plus! and it sends a copy of my weekly backup right to my email. It takes minutes to run a backup, but it saves a lifetime of pain if something goes wrong with your website.
Don't risk it.
Conclusion
Okay, enough. If you are still reading, stop. Go outside before summer is over. Come back in after a reasonable amount of time and get back to work.
Summer slump? Nope, not here!
Are you ready to start your blog and/or side hustle? Now is the time to create your own future and future income. Please sign up for my weekly newsletter of tips and free stuff for bloggers, like my passive income checklists. See if a blogging "side hustle" is right for you!
Happy blogging and follow me on Pinterest!
I hope that you have enjoyed this post, and please share it with anyone that you think can benefit from it. Our success benefits everyone! Questions? Comments? Please leave them in the box below. I am always happy to hear from you!
And sharing is caring 🙂
-Irma 🙂