I know for myself, that try before you buy is a time and money saver. I do not need to worry about the guarantee because I already know whether I like the product or not.
Which do you prefer?
*This post contains an affiliate link. If you purchase through this link I may receive a small commission at no extra cost to you. This helps me to fund my blogging. My full disclosure is at the bottom of the page*
Many people get sucked into online marketing scams because of the guarantee. That, and the high pressure sales with lots of fancy photos of how much better your life will be if you purchase their product.
Let us take a look at why try-before-you-buy is a better guarantee than a guarantee in many instances with online shopping.
Whether you are shopping for a product or not, the ability to try something without being obligated to buy it is the cornerstone of many shopping experiences. Grocery stores have new food products with a person manning a toaster oven; hardware stores have in-house demos of new power tools. Even the Apple Store allows you to try out the Apple watch, letting customers book into 15 minute appointments with employee experts. No obligation means you are more relaxed about the experience, as well as knowing that you are completely in control. And the "test drive" concept wins more sales, especially if that product is a quality product.
Try-before-you-buy allows the consumer to understand and "get it", something you do not get from an ordinary online purchase until the product is paid for and then arrives at your home. If it is broken or does not give you the experience that you were hoping for, it is up to you to return it. If it is an e-product and does not meet the criteria that was used to sell the product to you, you will be wary of buying online again.
Try-before-you-buy reduces the risk of buying. It is smart business to offer it, and it is smart for consumers to take advantage of it. This is why you see free shipping with so many products now. Companies who sell online know that happy customers will shop with them again and again, whereas if you make the process of returning a product problematic for the consumer, they will likely shop elsewhere next time.
Large retailers understand that try-before-you-buy is the way of the future, which is why Best Buy has partnered with Lumoid to offer a try-before-you-buy rental program for consumers. You can rent cameras, audio equipment, and fitness trackers. These are products that were returned and now Best Buy is providing the items to Lumoid to rent out.
Try-before-you-buy is as close to an in-store shopping experience as you can get online, and it makes for a deeper connection. You no longer have to wonder if this is the right product for you, because you get to use it and find out for sure. The longer the trial, the more opportunity you have to see any negatives about the product, ask questions about it, or find out more things that you like about it.
Let's look at how a guarantee compare:
Pay up front now, and if you do not like the product it is your responsibility to do the work of the return. Sometimes the company deducts shipping costs from your return. In the case of physical products, some companies want it repackaged exactly as it was shipped to you. Yes, you got to try it, but now you have to return it. You also may have to prove that you did your part in order to qualify for a refund! This is a sad way to run a business, and it is unethical.
Pay up front now; return unused portion for a full refund. Many times, especially with online purchases from shady website, the actual procedure for getting your money back is much more complex than this. It involves contacting a toll free number that is always busy. If you are going to return the product, then you must return 75 to 90% of the product or you will be charged for what you used and this affects the amount of money that you get back.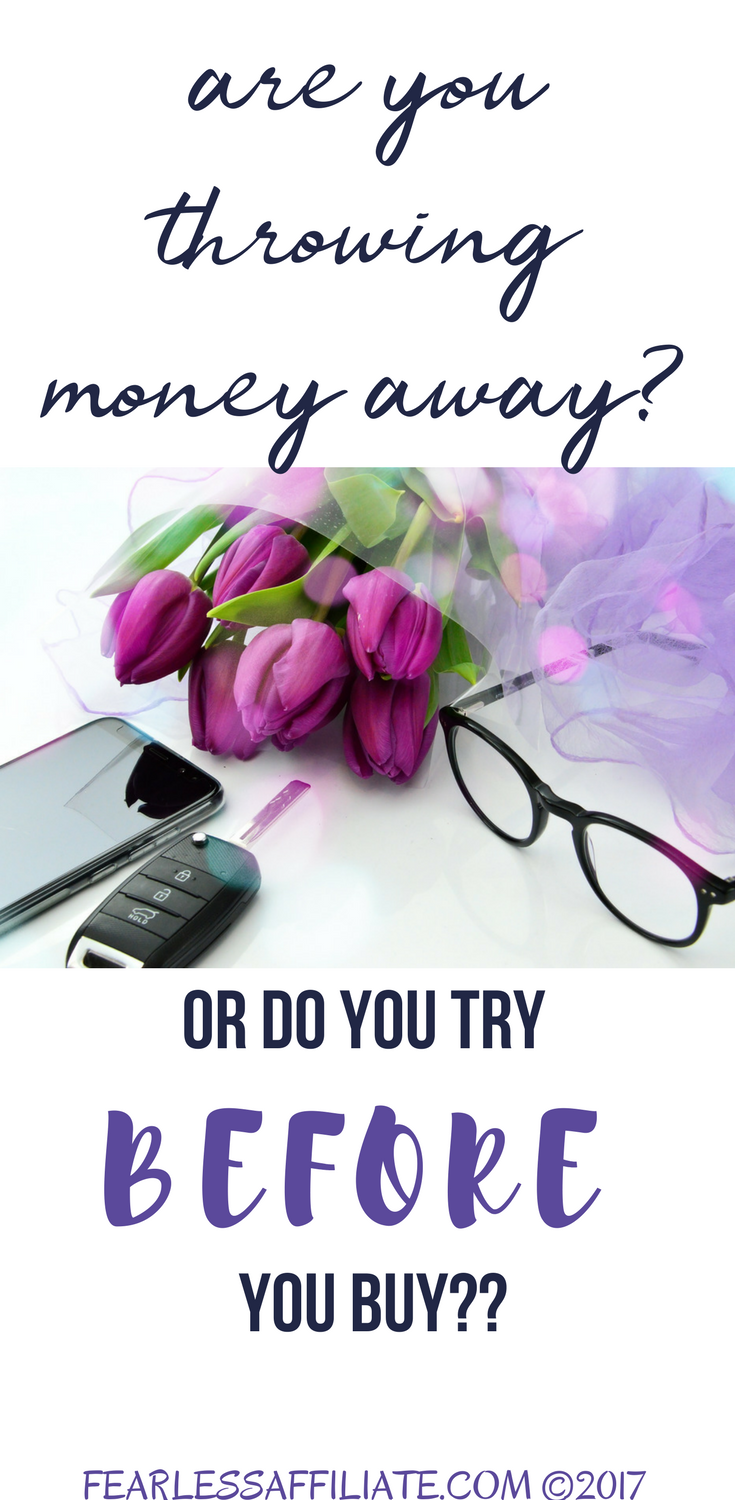 And if you cannot contact them within the specified time period, you will be charged an exorbitant amount of money for the product. We have seen this with products that Dr. Oz was promoting, where you got a free sample but if you did not cancel or return the product in a specified amount of time, you were charged over $300.00 for it and it was put on your credit card bill as a monthly ship product.
Many people fell for these scams because of the Dr. Oz name. They never bothered to read the fine print on how challenging it is to get a refund. I fell for one of these…Acai berry stuff as I remember, and it was about 9 or 10 years ago! I had to cancel my credit card to stop the payments going through. I was embarrassed at falling for something like this and the product did nothing as far as improving my health or my life.
A sales page that emphasizes the guarantee. This is a big red flag for consumers. If the company is trying to sell you the guarantee as the biggest part of the sales pitch, you really have to wonder about the product. Especially if it is an expensive product, say $500.00 or more. Anyone who asks you to invest $500.00 with a guarantee that you will make that money back in x amount of time is a SCAM. Go online and look for the negative reviews. If you can read over and over again about how difficult it is to get support or a refund from this company, then walk in the other direction.
Be very careful about these reviews as well. Many people who have been duped are offering up reviews to get more people to sign up under them, in the hopes of getting some money back. If they offer a glowing review, look at what they are saying. Are they reviewing the product or the company? Or the owner? Or other sales people?
I have seen lots of reviews where people talk about going to the owner's home and how nice he is to their children, but what does this tell you about the product? Nothing. It just means that the owner of the company has lots of spare time to invite people to his home. Nothing more.
And while we are here, beware of anything that offers outrageous claims of its success, how much money you will make, high income for part-time hours, get-rich-quick, earn thousands of dollars overnight etc etc. No matter what kind of guarantee these businesses offer you, you will not be satisfied with the products that they send you, which is usually information that you can get for free on the internet. Upsells are their bread and butter, so they constantly try to sell you more, and more, and more. And in the end, you are no closer to the dream life that they promised. If you are unhappy with your "education", then it is because YOU have unreal expectations. Best of luck getting your money back, because the owner of this company has already spent it.
MLM's and the guarantee of success. Possibly the worst offender of them all. If you have read about the Herbalife scandal, where thousands of people were duped out of their hard earned money trying to start a business with Herbalife products. The market for Herbalife is very low, and most of the sales come from sales reps trying to offload their mandatory purchases onto other people, effectively "working the MLM system". With a loss rate of 99.9% you have a better chance with a lottery ticket.

They promise "better opportunity that all other conventional business models", "success is easy", and "you can do it in your spare time". These are blatant lies! Building a business takes time. Most of the information that you need to start a business online is available for free on the internet, and you will see very few people who are successful online promoting MLM products.
Offering a guarantee does not mean that you will get a full refund. There are so many ways to word things in favor of the person offering the guarantee. They will give you the run around or point you to another area of the website that shows you what you actually signed up for. You really must read the fine print first, and look for other areas of the website for more fine print!
If you want a real guarantee, do your homework. Read reviews. Talk to people. Ask questions in forums. The days of being able to take someone or something at face value are gone. The only way to develop trust in a product is to use it and enjoy it and then tell others.
I hope that I have given you some information to help you with your search for a way to make money online. There are thousands of people earning a great living with blogs and websites, and you can certainly be one of them if you do some research.
I promote Wealthy Affiliate, because I did try it before I signed up, and my review is here . Being able to try everything first went a long way in convincing me that I could get what I need to live my life the way I want from the education that I am receiving. I do not have to promote Wealthy Affiliate; I am free to promote Amazon Associates, Clickbank, ShareASale, or any other affiliate program that I want. My website is tailored to me, and what I want to do with it.
I am not looking to "get rich quick" because what I really want is to inform people of the scams that I have found, and to put some of the education that you need when starting a blog in one place, like improving search engine optimization and email marketing basics.
And you can do this as well. If you have a hobby that you really enjoy and want to share with others, or if there is something that you want to learn about while you share what you are learning with others, then affiliate marketing is for you! Cooking, pets, sports, clothing, makeup, chainsaws, bbq's, mental health, physical health, skin care, music, anime…the list goes on and on.
If you know something about something and you want to share it, blogging is the way to go. I like to think of bloggers as the "story tellers" of the world. Back when we were hunter/gatherers and we had that one person who kept track of the clans history, to tell others. We are here to inform!
If you like what you have read here, please consider subscribing, and sharing this content with others. As always, your comments matter and are appreciated! Follow me on Pinterest!
Happy blogging,
-Irma 🙂