Website content ideas can flow…and ebb. If you are stuck with no ideas and your deadline is fast approaching, I have several ideas that can help!
I used to think that bloggers were all just sitting around drinking coffee and watching their bank accounts fill up with money, but that is not exactly how it goes.
One day, I want to be the person who writes from anywhere in the world about whatever I want, with my trusty laptop travelling the world with me. For now, I am building up a site worthy of that future.
And you can too!
This post was originally published on November 29, 2017 and has been updated to be current with new information. This post may contain affiliate links. If you click a link and make a purchase I may receive a commission at no extra cost to you. Full disclosure is here.
Welcome to Fearless Affiliate. My name is Irma and I help new bloggers to learn the ropes. There is a lot to take in that first year of blogging, from choosing a niche to changing your mindset from worker bee mentality to that of successful entrepreneur.
I like to focus on practical information and positive thinking, so if that sounds good to you please sign up for my weekly newsletter of tips and free stuff for bloggers. In return you will get the password to my resource library of PDF printables for bloggers like my 101 Blog Post Titles swipe file.#win-win
Brain Dump
This is a great way to get started with writing posts and developing the heart of your website. Look at your niche and choose 3 main topics. Write these across the top of a piece of paper.
Under each topic try to brainstorm 10 blog post ideas. Try to search Google for ideas if you need to, or just go with your gut on what you want to create. That should give you 30 post ideas.
Imagine starting a new website in your niche…what do you want to share with people who are just getting started? What are the first steps? What comes next?
Keep a document on your desktop with your ideas, and as you write about them you will naturally find new things to write about. You will also get ideas from comments on your posts. Follow the flow of these ideas in order to help your readers learn and grow with your niche.
Use Google Search Suggestions
Yes, Google wants to help you succeed. Search your topic and hit enter; then scroll down to the bottom of the page and look for "Searches Related To…" for more ideas.
Also sign up for email alerts for Google Trends and Google Alerts, to get plenty of new content ideas.
Start Writing A Series of Posts On One Topic
You could write several posts that link together a larger idea.
For example, you could write posts on how to de-clutter a child's play room. Posts could include how to get rid of toys, how to get the most use from that space, how to decorate your sons playroom in preparation for your new baby girl etc.
Be sure to add links to the other related posts for extra Google juice!
Listen To Podcasts
And watch webinars and Facebook Live's in your niche. Facebook Live is great because you can see real-time comments and get ideas from them.
Be sure to re-read comments on your website for ways to help your audience.
Write Reviews
Are there affiliate products, eBooks or courses available in your niche? Have you bought courses or books but have not written a review for them? Now is the time.
The number one rule of writing an affiliate review, is to write honest reviews. You audience will thank you for helping them discern great from junk. If you write honest reviews, and they are accurate, you will gain credibility and visitors will be more likely to trust your other opinions.
I accept that not all products work 100% optimally for all people. But if I take someones word that this is a great product, and it is not, or other reviews on the internet say that this is indeed an inferior product, I am not likely to trust that reviewer.
Be Honest
Following up on that last point, be sure to tell your readers why you are promoting a product, especially if you have tried it. Do not be afraid to express your feelings about great products. If you thought the product sucked, but then something happened to show how great it is, tell people.
Maybe the product does three things, and in your review it under-performed in two of them, but exceeded your expectations in the third area…tell people, because it may be that third area that they need the product for in their own lives.
If the product brings up positive emotions within you, write about it!
Write For Your Audience
When you write a post, try to keep your audience in the forefront. If you have not done the exercise to discover your avatar, I encourage you to sign up for my newsletter to get my 8-page Avatar Worksheet. This worksheet will help you sort out who you write to for better conversions.
Thinking of your avatar while writing is a good habit to get into. What is the pain point you are solving with your blog post? More importantly, what feeling will come with successfully fixing this pain point?
For most of us, we are seek feelings like freedom or security or success i.e. more time, less struggle, less stress, or a better way to do something.
Perhaps your avatar just wants someone to be honest with them
Give them what they need so that they can move forward and make a change in their life.
Promote products that actually help people and write posts that help people. Success is slower this way, but you build up an audience that will be with you for a much longer time and will be likely to take your advice on much of what you write about.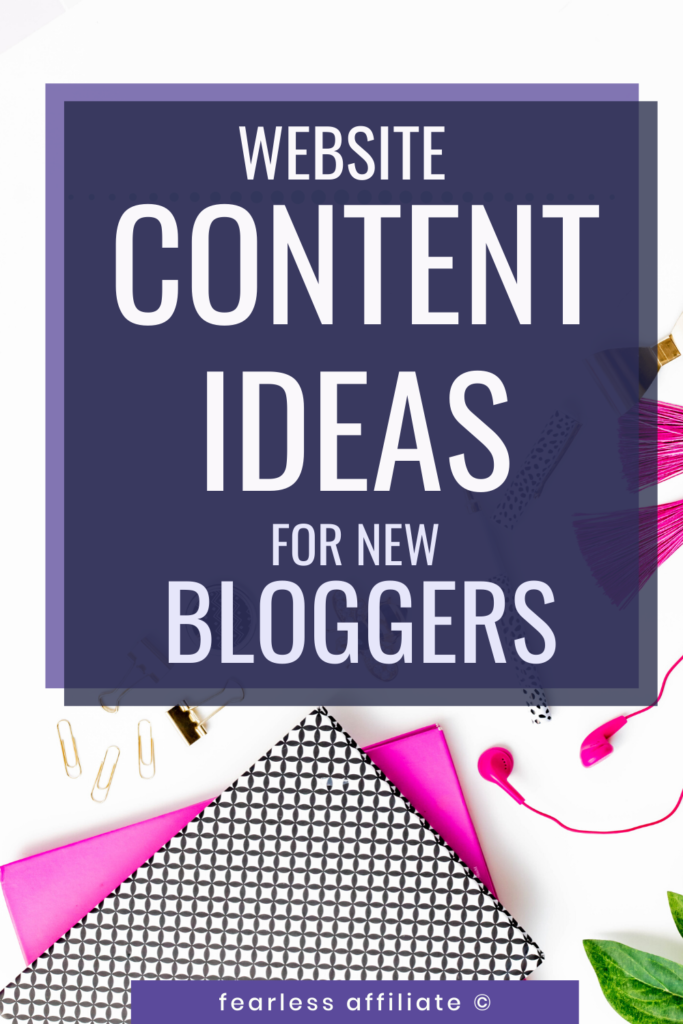 I Don't Know How To Write!
In the early days of your website, you may not know what to write about…or how. While I would suggest just powering through those thoughts, there are alternatives:
1. Outsourcing:
Yes, you can hire someone to do the work for you. www.upwork.com is a website of freelance writers and there are several sites like this out on the net.
There are a variety of ways to hire and to pay writers, which gives you some flexibility; however this can be costly if you need to build up a lot of posts to add credibility to your website.
Alternatively, while searching for content to buy, you may find ideas for topics that you can write yourself.
2. Content from Article Directories:
Like ezinearticles.com. These are free articles, but as has been written in the past, you get what you pay for. For the most part, you cannot edit the content of the articles, so if it not a match to your site, you cannot fix this.
Also, because anyone can get articles from these sites, you may be posting duplicate content. Only the first person to post the article gets credit for the content.
Everyone else goes to the bottom of the searches with "supplementary results".
You also have to link to whatever link the author says, and you cannot add your own affiliate links. #risky.
3. Private Label Rights (PLR) Content:
PLR is content written by other people that you can buy and re-brand.
You are encouraged to modify the content to make it unique for your website. This is because some people buy PLR but do not modify it. You do not want an identical version on your site, as Google would consider it as "copied". #spam
It is said that the PLR content that you purchase may be higher quality than the cheapest articles at places like upwork, but you will have to figure that out for yourself.
When searching for quality PLR, look at websites that offer a couple of freebies.
Freebies are likely out of date content, but it gives you an idea of the writing quality.
Sign up for newsletters from PLR websites; you always get good coupons or deals from quality websites if you subscribe. Use these coupons or deals to save money if you are still unsure of the quality.
I see a lot of PLR for health and wellness topics, like stress, goal setting, diet and exercise etc
Be careful of free PLR content, as most of it is outdated and is likely duplicate content by now.
If you are hesitant to write your own content, you can download some free PLR content and then just use it to practice writing your own articles. You may be able to find content ideas by searching around PLR sites as well
4. Blogging:
If you can talk then you can write! Use the informality of blogging to write the way you would speak to family or close friends.
Think of telling your best friend about the new blender that you just bought- what you like, what you don't like and why you were stuck buying the red one (it was the display model and it came with extra features as a bonus for the same price!).
If you come across as a friend willing to share your successes and failures, people will be able to relate.
I remember visiting a food blog where the author of the post was holding up the finished product in her hand, and she was wearing a bandaid on her finger. Funny and gross…and human.
Conclusion
Sometimes we are so overwhelmed trying to figure everything out that we cannot see the forest for the trees. I hope that I have given you some new ideas for sussing out some new content.
Please share this posts with others…sharing is caring! And sign up for my FREE weekly newsletter of tips and free stuff for bloggers. As a bonus fr signing up you will get the password for my Resource Library of PDF printables for bloggers, like my SEO Checklist or my Copywriting Checklist. #win-win
And follow me on Pinterest!
-Irma 🙂