Using analytics for copywriting is one of the best tools you have available to you.
Regularly reviewing the numbers and watching them grow can provide you with the insights you need to create stellar copy.
Hello and welcome to Fearless Affiliate…education for new bloggers and online entrepreneurs.
My name is Irma and I help new bloggers to learn the ropes. There is a lot to take in that first year of blogging, from choosing a niche to changing your mindset to that of a successful entrepreneur.
I like to focus on practical information and positive thinking, so if that sounds good to you please sign up for my weekly newsletter of tips for bloggers. Be sure to sign up for my Copywriting Checklist so that you can read it and follow along with this article.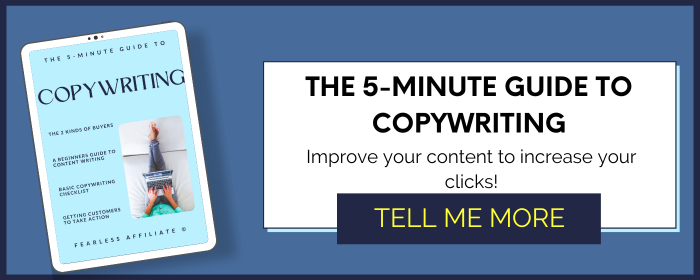 This post may contain affiliate links. If you click a link and make a purchase, I may receive a commission at no extra cost to you. Full disclosure is here.
If you do not have Google Analytics set up, read my Google Analytics Tutorial post to get set up and start collecting data. Right click on the link and choose "open in a new tab" so you can come back to this article.
Be sure to exclude yourself from your data. When I first set up GA to track my data, it would always show my website as having a visitor. I had no idea that the visitor was me. Learn from my mistake and exclude yourself. This is in no way a deep dive into using analytics for copywriting. This is meant for new bloggers who are just getting started with these concepts.
Use Analytics to Refine Your Copy
1. Look at Your Most Popular Content
The first thing you'll want to study is your most popular content.
In Google Analtyics (GA), from the Home page left sidebar, choose Behaviour > Site Content > All Pages. Depending on how much content you have, set the date range for either 3 months (not much content) or 6 months (or longer if you have a lot of posts). Next, we want some other important information, which is audience engagement.
Related Post: Copywriting For Beginners: The Basics
which posts bring the most traffic and have the highest engagement
We want to know which posts not only bring people to our websites but also which posts they stay and read. This is engagement.
From the same page as above (behaviour-site content- all pages):
Click the area on the GA dashboard that is noted as '1″ in the image below. This will show you comparisons.
Then click the box noted as "2" in the image to get the "average time on page" metric.
Make sure that the metric noted as '3' is already set to "pageviews".

You should see some posts with green bars, which are posts your visitors spend the most time reading.
This means that they spend more time on average on those pages.
This is a good thing. It shows you what is popular with your readers so that you can duplicate it.
From top to bottom you will see your most trafficked pages. I can tell you honestly, I was blown away by this information. Some posts that I thought were in a coma were actually doing really well. I could also see a clear pattern in what was popular.
Related Post: Copywriting for Landing Pages
You may discover an old blog post you'd forgotten about gets a lot of search engine traffic.
You may see that a social media post that got plenty of engagement asks followers an important question. Use these nuggets of information to tweak other copy to give it a boost of traffic. Link to these engaged posts from other posts that you are updating to give them a boost of 'google juice'.
You're not just looking at individual posts though. You're looking for overall trends. For example, do your Facebook posts that include emoticons get more comments? If so, then you may want to try adding emoticons to all of your posts in the next week and see how they perform.
2. Consider Your Traffic Source
This helps you see where to spend your time marketing. You may find that Instagram isn't sending you a lot of traffic but Twitter sends you dozens of visitors a day. Knowing this, you could trim your copy to favor Twitter instead of Instagram.
On social media, you may see that your Facebook group drives the most traffic to your fan page. This means the next time you want to launch a big promotion, you'll make sure to post helpful content in your Facebook group before the launch.
Related Post: Copywriting for Social Media Posts
If you are really seeing a lot of growth in one traffic area, dig deep and learn all that you can about that traffic source. Become an expert to maintain that traffic.
3. Dig Deep into Your Demographics
Sometimes, your demographics can surprise you and challenge how you write your copy. For example, you might think your ideal customers for your digital planners are thirty-something mothers, who are busy raising kids. However, your demographics might show that your customers are actually closer to 50 and use your planners in a different way than you expected.
Be open to learning new things about your demographics. This helps you write better copy and the better your copy, the more likely it is to convert your visitors into buyers.
Related Post: AIDA: The Copywriting Template for Bloggers
Ways to find important analytic metrics
The Audience metric is who is visiting your website/blog.
From HOME, click Audience > Overview: This will tell you who is visiting your blog, where they come from, what language they speak, and what they are viewing your website on (pc, tablet, mobile).
Audience > Geo: If you want to see where your visitors are from.
If you are not mobile friendly yet:
Audience > Mobile: Useful if you want to see how much of your audience reads your posts on mobile. If you have not optimized for mobile, now is the time. The numbers for mobile users is increasing daily, so don't miss out on this traffic because your blog posts cannot be read on a mobile device.
Acquistion is how your visitors arrived at your website/blog
Acquisition > Overview: Check out the pie chart metrics:
Direct =Visitors came from a link or direct search
Organic = Visitor searched and ended up at your site
Social = Visitor came to your site via social media channel(s)
Referral = Visitor came from being referred from another site, such as when you guest post
Acquisition > Social > Overview: If you have set up your social platforms and are actively promoting posts, you can see which channel is sending you the most visitors.
Behaviour is what your visitors do when they arrive at your site
Behaviour > Overview. Check out your bounce rate on this page. It is normal for blog posts to have a bounce rate of 70-80%. However, if you have a super low bounce rate (less than 30%), check that you do not have analytics installed twice somewhere within WordPress. This happened to me when I switched from All-In-One SEO to Yoast, and I lost all of my analytics for December 2018 because I was not getting accurate readings.
While you are here, check out your most popular posts and consider creating more content that is similar.
Behaviour > Site Content > Exit Pages: This will show you which page your visitor was on when they left your site. If your visitors are consistently leaving from the same page, you may want to try to understand why and maybe adjust some things. Make sure that the page is viewable and not offensive in any way.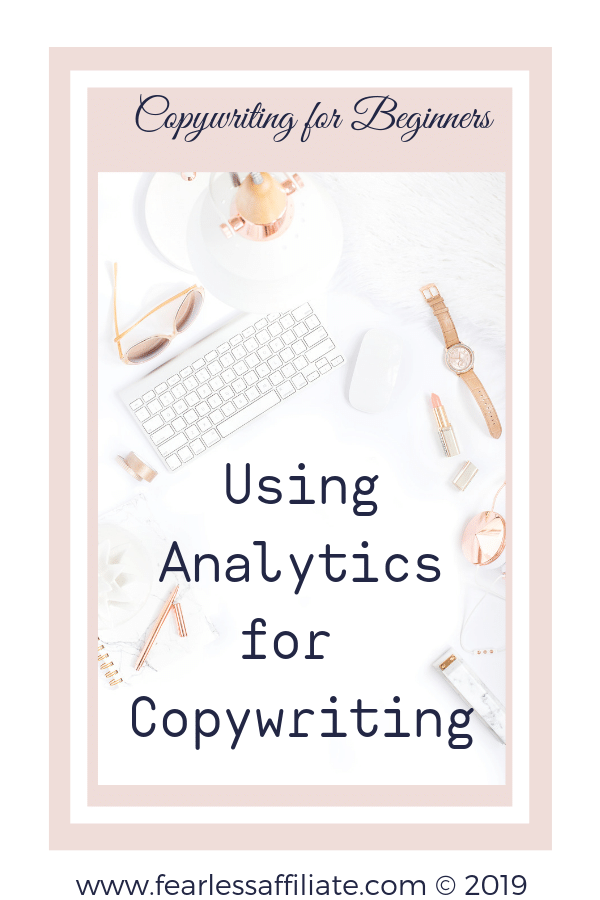 The Importance of Using A/B Split Testing
One of the best tools you can use to improve your copywriting is split testing. This is sometimes referred to as A/B testing by some marketers.
Split testing means that you create two versions of the same landing page, email, or advertisement. For example, Landing page A has a call to action that reads: "Sign Up Now for Your Free PDF of Recipes." Landing page B has a call to action that reads: "Download Your Free PDF of Recipes Now."
Now, you'll send half of your traffic to landing page A and the other half to landing page B. By studying your results, you'll see which page converts more visitors into subscribers. Once you have the winner, you'll use that call to action instead of the other one.
I tried this with my email newsletter and was surprised to find that I had more opens when I used just my first name in the "from" field. Who knew?
If you'd like to try split testing to better your copy, keep these tips in mind:
1. Test One Feature at a Time
Do not do what I was doing!! I was making my B wildly different from my A features. That was when I was making pins for Pinterest and I was very new to using the platform. I had such crazy results and I could not do anything with them because I had no idea what was attracting people to the pins.
Was it the text? The image? Maybe it was it the copy? Or the colors? Ugh. Don't do like me.
Instead, you want two landing pages with only one crucial difference
Doing this lets you clearly see which bit of copy is the most effective.
Prioritize your split testing in the following order:
Test your headline first
Then test your call to action
And finally, try positioning your product differently on the page
If you are not getting positive results from testing your headline, then move on to testing the call-to-action. If no success with that, then move on to re-positioning your product. In most cases, you will see one feature is more popular with your readers than another. Make note of the results.
Next, switch up the features and benefits, length of copy, whether to use video or not (can be super useful to show the product in action), screenshots (different aspects to the product or different people using it in real life) and using different freebies, like workbooks or bonus ebooks.
Related Post: Copywriting for Landing Pages
2. Study Your Results
You need to study which landing page performs best. You may discover that your visitors prefer shorter calls to action or that they prefer headlines that ask a question. All of this data can be incredibly valuable so make sure to note what you're learning about how your visitors respond to different copywriting techniques.
Remember that copywriting is about understanding people, knowing what they like, and appealing to them with words. Some of your results may show you that you have more to learn in one area. Great copywriting is a skill to learn and analytics can show you where you need more education.
What appeals most to Google when it decides who to show search results to is Trust and Authority.
Related Post: Copywriting for Online Ads
3. Compare and Contrast
Don't stop after just one round of split testing. Constantly compare different versions of your copy. Does your audience prefer landing pages with bullet points? Do they prefer statistics in their headlines? Will they respond to the word discount better than the word coupon?
Don't rush your split testing. Plan to spend a few weeks driving traffic to both versions of your landing page or advertisement. Then you will have enough data to make informed decisions on how to improve your copy.
Conclusion
Copywriting is about connecting with your visitors and persuading them to use your product or service. It may seem difficult at first, don't give up. Copywriting is a skill that you can leverage again and again for years to come.
Please read all six of the posts in this series for a well-rounded education on copywriting for beginners. I have links for the other five posts within this post. Thank you for reading them and sharing them with others.
Speaking of sharing, please share this post with anyone who may benefit from it. And don't forget to click the image below to sign up for my FREE my 5-Minute Guide to Copywriting.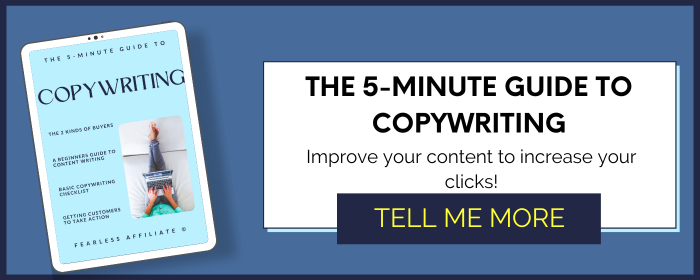 Happy blogging and follow me on Pinterest!
-Irma 🙂